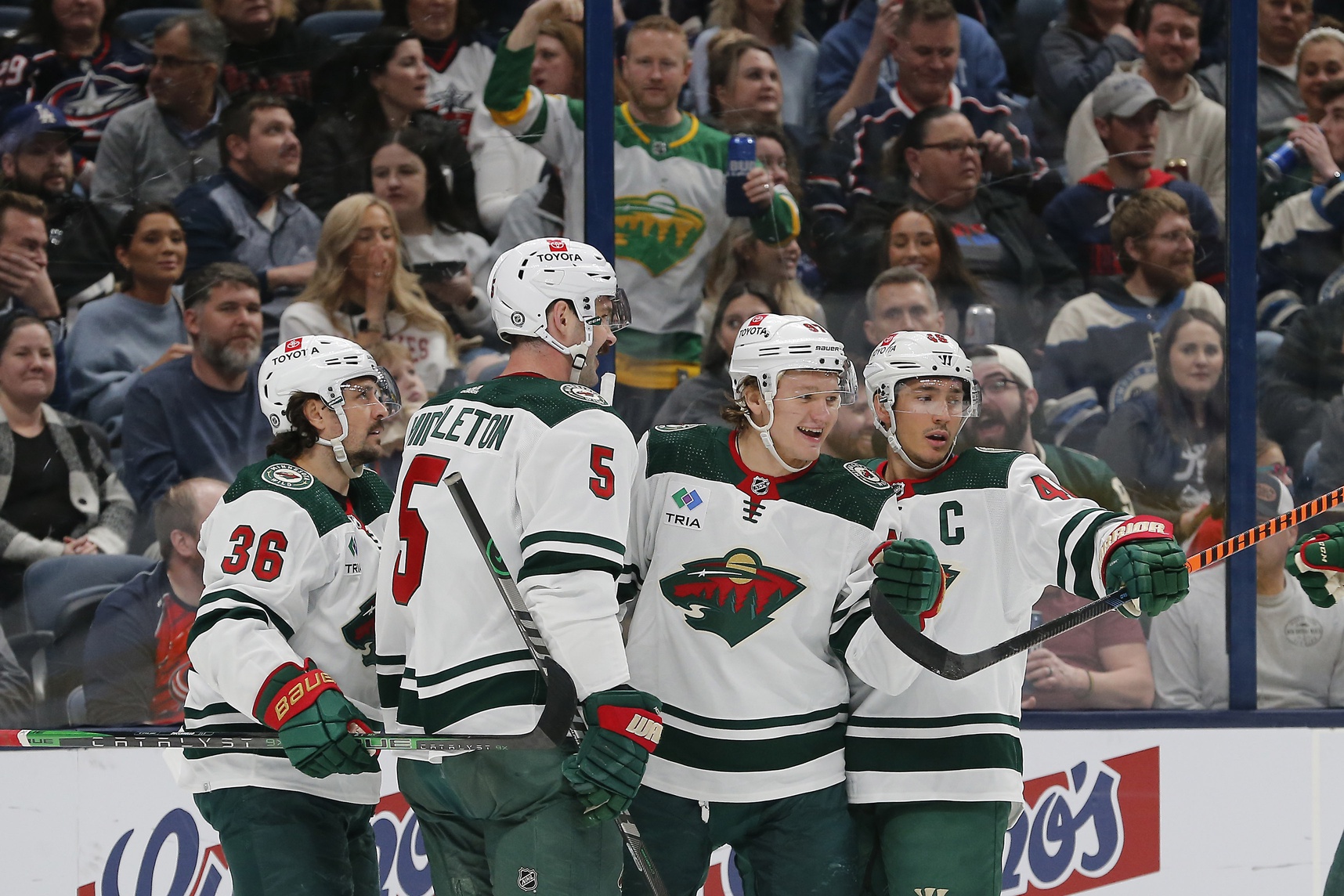 Image courtesy of © Russell LaBounty - USA TODAY Sports
In the last two offseasons, the Minnesota Wild's cap restraints have forced them into a corner. With roster turnover and no cap space, the Wild dropped from 113 standings points in 2021-22 to 103 in 2022-23. A similar dropoff this offseason would embroil Minnesota in a playoff race or potentially lead them to miss the big dance altogether. 
This offseason came with less turnover than last year's. Matt Dumba was the only major subtraction. Last season, the Wild lost Kevin Fiala, the team's second-best scorer. The team's shooting percentage also regressed heavily in shooting percentage, which was to be expected between the loss of Fiala and a lot of puck luck in 2021-22. 
There are opportunities for young players to take a step this year, but challenges with some roster cornerstones slowly aging. So, what happens if those older players stave off Father Time, and some players return to their '21-22 form?
Let's start with the top line. Last year, Kirill Kaprizov was injured for 15 games, and Mats Zuccarello's game faltered in his absence. Michael Russo has hinted on his "Worst Seats in the House" podcast that Zuccarello also played through a lower-body injury. If Kaprizov and Zuccarello stay healthy and pick up where they left off, they should push for 170 points between them. And their center typically chips in another 40 to 50 points. 
Marco Rossi could bring this line to new heights -- if he hits the next level. While he'll likely open camp centering the bottom-six, he's put in a serious offseason effort to make the team. He missed his sister's wedding to continue training with the Wild's skating and strength coaches. 
Luke Sims proposed that putting Rossi next to Kaprizov and Zuccarello in a second-line scoring role could relieve some pressure. If Matt Boldy, Joel Eriksson Ek, and Marcus Johansson can pick up where they left off last season, the Kaprizov line could return to its '21-22 form despite Zuccarello playing in his age 36 season. 
Stapling Jared Spurgeon's pairing to Boldy is one way Dean Evason could effectively support Boldy's line and draw attention from a Kaprizov-Rossi line. Whether the Wild partner Spurgeon with Jake Middleton or Jonas Brodin, there should be enough defense between those five skaters to handle a heavy dose of defensive zone starts. Johansson's speed could then drive offense in transition. If five skaters eat up defensive zone draws, it opens up faceoffs on offense to shelter Rossi. If the Boldy line is as effective as last season, they should combine for around 160 points -- that's exceptional if they can be a two-way line. 
That leaves Marcus Foligno, Ryan Hartman, and Frederick Gaudreau on the third line. With the two-way ability each of these players has shown, and both a right- and left-handed center, there's potential for this trio to become a high-level shutdown line. Perhaps they won't be as dominant as the Jordan Greenway-Eriksson Ek-Foligno line, but it's a comfortable home for Foligno. In his age-32 season, it's probably best to ask him to be who he is rather than try to replicate his 23-goal performance from '21-22. 
Perhaps more importantly, this line has three versatile players who can establish a clear identity. They can force turnovers, then flash their underrated offensive skill. Foligno and Gaudreau have been worth about 30 and 40 points per season in third-line roles over the past two seasons. From the top line, Hartman has scored around 57 per season. While he won't replicate that with less skilled teammates, he should be able to chip in 40 to 50 points as the best player on the line. 
Minnesota's fourth line projects as Brandon Duhaime-Connor Dewar-Pat Maroon. While the fourth line won't make significant offensive contributions, their penalty-killing roles are essential. 
Last season, Dean Evason made a concerted effort to improve Minnesota's penalty kill by changing the team's systems, which improved the unit from 76.1% (25th in the league) to 82.0% (ranked 10th). Holding this improvement will be difficult with the loss of Mason Shaw, who may be Minnesota's best penalty-killing wing. 
If Minnesota achieves its best-case season in '23-24, it could be partly due to a second year in the system. NHL PK systems can be highly complicated. In training camp, the team can hammer out the details of the scheme and add a second layer of complexity. That could balance out Shaw's loss. 
The other special teams unit brings more reasons for optimism. Minnesota's power play was middling last season, scoring 21.4% of the time (ranked 15th in the league). With the Kaprizov-Zuccarello show alongside Boldy, that's not good enough. That's likely why the team hired new assistant coach Jason King, who's lauded as a power play guru from his time in Vancouver. 
While game-planning around Quinn Hughes and Elias Pettersson might sound easy, it's a chicken-and-the-egg situation. The Wild are betting that King had a hand in making those two into power-play weapons. If they're correct, Minnesota should be able to crack the top ten in the league. 
Part of improving the power play is making Calen Addison an every-night player. Last year, the Wild traded for Jon Klingberg because of Addison's defensive lapses. Klingberg was an experienced power-play quarterback. However, the unit did not look as effective when he replaced Addison on the point, highlighting Addison's talents at that position. 
Addison must find chemistry with Jon Merrill or Alex Goligoski on the third pair this season to get back in the lineup. An effective third pair, including Addison, will also bolster Minnesota's five-on-five scoring. 
Brock Faber rounds out the defensive corps. If he hits his ceiling this season, the Wild can pair Faber with Brodin and defend the best players in the world. If he doesn't look out of place, Minnesota will have two shutdown defense pairs and a rookie on his way to becoming a true No. 1 defenseman. 
Finally, the goaltending stands to improve if Filip Gustavsson can seize the net. His goaltending coach has already hinted that this is a possibility for Gustavsson. However, the more interesting point is what this could do for Marc-Andre Fleury. 
Throughout Fleury's career, his best seasons by Goals Allowed Above Expected (GAAx) have come on smaller workloads. That statistic, courtesy of MoneyPuck.com, estimates how many goals the opposition should score based on the location of each shot attempt a goalie sees. It's clear that Fleury performs worse when he plays more.


That relationship has been independent of Fleury's age because he's posted compelling performances late into his career. On the other hand, Fleury is entering his age 39 season. The effects of Gustavsson taking ten or fifteen starts off Fleury's plate could be even more profound. 

So, the Wild's best-case scenario includes: 
A top-line producing 210 points 

A second line producing 160 points

A shutdown third line with around 115 points

A top-10 power play

A top-10 penalty kill

Two elite defense pairs

A dependable starting goaltender
Compared to the '21-22 team, that's 40 points short of the top line, 30 points short of the second line, and about the same scoring as the third line (albeit likely a worse two-way line). 
On the other hand, the special teams are far better. It's a similar defense corps if Brodin-Faber is as effective as Brodin-Dumba. Most importantly, the goaltending could be elite.
As a best-case scenario, this seems reasonable. The scoring is worse, but that's to be expected without Fiala available. Notably, if Minnesota hits something close to this ceiling, it will be a more low-scoring team since it depends on defense and goaltending. 
The Wild would not be better than the 113-point season two years ago. However, it's an admirable roster, given the massive dead cap on the books. It also hinges heavily on the performance of the team's youngest players – Rossi, Addison, Faber, and Gustavsson. If these young players play their best in the season, be ready for another big season from the Wild.
1

1