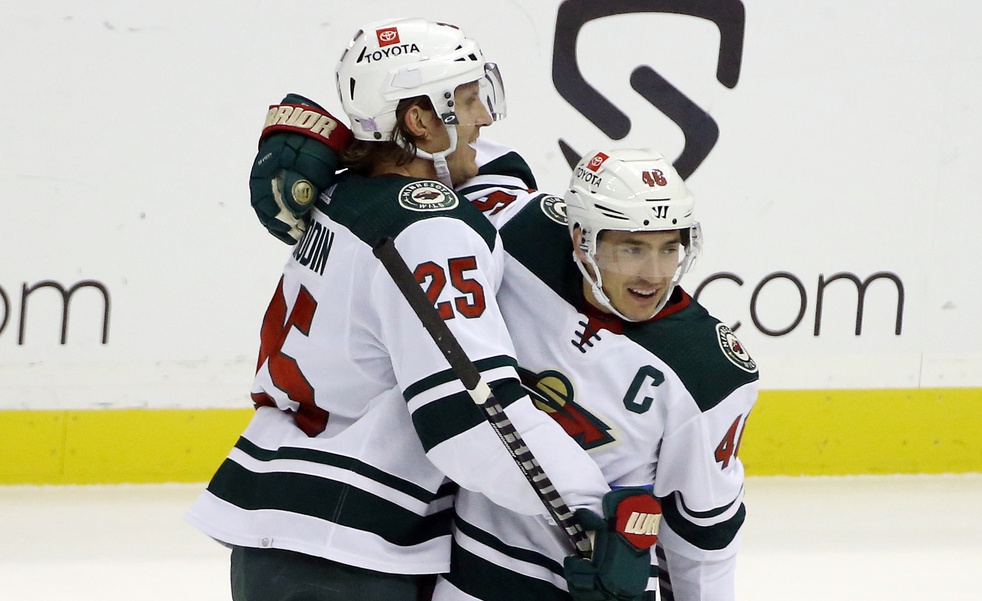 Image courtesy of Charles LeClaire-USA Today Sports
Dean Evason's Minnesota Wild teams seem to buy into the philosophy of spreading the wealth. Back in the days when the Wild enjoyed having Kirill Kaprizov, Kevin Fiala, and Joel Eriksson Ek on the same team, he gave them each their own line. Over his entire tenure, he's had two of the premiere shutdown defensemen in hockey in Jonas Brodin and Jared Spurgeon, and he's kept them both on separate pairings.
There's a good logic to this: By keeping the best players separated, a team can maximize the amount of time they have at least one of their best players on the ice. It also helps that the Wild have had Brodin with veteran defenseman Matt Dumba and the stability of Ryan Suter and Jake Middleton to play with Spurgeon.
Now that Dumba's moved on to the Arizona Coyotes, Brodin is in need of a new partner. Most assume that Brock Faber will step right into that role and be a one-for-one Dumba replacement on the Wild's shutdown pairing. Faber might just have what it takes to do that and thrive as a rookie.
Evason has another option up his sleeve, though. He can also decide to load up his top pairing and play Brodin and Spurgeon together. In theory, this would work like a souped-up Brodin-Dumba pairing. Spurgeon can log heavy minutes while having both more offensive and defensive capability than Dumba had at his disposal. Minnesota could spend half the game throwing a pair of mobile defensemen who give up almost nothing in their own zone.
Is it worth it to load up that top pair, though? History says yes, in more ways than one.
For one, Spurgeon and Brodin have played together for a small portion of this last decade. They've cleared 100 5-on-5 minutes in their career just once (363 in 2017-18). But in total, it amounts to 814 5-on-5 minutes since Brodin broke into the league. How did they do?
Pretty well, thanks for asking. The two out-scored their opponents 45-37 while controlling a massive 57.7% of the expected goals share. It's gotten even better lately. In 190 minutes over these past two years, Brodin and Spurgeon have controlled 60.1% of expected goals at 5-on-5 play. Considering that they're often used in tandem as a nuclear option when defending a late lead, those stats are quite impressive.
Their personal history suggests that in a good season, these two could top the 60% expected goal share threshold for a year. If they can do that, that bodes really well for them, looking at league history. Since the Analytics Era started in 2007-08, just 12 teams have iced a defensive pairing for over 600 5-on-5 minutes while controlling 60% or more of the expected goals. Their track record is staggering, as you'll see here.

Eleven of those teams made the playoffs, and that's just the beginning of their successes. We can see that eight of them won a playoff round, with five reaching the Conference Final, three advancing to the Cup Final, and two winning a Cup. Having that kind of defensive pair working for you is about the biggest guarantee to make the playoffs in hockey, with these teams averaging 105 points.
Of course, it's not a guarantee. Let's say an awkward hello to the 2016-17 Wild and spend the rest of the party trying desperately to avoid eye contact.
But hey! That was in the old days. Before Kaprizov and Boldy injected some star power into the lineup. Eriksson Ek had just 18 games of NHL experience back then. You can reasonably think that the Wild are in a better position to take a dominant defense pairing further than they did before. Especially when Filip Gustavsson, who looks much less like a "system" goalie than his predecessor Devan Dubnyk, is in net.
The question is, can you move the Jenga piece that is Brodin to the top lever of the Wild defense without the whole thing collapsing? On one hand, you might not care if you can more or less count on the other team to never score for half the game. Still, Evason's inclination towards balance is reasonable, so this needs to be considered.
We can't know for sure until we see it in action, but on paper, it's possible. Spurgeon and Brodin are going to suck up the most important minutes, at least at home. Middleton should be a good stay-at-home defensive partner to Faber, as he was to Spurgeon.
In fact, having a defense-first partner could help the Wild's long-term future, giving Faber more puck touches and forcing him to develop the transition and offensive parts of his game. If he can learn the ropes in more sheltered minutes, rather than having his No. 1 job being to shut down the Connor McDavids of the world, that might be the ideal place for him to be.
There just doesn't seem to be much downside to loading up that top pairing, and the experiment seems worthy. If Brodin and Spurgeon can work together in such a way that they're controlling 60% of the 5-on-5 chances, that has massive potential for the Wild's success, even in this cap-strapped season. Besides, at the end of the day, they'll still be able to go back to spreading the wealth any time they want.
3