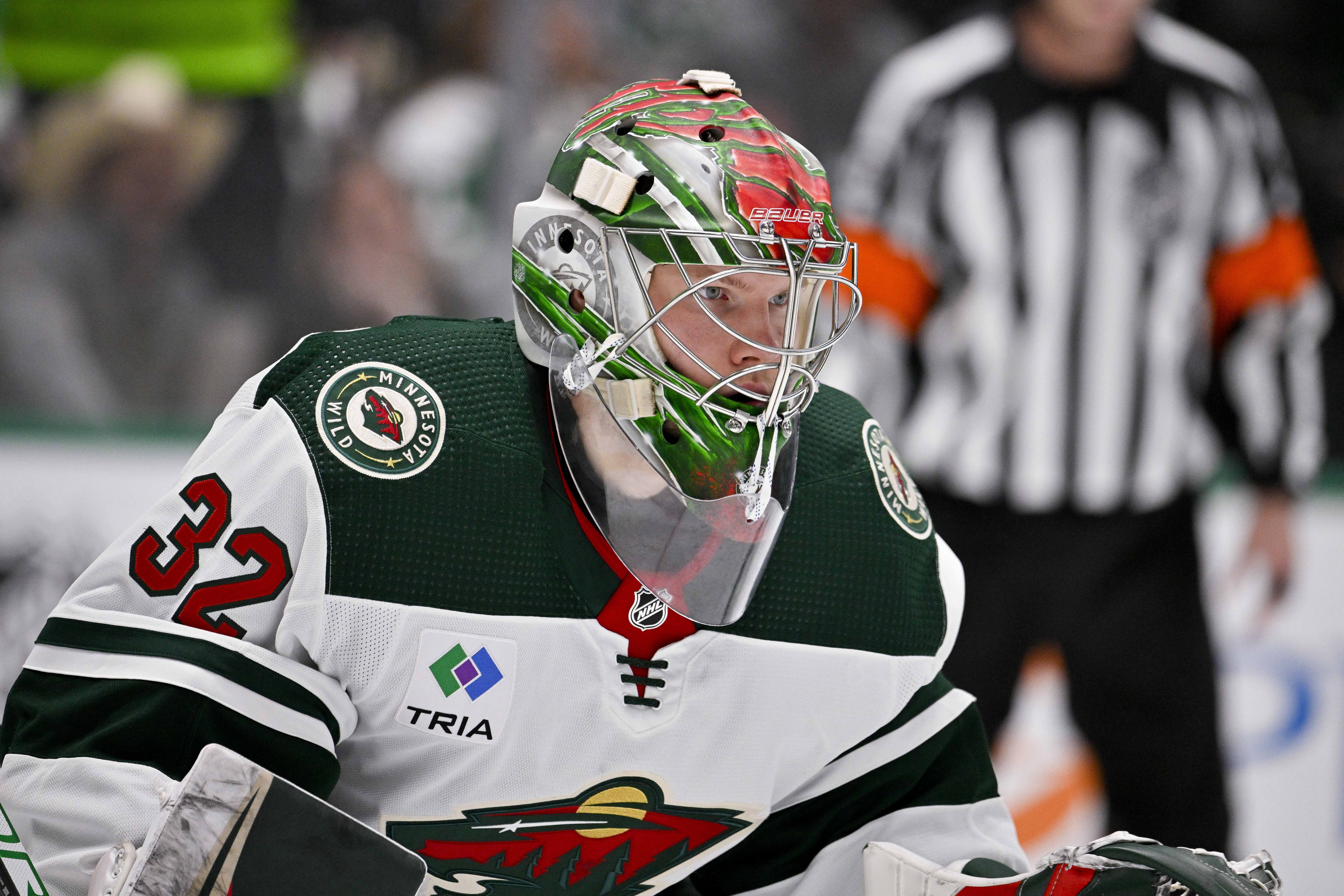 Image courtesy of © Jerome Miron-USA TODAY Sports
Filip Gustavsson wasn't exactly an overnight sensation with the Minnesota Wild, but it only took him one short year to reclaim his reputation. A newcomer behind legendary veteran Marc-Andre Fleury, Gustavsson needed just a few months of backup goaltending work to carve out a 1B role on the team.
By the time playoffs rolled around, the Wild named Gus the starter in Game 1, and he turned in a double-overtime signature victory. He started every other playoff game besides Game 2, in which our goaltending lord understandably rested. 
If the Wild can keep their momentum from last season rolling, Gustavsson could carve out an even more prominent role in 2023-24. Gus Bus may be so dominant that the Wild will have no choice but to make him the true starter by January. Twelve months ago, he seemed like a band-aid solution to replace Cam Talbot. So, how did it get to this point? 
Let's look at where Gustavsson came from to figure out how he got here. Prepare for a history lesson. 
The Pittsburgh Penguins drafted Filip Gustavsson 55th overall in the 2016. Gustavsson turned himself into a second-rounder by dominating the Swedish J20 SuperElit, Sweden's top junior league. He posted an .893 save percentage (sv%) in 20 junior games and .920 in his 15 U18 International games. 
He was so good that his parent club Lulea HF, called him up for several games in the SHL even though he was only 17. He posted a better save percentage in these six games (.910) and GAA (2.17) than in junior hockey that year. While that may imply he was a bit sheltered, they also called him up for one playoff game -- in which he posted a shutout. 
Over the next two seasons, Gustavsson's game improved at Lulea. He earned 17 SHL games in 2016-17 and 25 more in 2017-18. During the 17-18 regular season, Gustavsson posted a .918 sv% and 2.07 GAA. At that season's trade deadline, Pittsburgh traded him to the Ottawa Senators. Ottawa's AHL team gave Gustavsson seven more games in the AHL, where he shined again. 
It really can't be overstated how encouraging a goaltending prospect Gustavsson was at this moment. At 19 going on 20, Gus had played 56 regular season or playoff games in the SHL or AHL. Everywhere he played, Gustavsson posted save percentages above .910 and GAA in the low twos. 
Goaltenders in the SHL and the AHL play against professional hockey players with no age restrictions, making them extremely high-quality hockey for any teenage hockey prospect. Byron Bader at HockeyProspecting has done a great deal of research into goaltending prospects and has found that goalies who play against grown men sooner are much more likely to become NHL players. 
Not only was Gus performing well, but he was primed to keep getting better because of the quality of competition. 
That's what makes the next chapter of Gus's career so confusing. In his first full season with Ottawa's AHL team, his sv% plummeted to .887. While the AHL is a tougher league than the SHL, it's not so much harder that it justifies this dropoff. Look at Gustavsson's HockeyProspecting card below, which uses analytics to translate save percentage from one league to another on a level playing field. In D3 (that's '18-19, the third year after his draft), Gustavsson's goalie score craters alongside his sv%.
Gustavsson's first year full-time in North America was in 2018-19, but he didn't improve much in his second year with Ottawa. He posted a nearly identical .889 sv% and 3.38 GAA in 2019-20. 
Gustavsson had played well when he first came to the AHL in '17-18. In '18-19, though, he didn't just stall out -- he went backward. Years later, he displayed elite goaltending chops in his first full NHL season with Minnesota. So what happened?
With all due respect to the Senators organization, it seems to have been a poor fit for Gustavsson. Notably, Gustavsson's best North American play came in 2020-21 when he played nearly half of his games on loan in Sweden. However, he played one league below the SHL. It looks like the confidence booster helped. When Minnesota made him a full-time NHL goaltender, he delivered at a high level again. 
The dip in Gus's play can't be attributed entirely to Ottawa. Moving continents affects players differently in their early 20s. In Gustavsson's case, it was an unkind transition. To remain in contact with people back home, Gustavsson makes it a priority to play video games with his friends from Sweden, who he noted in a recent interview with The Athletic, "don't even ask about the [hockey] games."  
As mentioned by Michael Russo on his latest podcast, Bill Guerin has said that the team will deploy Gustavsson and Fleury in approximately equal measures this season. However, goaltending coach Freddy Chabot left the door open for Gustavsson to seize Minnesota's crease as a true starter. 
Russo quoted him, saying: 
I think [Gus] becoming a No. 1 is just a natural progression. But I told him he has to continue to work on his game and learn how to deal with heavier workloads and being able to do his thing every night. And we're not worried. With his style of play, it breeds consistency.
That's a highly complimentary quote from Minnesota's goaltending coach. Not only does he use the phrase "true No. 1," but he implies that they are coaching him to deal with heavier workloads. Even more than that, he views Gustavsson's playstyle as a natural fit to find consistency as a starter. All this came on Chabot's trip to Sweden specifically to visit Gustavsson and highly-touted prospect Jesper Wallstedt. 
"You get what you earn," Chabot said. "The quality of their games will dictate how much each plays." Given that Gustavsson was Minnesota's first choice in net for the playoffs, how can he not have already earned the top place in net? 
The Wild have championship aspirations and want to keep Gustavsson fresh. However, the playoffs are no guarantee for a team crushed against the cap and missing Matt Dumba, Ryan Reaves, and every deadline addition besides Marcus Johansson. 
The Wild will park the Bus in net for their most meaningful games, whether in the playoffs or the months leading up to it. There were some trying years when he first crossed the Atlantic, but Gustavsson is just as exciting now as he was in his SHL years. 
Filip Gustavsson has arrived. 
1

1