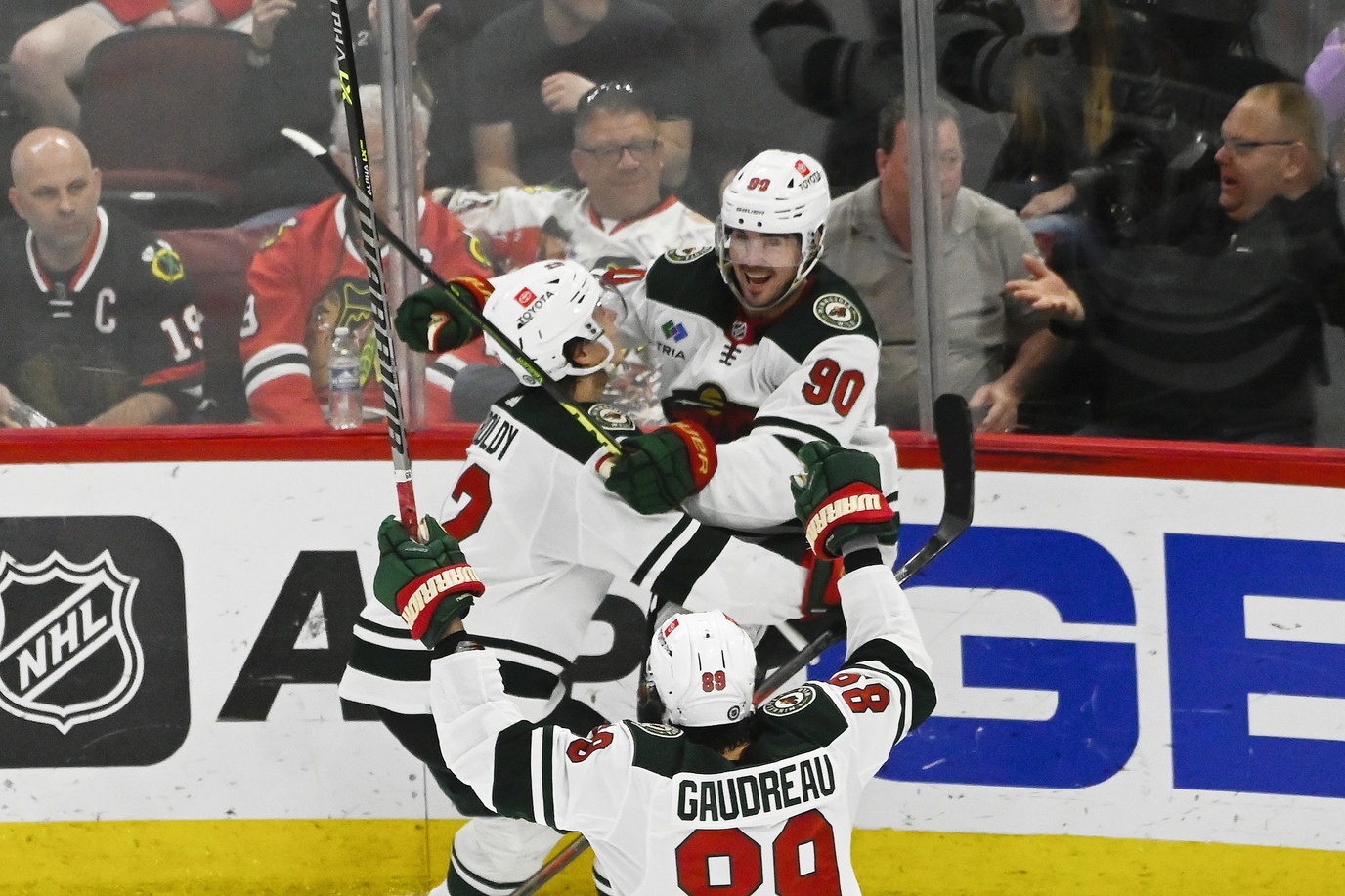 Image courtesy of Matt Marton-USA Today Sports
After an offseason where the Minnesota Wild didn't have the cap room to improve, at least externally, all eyes are on their current players to get better. Veterans like Ryan Hartman and Marcus Foligno will need to bounce back from tough years. The Wild are going to be counting on superstars like Kirill Kaprizov and Matt Boldy to bring even more than the 71 goals they combined for last season. Rookies like Brock Faber and Marco Rossi will need to hit the ground running.
However, the Wild don't need Marcus Johansson to improve from last year. Instead, all the pressure on him is simply to maintain. The journeyman landed in Minnesota, who traded a third-round pick to acquire him at the trade deadline. It was a bizarre move, considering Johansson had arguably the worst season of his career in his first stint in St. Paul. During the 2020-21 season, Johansson scored 14 points in 36 games and cost Minnesota nearly a point in the standings. 
But Johansson got the rare second chance to make a first impression. Even more stunningly, he made the most of it. In 20 games, he scored six goals and 18 points, along with contributing a staggering 2.2 Standings Points Above Replacement. It's a small sample size, but over 82 games, we're talking about 25 goals and 74 points with 9 SPAR. That's a borderline Hart Trophy pace.
The Wild entered the deadline adrift offensively and needed that kind of production. To some extent, they still do. Minnesota's depth of scoring wingers is about as suspect as it was entering last year. Beyond Kaprizov, Boldy, and Mats Zuccarello, Johansson is fourth on the depth chart, and probably with a bullet. If Johansson doesn't hold that spot on Boldy's opposite wing, the Wild's options become Hartman, Freddy Gaudreau, Sammy Walker, and Adam Beckman. If those had worked last year, they probably wouldn't have traded for Johansson to begin with.
So the question is: Can Johansson do it again, or at least, something reasonably close?
Tuesday marked the beginning of projection season, with Evolving-Hockey becoming the first outlet to weigh in on Johansson's outlook for the season. Their fantasy projections put Johansson tied for 165th among forwards with 39 points (15 goals), alongside Lawson Crouse, Shane Pinto, and Charlie Coyle.
That may seem harsh. But later that day, The Athletic's Dom Luszczysyzn and Shayna Goldman released their own fantasy projections. They're predicting even less success for Johansson, with 13 goals and 34 points. He's tied alongside the likes of Alex Kerfoot, Sean Monahan, and Connor Brown.  
These projections are meant to be conservative by nature, representing something around the 50th percentile outcome. Johansson could defy those, of course. But it's worth noting that the most likely outcome isn't the 70-plus point pace Johansson had last year. It's not even the 46 points Johansson put up over this past full season. We're talking about Johansson's starting point being, more or less, Freddy Gaudreau from last year. 
How nervous should Wild fans be over that? It depends on what you believe. 
Do you buy into Johansson's track record? Then yes, you should expect regression to the mean -- stats speak for What goes up must come down. From the 2017-18 season up to the trade deadline last year, Johansson averaged 15 goals and 38 points per 82 games. Thanks in part to both sky-high shooting percentages from himself (13.8%) and especially Boldy (27.9%!!!) over those 20 games, the Wild scored a staggering 12.3% of the shots when Johansson was on the ice at 5-on-5. 
That creates a lot of room to compile points. That shooting percentage is so far above his career average on-ice shooting percentage of 8.5% that it almost has to come down. What happens when it does? All you have to do is look at Ryan Hartman and Marcus Foligno to find out. The two forwards had career years in 2021-22, buoyed by 12.0 and 9.8% on-ice shooting at 5-on-5. Both forwards saw that drop below 8.0% the following year, and their points totals fell precipitously.
If you believe that Johansson has the secret sauce for maximizing Boldy and Joel Eriksson Ek, though, then maybe you don't need to sweat too much. And in fairness, it sure looked like Johansson had that magic with the Wild. In a role where his job was mostly to carry the puck and distribute in the offensive zone, Johansson didn't just excel at both. He looked downright elite.

We'll start with his puck-carrying, which was unbelievably good as documented by Corey Sznajder's All Three Zones project. He not only got a high volume of zone entries (23.9 per hour), but he also successfully carried the puck in a whopping 77.4% of the time. Only two players in the NHL managed to get more volume and success than Johansson: Jack Hughes and Connor McDavid. Players also in Johansson's vicinity include Kaprizov, Leon Draisaitl, Brayden Point, and Nathan MacKinnon.
If you're making a short list of the most purely skilled players in hockey, it'll come out looking a lot like that list up there. And Johansson's in the thick of that group in getting into the offensive zone. 
It's not just about getting there, though. It's about what you do once you're there. And few people in hockey were better at making sure the puck got to the right people than Johansson was for those 20 games.

Here, we might start seeing some limitations to Johannson's offensive toolkit. While he was clearly one of the best in hockey at setting up scoring chances, he wasn't getting many of his own. Johansson left that to Boldy and Eriksson Ek, which, in fairness, is a historically good bet to cash those in. But while Johansson got the puck into the zone as much as the top guys in the league, he wasn't nearly that level of a dual threat. 
Johansson is on a bit of an island. No player averaged more scoring chance assists per hour while putting up fewer scoring chances of their own. Still, there are some very intriguing names in his neighborhood if we zoom in a bit. 

You'll see big-name distributors like Jonathan Huberdeau, Evgeny Kuznetsov, and no doubt your eyes were drawn to Kevin Fiala sitting in this quadrant. But Chandler Stephenson of the Vegas Golden Knights might be the most intriguing player for Johansson optimists.
Stephenson isn't anyone's idea of a star player. If you ask a fan to name the five best players on Vegas, his name likely won't come up. However, he's second on the team in scoring for two straight years. He arrived in Vegas in 2020 as a 25-year-old who had scored just 33 points over 168 career games.
Since then, he's averaged 61 points per 82 games. How?
It's because Stephenson's role is very simple but extremely effective at getting points. Since arriving in Sin City, his most frequent linemates have included the likes of Mark Stone, Max Pacioretty, Evgenii Dadonov, Phil Kessel, and Jack Eichel. Those elite players do a lot of heavy lifting. Stephenson doesn't need to be an elite two-way player with Stone taking on that role. He doesn't need to shoot with high-volume wingers like Pacioretty, Eichel, and Kessel.
All Stephenson needs to do is get the puck in the offensive zone and let his star linemates go to work. That's all Johansson really needs to do.
But before we risk going all-in on Marcus Johansson, Elite Fantasy (and Reality) Winger, we've got to pump the brakes a bit. The elephant in the room is these microstats are a sample of an already small sample size. As impressive as Johansson's numbers are, they represent 78 out of the 258 5-on-5 minutes he spent in a Wild uniform. These could merely just be the best games of a hot streak.
The track record doesn't speak well for him, either. Over the past two years, he was very average with both the Seattle Kraken and Washington Capitals in terms of carrying the puck and generating scoring chances with his passing.
If anything, though, last year was at least 250 minutes that show a proof of concept that Johansson can be the player he once was. Does that mean the soon-to-be 33-year-old has what it takes to put that together for a full season? Sure, more or less.
But Johansson has to fight off regression, age, and a history of decline to do that. Not to mention, he must rely on both himself and his elite linemates to stay healthy, and then keep a hold on his prime role for 82 games from a charging wave of youth. There's a lot of "if" on this plan, and despite a brilliant flash of success last season, maybe skepticism is in order.
All stats via Evolving-Hockey unless indicated otherwise.
1

1