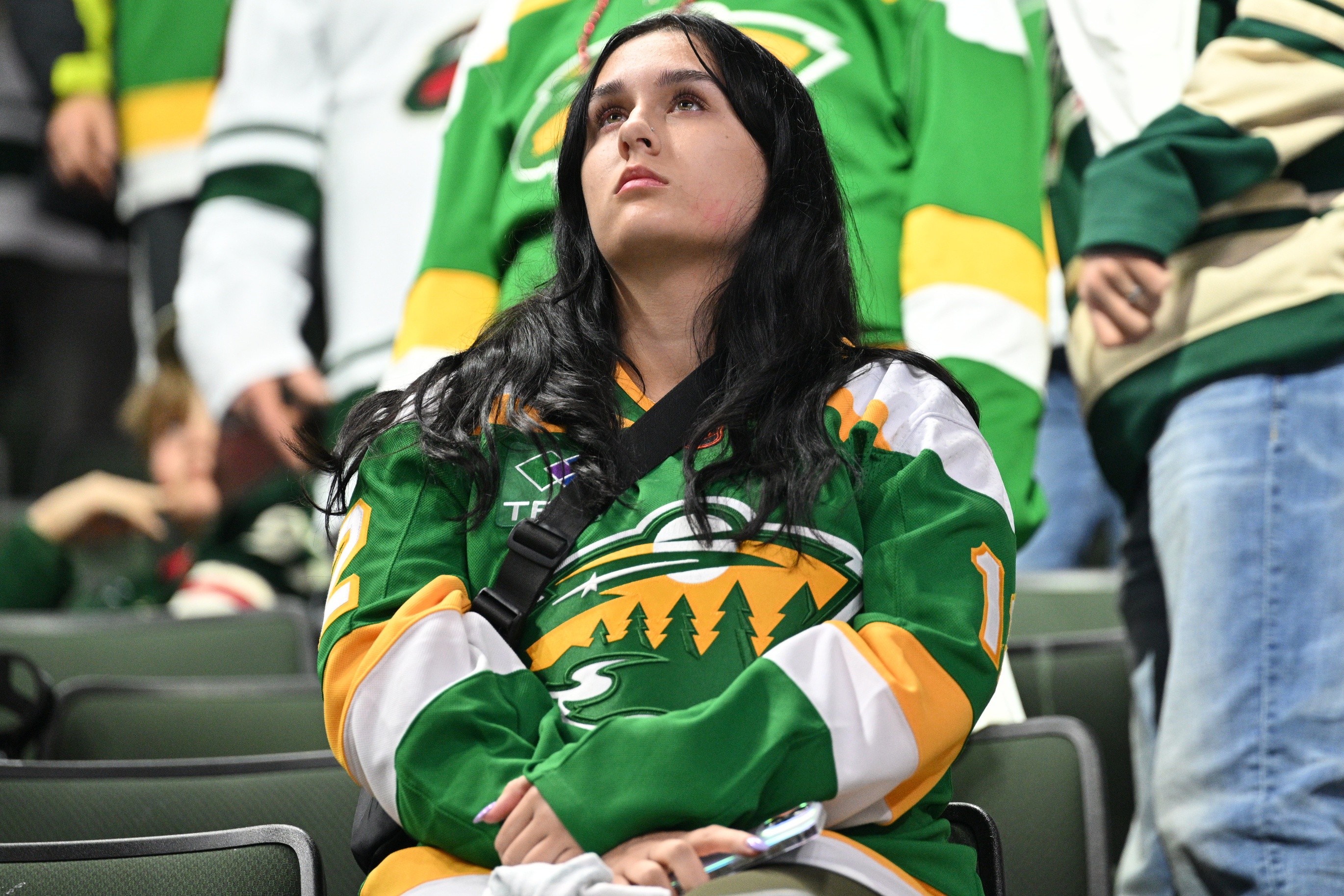 Image courtesy of Jeffrey Becker-USA Today Sports
There's the beaten-to-death cliché that the definition of insanity is doing the same thing over and over again, and expecting different results. Is it true? I don't know. Look at how many times the Washington Capitals had to run things back before winning a Stanley Cup. Sometimes, it's a roll of the dice, and your number comes up sometimes, and it doesn't others. 
It's tempting to say that after nine years, the Minnesota Wild have done the same thing over and over again, expecting different results. In certain areas, that holds true. But in the big picture, it isn't. Sadly, the truth will drive you equally insane.
This year's Wild and last year's version were radically different teams. Last year, they boasted a high-octane squad known for their un-Wild-like ability to score goals in bunches, and in dramatic fashion. After that didn't work, they doubled, maybe even tripled down on being the same old boring Wild of their first two decades.
Both times, they got the exact same result. A first-round loss, both seasons having just two playoff wins to show for it. 
That's maddening enough. But the thing that will really lead you to the brink of sanity is this: The version of the Wild you saw this year is exactly what the Wild, from the front office down, want to be. This is how they want to play.
Now, do they want to lose in the first round? Of course not. But they went all-in on their "Grit First" identity, and it got them to exactly the same place that most grit-first teams get to. For every 2003 Minnesota Wild there are 10 Grit First teams that make their opponents sweat for two seconds before waking up and bouncing them from the playoffs.
The Zach Parise and Ryan Suter buyouts stand as a ready-made excuse for why the Wild built their team like a perpetual underdog. It limits their flexibility, but it doesn't undermine the core philosophy of its architects. This team is what it is, and it plays the way it plays by design. 
The Wild's transformation goes back to its original sin: Refusing to treat Kevin Fiala as a core part of their team. Yes, Fiala has a contract that carries a massive $7.9 million cap hit, one the Wild surely couldn't fit under their cap because he came off a career year last summer.
The Fiala decision didn't happen in a vacuum, though. Fiala was an absolute gift that Bill Guerin inherited from his predecessor Paul Fenton. A true star talent that cost the team nothing more than a slightly used Mikael Granlund. His contract was ready to be renewed two summers ago, before his 33-goal, 85-point breakout season. 
But Minnesota didn't do anything with him except force him into a one-year arbitration deal, offering him no long-term security. Why? 
Because they wanted to save money two years out? No. If the Wild believed in Fiala, they'd have made it work out, the same way elite teams like the Tampa Bay Lightning and Vegas Golden Knights retain and even add core players despite always having to escape the restrictions of the salary cap like Harry Houdini.
It's as simple as this: Guerin and Dean Evason, the coach who spent a decade being driven crazy by Fiala, didn't think they could win with him. Maybe it works out long-term, Brock Faber sure looks good, and Liam Ohgren remains interesting. But in the short-term? It turned the Wild from a team with a second punch behind Kaprizov into a team that was going to have to grind it out every night to stay competitive, and everyone knew it at the time.
"I think it's simple here: We're just not a pretty team," Guerin told The Athletic after a slow start in October. "We have some skill — maybe not as much as some other teams — so when we don't play hard, heavy, physical, when our competitive level isn't where it needs to be, we struggle."
That sounds like a team that really could've stood to lock up Fiala, who finished behind only future Hall of Famer Anze Kopitar on the Los Angeles Kings with 72 points. 
But no, instead, the Wild tied up their salary cap last season with small-to-medium cap hits that add up. A few million to Jordan Greenway here, Tyson Jost there, and Marc-Andre Fleury another place, as with Alex Goligoski. Those deals all have something in common: They're ones the Wild either have traded already, or are likely to look to trade this offseason.
Ah, yes: The magic beans approach to cap management.
Minnesota's solution to losing Fiala with no real financial flexibility to replace him was to double down on depth. The Wild made the first big trade of the season, acquiring enforcer Ryan Reaves from the New York Rangers. It was the remix of snagging Nic Deslauriers at the deadline, which also was supposed to make the Wild play like they were a few inches taller. 
Credit to Reaves, he wasn't a drain on Minnesota's play like Delauriers, who was so bad his toughness sat in the press box by the end of the playoffs. Reaves played every game. But betting on a premium enforcer to actually protect Wild players was, as with Deslauriers, magical thinking. 
Ryan Suter spent the first two games of this series abusing Kirill Kaprizov as much as possible without getting called for it. His sneaky cross-checks to the back are the exact sort of thing Reaves is supposed to provide a counter to. But while Reaves did get some hits in against Suter, Suter didn't care. He's sturdily built, and nothing Reaves did could dissuade Suter from playing his quietly effective (and dirty) game. 
For the second year in a row, their enforcer was a non-factor in the postseason.
They didn't just double down on grit, though. They also staked their entire season on a center-by-committee approach that did not work past the regular seasons the past two years, and fell short again this time around.
It's tempting to say that losing Joel Eriksson Ek, a nearly irreplaceable two-way center who anchored their special teams, was ultimately what doomed Minnesota. It might be, but the Wild chose to put themselves in a position where an Eriksson Ek injury would bring maximum devastation.
Yes, we, for the last time this season, have to talk about Marco Rossi. The ninth overall pick in the 2020 Draft started the season in the NHL. But he struggled mightily to score, with just one point in 16 games before the Wild sent him to Des Moines. From there, he built on last season's AHL success with 16 goals and 51 points in 53 games in a do-it-all, Eriksson Ek-esque role.
Most contending teams are looking for a way to integrate that kind of skill into their lineup. Instead, not only did Minnesota fail to find a place for Rossi, they showed absolutely zero interest in doing so.
Top-6 players like Kirill Kaprizov would get hurt, and there'd be no room for seeing what four months of development did for their top prospect. Even when Eriksson Ek's injury occurred, the team told Rossi not to drive up from Iowa to get a look. Instead, they had him fly out to Chicago, watch an AHL game from the press box, and meet up with Minnesota two days later. Rossi got 20 minutes of checking-line duty over the next two games, with Evason refusing to see what he could do in a playoff lineup.
Now, would Rossi have done better than the triumvirate of Ryan Hartman, Freddy Gaudreau, or Sam Steel? We can never know, of course. But we do know what didn't work. Last season, the Wild centers (with Eriksson Ek swapped out for Steel) produced four goals and 11 points in a six-game series loss. This season? Six goals and ten points in a six-game series loss.
Contrast that, for a moment, with Dallas, who got 10 goals and 22 points out of Roope Hintz, Tyler Seguin, and Jamie Benn, who all played down the middle during this series. Maybe it would've been nice to give Rossi more than 17 minutes of 5-on-5 time with Kaprizov (one goal, one point this series) to see if he could offset some of that star power.
Or, hey, let's get wild and say maybe even more than 40 minutes of post-Thanksgiving hockey. Instead, this is an instance of the cliched insanity definition. What if the center group that couldn't get it done last year was worse? We found out. Shockingly, it yielded the same result.
This aversion to rookies wasn't limited just to players who didn't produce at the NHL level, though. The Wild decided to tank their power play mid-season for essentially no reason.
We've talked at length in this space about how Addison was the sixth-best power play quarterback in the NHL this year. But it bears highlighting again now that the season has wrapped up. Guerin and Evason basically phased Addison out of the lineup to bring in a player who was an older, declining version of Addison.
Injuries definitely affected the Wild's power play potential, but the fact remains that John Klingberg did little to help that drop-off both in the regular season and the playoffs. Power play issues helped sink the Wild in their last two seasons, as they went 6-for-35 (17.1%) against the Vegas Golden Knights and St. Louis Blues.
Now, against Dallas, the Wild fell on their faces completely, with a 4-for-22 (18.2%) conversion rate, with many Klingberg miscues throughout the series. Minnesota's 4.71 goals per hour on the man advantage was less than half of what Addison accomplished running the power play in the regular season. But the front office and coaches didn't trust him over... the defensive stalwart Klingberg??? So Addison stayed stapled to the bench to the very end.
Because, you see, there's a right way to play the game and a wrong way to play it. The wrong way was last year, when a high-flying Wild team got punched in the mouth in Round 1 and never recovered. Out goes Fiala, in goes the Gaudreaus, Steels, and any other veterans who could box out Minnesota's highly-touted but untrusted next wave of talent.
The right way was what we saw this season: a grit-first mentality where will is prioritized above skill. A team that is built to win 2-1 games in the shootout with the help of .940 goaltending. The version of the Wild forged as the brainchild of Guerin and Evason, two players whose toughness was central to their games. A team whose central promise was: We may not be pretty, but we're built for the playoffs.
The right way and the wrong way took different paths, and led to the exact same place. After seeing the end result of pivoting from the wrong way to the "Grit First" way and experiencing the result of leaving so much skill and potential on the table, we have to say: At least the wrong way was fun to watch.
2

1