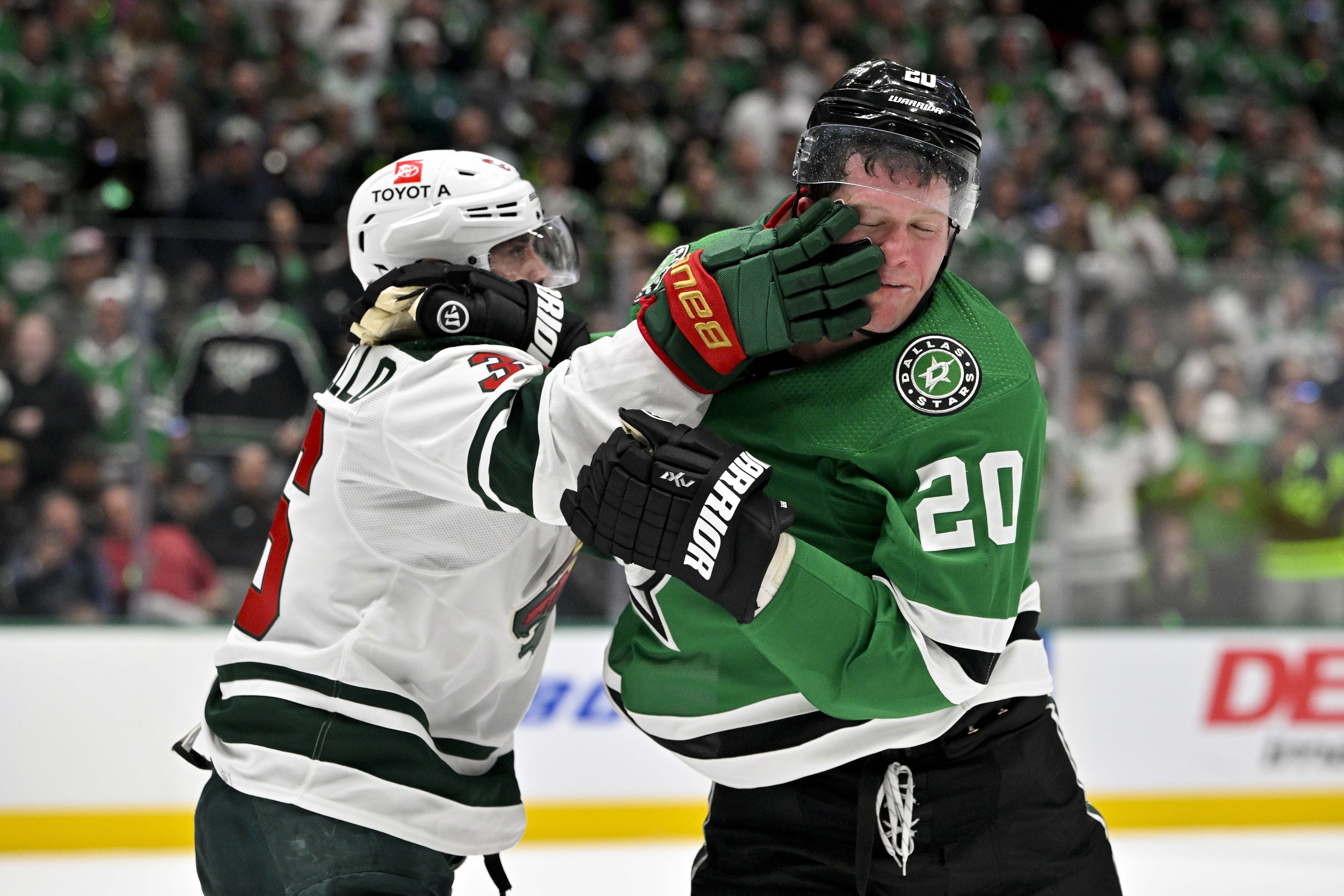 Image courtesy of © Jerome Miron-USA TODAY Sports
Ryan Suter dropped a doozy at the end of the routine interview with ESPN's Leah Hextall on Monday night. "It's not about me," he said during the first intermission of Game 1. "It's about the team." It felt like a shot at the Minnesota Wild. It was also a little rich coming from a guy Jason Arnott called "a big distraction." According to Arnott, the former Nashville Predators captain, Suter frequently complained about his playing time. Why was Shea Weber getting more time on the power play? Why was one of his teammates making more money than him?
Still, it's a clever dig. Bill Guerin bought Suter and Zach Parise out nine years after Chuck Fletcher had signed them to matching 13-year, $98 million contracts. Guerin did so knowing that the buyouts would put a cap squeeze on his team. It's still perplexing why the NHL punished owners like Craig Leipold for spending money on his team. Understandably, the league would punish the Wild for circumventing the cap. But these repercussions were unnecessary. 
But Guerin knew the rules when he picked up the phone to let Suter and Praise know that he would pay them not to play for his team. Suter reportedly hung up on Guerin immediately. It's unclear what Minnesota's plan is to navigate the next two seasons, where the buyout punishments are the harshest. They appear averse to playing young, talented players, and even the Frederick Gaudreau contract is risky – even if the Wild intended it to be the opposite. Still, that almost doesn't matter in this case. Guerin needed to purge Suter and Parise from the locker room. He'd handle the rest later.
It's hard to earnestly dislike Parise, even if he became part of the problem. He played like an undrafted player on the roster bubble instead of a first-rounder who scored 45 goals in his prime and 30-plus on the regular. Parise was willing to score greasy goals near the net and suffered severe injuries because of that. His physical sacrifice endeared him to fans who value scrappy, often fruitful, play. Parise was also one of us. His late father, J.P. Parise, and his mother raised him in Bloomington, and he played at Shattuck. He was Captain America with a Fargo accent.
Conversely, Suter was a Sconnie in forest green and iron range red. He continues to be a steadying force on the ice. A defensive defenseman who often reduces an opponent's scoring chances for 25 minutes without breaking a sweat. Suter is clean-shaven and looks like he did in his prime. So how can that be the same guy who whines about his playing time? Who complains about other people's money? 
Suter has always had a complex relationship with the truth. When Thomas Vanek experienced a decline in Minnesota, he tried to sell people that he thought of Vanek as more of a playmaker than a goal-scorer. Suter publicly said that he liked playing college hockey more than the pros, despite only playing one year at Wisconsin. In 2015, he got frustrated with a reporter who he felt didn't take his side after the league suspended Suter for two games for elbowing Steve Downie. 
Truth is permitted. Suter likely believes what he's saying. Perhaps you think he's just a good teammate who loves college hockey and feels he plays clean. But that's hard to buy when Arnott, one of the most respected players in the league in his playing days, calls him a distraction. It's hard not to think that Suter is prone to dirty play when a former GM reportedly said Suter had a reputation for it. Suter got away with violently cross-checking Kirill Kaprizov multiple times in Game 1, and it wasn't the first time he did something like that behind the play.
Suter's cross-check could have removed Kaprizov from the series, which seems to confirm he's fully embraced his heel status against his longtime team. His disruptive locker room behavior became so egregious that Guerin bought him out, leading to a mess of problems for Minnesota. Since then, Guerin traded Kevin Fiala, a 30-goal scorer, to the Los Angeles Kings. He'll likely let Matt Dumba walk for nothing in the offseason.
The Wild will probably win their first playoff series since 2015, so long as they stay out of the penalty box. They're better than the Dallas Stars. But they would definitely be more skilled if they had more cap room.
Minnesota's situation isn't entirely Suter's fault. There's no world in which it could be. Ultimately, Guerin chose to buy out Suter and Parise. The league punished the Wild for spending money. And Suter is only half the reason why they are in cap hell. But he's on the opposing team in the first round, and he smashed his stick into Kaprizov's back behind the play. Everyone's been waiting for Minnesota to advance in the playoffs for the first time since the buyouts. And, let's be honest, it would be fun to simultaneously send Suter home on the way to the second round.
1