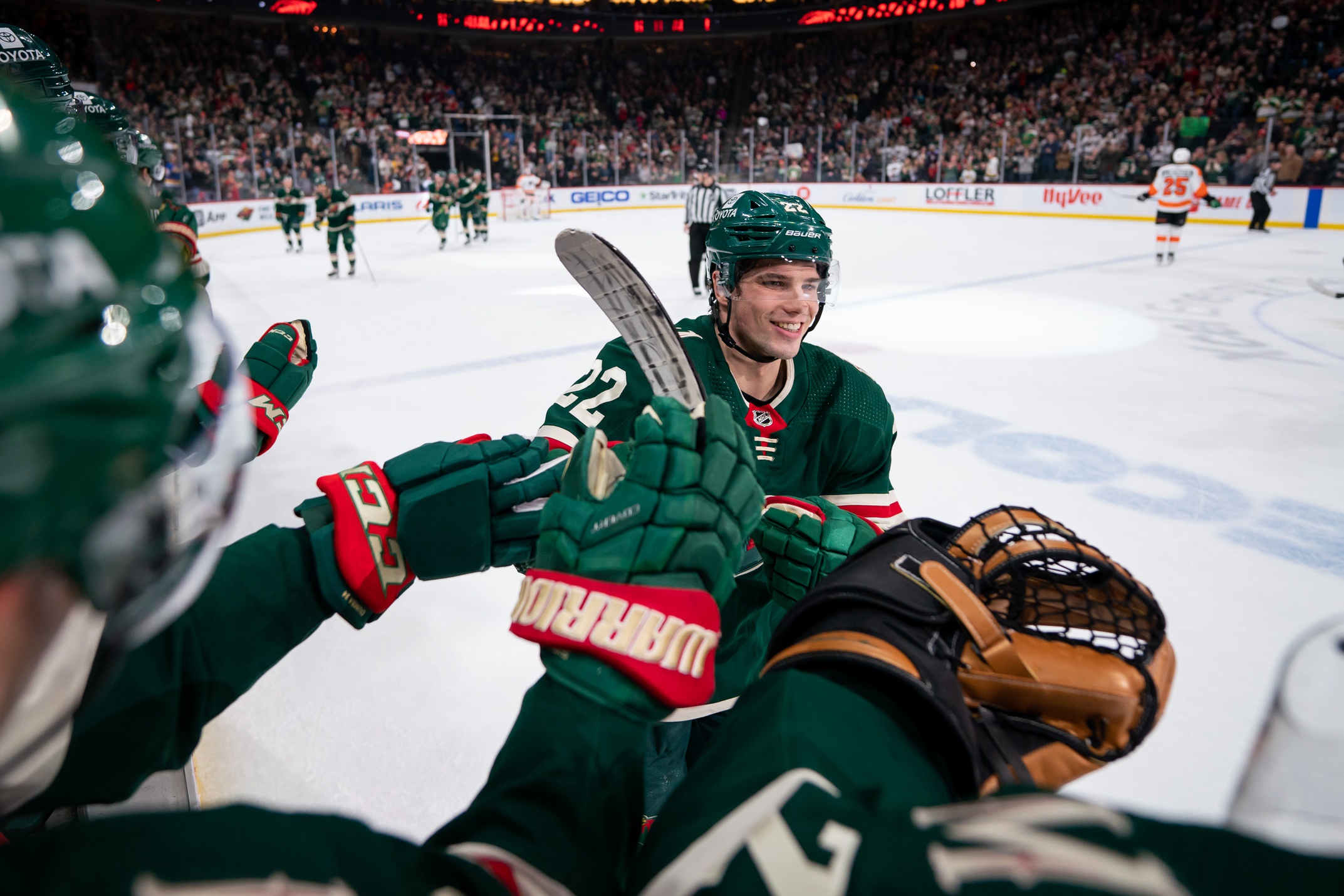 If there's a Minnesota Sports curse, it's probably the Curse of Big Papi. An up-and-coming Minnesota Twins team had a baby David Ortiz on their team, a future Hall of Famer and World Series MVP. Sounds pretty awesome, right?
But we all know the story. The Twins coaching staff didn't focus on what Ortiz could do, just what he couldn't. Since he couldn't hit the ball the other way, Minnesota unceremoniously cut the budding slugger in 2002. You know the rest. We all do.
So every time a Minnesota team trades a youngish, promising player, the Spectre of Big Papi looms over the state. Will this be the next player to leave Minnesota, only to reach new heights elsewhere?
Cutting Ortiz was questionable at the time, and certainly a case of botched development. But Ortiz also wasn't Big Papi quite yet. He was 26, with only a career-high of 20 home runs, and some injury history. You can't absolve the Twins here, but no one could be certain he'd blow up.
Now, getting rid of Ortiz before he became Ortiz is one thing. What happens when you force an Ortiz out after he's turned into Big Papi?
The Minnesota Wild are facing that exact scenario with Kevin Fiala, and the State of Hockey is doing all it can to will it not to happen. Fans are desperately trying to find a way to keep Fiala around. Perhaps if they can trade Matt Dumba, or Dmitry Kulikov, or Jordan Greenway, or Cam Talbot, there'll be enough cap room. There are probably folks sleuthing for Fiala's Venmo to try to find a way to get him whatever money it takes to keep him in St. Paul.
It's all completely understandable because Fiala is that deadly of an offensive force. He's one goal away from becoming the ninth 30-goal scorer in Wild history. His 73 points already sit at sixth in franchise history, with seven games left to move further up the list. He's tied with Mats Zuccarello and Brian Rolston for third in franchise history with 0.84 points per game, creeping up on second-place Marian Gaborik (0.87)
All this, and he doesn't even turn 26 until July. When a team has a young, dynamic player like him on a team loaded with talent, they almost never let them go.
Except the Wild are almost certainly going to do just that.
Why? Because they don't really have a choice right now. Look at their cap situation next year. Minnesota is set to have six roster spots to fill, and just over $8 million of cap space to work with. And the players they'll want to bring back are pretty significant. For example, if Marc-Andre Fleury returns, he's going to command a hefty sum. Even on a discount, like, say, $5 million, that's over half their available cap space.
Sure, it'll help to have entry-level players like Marco Rossi, Calen Addison, and Adam Beckman in the mix. But even with all three of them, Minnesota is over the cap and needs to fill two roster spots. That's before accounting for potential ELC bonuses, too.
Could moving Dumba, Kulikov, and Talbot free up the space to squeeze in Fiala? For next year, maybe! The problem is, the Wild can't just look one year ahead. What happens in two years, when the Zach Parise/Ryan Suter buyout penalties increase from $12.75 to $14.75 million?
That puts Minnesota at a 10-person roster with $23 million to work with. Throw in a $7 million cap hit for Fiala, and they'll need to fill 12 roster spots with $14 million. Not only will they need to get two goalies, but Matt Boldy will be up for a new deal. Even a cheap $3.5 million bridge deal, for a very optimistic example, puts them at having $10 million to sign 10 players.
Are they going to really ice a roster with 10 players averaging the league minimum? Including both goalies?
The Wild's solution here isn't nearly as simple as "Trade Dumba." They need his expiring cap hit to avoid having a full-on stars and scrubs roster in two years.
So what is the solution? Barring general manager Bill Guerin moving heaven and earth to keep him, and Fiala taking a below-market deal, there is none. Will those things happen? It's sad to say, but almost definitely not. Because this was all, it seems, a deliberate choice by Guerin. He laid the groundwork last summer for this situation.
Last summer he had a chance to show Fiala he was a priority to the organization. He didn't. Minnesota reportedly offered Fiala neither money suiting his production nor long-term security this offseason. While Kirill Kaprizov and Joel Eriksson Ek got contracts signaling Minnesota's commitment to them, they took Fiala to arbitration and strong-armed him into a cheap, 1-year $5.1 deal.
What would it have taken to get him on, say, a five-year deal? $6.5 million? $7 million? Even $7.5 million?
How many Wild fans right now are wishing they'd done exactly that when they'd had the chance?
Even if Minnesota was amenable to that kind of extension now — and there's been little indication they are — most everything they've done since the summer has further made it impossible. Extending Jordan Greenway for three years at $3 million tied up precious available cap room, for example.
And that's been the move that's made the most sense. Signing third-pairing defensemen Jon Merrill and Alex Goligoski to questionable multi-year extensions further muddied the cap situation. So did acquiring Tyson Jost at $2 million next year.
Trading for Jost makes some sense. So does extending Fleury, should they go down that road. But that takes up all of Fiala's money, and more.
Especially for a team facing the unique salary cap circumstances the Wild are, haphazardly shoe-horning in a $7 million salary isn't an option. It requires prioritization and careful planning. Based on his actions, nobody can argue that Guerin made Fiala a priority, nor that an extension is in his plans.
Even if Guerin is trying to extend Fiala now, as opposed to last year, that's probably worse than making an eventual plan to trade him. Fiala's breakout shouldn't have snuck up on him. It's been in progress for two seasons prior, and all under Guerin's tenure as GM.
Fiala is absolutely having a career season, ranking 13th in the NHL with 2.96 points per hour at 5-on-5, and 34th in the NHL with 3.36 points per hour in all situations. Those are fantastic numbers.
But from the 2019-20 to 2020-21 seasons, Fiala was also a top-30 scorer in the NHL. He ranked 24th in 5-on-5 scoring with 2.33 points per hour, more than the likes of big-money wingers like William Nylander, Kyle Connor, and Gabriel Landeskog. In all situations, he was 22nd with 3.08 points per hour, above those three names, as well as Johnny Gaudreau, Alex Ovechkin, and even Kirill Kaprizov.
Fiala was this level of scorer last year, and instead, the Wild front office decided to focus on what he wasn't. They were more disenchanted by his turnovers than entranced by the game-breaking, dynamic way he could pile up points, even with little help from his linemates. His full break-out coming with better linemates was obvious and predictable.
This isn't even to say that moving Fiala this summer can't be the right decision. He's no doubt increasing his trade value with every goal, and lots of talent-starved teams should bid for his services. If the Wild can get a big return of prospect and draft capital that will help the likes of Boldy, Rossi, Beckman, and Co., it could work out.
But he'd better be right. Wild fans remember a time not so long ago when the Wild were one of those talent-starved teams in need of a player like Fiala. If the next several years are filled with Minnesota getting bounced early because no one is scoring crucial goals, the fans will connect the dots back to Fiala with no prompting.
In that situation, there's no doubt that the many deliberate decisions that made losing a young, goal-scoring game-breaker inevitable will come with incredible scrutiny.