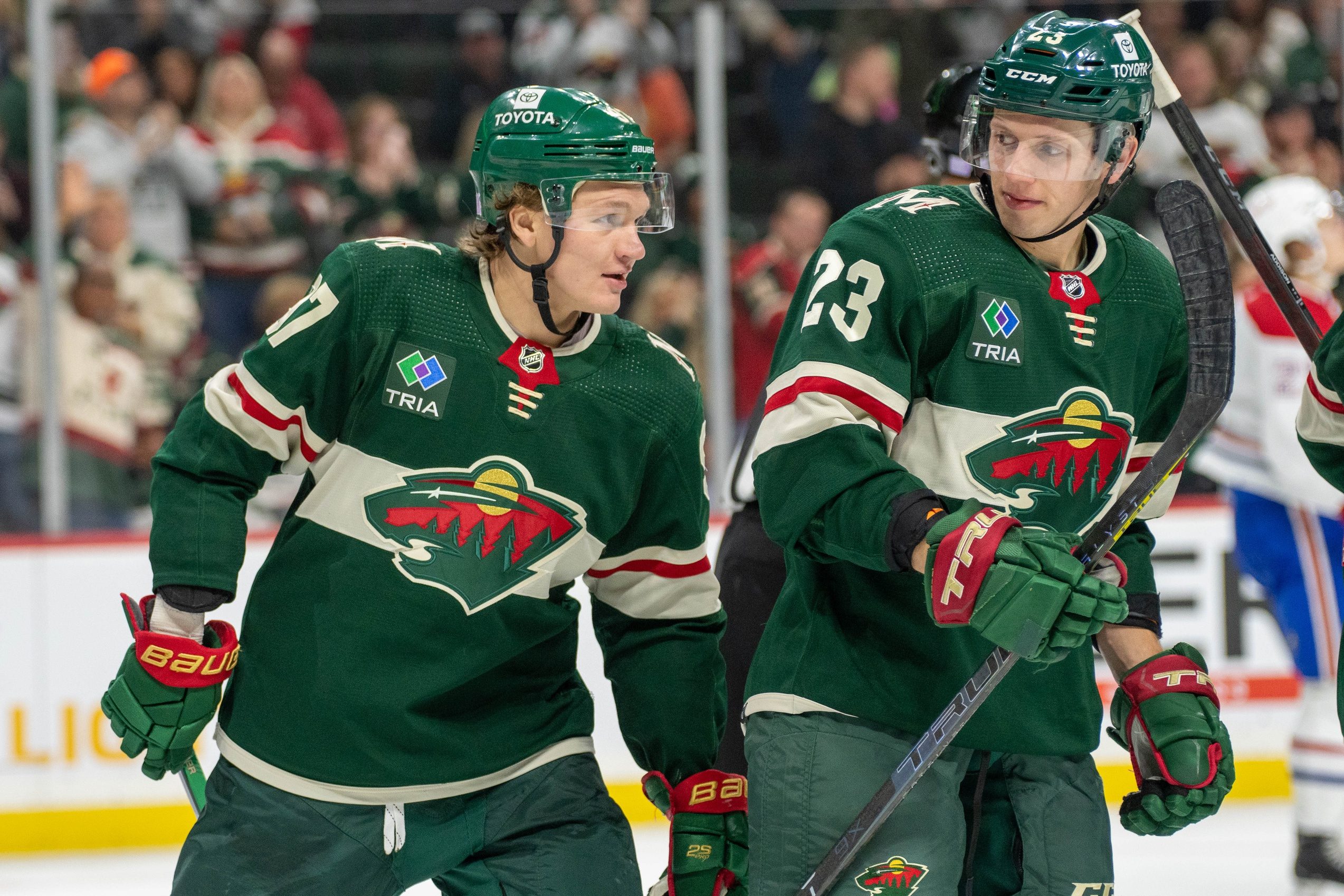 Bill Guerin said Marco Rossi was "the guy we had been targeting all along" after selecting the 5'9" center 9th overall in 2020. Rossi saw the Minnesota Wild as a perfect fit. "They need a center," he said. "I'm a center. I'm 100 percent ready. My impact is going to be my whole game."
Rossi's father used to shuttle him three hours round-trip from Feldkirch, Austria, to Zurich, Switzerland, for hockey practice. He saw his father's commitment and made it his goal to reach the NHL. "He's a determined and dogged worker," director of amateur scouting Judd Brackett said. "He'll do everything he has to do to be the best he can be."
"He's got a swagger to him," Guerin added. "He believes in himself. He's gonna bet on himself. If he can come in and play well enough, he can make the team. If not, we'll figure out what's best for him."
Rossi didn't make the Wild out of camp and later suffered from myocarditis, which kept him off the ice for four months. He recovered and made his NHL debut on Jan. 6, 2022, but spent most of the year in Des Moines. He dominated the AHL, recording 53 points in 63 games for the Iowa Wild. However, he only played in two NHL games and never got another look after his initial call-up.
Despite being a polished prospect, Rossi had some flaws in his game – namely, a lack of physicality and the propensity to create turnovers in space. He also was less productive at the end of the season, perhaps because he missed a year of hockey. However, few prospects are fully-formed when they reach the NHL.
It was also hard to ignore the financial incentive on Minnesota's end. They could slide his entry-level contract back a year by keeping Rossi in Iowa. For a team that placed itself in cap hell by buying out Zach Parise and Ryan Suter, they need to save a penny anywhere they can. Still, they are doing the player a disservice by keeping him in the minors for financial reasons.
More pertinently, they also may have hurt their roster this season.
The Wild now have the quixotic task of trying to win with Kirill Kaprizov, 25, in his prime while also navigating severe cap penalties. The Wild are carrying $12.7 million in dead cap space this season and will have $14.7 million in dead cap the next two seasons. Guerin claimed the buyouts would "open doors for younger guys," saying that the Jason Zucker trade created more playing time for Kevin Fiala.
Since then, Guerin traded Fiala to the Los Angeles Kings, and Rossi has only played 16 games in a Wild uniform. Kaprizov was an All-Star this year, and Matt Boldy, 21, has become an underrated star. However, Minnesota doesn't have anyone to center their lines. Joel Eriksson Ek is a capable top-line center, but Dean Evason uses him with Marcus Foligno and Jordan Greenway. Sam Steel and Ryan Hartman are capable NHL players, but they aren't No. 1 centers.
Rossi only had one assist in the 16 games he played this season, and his last game was against the Pittsburgh Penguins on Nov. 17. He's been a point-per-game player in the AHL and continues to display NHL tools in the minor leagues. Still, the Wild turned to Hartman when Steel was unproductive between Kaprizov and Matts Zuccarello.
Perhaps Rossi's lack of production is why the Wild are filling their first-line engine with 87-octane gas. But Rossi's lack of refinement is on them. They drafted a player they thought was NHL-ready, toyed with his service time, and didn't have a great plan for when he arrived in the NHL. Brackett has struck oil, bringing in a large group of prospects even though the Wild haven't had high picks – no small feat. Unfortunately, Minnesota looks like it's stuck with a lot of crude oil. A large prospect pool hardly helps them if they can't turn them into productive players.
The bigger-picture issue here is that the Wild will have to lean on prospects to build a winner around Kaprizov. Marc-Andre Fleury, 38, will eventually retire, so they'll need Jesper Wallstedt to create a tandem with Filip Gustafsson. They're probably going to move on from Matt Dumba, so Calen Addison has to be ready to replace him. Even in a normal cap situation, most great teams lean on prospects to fill out their roster.
Player development is always difficult, and they've successfully developed depth players like Mason Shaw, Brandon Duhaime, and Samuel Walker. However, given their current cap situation, they need to get production out of their farm system. If they can't turn a player who was borderline NHL-ready on draft day into a No. 1 center, why do we think they'd have any better luck with another high-end prospect?