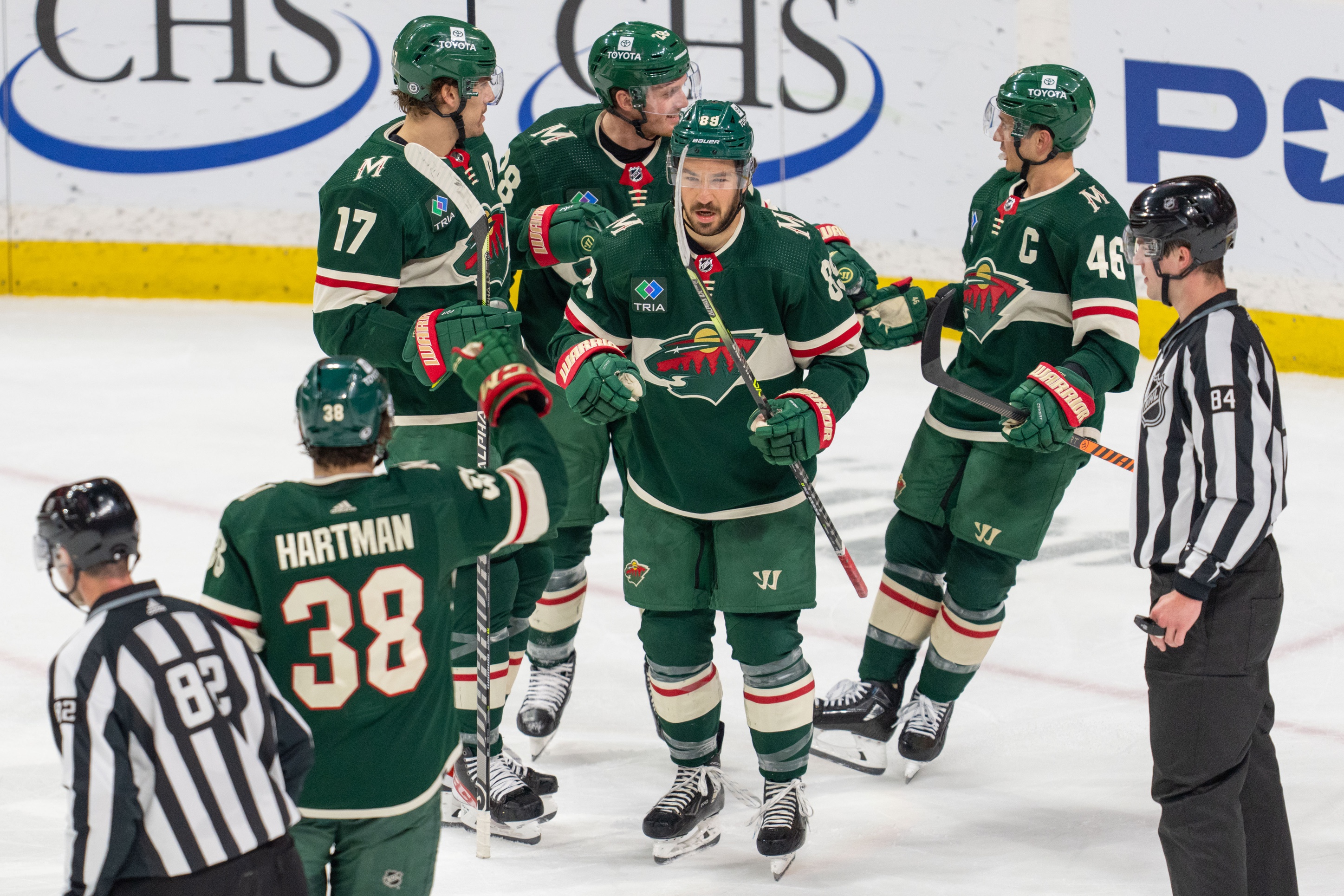 Image courtesy of Matt Blewett-USA Today Sports
The heart wants to love Freddy Gaudreau's new five-year deal, but the realities of the salary cap suggest it could be a mistake.
You can say whatever you like about Freddy Gaudreau's five-year, $10.5 million contract with the Minnesota Wild. In some ways, it doesn't matter. In a world of competitive, contentious, and cutthroat negotiations of the sports world's it's a business mentality, Gaudreau's story is a rare feel-good moment.
In case you need a refresher on Gaudreau's career arc, here it is:
Gaudreau walks on to try out for Shawinigan's QMJHL team after going undrafted in the CHL Draft. He makes the team as a bottom-six player in the QMJHL. Two years later, he's a captain, a point-per-game player with a big playoff run, and gets a strong reputation as evidenced by the "Q" naming him the league's Most Sportsmanlike Player
And he continues to get that familiar feeling of being undrafted, this time in the NHL Entry Draft.
Who cares? He catches on with the Nashville Predators organization and works his way up AHL lineup, just like in juniors. He gets a cup of coffee in 2017 and somehow manages to score his first three goals in the Stanley Cup Finals.
Despite this, his career starts to stall out. He's splitting time between Nashville and the AHL Milwaukee Admirals. Finally, he jumps to the Pittsburgh Penguins, hoping to catch on at age-27. Instead, he's shuttled between the taxi squad during the COVID season, despite playing well in his NHL games.
At 28, he joins his former Milwaukee Admirals coach Dean Evason in Minnesota, and he again works his way up the lineup. Despite his track record as a tweener, Evason plants his flag saying Gaudreau can play. By the end of the year, he's centering their second-best scoring line and racked up 44 points. The next season, he follows it up with 19 goals and 38 points.
Now we're here, as the Wild rewarded him for all his hard work with long-term job and financial security. It's impossible to say that he didn't deserve it. By all accounts, he's a great teammate, a hard worker, and an inspiration to any mid-20s AHLer who hasn't gotten their opportunity yet.
This is how sports should be. Players deserve every penny they can negotiate from their teams, and honestly, even more. It's why the salary cap sucks. It sucks the humanity out of the game and turns players — actual human beings — into game pieces. Playthings for the oligarchs of North America and their bean counters. 
That's the world I'd love to live in. Unfortunately for the Wild, that's not a realm where they reside. Is Gaudreau a fantastic story? Absolutely. A solid player who proved against long odds he can play in the best league in the world? Sure. Is it the human thing to do to reward a guy like Gaudreau instead of letting him take his chances on the open market? You bet.
But is this contract conducive to optimizing Minnesota's chances of winning long-term? It sucks that we have to look at that. But we do, and the answer is: probably not?
There's a reason they say sports are a business — it's because they are. The salary cap squeezes player salaries and makes every dollar someone gets a dollar someone else can't make. It tricks us into thinking a player who scores 82 points in two years while only getting $2.4 million for it is a good thing, then has fans hold their nose when they get some of the money they deserved.
This sucks! You want to (and should!) be happy for Gaudreau. But in a salary cap league, winning is tied to successfully managing the money. Gaudreau deserved more money these past two years; he was underpaid. That doesn't mean giving it to him is going to help the team long-term, though.
Let's get into why. Why sign any player long-term, anyway? The most logical reason to do so is when teams can't find what that player provides easily. If a player is rare and valuable, you've got to lock that down for as long as you can. 
Minnesota doesn't have a lot of long-term contracts on their team, though partly this is attributable to the ghosts of Zach Parise and Ryan Suter soaking up $13 million or so of dead cap space. Until last night, the only players whose contracts lasting three years into the future or longer were Kirill Kaprizov, Matt Boldy, Joel Eriksson Ek, Jared Spurgeon, and Jonas Brodin.
All of those players are extremely hard to replace. Arguably, they're all franchise cornerstone-type players. No one else on the team has more than two years remaining, and they were the only players Bill Guerin had ever signed to a longer than a three-year term.
Until Gaudreau. We have to ask what prompted Guerin to do that. Is he hard to replace?
This season he's emerged as a sort of special teams whiz. Evason trusts him heavily on the penalty kill, and Gaudreau's rewarded his coach with four shorthanded goals. Gaudreau is almost always out there to defend a late, close lead, leading to some empty-netters. And of course, he's been a revelation in the shootout.
Combine that with intangible factors like being a good teammate and working hard, and it's easy to see why his coach and GM are enamored with what he brings. 
But on the ice, at least the things we can measure, it seems like Gaudreau doesn't bring a rare or unique set of attributes to the table. Let's take a quick-and-dirty look at his playing card from Evolving Hockey.

What we see here is a player who is about league-average defensively and is very below average on the offensive side of the puck. Looking back over the last three years isn't cherry-picking to make Gaudreau look worse, either. If we isolate just this season, he's in the 13th percentile in offensive impact, and just the 38th percentile defensively. 
Under normal circumstances, teams shouldn't seek to lock this kind of player up long-term. Maybe Gaudreau could've priced himself out of Minnesota's ability to pay on the free agent market. That's OK, though, because you can find the next Gaudreau.
A great example of this would be... the Wild signing Gaudreau in the first place. Minnesota didn't get him after a two-year run of NHL success. They found a guy who'd bounced around and hadn't proven he can be an NHL player. But they identified what he did well, and put him in a position to succeed.
Minnesota's fairly good at this. Ryan Hartman stands as an example; maybe the best one. Sam Steel came in on an $800k deal and scored 28 points in 65 games. No one thought much of Filip Gustavsson before this season. But now he's incredible, and the Wild got him straight-up for a bad contract.
Paying Gaudreau for five years kind of ignores what made Gaudreau such a good value to begin with. 
Then you fold in the fact that the first season of this new contract will be Gaudreau's age-30 season. Now, his status as a late bloomer and NHL/AHL tweener, and COVID taking away a good chunk of games means he doesn't have a ton of miles on him. Between the AHL and NHL, he has 505 professional games under his belt. Maybe that helps him avoid a sharp decline like those we've seen from past veterans in Jason Pominville, Dany Heatley, and Parise.
Still, Father Time is undefeated, as they say, and betting on a player maintaining their value from age 30 to 34 is pretty optimistic. Can it be done? Sure, the Wild have mid-30s players that look ageless. But is it a solid bet that Gaudreau will merit staving off the wave of talent that's coming for Minnesota for five years? Again, probably not.
Especially considering that those vets we mentioned were extremely valuable players at their peaks. Gaudreau doesn't have that much wiggle room if his game starts to drop off. This season, Gaudreau gave Minnesota about 1.2 points in the standings over a replacement-level player, according to Evolving Hockey. 
That's probably worth the $2.1 million freight now, but again, any decline is going to eat away at that fair price. That's not a bet many teams are willing to make on a depth player.
Next season, only 24 active players will be on five-year contracts they signed at age-30 or later. These are almost exclusively star-level players who have a track record such that teams will make that deal with the devil to get and/or keep. You can probably argue there are a few mid-tier guys like Ondrej Palat or Bryan Rust, but those look like overpays.
Only one player matches Gaudreau's role as a bottom-six type: Casey Cizikas. He's in the second year of a six-year, $15 million deal that looked bad on Day 1, and not much better now. Even with his best production since 2018-19, Cizikas only scored 21 points for the New York Islanders. He turns 32 next year. Good luck with that.
This extension also furthers a trend we've seen from Guerin's front office: making moves they probably didn't have to make to lock players in at the height of their value. In fairness, doing this with some players, Hartman being a prime example, was savvy. But other moves have already bitten Minnesota.
Last season, Guerin inked Jon Merrill to a three-year deal at a low price, just $1.2-million AAV. He did so in December after a great stretch of play from the bottom-pair defenseman. One year later, Merrill is rotating in and out with players like Alex Goligoski and fans are already clamoring for Brock Faber to squeeze him out of the lineup. This is just in the first year of Merrill's extension. Two to go.
Speaking of Goligoski, Minnesota also extended him last year getting him under contract through age-38. Goligoski has played recently, but spent most of the season as a healthy scratch and was in trade rumors as someone whose salary Guerin might like to clear next season. Expect to hear more of those this summer, as his $2-million AAV looks like a small but dense weight on their flexibility.
Despite being younger than either Merrill or Goligoski,, Jordan Greenway is already one such cap casualty. At around this time last year, he signed an extension that looked team-friendly, lasting three years with a $3 million AAV. One year later, Greenway is out the door and the default reaction from the fan base was, good thing they got rid of that awful contract. Again, this was a "team-friendly" deal that went sour after one year, with a 25-year-old player.
These were all low-money deals like Gaudreau's, and they lasted two or three years. What happens if Gaudreau isn't looking good in two years? There'll be a whole three years left to go on that deal — and Gaudreau's 15-team no-trade clause might make that deceptively hard to move.
You could see why Guerin was willing to make those deals, though, because the Wild wanted contract certainty for the height of the Parise-Suter buyout penalties. Maybe it wasn't the best reason to invest in those particular players, but it theoretically solved a problem. You're not going to need to overpay for a third-line winger, or a sixth-or-seventh defenseman if you have one locked in.
Gaudreau gives Guerin cost certainty for the next two years. But what problem does he solve after that? Minnesota's system is stocked with prospects. Not all of them are going to make it, but they're also pretty likely to churn out more Brandon Duhaimes, Connor Dewars, and Mason Shaws. And as Gaudreau, Steel, and Hartman have shown, those spots aren't expensive to fill competently (or better) from the bargain bin.
The money doesn't look like a concern now, and maybe Gaudreau's $2 million won't hinder Minnesota as the cap rises and the buyouts (mostly) come off the books. However, the issue is that salaries are going to rise with the cap. Someone like Kaprizov has the potential to get paid to the tune of $13-15 million.
Minnesota also hopes that top prospects like Marco Rossi, Jesper Wallstedt, Brock Faber, Marat Khusnutdinov, and more will too, should they become productive NHLers in the next five years. Any free agents they bring in once Parise and Suter's money clears are also going to be more expensive.
Teams aren't going to magically all have breathing room once the salary cap goes up. Salaries are cats and the cap ceiling is any object they can climb into. They'll conform to fill the precise volume available. Look at the ones that had significantly more money to play with than Minnesota this year. Plenty of teams had to move assets in order to clear money. $2 million of flexibility is pretty valuable now, and that's not likely to change in five years.
Again, this stinks that the realities of a salary cap world threaten to taint as cool of a journey as you get to see in hockey. In a better world, we're all celebrating that a nice guy who clawed his way from an unknown junior player to a $10.5-million contract without a dreaded BUT! undermining it. Sports would be better for it.
BUT! that's not the world we or the Wild occupy, and there's a chance that forces far beyond what Gaudreau can control, or has anything to do with, might curdle what should be an otherwise incredible story.