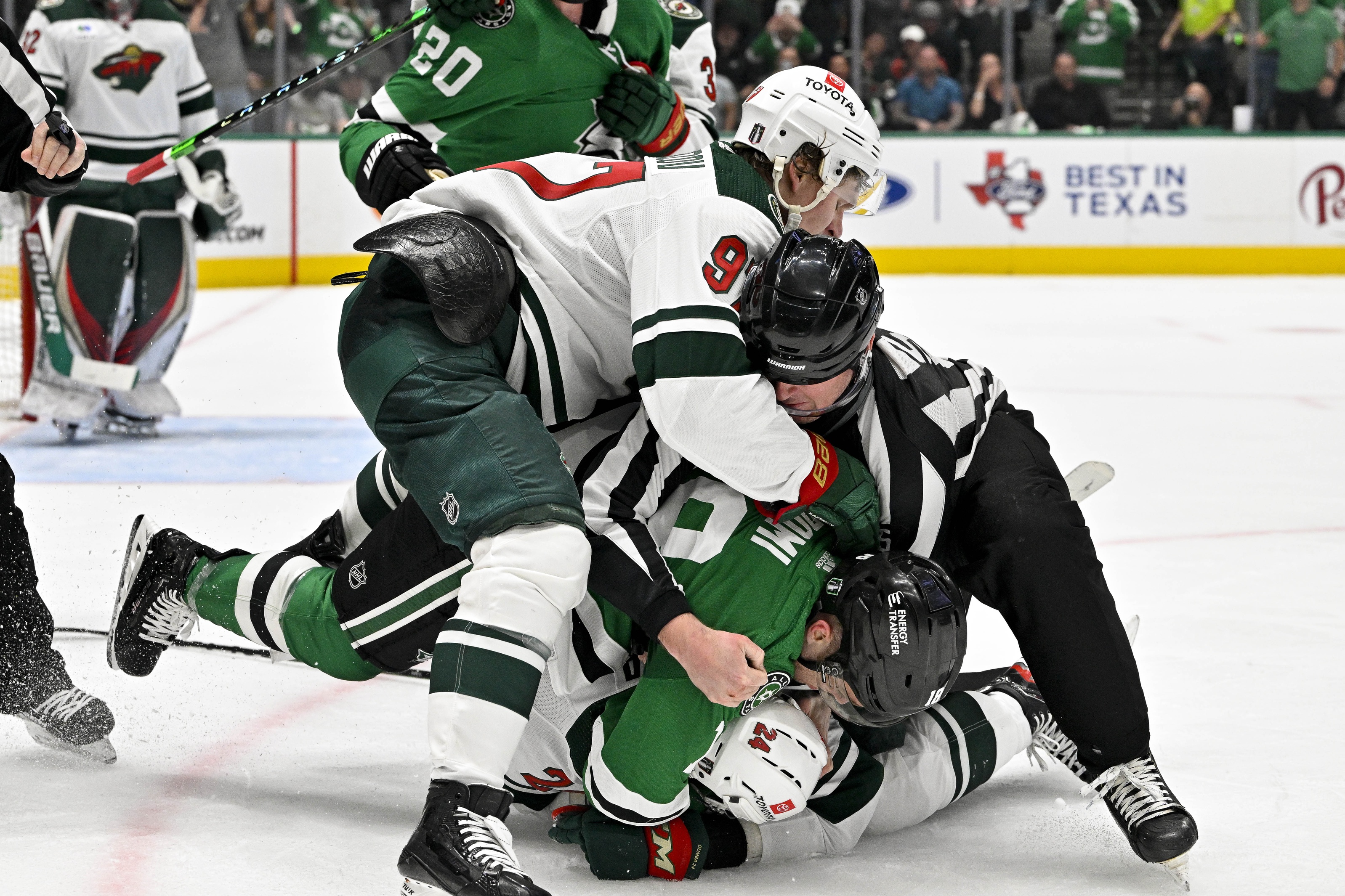 Image courtesy of © Jerome Miron-USA TODAY Sports
Every time I hear the "stay out of the box" lecture from a coach, broadcaster, or (worst of all) a sports writer, I can't help but roll my eyes. The audience groans. "Nobody wants to kill penalties. Do you think anybody is going out there and trying to go to the box?" It's like that John Mulaney bit:

Credit: Netflix's "Kid Gorgeous at Radio City" Special featuring John Mulaney.
Please understand that in this case, I am trying to be interesting. The real key to a Wild victory is to keep the Dallas Stars off the power play. 
The Stars' power play unit was one of the best in the league this year. Dallas ranked fifth in the NHL when it came to converting their power plays into goals, with it happening 25% of the time. The rate at which they generated high-danger chances is scary as well, earning 31.59 high-danger shot attempts per hour on the man advantage, which also ranks fifth in the league.
By comparison, the Wild scored on 21.4% of their power plays, which ranked 15th in the NHL and 11th out of the 16 playoff teams. It also means that for every four penalties that Minnesota takes, they need to draw five penalties to even up the scoring. 
Aside from power play efficiency, the Stars and Wild are fairly even across the board. Minnesota has a deep defense and questions up front, and Dallas has a deep set of forwards but questions on the back end. Both teams sport exciting goaltending talent. Most relevant to this special teams study, both teams commit and draw penalties at a league-average rate. 
Joel Eriksson Ek's injury is the real difference-maker in this series. The Wild center is week-to-week with a lower-body injury and may not be 100% if he returns. Eriksson Ek is the team's keystone penalty-killing center-ice man. He's also a key role player on Minnesota's power play unit, which further widens the special teams disparity. 
The center depth already bit the Wild in Game 1 on Monday, seeing penalties taken by Frederick Gaudreau and Ryan Hartman. Not only was Minnesota's center depth strained due to Eriksson Ek's absence, but the penalty kill gave up two goals on five opportunities. 
What's even scarier about this is that these two goals weren't even that dangerous -- the first came with movement off the faceoff, and the second found its way through traffic. Neither chance came from in-close, which is the Dallas power play's specialty. Game 1 was a testament to the impossibility of defending all of the shooting talent on the Stars' power play with only four skaters on the ice. 
So, the Wild need to stay out of the box. That's pretty obvious. But how can the Wild take fewer penalties? 
To answer this question, I dove deep into the penalties data at IcyData. I found that the Wild have two repeat offenders who can improve their penalty numbers to help the team: Ryan Hartman and Matt Dumba. 
The Wild scratched Hartman and Dumba earlier in the year partially because they were taking too many penalties. That's backed up in the data. Dumba took 0.35 minor penalties per-game, while the median NHL defenseman took only 0.21 – a little over half of Dumba's mark. Hartman was an absolute outlier, taking a whopping 0.51 minors per game; while the average forward takes only 0.17 minors per game. These numbers are higher than any other player on the Stars or Wild. 
In Game 1, both players took minor penalties. Hartman committed a boarding penalty, which Wild fans unanimously received as undisciplined. In fairness to Dumba, his penalty wasn't really his own choice -- he was given a roughing minor for a weird fight against Max Domi as a consequence of his clean hit on Pavelski. These after-the-whistle activities are commonplace in the playoffs, so we'll see it from other players as well.
Hartman's mark was so abnormal that I had to look to see if there was further cause for concern. To adjust for systems and circumstances, I compared Hartman's most-common penalties to those committed by an average skater on his team. I'll mostly ignore penalties such as the instigator or goaltender interference since they're such a small proportion of total penalties.

This data essentially creates a menu of Hartman's "favorite penalties." I found that Hartman demonstrated better discipline than the average Wild skater in tripping, holding, and high-sticking penalties. Conversely, he's taken many more penalties than his teammates in the following categories: interference, roughing, slashing, cross-checking, and hooking. 
Interference and roughing minors kind of fit in the same category -- they're physical, and they're somewhat of a judgment call. They also will be called far less often in the playoffs as the refs set the tone for "heavy hockey," which should help Hartman. 
The remaining three categories (slashing, cross-checking, and, most of all, hooking) are stick infractions that players can mostly avoid in the playoffs by maintaining good positioning. Barring an egregious infraction, playoff referees usually look the other way unless the offense has beaten a defending player. Hartman seems capable of keeping good positioning, considering that holding and tripping penalties (which he rarely takes) are often the result of recovering from poor position. If Hartman can stay in coverage between his man and the net, he could drastically decrease the number of penalties he takes this postseason. 
Even if Hartman were to cut his penalties per game down to the average level of 0.17 per game, that only works out to about 2.5 penalties per game. If the Dallas power play converts at their season average of 25%, Hartman can save only 0.91 goals throughout a seven-game series. For this reason, the entire team needs to adopt a disciplined style of defense. 
The points about good positioning apply to the entire Wild lineup. Minnesota's most common penalties outside of roughing and interference are stick infractions. The refs allow some leeway on each of these penalties in the postseason so long as the offending player's man has not beaten them. 
Minnesota kept in pretty good position all night, yet they took seven minor penalties by the end of the night. Even after you adjust for double-OT, this is on pace for about 4.5 penalties in a 60-minute game. Despite the anything-goes playoff officiating, this was a much higher rate than Minnesota's 3.8 minor penalties per game posted in the regular season. 
A great example of this was Jared Spurgeon's slashing penalty. The play was borderline and usually goes uncalled in the playoffs, but Dadonov fell at the same time as Spurgeon delivered a stick check. It seems that even when the Wild are in good position, the Stars will be able to draw penalties. 
The best way to prevent penalties beyond good defense is to keep control of the puck. Minnesota has struggled to break out of their zone this year, and this tendency reared its head during the team's worst stretches of game one. The team needs to get on the same page in the face of pressure. 
The Dallas series likely runs through Minnesota's blue line. If the Wild exit the zone with control, they can hold the puck. If the Stars can counterattack with numbers, they'll get onto the power play and make it a quick series.
1