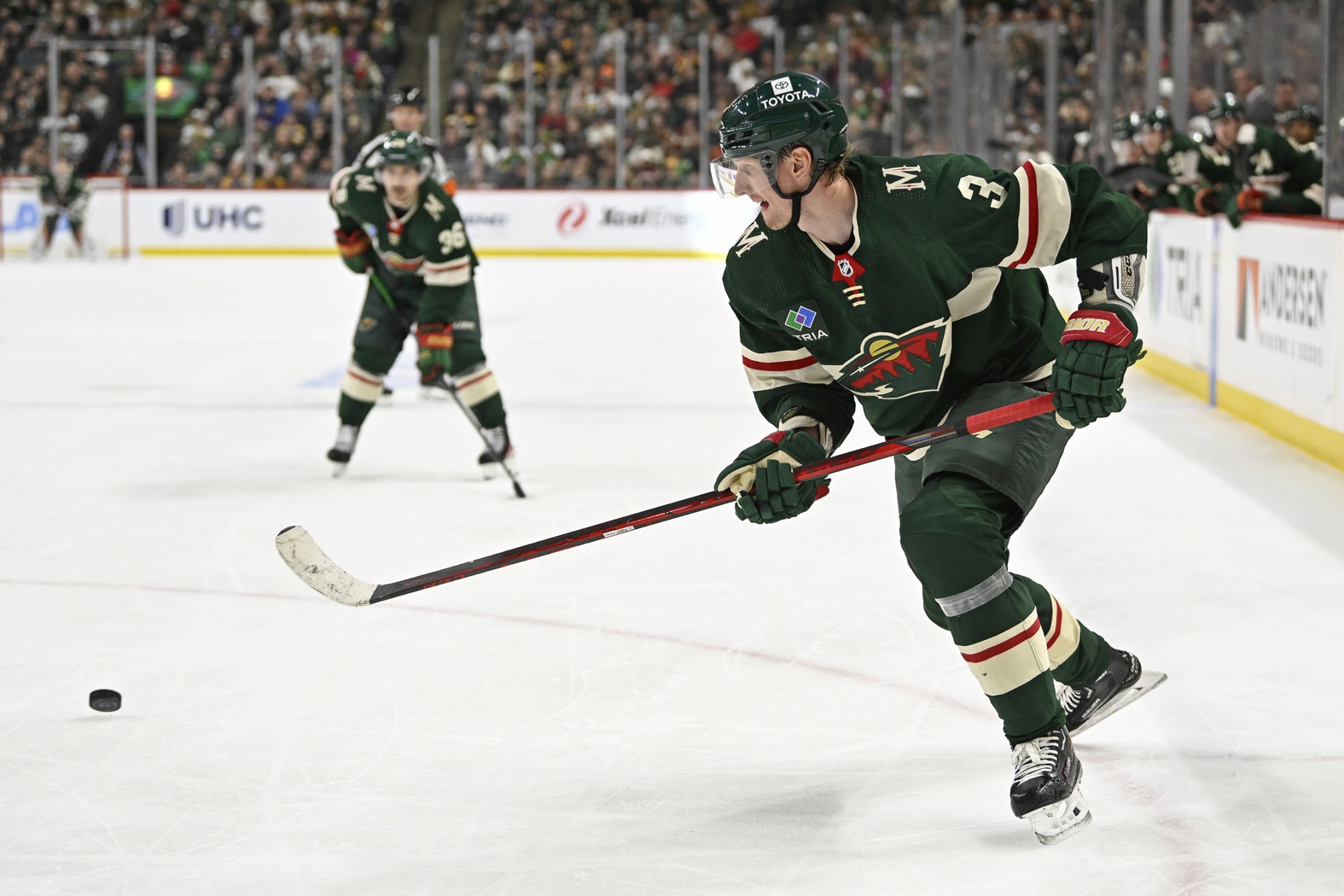 Minnesota isn't unfamiliar with the concept of a quarterback controversy. Case Keenum or Teddy Bridgewater? Christian Ponder or five other equally terrible options. Daunte Culpepper did what on a boat? Kirk Cousins vs. Please, God, Anybody Else. Just not when it has to do with hockey.
But hockey has its own version of the quarterback: the Power Play Quarterback. The PPQ dictates the offense when the team is on the man advantage. When the forwards up front can't find their shot, they pass it back to the point, and the PPQ figures out where it goes next. It's a crucial job, as there are only so many chances for the power play to cash in per game.
There's been no controversy for this position on the Minnesota Wild, at least not for 15+ years. The Wild have generally only had one purely offensive defenseman to hold the role. Brent Burns gave way to Marek Zidlicky, who Minnesota replaced with Ryan Suter. Perhaps with Jared Spurgeon and Matt Dumba emerging, there should have been more controversy, but Suter's influence in the organization made it a non-question that he'd quarterback the top unit.
After Suter, Spurgeon stepped into the role. But Calen Addison has dethroned him this year. The reason for it? He took the spot and ran with it. Addison's not only quarterbacked the power play to scoring 10.6 goals per hour, but has out-performed just about every PPQ in Wild history.
And then, Addison lost his job.
In fairness to the Wild, they got an opportunity they couldn't really pass up on. Trading for John Klingberg not only gives them a potential game-breaker in the playoffs, but he also does stuff at 5-on-5 that Addison — and the rest of the blueline — haven't been able to do this year.
The price for that was an awkward numbers game for Minnesota. Klingberg plays the right side of the defense, giving Minnesota a fourth player to go with Spurgeon, Dumba, and Addison. Most teams play three, and most coaches will play an all-situations veteran like Dumba instead of a rookie power play specialist like Addison. So Addison was the obvious scratch.
It's worked so far. Klingberg is as advertised at 5-on-5, for good and (sometimes) bad. Addison has even drawn into the lineup for two games after Jonas Brodin and Jake Middleton went down to injury.
But what hasn't worked so well is the power play.
We're talking about a small sample, in fairness, and one primarily without injured Kirill Kaprizov. Maybe it's not fair to pin any drop-off on Klingberg.
But still, through 27 minutes, the results haven't been spectacular. Klingberg's been on the ice for only three goals (7.3 goals per hour). In comparison to an Addison-quarterbacked unit, Klingberg's power play fires shot attempts at a greater rate, but much fewer shots get through.
[caption id=attachment_146273" align="alignnone" width="779]

Courtesy of Evolving Hockey[/caption]
Here's where you see the magic of Addison's quick puck movement. The faster the puck moves, the less time defenses have to get set. Once defenses get set, passing and shooting lanes close, and blocks rise. It's a small sample for Klingberg, yes, but less than half his power play shots get on net, and over a third get blocked.
Contrast that with Addison, who has seen more than 60% of his unit's shots go on net, with about a fifth of them getting blocked.
It's easy to pin the gap between them on circumstance, with Kaprizov being out. But then, again, look at yesterday's game. Down 3-1 with 2:04 remaining in the second, the Wild got a power play opportunity.
Here's the play-by-play sequence for that power play:
1:57: John Klingberg MISSED shot, 50-plus feet from the net
1:55: John Klingberg BLOCKED shot, 50-plus feet from the net
1:54: Charlie Coyle SHOT ON GOAL, saved, 16 feet from net
1:42: Brandon Carlo SHOT ON GOAL, saved, 50 feet from net
That's getting out-shot 2-0 while shorthanded, while firing two pucks from the point. It doesn't stop there. Dmitry Orlov put the puck over the glass, sending Minnesota on a 5-on-3 advantage for 1:23.
Here's how things played out from there:
1:11: Matt Boldy SHOT ON GOAL, saved, 44 feet from the net
1:05: Matt Boldy BLOCKED shot, ~15-20 feet from the net
0:45: Joel Eriksson Ek GIVEAWAY
0:09: Mats Zuccarello BLOCKED shot, ~15-20 feet from the net
And that was what Minnesota did with their best shot to get back in the game. Out-shot 1-2, getting just five shot attempts, three of them blocked. The two that went through combined for an expected goal value of 9.2, just barely more than Boston got at the other end (9.0).
That's just one power play, and yes, Addison's unit has also squandered 5-on-3s. Still, it feels instructive as to the difference between Klingberg and Addison. Especially since when Minnesota scored a power play goal to draw within one, it was after Evason threw out Addison and the second unit to start the power play.
Eight seconds later...
Addison didn't get the assist, but he started the play, moving Boston towards the middle before making his trademark nifty backhand pass to start a play on the right side of the ice. We saw the way Addison manipulates defenders from the blue line and how he initiates the offense.
Even more remarkably, it was just the fourth goal by a member of the Wild's second power play unit all season. If we want to attribute Klingberg not having Kaprizov to help on the power play, we should also note that.
The power play becomes more important, not less, in the playoffs. Games are tighter, and cashing in on special teams opportunities will make the difference between winning and losing series. Is it too big of a deal to leave in the hands of anyone but Addison?
Maybe.
But there's maybe a disconnect between what the Wild are likely to do, and what they should do. Any coach that would bench Spurgeon should be arrested. Sitting Klingberg after making a trade for him is unlikely, and given his performance at 5-on-5, unwise.
So it comes down to Addison or Dumba. In some ways, it seems like a slam dunk for Addison. He's gotten bad shooting luck, but drives the offense, at least in theory. On the other hand, Dumba has the same poor shooting luck but drives offense so much less.
[caption id=attachment_146274" align="alignnone" width="1456]

Courtesy of Evolving Hockey[/caption]
But while their defensive impact is comparable (accounting for Addison getting sheltered minutes versus Dumba playing hard minutes with Brodin), Dumba has gotten the saves and Addison hasn't. Of 192 defensemen with 500-plus 5-on-5 minutes, Dumba ranks 14th with an on-ice save percentage of .938. Meanwhile, Addison's goalies are at .887, ranking 185th in the NHL.
If you want to know why there's a gap in plus/minus between Dumba (-11) and Addison (-16), that's at least a starting point. Dumba's got Evason's trust, too, while Addison doesn't, which is going to be a big factor in making such decisions.
Still, what Addison brings to the power play might just be too valuable to leave on the shelf come playoff time. The gap between him and Klingberg seems significant, at least in the early going, and it's hard to say "No" to 10-plus power play goals per hour when scoring comes at a premium. Will this be a controversy? Maybe not. But should it be? Absolutely.
All data via Evolving Hockey unless stated otherwise.