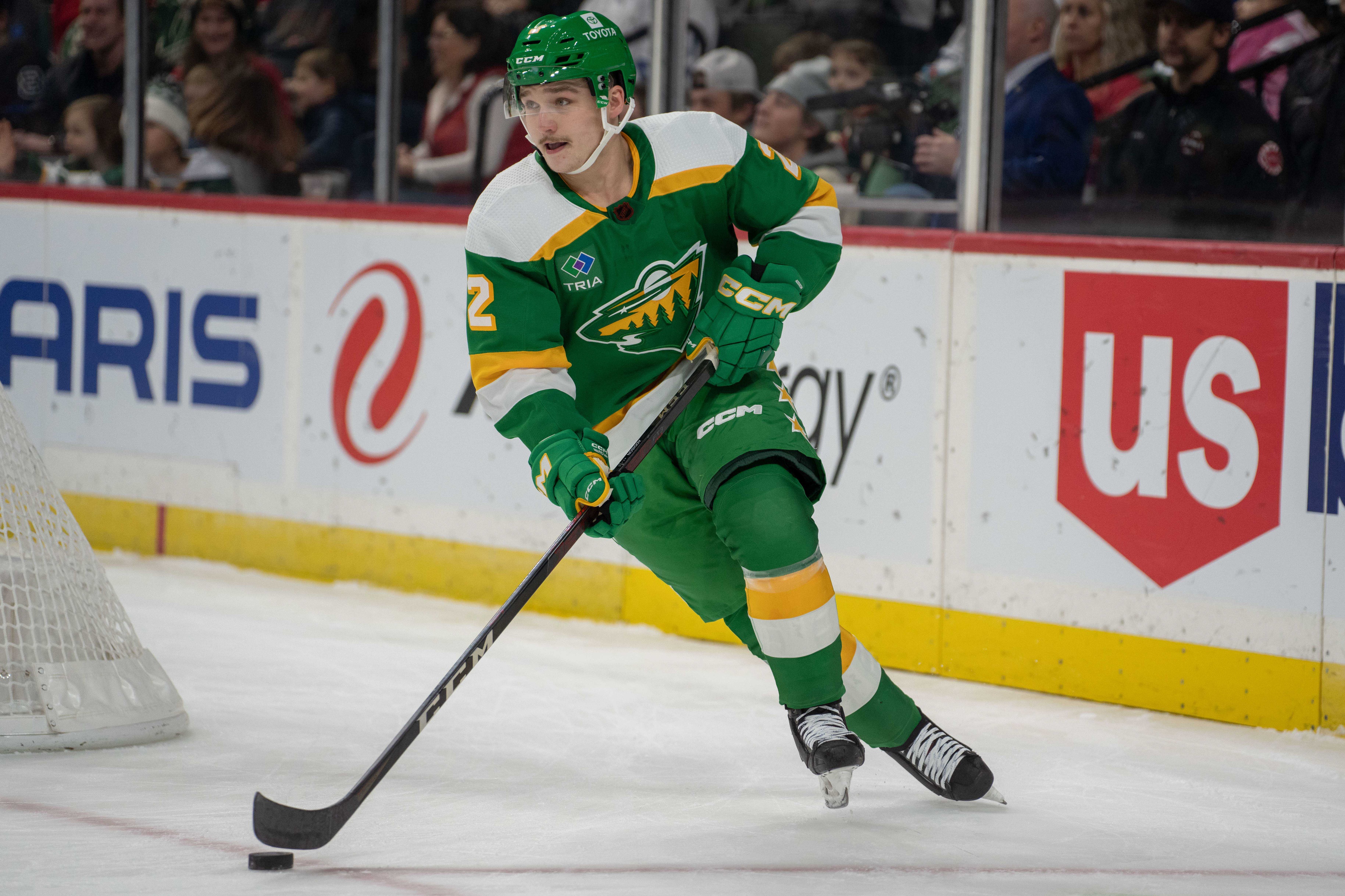 Image courtesy of © Matt Blewett - USA TODAY Sports
Bill Guerin laid out his logic for trading Calen Addison to the San Jose Sharks for a fifth-round pick and prospect Adam Raska. They knew what they had in Addison and no longer needed his specific skill set. "It's not a knock on Calen," he insisted. "It's just a change in direction. Calen's a good player. But he's got 100 games in the league now, and we felt we know what he is for us, and that's not to say that's the finished product. But what we need right now is something different."
Guerin felt that the Minnesota Wild needed defense, and who's to argue with him? Marc-Andre Fleury and Filip Gustavsson have been inconsistent in net, and Minnesota's defense has constantly put them in difficult spots. Therefore, he had traded a seventh-rounder to the Tampa Bay Lightning for veteran Zach Bogosian, who fills an immediate need.
"We've been giving up way too many chances," Guerin said. "We need to shift our way of thinking a bit and protect our goaltenders. We have good goaltending, but goaltending doesn't matter if you just hang them out to dry.
"The last couple of games we've been a lot better at that, and I think Zach will bring some improvement in that area."
That all adds up, assuming you think this team is going anywhere. Guerin is prioritizing the present over the future with this trade. The Wild need defense now, and they have Brock Faber to run the power play – Addison's strongest skill. Furthermore, Jared Spurgeon returned to the lineup on Friday. Minnesota needed a bigger defenseman for the third pairing, and 6'3", 230 lbs. Bogosian brings size.
However, the Wild have lost three straight games since trading Addison to San Jose. They lost to New York Rangers (4-1) and the Buffalo Sabres (3-2) on the road, then the Dallas Stars blew them out 8-3 at home. It's not as though Minnesota was rolling before the Addison trade, either. They had lost four straight and six of their last seven before beating the Rangers in a shootout at home and the New York Islanders to start their road trip.
The Wild chalked up their early-season swoon to puck luck after beating the Rangers 5-4 in St. Paul. But that never checked out. Minnesota is playing under the worst cap ramifications they'll face following their decision to buy Zach Parise and Ryan Suter out. Their best player, Kirill Kaprizov, hasn't been himself. Matt Boldy and Spurgeon were also hurt at the start of the season. But they also doubled down on a flawed roster in the offseason by extending veterans Mats Zuccarello, Ryan Hartman, and Marcus Foligno.
In a vacuum, the Zuccarello trade is team-friendly, Hartman's is reasonable, and Foligno's is player-friendly. But in context, it didn't make much sense to commit to a core that hasn't made it past the first round of the playoffs. The Wild shouldn't engage in a full-fledged tank with Kaprizov, Boldy, Faber, and Marco Rossi on the roster. But they could have cycled through young talent with upside throughout the next few years instead of bogging down their limited cap space with veteran contracts. Zuccarello is the only extension that fully made sense, given the number they got him at and his impact on Zuccarello's game.
Guerin traded Addison to San Jose partially because he'd get a better team with the Sharks, the worst NHL team. "Honestly, I feel (Addison) was kind of dropping in our lineup, and I think at this point in time in his career, a change was going to be good," Guerin said. "Sometimes at a young age when you're figuring things out, when you're trying to find out who you really are, a change can be really good. He's going to San Jose and getting an opportunity to play big minutes and an important role.
"We needed to give him a fair chance and see how it was going to work out. We just didn't see it going the direction we needed it to go."
Given the direction the Wild are going, it's odd that they feel they're good enough to make win-now moves. They may recover from their tailspin in Sweden or when they return home. But bouncing back to sneak into the playoffs, only to have someone eliminate them in the first round again, doesn't make much sense. And that's assuming they make the postseason at all. If anything, Minnesota should use the next few cap hell years to see what they have in their farm system to contend before Kaprizov's contract is up.
Addison was the Pittsburgh Penguins' top prospect when Guerin traded for him in February 2020. Guerin was intimately familiar with Addison's development. He had been with the Penguins since they hired him as a player development coach in 2011. They promoted him to assistant GM in 2014 and drafted Addison in 2018. Guerin knew exactly what he was getting in Addison when he traded Jason Zucker to Pittsburgh for Addison, Galchenyuk, and a first-rounder – which he used on Carson Lambos.
At first, the trade looked like a steal. "I had inside knowledge," Guerin joked. Zucker's play peaked in the 2017-18 season, and he struggled to stay on the ice in Pittsburgh until his 27-goal effort last season. Galchenyuk didn't offer much. But Addison was nearly NHL-ready, and Lambos is one of Minnesota's more exciting prospects. Lambos joins Daemon Hunt, who's played five games with the Wild this year, and St. Cloud State defenseman Jack Peart as one of their best defenseman prospects. 
Lambos, Hunt, and Peart may have made Addison somewhat expendable. Still, it feels rushed to move on from Addison. If anything, the Wild should be emphasizing young talent over veterans. They're not playing well this year, and the current group hasn't proven anything yet. The strangest thing about this is Guerin saw all the cards with Addison and folded them. At the very least, it's poor asset management. In the span of a year, he traded Addison and a seventh-rounder for Pat Maroon, Bogosian, and a fifth-rounder.
Guerin was a player development guy in Pittsburgh. However, his recent transitions suggest he's drawing more from his playing career than his front-office experience as Wild GM. Guerin was a spectacular player who was productive well into his 30s. But he's an outlier in a league where players thrive in their 20s, especially forwards. 
There is no sense in overexposing prospects. Most players get better with experience, though, and most teams thrive when they have a core of talented players in their prime. Guerin traded Addison because he didn't fit an immediate team need. However, a team that has started 5-8-2, coming off seven first-round exits in eight years, needs more than another 30-something veteran to be made whole.
3