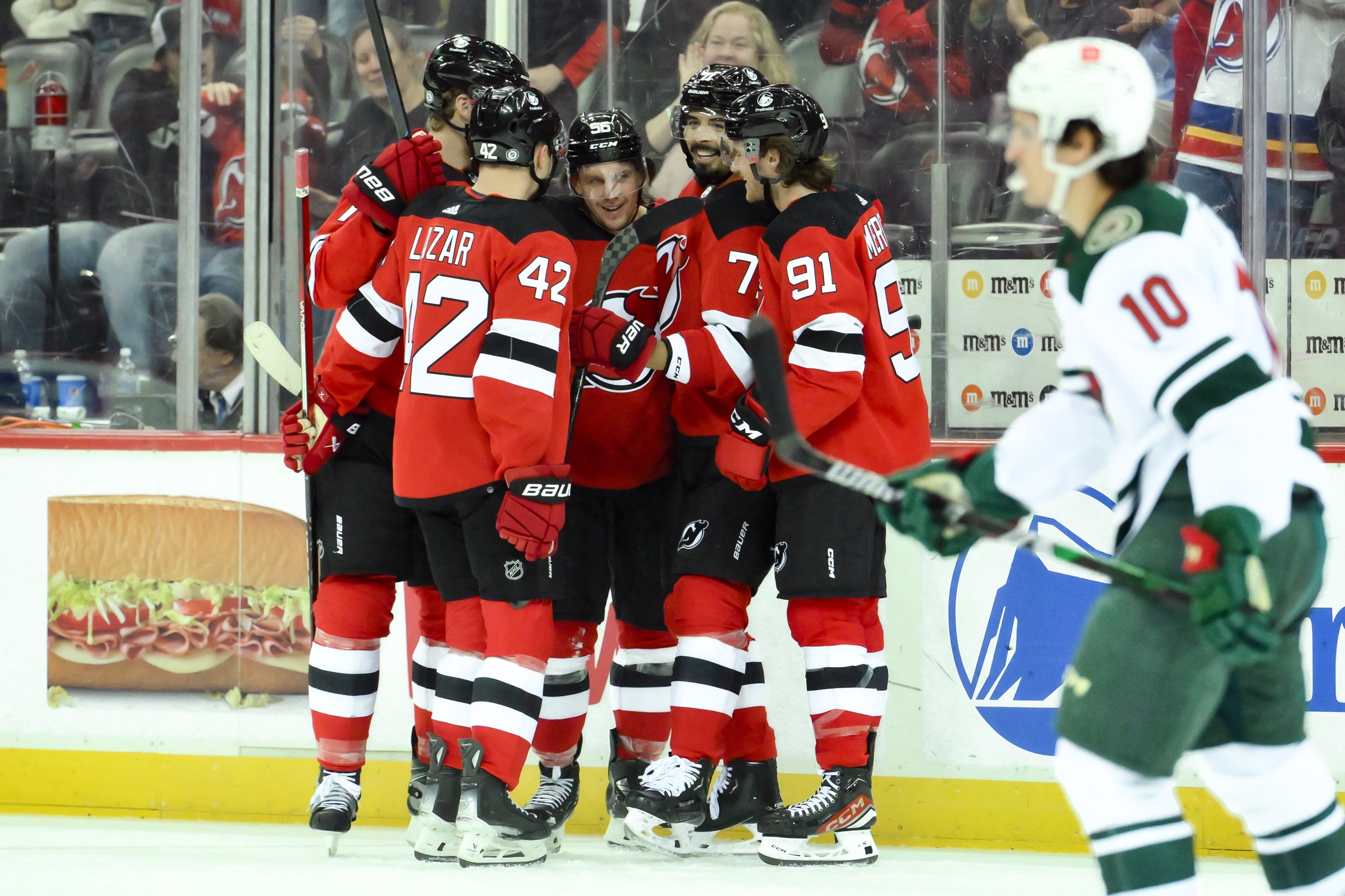 Image courtesy of © John Jones - USA TODAY Sports
In the offseason, the Minnesota Wild signed three veterans to multi-year contracts to establish cost certainty and keep their core together. First, they signed Mats Zuccarello, 36, to a two-year, $8.25 million team-friendly contract. Then they inked Marcus Foligno, 32, to a four-year, $16 million extension, which was more player-friendly. Finally, Ryan Hartman, 29, signed for three years, $12 million. 
"I like having cost certainty going forward," Bill Guerin said on October 7, five days before the season started. "These three guys have all expressed how much they wanted to stay here. We wanted to keep them."
The Wild chose their direction. They had two options during the worst of the Zach Parise and Ryan Suter buyout years. They could go young and bank on upside or rely on a veteran core to carry them through the worst of the buyout penalties. Minnesota chose the low-floor option. They finished with over 100 points in the last two seasons. Why not try to build off that?
The biggest downside was that veteran players and cost certainty is that the Wild are committed to two players on the wrong side of 30. They'd probably extend Zuccarello under most circumstances. His play has aged gracefully, and he maximizes Kirill Kaprizov on the top line. Most teams would wisely cater to their star player, and Kaprizov is close to Zuccarello on and off the ice. They also signed Hartman through his prime. Hartman isn't a true No. 1 center, but he's a glue guy that most teams want to keep around. But only a few would commit to one long-term unless they were in a cap crunch.
However, the combination of signing Foligno into his mid-30s and locking all three players in simultaneously means committing to a core that has been productive in the regular season but fallen short in the playoffs. The Wild have lost to a division rival in the first round for each of the past three years. They haven't made it out of the first round since the 2014-15 season, when the dynastic Chicago Blackhawks eliminated them in the second round for the second consecutive year. By committing to a core that hasn't proven anything yet, Minnesota may allow history to repeat itself.
Guerin didn't seem to get it last year after the Dallas Stars eliminated the Wild in four games. "Our players and our coaches deserve a lot of credit because they're fighting with one hand tied between their back because of these cap restraints," he said. "We don't apologize for it. We're fine with it." 
However, he was upset that people brought up Minnesota's past playoff failures with his current group. "There's been this narrative out there that right now the Wild can't get past the first round, and I can understand the frustration, but there are a small handful of players that have been here for a lot of that. Most of them are new. In my mind, that's not the narrative of this team."
"I refuse to hold our players that are new here responsible for what's happened in the past."
Guerin then bickered with a reporter over whether it was significant for the Wild to advance to the second round. "They're not going to put our name on the Stanley Cup to get to the second round," he offered. "They're not going to give us a ring. But you know what, that's not our goal. Our goal is not to make it to the second round. Is it going to feel any better? It's not."
He has since made an effort to clean up those comments. But his actions suggest that he hasn't learned anything from Chuck Fletcher, his predecessor. Fletcher locked in a core that didn't have playoff success, and it never got further than the second round. Guerin has committed to an older core and a coach who hasn't had playoff success while expecting the team to build upon what they did last year.
If the Wild are going to supersede what they've done in the past, they're banking on Kirill Kaprizov to carry them. They're also hoping that young players with upside, like Matt Boldy, Marco Rossi, and Brock Faber, will continue to improve. Boldy, Rossi, and Faber should continue to ascend. But they're surrounded by players who are what they are and may decline soon – if they're not already.
Boldy and Jared Spurgeon got injured early this season, but no team should be that reliant on two players. They are foundational pieces. Still, if their absence is holding the Wild back this much, Minnesota has made them Jenga blocks that are too far up the tower. We all know that Boldy and Spurgeon's absence alone isn't holding them back. It's an aging, flawed core that started slow and flamed out in the playoffs last year. And they haven't shown us that they're any better this year. 
The harsh reality is they might be getting worse.
2