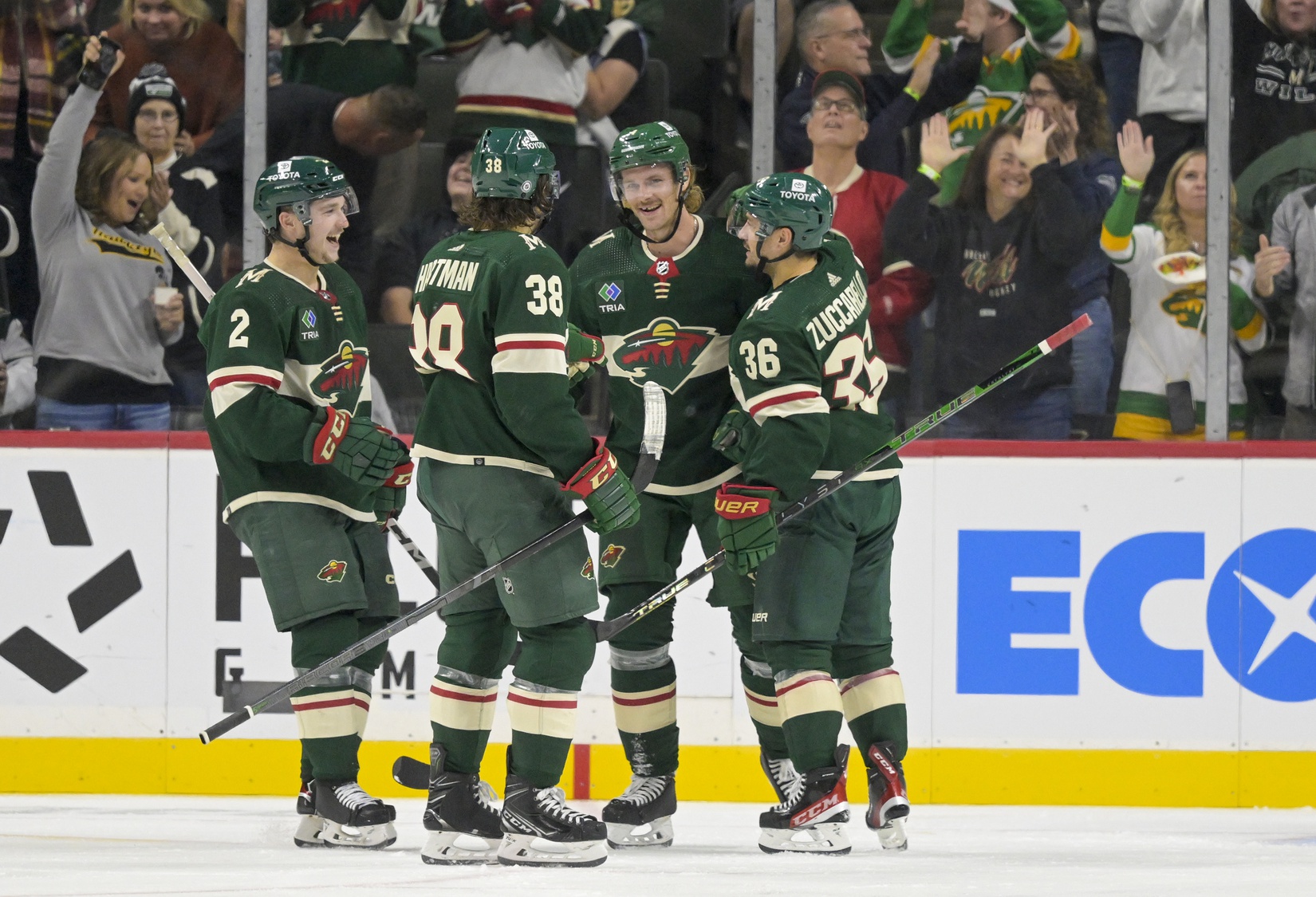 Image courtesy of Nick Wosika-USA TODAY Sports
The Minnesota Wild signed Ryan Hartman to a three-year deal this weekend. The move was their big-time extension of the preseason, joining Mats Zuccarello and Marcus Foligno. Since 2023 began, Hartman became the seventh multi-year extension they've given a player. Matt Boldy, Freddy Gaudreau, Marcus Johansson, and Filip Gustavsson are the remaining four.
It represents a $111 million investment in Guerin's core, which is a big bet on his status quo. The moves also mean that as the salary cap finally rises after four years of stagnation, Minnesota can lock into a good idea of what they'll be spending on a large portion of their lineup.
Next season, the Wild are poised to have 15 of their 23 roster spots filled next year, not counting prospect graduations from the likes of Jesper Wallstedt, Daemon Hunt, and others. They'll have $12 million-plus on a projected $87.5 million cap to fill the rest of the lineup out. The following year, they have ten players under contract, followed by seven in 2026-27.
That's by design. "I like having cost certainty going forward," Guerin told the Star Tribune. The sentiment hardly breaks a pattern from what we've seen from the front office. The Wild targeted longer-term extensions to get them through the worst of the Zach Parise-Ryan Suter buyouts. Minnesota's out of those woods after the 2024-25 season, but the rising cap might necessitate that security blanket for them.
Cost certainty has, well, a cost to it. The Wild have their players locked in both with years and a massive amount of trade protections. They have built their roster, and it's not going to be very flexible over the next few years.
In fact, they're poised to be one of the least flexible teams in the NHL. Here are the teams with the most players with no-trade or no-move protections:
T-1. Seattle Kraken, 13
T-1. Pittsburgh Penguins, 13
3. Toronto Maple Leafs, 12
4. Detroit Red Wings, 11
T-5 MINNESOTA WILD, 10
T-5. St. Louis Blues, 10
T-5. New York Islanders, 10
T-5. Vegas Golden Knights, 10
T-9. Five teams with 9 trade-protected players
Generally speaking, a team's trade-protected players should be the most crucial players on the team. There are exceptions to this, of course. But the more value teams get out of their clauses, the better they are. Let's take a look at which teams are getting the most Standings Points Above Replacement (SPAR) per trade protection, with the number of trade protections in parenthesis:
1. Buffalo Sabres: 6.00 SPAR per clause (2)
2. Boston Bruins: 4.72 (9)
3. Florida Panthers: 4.60 (4)
4. Colorado Avalanche: 4.18 (5)
5. Tampa Bay Lightning: 3.56 (8)
6. Edmonton Oilers: 3.55 (7)
7. Vegas: 3.37 (10)
8. Toronto: 2.94 (12)
9. Dallas Stars: 2.71 (8)
10. Nashville Predators: 2.65 (2)
The presence of the Sabres and Predators, who each have two trade-protected players, muddy this point slightly. But otherwise, if you're making a list of the league's biggest contenders, your list isn't varying much from this one. 
Where does Minnesota fall on that list? 21st, just narrowly avoiding the bottom ten teams in the league, with 1.79 SPAR per trade protection. Joining the Wild are several "mushy middle" teams like the Calgary Flames (1.92), San Jose Sharks (1.83), and Winnipeg Jets (1.71). They're not getting much bang for their buck when it comes to these trade protections.
It doesn't get much better going forward, even as Pat Maroon, Alex Goligoski, and Marc-Andre Fleury come off the books next summer. Kirill Kaprizov and Joel Eriksson Ek have their trade protections kick in next year, which will bring Minnesota up to nine. Granted, those are two of the team's most important players, but that is still set to represent the fourth-most in the NHL.
The year after that, Marcus Johansson's deal (and coinciding no-trade clause) comes off the books. That'll take Minnesota down to eight trade protections in 2025-26, but that is currently the third-most in NHL. The only teams with more are two teams nobody wants to be in two years: The Blues and the Islanders.
Obviously, Kaprizov and Eriksson Ek are players that anyone should be happy to give trade protection to, as are Jared Spurgeon and Jonas Brodin. The rest of the bunch? It's suspect. Minnesota clearly believes that Foligno, Gaudreau, Hartman, and Zuccarello are core pieces for their team. The stats disagree. 
Each player saw their SPAR drop from 2021-22, and the quartet of extendees racked up just 4.2 SPAR between them last year, with Hartman (1.3) being the best of the four. The back of the napkin math suggests that without their contributions, the Wild would've gone from third in the Central Division with 103 points to... third in the Central Division with 98 or 99 points. 
The Wild sacrificed their flexibility for that?
Flexibility matters, because no one can know what the needs of the future are. Teams can project, they can guess, but no one knows. No one can know whether there will be a time Marat Khusnutdinov or Danila Yurov is stuck in the minors because they can't move a player. Nobody knows when or where the next Jack Eichel or Matthew Tkachuk trade will occur. When that time arrives, are the Wild going to get shut out of it because someone's no-trade list dictates that they can't move $4 million?
The Wild got some marginal deals with their aging veteran extensions over these past six months. Maybe the cost certainty is worth the tradeoff. But with the twin wild cards of a beefy prospect system and a new era of economic power for NHL teams and the Wild, specifically, Minnesota's front office may have undervalued flexibility in a way that could bite them later. 
2