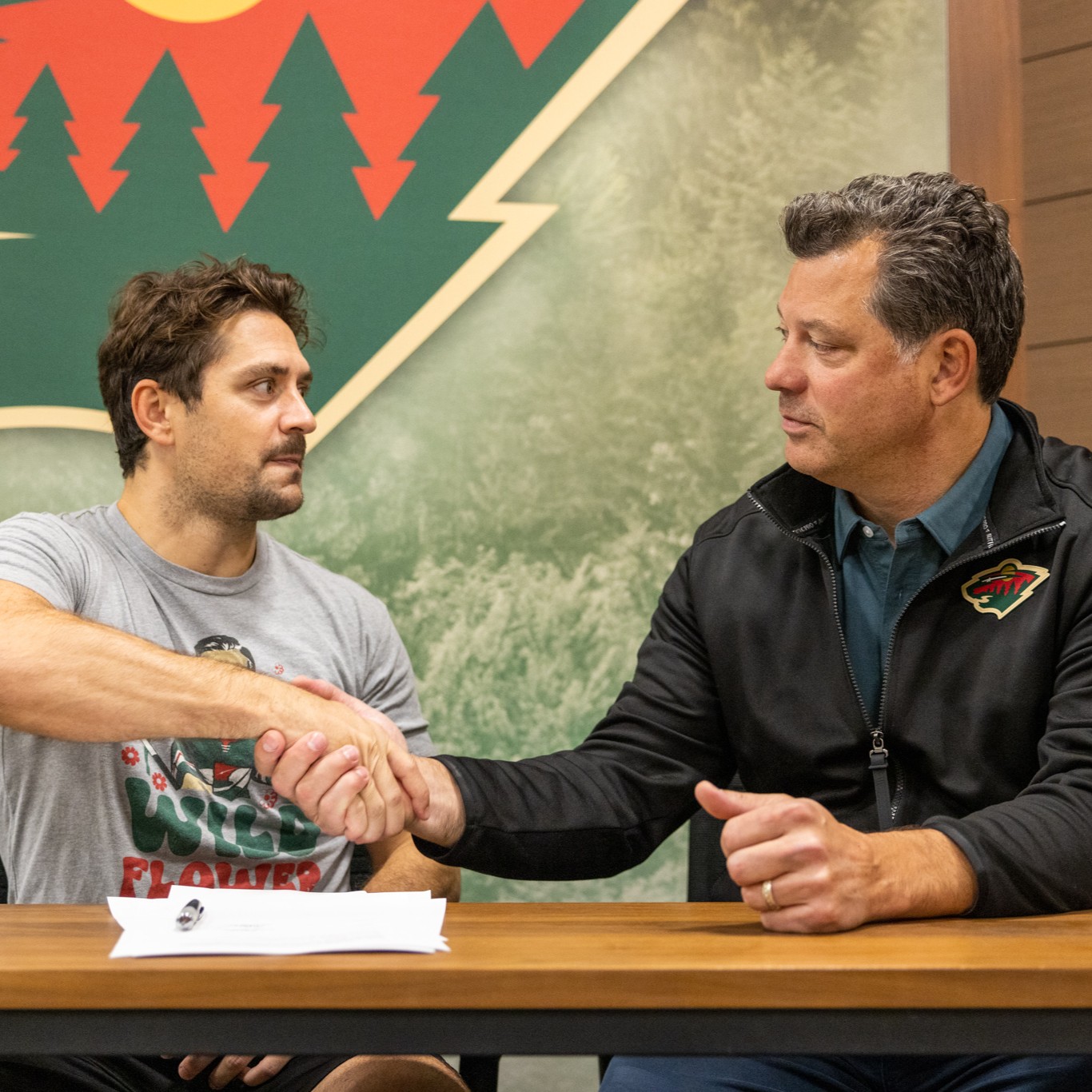 Image courtesy of Minnesota Wild Twitter (@mnwild)
In the opening scene of "Chasing It," the season six episode of The Sopranos, we see Tony Soprano celebrating winning a straight-up bet on a roulette spin. It's an incredibly long shot -- one-in-37 odds -- which gives "T" a massive rush. He pushes all his winnings back on 23, even as his capo Paulie Walnuts incredulously blurts out, "You f***ing kidding?"
Eleven. Tony loses. And it's just the first bad bet of the episode as he spends the episode hundreds of thousands of dollars in debt. 
In addition to being a show about cool guys who do cool things, The Sopranos is about decay. The decay of the Mafia, and the decay of Tony's families. In the case of "Chasing It," the decay of Tony himself. After spending five years decrying and exploiting "degenerate gamblers," he can't stop gleefully shoveling good money after bad.
The Minnesota Wild aren't in danger of cutting to black at the end of the year... or at least, as history suggests, not until the first round of the playoffs. But on Friday, Bill Guerin's Wild continued their habit of doubling down on veterans in their 30s. They locked in Mats Zuccarello to a two-year deal at a $4.125 million cap hit in the morning, followed by a four-year contract for Marcus Foligno carrying a $4 million AAV. It puts Minnesota at further risk of having some seasons about decay of their own in the near future.
When the Wild first put their chips on No. 36 under then-general manager Paul Fenton, it seemed like a risky move. Still, they cashed in with a big win. Zuccarello picked up 218 points in 255 games through his first four years in Minnesota. Foligno's price on his last contract was a much better value bet, and it largely paid off for the first two years. Like Ton', Guerin had a chance to pick up his winnings and go home. Or at least, see how the year plays out before going all-in again.
Now Minnesota's going to watch that wheel spin until Zuccarello's age-38 season and for Foligno's age-37 year. They might have hit those roulette bets before, but the odds of it happening again are slim. As Tony says late in the episode, "You start chasing it. And every time you get your hands around it, you fall further backwards."
It might seem dramatic to assume a steep drop-off from Zuccarello after two seasons where he compiled 146 points in 148 games. But last season's 22 goals and 67 points hide small signs of decline that might evade your eyes at first glance.
Zuccarello's 5-on-5 scoring dropped over one full point per hour from last year to this year. His 2.56 mark in 2021-22 tied for 33rd among 387 forwards with 500-plus minutes, and the 1.54 he had last year was 219th of 382. He went from Mark Stone-type production to hanging out with Nick Bjugstad. It represents the low mark for 5-on-5 scoring over his entire career. 
Beyond the lack of 5-on-5 production, this past season was arguably the worst season of his career. Up until last year, Zuccarello gave his teams an average of 4.8 Standings Points Above Replacement (SPAR) per 82 games. That kind of play is easily worth $4.125 million. But 2022-23 was Zuccarello's worst showing in a full season, as he was worth only 1.2 SPAR. That's already not a very good return on investment, and Zuccarello's not even done with the $6 million AAV contract he's currently on.
How does that look in two years, when he's 38 years old?

We already have to wonder if the bottom already fell out for Foligno. After scoring 45 goals and 93 points in 172 games over the past three seasons (a 21-goal, 44-point 82-game pace), the man they call "Moose" fell back to earth with a seven-goal, 21-point performance over 65 games. Part of it was injuries, but part of it was him ceasing to shoot 20%, as he did over the previous three seasons. At 8% shooting, the stats look much more underwhelming.
Foligno's usually-sparkling SPAR (3.4 per 82 games before last season) took a huge step back last season. Foligno was worth only 0.5 SPAR last year, which trailed players in a similar role like Brandon Duhaime (1.1 SPAR), Mason Shaw (0.7), and 45 games of Jordan Greenway (0.6 SPAR). 
You might expect a bounce back because of injuries, but the thing is, the risk of him getting hurt is probably not going away. Foligno plays a very hard brand of hockey that accumulates a physical toll. Of all the forwards in the Analytics Era, he's ninth in hits (2182) and tied for 39th in major penalties (usually: fighting majors) with 61. There aren't many players with that kind of mileage. The only other forwards to rack up 2000-plus hits with 50-plus majors since 2007-08 are Matt Martin, Chris Neil, Milan Lucic, Ryan Reaves, and Tom Wilson. 
It's not a huge sample size, but go look at how things shook out for Neil, Lucic, and Reaves in their mid-30s. How willing would you be to make a $16 million bet that Foligno will buck that trend? Coming off a season that represents the lowest point of his value, no less!
Things could be worse, though. The Wild could be looking to sign a third ill-advised contract giving term to a non-core player throughout their decline years.
Oh, come on!
All this leads to one fundamental question: What exactly are the Wild chasing? Zuccarello's been on the team for four years, and Foligno's been in St. Paul for six. We can throw Hartman into the mix, in case his extension breaks before this publishes, and that's four years all three have been together, and four playoff trips with this trio in tow.
Minnesota's postseason record in those years? 8-15. Zero trips past the first round.
But that's enough of a high, apparently, to double down on a core of 30-something forwards that haven't taken the Wild anywhere near where they need to go. Just in the past six months, the Wild gave Freddy Gaudreau five years (until his age-34 season), Marcus Johansson two years (through age-34), in addition to Zuccarello and Foligno, with Hartman (whose next contract kicks in at age-30) on-deck for an extension of his own.
In past years, the Wild made these types of extensions (see: Jon Merrill, Alex Goligoski, and Marc-Andre Fleury) as a necessary evil to adapt to the squeeze of their Dead Cap Era. But these two (and soon three?) contracts kick in in a year where the Wild were slated to have $24 million in cap space. Why would Minnesota lock up all that flexibility a year before they had to? And for a term that goes well after the Zach Parise/Ryan Suter pain goes away?
It's reminiscent of what Tony tells Carmela when trying to get her to loan him money to place a big bet on the New York Jets. "We can't get hurt," he rationalizes. "This is the gravy! Windfall cash. This is the kind of s*** you play with!"
All of this coming when the Wild's true windfall, a plethora of talented forward prospects, are just about to come through the ranks. How is now the time to lock down four or five forward spots they could backfill in the next few years? Guerin insisted in a press conference on Friday that these moves won't block the next wave of prospects. It's a nice thought. But the fact is, those players are blocking prospects right now.
Hartman is currently occupying a top-line center spot that Marco Rossi can't get a sniff at, even in a preseason game. Sammy Walker is 24 and coming off a season where he scored 27 goals and 48 points in 56 AHL contests. He's having a strong preseason, and yet, there's no room for him. The field doesn't get any less crowded once Marat Khusnutdinov, Danila Yurov, Liam Öhgren, and Co. come into the picture.
Besides, if those players don't block their youngsters from top-six spots, is that much better? In that scenario, Minnesota ices an aging, expensive group of bottom-six forwards. Is that anywhere close to the best use of their resources, especially when Minnesota had been so good at finding those kinds of players off the scrap heap?
It's clear that Guerin and the Wild love their guys, and a lot of fans do, too. It's easy to understand why. But when it comes to their veterans, they simply can't walk away, even if it means making a bad bet or five. Loyalty has ruined teams that have had greater success than Minnesota's group. Unfortunately, the Wild are pushing their chips in and committed to spin the wheel for the next several years, hoping they won't suffer from the decay they find themselves flirting with.
3