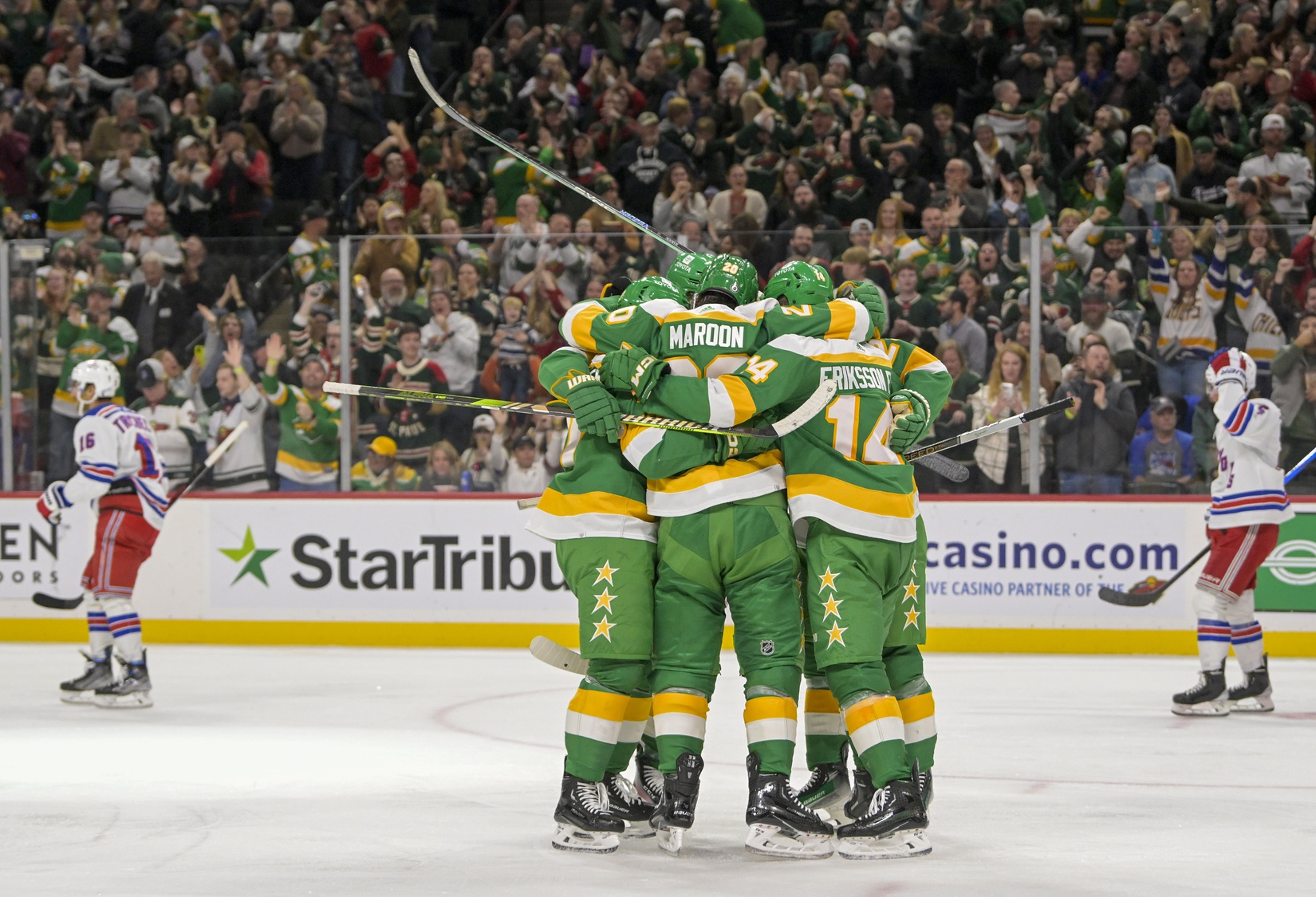 Image courtesy of © Nick Wosika - USA TODAY Sports
Last year, the Minnesota Wild lost their 11th game when the Seattle Kraken shut them out, 4-0, in St. Paul. They started that season with three blowout losses. The New York Rangers (7-3), Los Angeles Kings (7-6), and Colorado Avalanche (6-3) skated circles around their defense in three home games. But Minnesota beat the Vancouver Canucks in overtime and lost to the Boston Bruins in the extra period, then won four of five heading into the Seattle game. 
Those first ten games became long-forgotten after they finished with 103 points, third in the Central Division, and made the playoffs for the fourth year in a row. The Wild survived Kirill Kaprizov's injury, and Matt Boldy emerged as a second star forward. But Marco Rossi and Calen Addison failed to gain traction. Minnesota's once-formidable defense appeared to be aging, and the goaltending became suspect. Marc-Andre Fleury started showing his age, and Filip Gustavsson occasionally looked green.
Minnesota emphasized grit before the playoffs, but grit translated into reckless play. The Wild won the first game in Dallas to take home-ice advantage. But then they started Fleury in Game 2, lost it, and never recovered. Again, they went home after the first round.
The start of this season is history repeating again, at least so far. They are suffering blowout wins early in the season again this year, and it's hard to decipher this team's identity. Are they emphasizing culture and grit because they lack talent? Or is this team so close-knit and industrious that they can finally take the next step this year?
Winning solves everything, or so they say, and the Wild won their 11th game of the season on Saturday. They entered their game against the first-place New York Rangers on a four-game losing streak and had lost six of their last seven. But Minnesota beat the Rangers 5-4 in overtime. 
We have learned a little bit about the Wild this season. They have offensive firepower, but some of their stars are underperforming. Their defense is aging and failing them, and their goaltending is inconsistent at best. All of that manifested in the first three minutes of the Rangers game. 
New York scored three goals seven minutes into the game and chased Gustavsson. But the Wild scored twice in the third and took the lead in the fourth, only to allow the Rangers to tie it almost immediately. Kaprizov still is having trouble finding the back of the net, but he's setting up his teammates. And Minnesota is getting scoring contributions from multiple players. Ryan Hartman, Joel Eriksson Ek, Mats Zuccarello, and Rossi potted goals. 
All is good in Wild Land, right?
"The last couple games, we were unlucky with the bounces," Rossi said. "Now it's on our side."
"What we liked is we just kept working," Evason added, "and if things didn't turn, obviously we'd be disappointed. But we couldn't be disappointed in how we played tonight and how hard we played and how gritty we played and how determined we played."
Okay, that settles it. Nothing to see here! Carry on. The Wild will be fine. 
It's hard to ignore grit when the Wild mention it. Of course, hockey teams should be hard-working and battle on every shift. Nobody will suggest that Marcus Foligno's locker room speech didn't inspire them to dig deep. That's veteran leadership.
But Minnesota's hope resides in its young talent. Boldly is the real deal. Rossi and Addison are coming into their own. Kaprizov will break out of his slump, and Brock Faber is a young star. However, they've doubled and tripled down on veterans. The Wild locked Foligno, Zuccarello, and Hartman into extensions and have placed Marcus Johansson in a top-six role. The defense is long in the tooth, and Gustavsson and Fleury are still in net. 
The Wild are a similar team to last year because Bill Guerin has created an inflexible roster to survive the Zach Parise and Ryan Suter buyouts. It's like he's jammed his team into a submarine, hoping they collectively can push the hull outward as pressure mounts. If he's right, they can survive in the cap hell's depths and go deeper into the playoffs. But it's hard to change who's in the submarine if they have the wrong crew, and it will feel cramped if those walls start to cave in again.
Minnesota is in deep with a roster that lost in the first round of the playoffs last year. Their greatest hope resides in young players like Kaprizov, Boldy, Faber, and Rossi. But they've built their roster in a way that limits how many young players can break in. Therefore, they must try to win with the group they have. They bought Parise and Suter out, extended three veterans, and emphasized experience over upside. There is a lot of luck in hockey. But doing the same thing and expecting a different result hardly has anything to do with fortune or puck bounces.
4