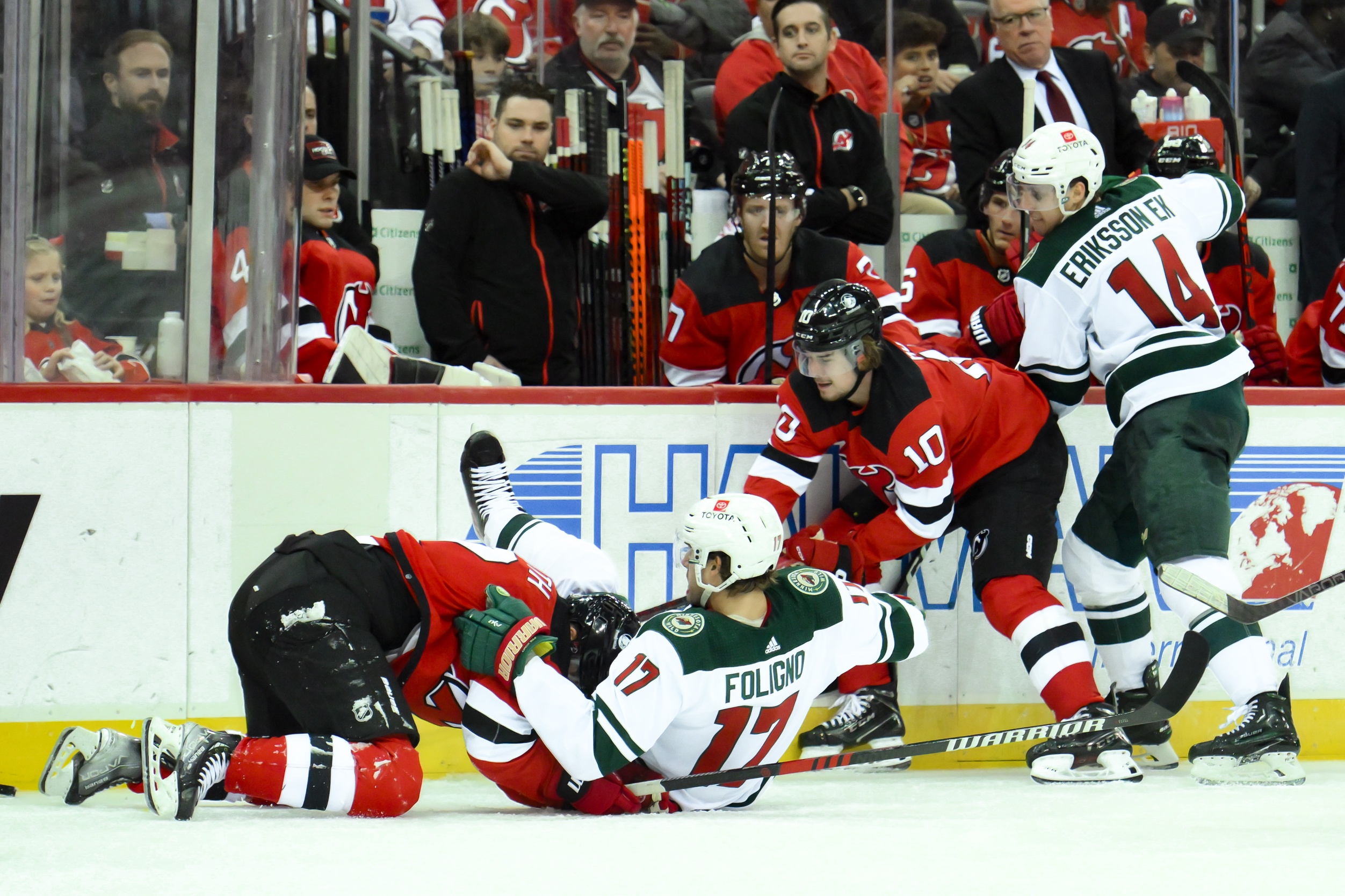 Image courtesy of John Jones-USA Today
It used to be that the Minnesota Wild were going to have the best defense in the NHL no matter what happened. Between Mikko Koivu, Zach Parise, Ryan Suter, Jared Spurgeon, Jonas Brodin, Joel Eriksson Ek, Marcus Foligno, and many other defensively responsible players, there were too many solid defenders to give up scoring chances in droves.
That applied even as players left the organization. The structure held steady and kept shutting opponents down. From 2012-13 to 2022-23, the Wild finished first or second in expected goals against (xGA) per hour at 5-on-5 in all but three seasons. The ones where they didn't, they still finished in the top-five teams.
We even saw this in recent years. What happens when Spurgeon, Brodin, or Matt Dumba gets hurt? Not-so-big-name defenders like Alex Goligoski, Dmitry Kulikov, Jordie Benn, and Jon Merrill would fill in capably. The Wild's defensive machine was able to plug-and-play almost anyone.
That hasn't not been what Minnesota has been through nine games of the season. The team is 30th in the NHL at surrendering Goals Against (GA) at 5-on-5 play this season, with 3.43 per hour. We're talking a 5-on-5 goal every 17:30. Only the Calgary Flames and the still-tanking Chicago Blackhawks have given up goals at a faster rate.
You can draw parallels to last year, to some extent. Last season, the Wild finished October ranked 30th in GA/60 (3.67) at 5-on-5. That's pretty awful, but they shored up the rest of the way. However, a big reason for that was that Minnesota's defense was never actually that bad. They surrendered 2.46 xGA/60 at 5-on-5 that month, which was ninth in the league.
It wasn't that hard to turn the ship around, they just had to wait for their goaltending to catch up. But that isn't the case this season.
Now, we don't want to get apocalyptic, necessarily. The Wild are allowing 2.75 xGA/60 at 5-on-5, which isn't a disaster, necessarily. It isn't good, either, ranking 20th in the NHL. Combined with an inability to generate pressure for themselves (tied for 24th with 2.36 xG per hour at 5-on-5), and that's a recipe for a team to finish closer to the league's bottom-five than another 100-point campaign.
Worse yet, we're seeing the collapse of the "next man up" mentality of the Wild in real time. As injuries struck the team, the Wild turned to Sammy Walker, Jujhar Khaira, and Daemon Hunt to fill in the gaps. Dean Evason ended up not trusting any of them. Walker got two games before going back to the minors. Khaira played just one game before Evason decided to use Hunt as a seventh defenseman. In two games, Hunt played fewer than ten 5-on-5 minutes.
The depth that the Wild depended on isn't there, especially when opponents have battered the bottom of their lineup. Goligoski struggled in two games before going to the injured list. Jacob Middleton, Calen Addison, and on Merrill are all blueliners who've been on the ice for 4-plus GA/60 at 5-on-5. Depth pickup Patrick Maroon also joins that club.
Some of that is bad luck. Middleton and Addison are getting worse results than their underlying numbers indicate they should have. But Goligoski, Merrill, and Maroon have all earned their poor results, surrendering more than 3 xGA per hour at 5-on-5. AHL call-up Dakota Mermis is also in that grouping, suggesting he could fall into bad results sooner or later.
With the bottom of the lineup getting poor results (earned or not), Evason is forced to lean on the rest of his team, which overtaxes their top players. Kaprizov averaged 25:08 of playing time over their recent road trip, only one of which actually made it to overtime. That includes a staggering 27:30 in a regulation contest against the New Jersey Devils.
Those are Ryan Suter-type numbers, and Kaprizov has to cover much more ice than Suter ever did. So much is on him to create offensively that it seems that defense is an afterthought. Not by laziness, or lack of attention to detail, but by necessity. It's like what Leon Draisaitl has going on with the Edmonton Oilers. If a top offensive player is on the ice for 22 minutes a night, how much of his energy do you want them to spend backchecking?
But those heavy minutes aren't doing Minnesota many favors at either end of the ice right now. Kaprizov hasn't increased his scoring, and he (and by extension, the top line) has some of the worst defensive metrics on the team. The weak links at the bottom don't just snap the chain, but they make the strong links less able to carry the team.
Maybe the Wild can still turn it around defensively when they start getting healthy. Matt Boldy, a strong defensive forward in his own right, is slated to return tonight. Jared Spurgeon should be back sometime this month, and he's an elite two-way player. Their presence could easily patch things up.
At least, until the Wild run into injury problems again, a near-inevitability in the NHL. Minnesota's seemingly endless supply of interchangeable parts to put into its perpetual defensive machine looks like it has a bottom, after all. Without finding a fresh supply, the Wild's structure will continue to be threatened by one or two key injuries.
1