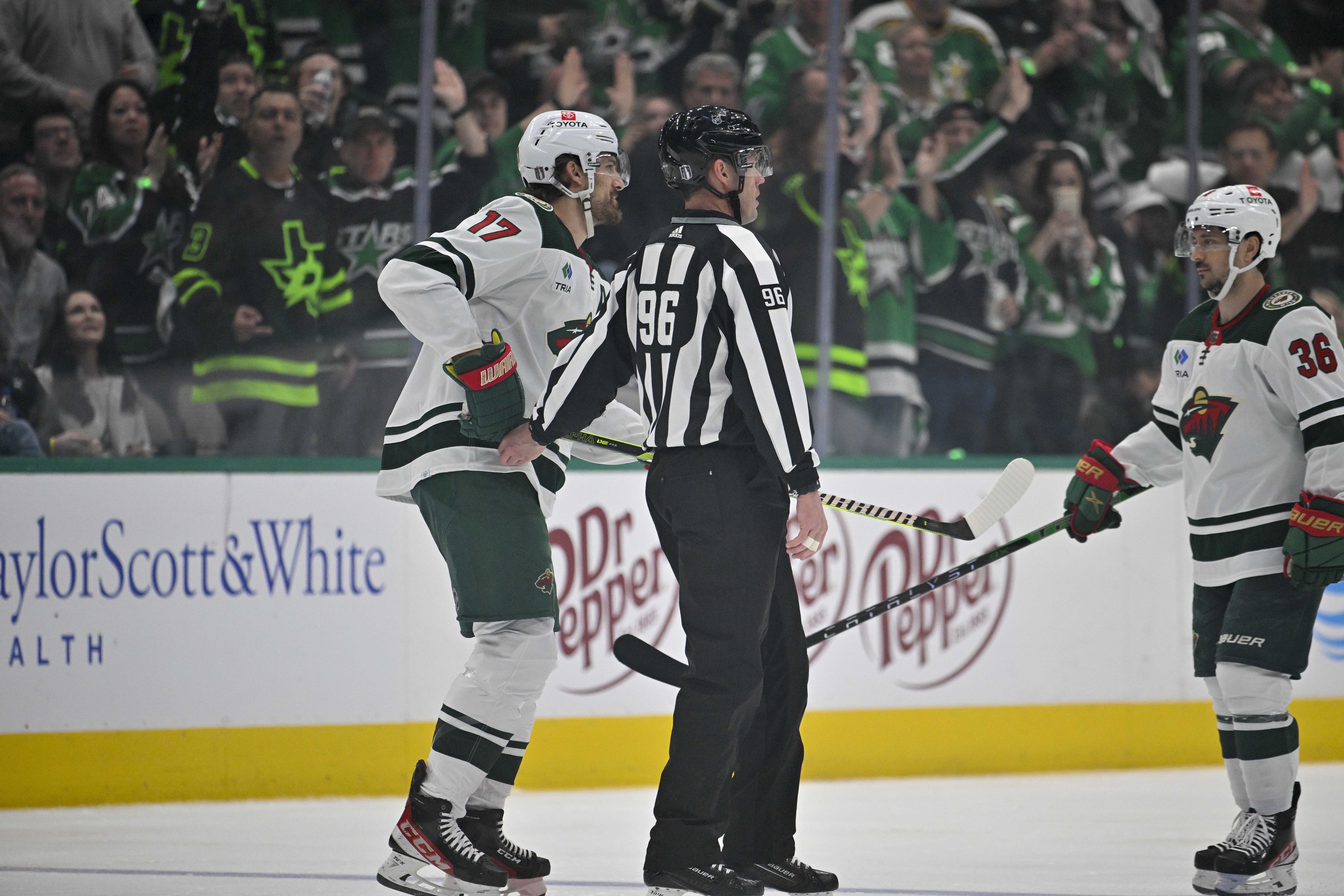 Image courtesy of © Jerome Miron-USA TODAY Sports
Grit is a wise word for any hockey team to use in their marketing campaign. Who's going to argue with grit? What hockey fan goes, Yeah, you know what? I think my team needs less grit. There should be less physicality in the playoffs. The players should skate around aimlessly and take more shots from the perimeter. 
The Minnesota Wild's "Grit First" promotional video got more viewership than the last 20 minutes of their Game 5 4-0 blowout in Dallas. Why? Because it represents an ideal – what the team ought to be. They're supposed to finish their checks, score greasy goals, and win games in a hostile environment. 
But Tuesday's game belied their intent. 
Forty-eight hours after criticizing the referees, Marcus Foligno hit Radek Faska near his knee. Foligno received a five-minute major and a game misconduct. "Major? I don't know," he fumed. "I don't agree with it, obviously. I'm keeping my lane and unfortunately we both hit in that leg area. I won't say it's a knee on knee. I hit him in the upper area. He's rotating out of the way. I don't move my leg at all."
It was a lighter stance than his commentary on the officiating after Game 4 in St. Paul. "It's a joke. It doesn't make any sense," Foligno said, calling the officials arrogant. "I go to hit a guy who touches the puck. It's not interference. I go, I get high-sticked in the face. It's not a tripping call when you hit a guy clean on. It's bullshit."
Foligno wasn't going to get the benefit of the doubt on Tuesday.
Still, look at the tripping call on Foligno again. It's not a trip. At least, not in the way we define it in the English dictionary – let alone in the NHL rulebook. But could it be a charge? Set your Wild fandom aside for a second and think like a hockey fan. You know what a charge is. You know why it's in the rulebook. Foligno likely operates within the confines of the rules here, but it's borderline, which invites a call. And Foligno is too valuable to sit in the penalty box. Furthermore, Minnesota's penalty kill isn't good enough to fend off Dallas with the man advantage.
Grit isn't really about operating in the rulebook's grey areas. That is something teams do to gain an advantage. However, it can also be detrimental to the game and have adverse effects. By the letter of the law, Matt Dumba's hit on Joe Pavelski in Game 1 was legal. But we saw its effect on Pavelski. He's injured, and it gave the Stars a boost. They're standing up for their guy. Dumba can lay guys out, but he doesn't need to make a hit like that. 
The Wild aren't the only culpable party here. Ryan Suter has played dirty, hacking at Kirill Kaprizov's ribs and committing penalties behind the play. The referees let more things go during the playoffs to avoid overly influencing the outcome of games. Players also accept that the postseason is a grind. Many are playing through things they wouldn't in the regular season. They accept that there is less space on the ice and fewer penalties will be called. But that doesn't mean it's wise to risk two- or five-minute penalties with reckless play.
Establishing physicality is about repeated hits and being more aggressive than the opponent. Outworking them on the boards, finishing checks, and clearing out the area in front of the net for your goalie. It's not about checking a player in a way that will remove them from the series. The Wild and Stars are playing hockey; this isn't Rollerball. And grit isn't just about physicality. It's about fighting for a rebound near the net. It's overcoming a 3-0 deficit on the road and playing through injuries. 
Grit is also an ambiguous term. It's a great marketing tactic, but it means different things to different people. My suggestion? Focus less on grit and more on skill. At the risk of being obvious, the more skilled teams are better than the less-skilled ones. Yes, some teams advance because their goalie stands on his head. And others play stifling defense, which allows them to overachieve. But the Colorado Avalanche and Tampa Bay Lightning win championships because they're more skilled than most other teams.
The Wild have consistently chosen experience over skill. They stuffed Marco Rossi in the minors, appear to have moved on from Calen Addison, and didn't start Filip Gustavsson in Game 2. Rossi would be the only bona fide Top-6 center on the roster if they could have gotten him up to NHL speed. Addison would have a role on the power play. Gustavsson stopped 51 of 53 pucks in four-and-a-half periods of hockey, and Dean Evason started Marc-Andre Fleury in Game 2. Next year, this trend needs to stop. Currently, Minnesota isn't skilled enough to win a championship.
Grit First is a fun slogan. That hype video is sweet. But it's just that, a marketing tool. Next season, their slogan should be "We're better than you." They can still hit hard, punch in rebounds, and win puck scrums. But they can't stick Kaprizov with a right wing as his center and a winger in his mid-30s forever. And we know what happened when they surrounded Matt Boldy with talent. Blame them all you want. I'm inclined to ask, What's around them? How good is this team? Why didn't they work with their talented young players to bring out the best in them?
Or, put more succinctly, maybe they'd be less focused on grit if they had more skill.