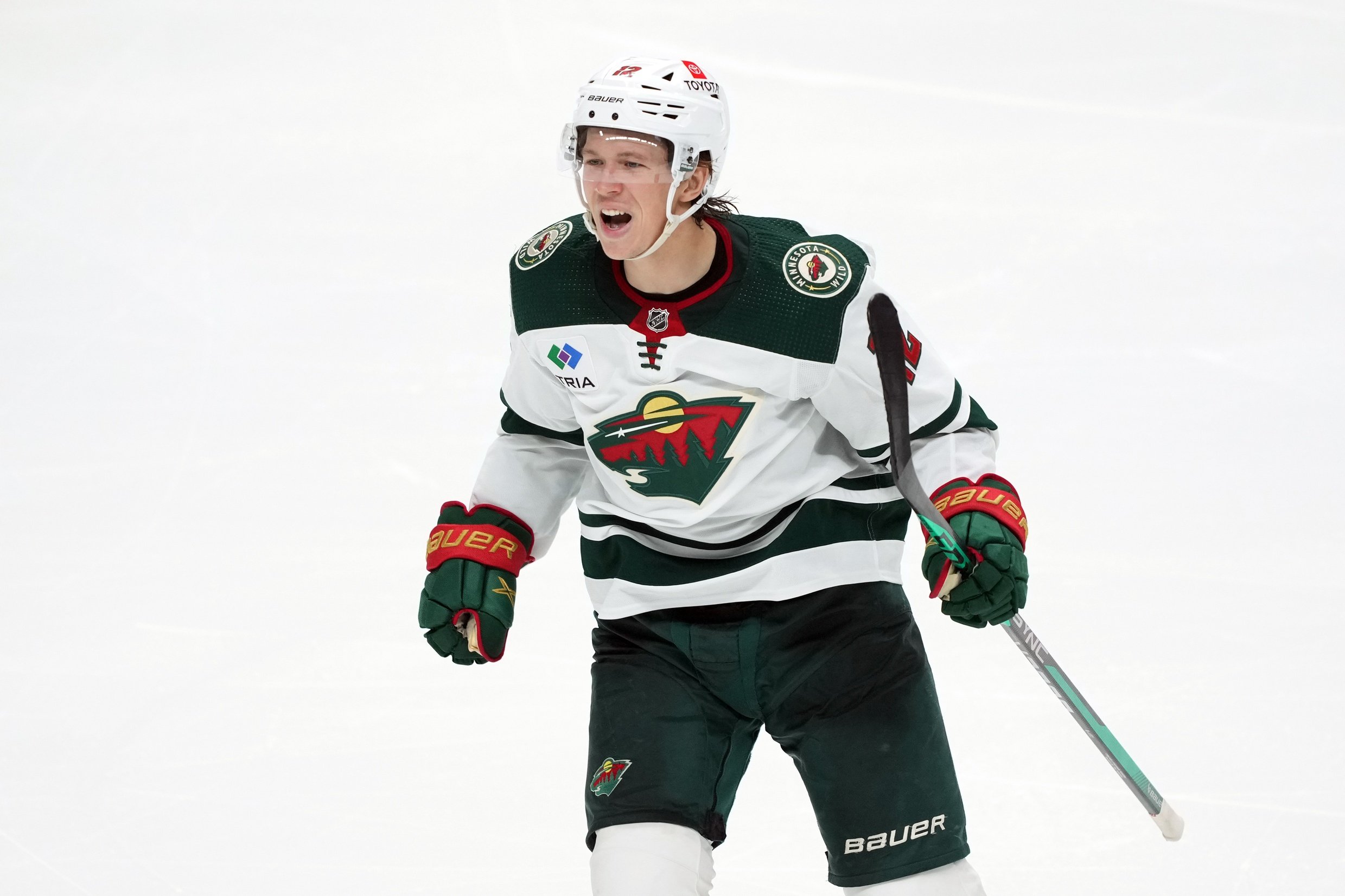 Image courtesy of Photo Credit: Darren Yamashita-USA Today Sports
Matt Boldy's hard work paid off with a superstar-like charge to a 30-goal season.
There was a time not so long ago when Matt Boldy looked like a bust. The Minnesota Wild took him with the 12th overall pick in 2019. Many fans wanted Cole Caufield, the then-University of Wisconsin bound star the Montreal Canadiens took 15th. Boldy potted goals in his first two games with Boston College, one of which was against the Badgers. But he went scoreless in 12 of the next 13 games, including 10 straight. Meanwhile, Caufield was a point-per-game player as a freshman in Madison.
Perhaps regional bias played into the panic. The Massachusetts-born Boldy attended high school in Boston and the Detroit area before joining the US National Development team. Caufield was born in Mosinee, Wisc., tucked between Wausau and Stevens Point. Gophers and Badgers fans alike were familiar with his play. Meanwhile, few Wild fans were tuning in to a random BC-Vermont on Friday night.
It also didn't help that Paul Fenton drafted Boldy. Filip Johansson was Fenton's first-ever pick in his turbulent 14-month tenure, a reach who almost instantly became a bust. Why would Boldy fare any better?
Regardless, the consternation over Boldy became short-lived. His sophomore production at BC put him in elite company. Boldy had 31 points in 22 games before jumping to the AHL, where he had 18 points in 14 games with Iowa. Still, despite his production in Des Moines, Bill Guerin didn't call Boldy up for Minnesota's playoff series against the Vegas Golden Knights. Vegas took the series in seven, mainly because the Wild lacked secondary scoring. Or, put another way, they didn't have a Boldy line to complement Kirill Kaprizov.
It was hard not to think of that series after Boldy potted his 30th goal of the season against Vegas on Monday. Just like the Golden Knights snuffed out Minnesota's 75-point run in the pandemic-shortened 2020-21 season, they've offered a dose of reality for the Kaprizov-less Wild.
Logan Stanley fell on Kaprizov, injuring him in the Winnipeg Jets game on March 8. Since then, Minnesota had only dropped three games before running into vegas. Two were in extra time to opponents they didn't take seriously enough, the Arizona Coyotes and Philadelphia Flyers. The other was to the unstoppable Boston Bruins. It was quite a run.
Few teams have fared well against Boston this year, and there's not much to worry about there. The Wild won't face the Bruins in the Western Conference playoffs. However, they could be headed for a date with the Golden Knights. It's not news that it's tough to win in Vegas.
However, it was hard not to notice that the Knights' cherubic 22-year-old Russian winger Pavel Dorofeyev potted the game-tying 6-on-5 goal. Meanwhile, the Wild's 21-year-old European center is scoring a point per game in Des Moines instead of centering Minnesota's top line. Ryan Hartman is a glue guy who's valuable to any team. But the Wild have overextended him as a top-line center and part of the shootout rotation.
Everyone eagerly awaits Kaprizov's return. Still, it's been fun to see Boldy shine in his absence. Boldy thrived on a line with Kevin Fiala last year. But the Wild traded the 30-goal scorer to the Los Angeles Kings in the offseason and stuck Boldy on a second-line island. Boldy didn't score a goal in February and hadn't scored more than five goals in a month all year. However, Guerin paired him with old friend Marcus Johansson at the trade deadline, and Dean Evason moved Joel Eriksson Ek onto his line. The result? A dozen goals in 14 March games and two in the first two April games.
Thirty goals is an accomplishment for any second-year player. But it's especially so for Boldy. He's had fits and starts throughout his career, often because of his circumstances. Boldy turned things around in his sophomore season at Boston College, only to finish his season in Iowa. Then he scored 39 points in 47 games as a rookie, only to watch the Wild trade Fiala. And because the Wild have kept Marco Rossi in Des Moines and Eriksson Ek on the third line for most of the year, Boldy had no help on the second line until now.
Guerin made something out of nothing at the deadline. He couldn't land Brock Boeser, a goalscorer trapped in Vancouver who could have replaced Fiala on the second line. But Johansson has sufficed, and John Klingberg has bolstered Minnesota's blue-line scoring. Largely, the Wild have been unsustainably lucky with their post-deadline results. Still, they sufficiently covered for Kaprizov's scoring and rose to the top of the Central Division. They will enter the playoffs as an Aston Martin with a Honda Civic engine. They'll appear to be a formidable postseason team, but they're missing some horsepower.
Minnesota has several important ingredients to go on a run. Kaprizov and Boldy are legitimate stars. Filip Gustavsson has been sensational. Matt Dumba, Jonas Brodin, Jared Spurgeon, and Klingberg are a solid Top-4 defensive corps. The fourth line has been surprisingly productive. But the top two lines are incomplete. Hartman isn't a top-line center; Johansson isn't a Fiala-level goalscorer. Still, even if Minnesota's first-round opponent compacts them again, we can all agree on one thing: Matt Boldy is a bona fide superstar. He's a piston that's been firing all along, even when the ones next to him aren't. Now he's reaping the rewards, and they are well-deserved.
This article was originally published on April 5, 2023.