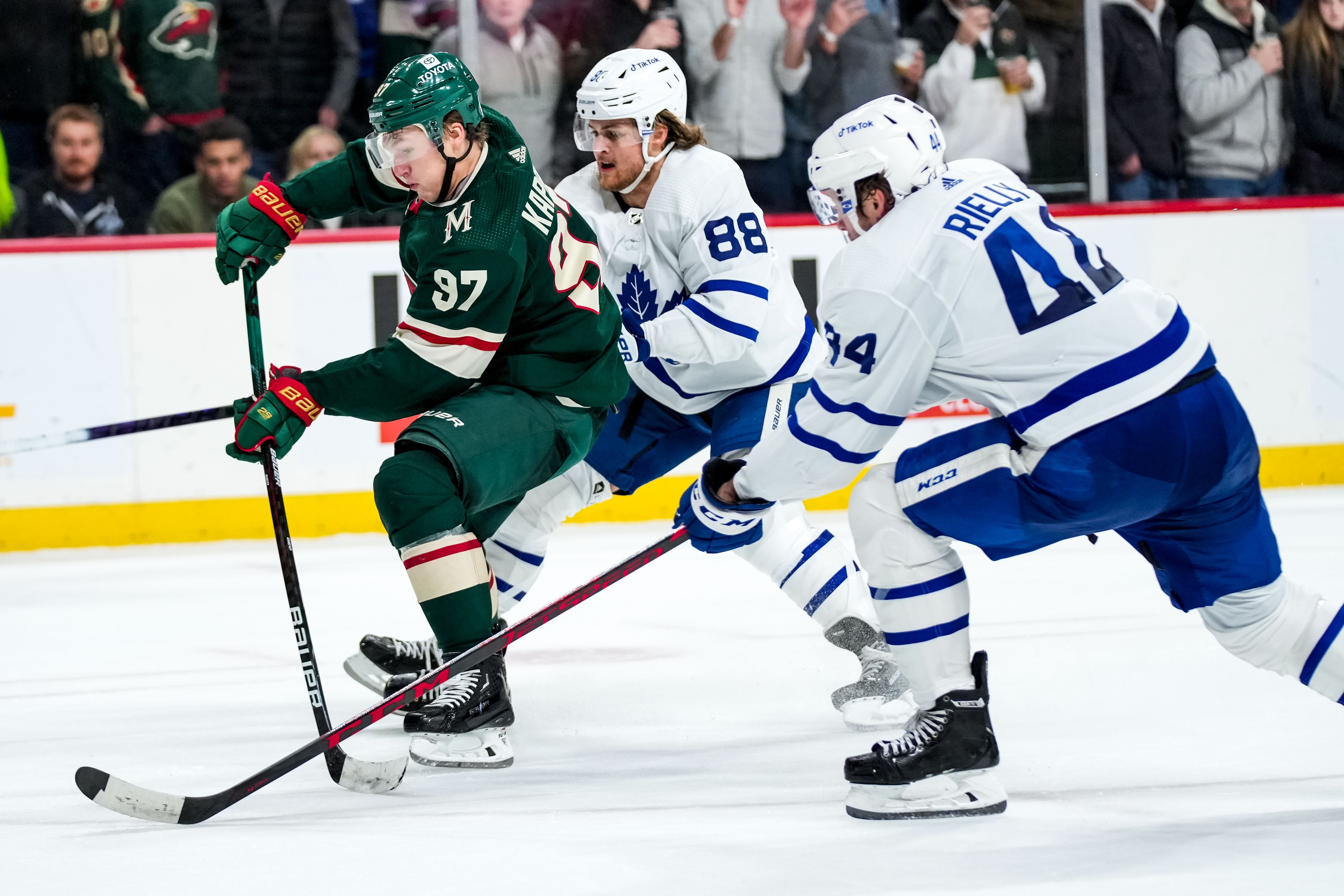 Image courtesy of Brace Hemmelgam-USA Today Sports
The shackles of the Zach Parise and Ryan Suter buyout penalties don't come off until Summer 2025. The Minnesota Wild are sagging under the burden of $14.7-plus million of dead cap space this season, and that will hold steady next year. Once the league calendar flips over in July 2025 and knocks $13 million of those penalties, the Wild can make some moves. Until then, the team is locked in a holding pattern.
Or are they?
This summer, the Wild not only had to contend with the dead cap hits, but a very inflexible roster situation. The free agents they lost were mostly trade acquisitions from last season in Ryan Reaves, John Klingberg, Gustav Nyquist, and Oskar Sundqvist. Over the course of partial seasons, those players had cap impacts so minimal that they provided little relief.
Only Matt Dumba, whose $6 million cap hit expired this summer, gave Minnesota any wiggle room. The problem is, that money was spoken for all the way back in February, when Matt Boldy signed a contract raising his pay from near-league-minimum to $7 million. It was a fantastic use of that money, but it didn't provide many options for this summer.
But next year? That's a different story. The buyouts stay the same, yes, but expiring money gives the Wild much more flexibility in Summer 2024. Maybe even enough to effectively end their buyout pain a year early. Minnesota has seven players set to hit UFA status next summer, so let's take a quick look at their expiring cap hits:
Mats Zuccarello, $6 million
Marc-Andre Fleury, $3.5 million
Marcus Foligno, $3.1 million
Alex Goligoski, $2 million
Ryan Hartman, $1.7 million
Brandon Duhaime, $1.1 million
Pat Maroon, $0.8 million
With just three players making over $3 million in this bunch, and only one making over $4 million, this doesn't look like a wealth of cap space. In the aggregate, though, that's $18 million of expiring money that they can re-shuffle back into their decks, if they so choose.
Better yet, none of these players should be considered a core piece of the team's future. It's possible for the team to re-sign any of these players for a short-term deal, we suppose. But seeing as Zuccarello, Fleury, Foligno, Goligoski, and Maroon are either approaching, in, or well past their mid-30s and Hartman is due for a big raise, it's probably preferable to move on from most of these names.
Even better, very little, if any of that $18 million in expiring cap is going to be spoken for. Connor Dewar is the only player scheduled for RFA status, and he's not going to command anything near Boldy money. Calen Addison might be due, should the Wild sign him to a one-year deal. But he's already become the new Dumba, with his future with the team constantly in question.
Then there's the breathing room coming due for the rest of the league. Because the players need a better union, they've been forced to pay back a portion of the losses incurred by teams during the COVID pandemic. This has kept the salary cap artificially stagnant, but the players will pay off their debts next year. CapFriendly is projecting a cap increase of $4 million, which gives Minnesota even more space to work with. 
That extra $22 million is going to have to help them fill 11 spots on a 23-player roster. Still, it's a far cry from where they were at this year. Believe it or not, the rosy picture of Minnesota's spending power gets rosier when you consider this: The Wild are poised to replace some of those players with cheap, cheap contracts.
Marc-Andre Fleury's heir apparent is perhaps the most obvious, seeing as Jesper Wallstedt will complete a second season in North America this year. Wallstedt played 40 AHL games between the regular season and playoffs in his rookie campaign, and the Iowa Wild are probably poised to see if he can handle more this year. That should have him ready for backup duty in the NHL in 2024-25, meaning the Wild won't have to sign a more expensive replacement for Fleury.
Marat Khusnutdinov will transition to North America, and if he builds on his stellar KHL season, he might be ready for top-nine duty right away. The fast, pesky forward can fill that Ryan Hartman center/winger/shitkicker role for half the cost they're paying Hartman now. Goligoski only got 46 games last year, and that's sixth/seventh defense duty. Incoming players like Adam Beckman, Daemon Hunt, Danila Yurov, and Liam Öhgren could also potentially step in on entry-level deals.
The hardest roles to replace will probably be Foligno (unless they slot in Duhaime for that role at a cheaper cap hit than Foligno enjoys now) and Zuccarello. Especially Zuccarello, who finished the season with 67 points in 78 games, second on the team. The veteran winger and Kaprizov's bestie would be 37 to start any new contract, so there's a good chance the Wild were going to have to replace his scoring anyway. But next year, they'll have the ammunition to do so, mostly using the dollars they've been allotting to Zuccarello.
Theoretically, the Wild could fit even the biggest fish into a salary structure. For example, if the salary cap is at $87.5 million next year, Evolving Hockey projects pending UFA William Nylander to break the bank at a $10.1 million cap hit. The Wild could fit that into their plans with just that expiring $18 million like so:
Nylander (for Zuccarello): $10.1 million
Wallstedt (for Fleury): $925K
Foligno: $2.67 million
Hunt (for Goligoski): $828K
Khusnutdinov (for Hartman): $925K
Duhaime: $1.5 million
Beckman (for Maroon): $894K
All that adds up to... $17,842,000. It's like going stars and scrubs at a fantasy football roster, only the "scrubs" are your top prospects. Again, that's just with the expiring UFA money, not any gains they'll get from the cap increasing. 
It doesn't have to be Nylander, either, of course. That's just the youngest, best, most expensive free agent we could think of. There will certainly be players we don't see as being on the move now that might be loosened. If the next Mark Stone, Jack Eichel, or Matthew Tkachuk-type trade opportunity presents itself next summer, the Wild have the assets and just enough flexibility to make that work.
The State of Hockey seems to be content waiting for the next two years to go past before making a move towards contention. But there are some major reasons to not see patience as a virtue next summer.
Making a move next year puts the Wild right back into contention, and avoids wasting another year of Kaprizov, Boldy, and Joel Eriksson Ek's prime. With key defensemen now in their 30s, too, it's wiser to try to make your window start next year, when Jared Spurgeon and Jonas Brodin are 35 and 31, respectively, than in 2025-26, when they'll be 36 and 32. That extra year might not seem like much, but it can make all the difference.
It would let the Wild take full advantage of an extra year of entry-level contracts, which are gold in the NHL. After this season, Marco Rossi and Brock Faber will have one more year of making under a million dollars before they hit RFA status and a due a raise. That's an incredibly valuable asset, but only if it facilitates the team becoming a contender. If the Wild are kinda-sorta punting on being Stanley Cup competitive in 2024-25, they're leaving a lot of value on the table for those two, not to mention the ELC years they'd burn from Wallstedt, Khusnutdinov, et al.
And finally, it's an opportunity to make a big pitch to Kaprizov to stick around for the future. The Wild will get a truckload of money with which to re-sign him, but Kaprizov will get paid wherever he goes. Getting to play with another impact player in 2024-25 and being true contenders is a much better pitch to get him to stay than having him stuck in the mushy middle with a year to dwell on him not having his best friend anymore.
Even if he does decide to leave, the Wild would still be in a better spot than if they hadn't made a splash to get an impact player.
Minnesota's cap situation has been an incredible bummer. The buyouts made this summer boring to watch, and we're on Year 3 of it making the Wild worse than they should be. But the good news is: relief might come in half the time that we'd expect.
3