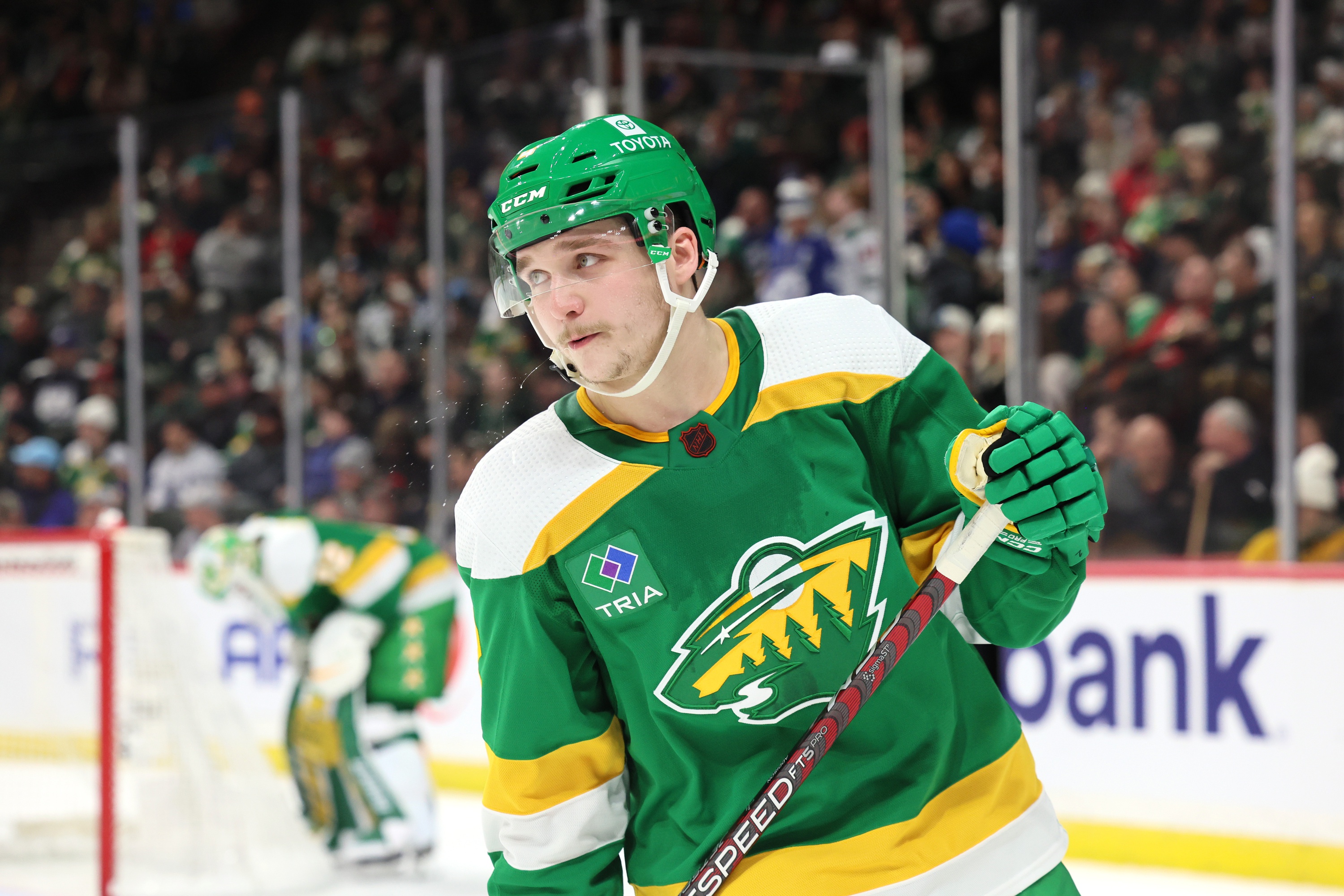 Image courtesy of © Bruce Fedyck - USA TODAY Sports
Calen Addison was the first guy Bill Guerin targeted when he started to build the Minnesota Wild's prospect pool. Guerin was familiar with the smooth-skating offensive defenseman from their time with the Pittsburgh Penguins and seized him for the Wild as part of the Jason Zucker trade. If someone in the prospect pool had a shot to be his Kris Letang, his new Jared Spurgeon, Addison was it.
Of course, these lofty comparisons almost never come true for prospects. If every prospect matched their potential, we'd probably need a second Hall of Fame to fit everyone in. Or maybe no Hall of Fame because everyone rocks. It's tough to say how the world would deal with that problem. The point is that we rarely operate in that world. Still, sometimes, players lose favor in their organizations based not on what they can do but on the weight of lofty expectations.
Be like Jared Spurgeon was the message the Wild tried to drill into Addison's head last year, this summer, and presumably this year. It's certainly good advice to an undersized defenseman to model their game after Spurgeon, of course. Spurgeon's one of the best defensemen on the planet. Listed at 5-foot-9, his combination of smarts, poise, skating, and sneaky strength keeps him on the right side of any possession metric you can think of while scoring 37 points per 82 games throughout his career. 
Addison has the skills and skating to be a top-four defenseman in the NHL. That's why Guerin wanted him. But as he continued to not turn into Spurgeon, the tenor of the Wild's feelings (as communicated to the media) seemed to go from You should be like Spurgeon to curdling into Why can't you be like Spurgeon?
There's a good reason: Spurgeon is perfect. If your expectations of a 23-year-old are perfection, they're almost inevitably falling short. Falling short frustrates teams, and then they end up trading a perfectly fine, young, right-shot defenseman to a terrible team in exchange for a fifth-round lottery ticket.
It's the kind of trade that makes you want to rip your hair out. Guerin's front office hasn't been shy about cutting bait with prospects before, but all those names were just that... prospects. Addison has 92 NHL games under his belt, with 34 points over his last 74 games. He wasn't a prospect. Whatever growing pains he's had, there was proof of concept. He was an NHL player and on a near-league minimum salary, to boot. That's so much more valuable for a win-now team than a fifth-round pick.
Especially when it seemed that he very much took the Wild seriously this offseason. He returned to the team looking to make a much stronger impact at 5-on-5. Only Brock Faber and Jonas Brodin controlled the expected goals (xG) share better than him among Minnesota's blueliners. According to Evolving Hockey's Goals Above Replacement, only Faber has had more offensive impact at even strength than Addison.
Forget offensive impact. What about just overall impact? Addison's contributed 0.5 xStandings Points Above Replacement (xSPAR) this season, third on the team. That's more than Jake Middleton (0.2 SPAR), as well as below-replacement defenders in Dakota Mermis (-0.3 SPAR) and Jon Merrill (-0.5).
Is it early in the year, making those numbers less certain? Sure. So, let's look at the Wild's SPAR for defensemen since the start of last season: 
Spurgeon, 5.8 SPAR
Brodin, 3.6 SPAR
Faber, 1.7 SPAR
Addison, 1.6 SPAR
Middleton, 1.2 SPAR
John Klingberg, -0.1 SPAR
Mermis, -0.3 SPAR
Merrill -0.3 SPAR
Matt Dumba, -1.8 SPAR
Alex Goligoski, -1.9 SPAR
Is Addison clearly the third-best right-shot defenseman on the Wild? Sure, but he's also the best of anyone else the Wild have put on the right side of their third-pairing in the past year, and it's not close. The mere fact that Addison is above water in contributing to wins instead of costing them points makes him a better choice than anyone in line to replace him.
But jeez, ultimately, he just isn't as good as the best defenseman in Wild history.
He never should have needed to be. For one, the Wild have Spurgeon to handle the Spurgeon-y things on the ice. Even better, they have Faber, the rare young player with Spurgeon's preternatural hockey sense. If the Wild only view Addison as a power play specialist who they can only trust in third-pairing minutes, that's the exact role he should've been in line for. There wasn't any need for him to become someone he wasn't. Addison could just be Addison.
Maybe Addison isn't the player Guerin envisioned when he acquired him. It's okay to have some disappointment there. But the smartest and best organizations in the NHL take players like Addison and use what they do well to great effect. After two summers of trade rumors, it seemed like the Wild were taking that exact approach with Addison.
Instead, the Wild shipped one of their better, younger, faster defensemen to Silicon Valley for Bored Apes on the dollar. For a team that needs young, cheap talent, this is a step in the wrong direction and seemingly made for few reasons other than frustration.
3

1