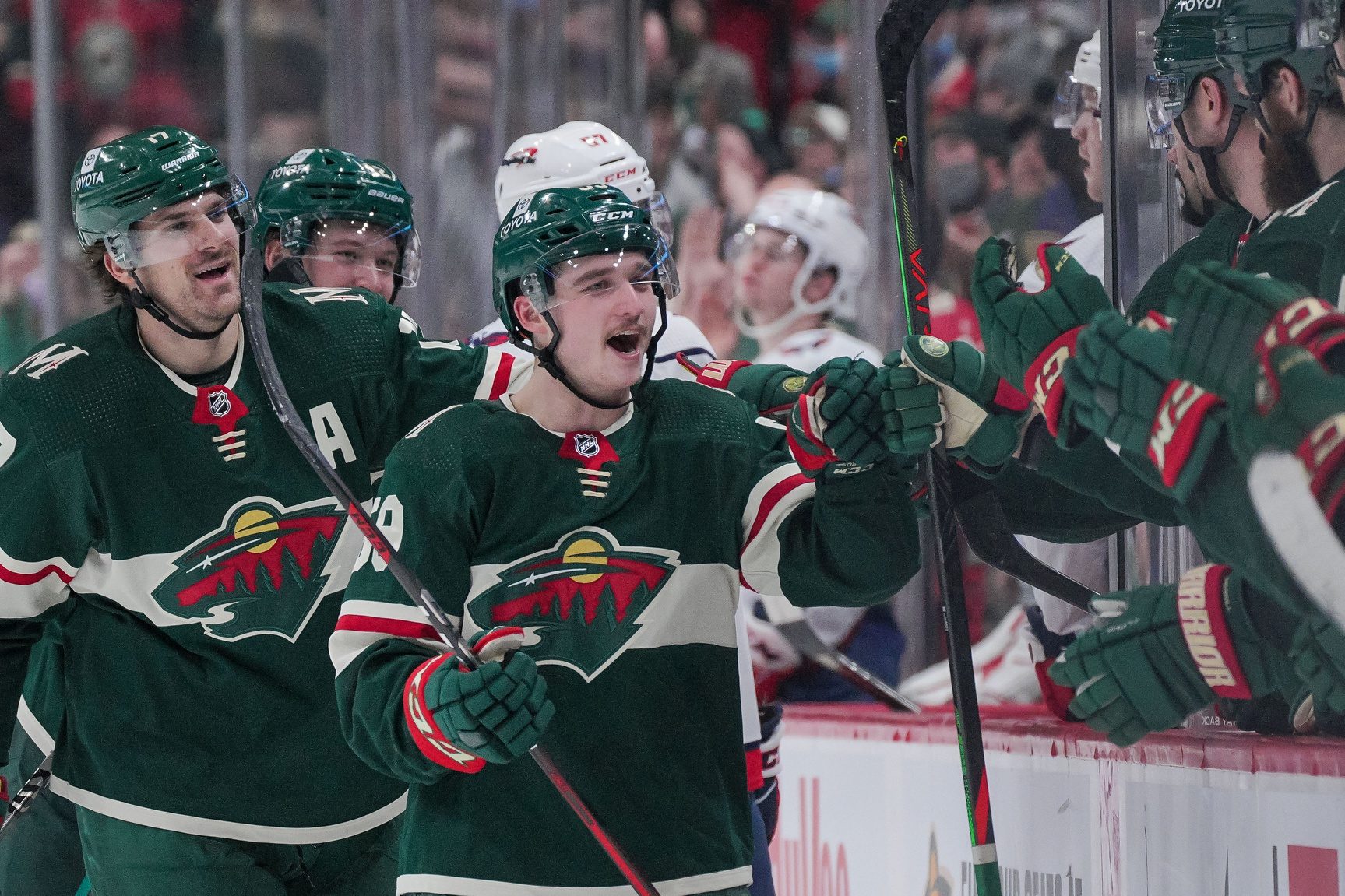 The Minnesota Wild spent two years building up their blueline prospects. Since the 2020 Draft, they added Ryan O'Rourke, Daemon Hunt, Carson Lambos, and Jack Peart with high draft picks. Then in June, they acquired Brock Faber in the Kevin Fiala trade. This gives Calen Addison, who was previously the only game in town for Wild defense prospects, loads of competition in his path to the NHL.
There are many shiny new toys and forwards like rookie Matt Boldy, Marco Rossi, and Danila Yurov. It seems like Addison has been around forever, comparatively. So much has happened since his arrival in March 2019 via the Jason Zucker trade, which preceded COVID. Yet, Addison's still a legitimate prospect, having just turned 22 in April.
Or at least, he seems so on the outside. But shouldn't a top, NHL-ready prospect have gotten a call-up after Matt Dumba punctured a lung in April? Certainly yes, considering the alternatives were giving minutes to the increasingly ineffective Dmitry Kulikov, with Jordie Benn backfilling. However, Addison didn't get that call, despite being ideal for Dumba's power play role. When the Wild defense was desperate for answers in the playoffs, Addison was firmly in the press box with the rest of the Black Aces.
If that sounds like something's up, you aren't alone. The Athletic's Michael Russo has speculated multiple times on the Worst Seats in the House podcast that Minnesota may view Addison as the odd man out in the future. It's not just confined to the airwaves, either. In a June mailbag, he wrote the following:
That tells me the Wild thinks he's too small or it was more important to add size to an undersized blue line. If that's the case, I have trouble buying that the Wild's right-shot blue liners next season would be
Jared Spurgeon
, Dumba, and Addison. That would be the smallest grouping of right D probably ever.
We talked about it discussing Jake Middleton's contract on Saturday, but the Wild appear to be concerned with size on their blue line. They acquired and extended Middleton to be a physical presence, despite their logjam of defensemen, including Jon Merrill, Kulikov, and Alex Goligoski behind Jonas Brodin.
If that's the case, the Wild may have reinforced that belief in the playoffs. The St. Louis Blues had a depleted defense, but 6'6" Colton Parayko was a mainstay minutes-muncher who helped a banged-up unit advance past Minnesota. 6'3" Marco Scandella and 6'4" defensemen Niko Mikkola and Robert Bortuzzo also played parts in that series. As you may remember, St. Louis won three straight games to take the series in six games.
If the Wild are set on a quest to get bigger and more rugged on the back end, they have a way to go. Dumba's in the last year of his contract, with Addison and Faber as the most likely candidates to replace him next year. Addison is 5'11" and not physical. Faber is an inch taller but defends in a Brodin or Spurgeon-esque way, taking time and space from forwards rather than muscling them off the puck.
But does that really mean they can't all function on the same blueline?
Here's the thing about Spurgeon and Brodin-type defenders: They're really effective. Over the last half-decade, their defense has been worth about 10 and 13 points in the standings, respectively, over the previous half-decade, according to Evolving Hockey's Expected Goals Above Replacement model. They're both in the top-5 in the league over that time in defensive impact.
Spurgeon's defense may take a dip in the playoffs, but that style of play doesn't stop Brodin (alongside the 6'0" Dumba) from being among the most dominant defensive stoppers in the postseason. If anything, you want more of those guys, not fewer.
Just like Spurgeon and Brodin should be able to thrive on the same blueline, Addison and Faber should be able to co-exist. And if Minnesota thinks four puck-moving, positional defensemen are too many for one unit, they should pay attention to the Stanley Cup Champions.
The left side of the Colorado Avalanche's defensemen includes 6'1" Devon Toews, 5'10 Samuel Girard, and 6'0" Bowen Byram. None are particularly big or physical, and they're all offensive puck-moving types. Cale Makar is the leading minute-muncher on the right side. He's 5'11 and hardly man-handles anyone. Instead, they all push the puck up the ice better than anyone.
Makar is obviously a generational talent, but if he's the direction the league is going, Minnesota should absolutely hold onto Addison. He didn't get a heavy workload, with just 15 games (including one at forward) and a third-pairing role. Still, he excelled at exiting the zone with the opportunities he got, doing so with control 88% of the time, according to Corey Sznajder's tracking data. That's a big-time outlier. The only other player above 80%? Makar.
[caption id=attachment_129957" align="alignnone" width="1578]

Courtesy of All Three Zones[/caption]
A small sample size? You bet. But you can only work with the chances you get, and it lines up with what we know about Addison's AHL time. As Iowa Wild coach Tim Army told 10K Rinks last November, "You have to have the puck, and when Addison is on the ice, we have the puck."
Folks may be discouraged that he hasn't seized an NHL role, but it's not for lack of good play from him. Evolving Hockey's xGAR estimates, he contributed nearly two standings points to the Wild in 207 minutes, surpassing Merrill and Dumba's value. He contributed around 80% of Alex Goligoski and Kulikov's full-season value with just 15% of their ice time. Addison more than deserved a bigger role last season.
When you account for age, his production is one of the best for an Under-22 AHL defenseman this century. Here are the top-10 AHL defensemen in points-per-game for defensemen with 20-plus AHL games before turning 22, courtesy of Elite Prospects.
Oliver Ekman-Larsson, 1.05
Jordan Spence, 0.91
Brandon Montour, 0.84
Ryan Murphy, 0.82
John Carlson, 0.81
Erik Brannstrom, 0.80
ADDISON, 0.76
Shea Theodore, 0.75
Mike Green, 0.75
Philip Broberg, 0.74
Two of those (Spence, Broberg) fall in the prospect category with Addison, so let's look at the other seven. Murphy washed out of the NHL. Montour is an okay-but-not-great defenseman. Brannstrom is still finding his way. The remaining four are incredible outcomes. Green and Carlsson have three Norris runner-ups between them. Ekman-Larsson had some great years in his 20s, finishing in the top-10 Norris voting twice. Theodore is a legitimate No. 1 defenseman for a contending team.
Even if the Wild aren't totally sold, why shouldn't they gamble on that kind of precedent?
As it stands, the Wild might just go into next season with that smaller Spurgeon/Dumba/Addison set-up, despite their reservations. Merrill is injured, creating an opening for Addison to get in. Dumba doesn't seem to be going anywhere. Spurgeon has a no-move clause.
Whatever reservations Minnesota may have, the things Addison does really well are not only things modern NHL defensemen need, but the Wild have a specific lack of. They don't have an elite zone exit machine to rival the four that Colorado has. Addison demonstrated that ability last year. They don't have a true power-play quarterback outside Spurgeon, who drew criticism last year for his role on the power play. That's long been Addison's specialty.
If the Wild still feel the need for a physical presence on the blue line, that's great. That's what the other two spots are for. They already have Middleton, and throwback defensemen like O'Rourke or Hunt aren't far behind. Minnesota can't take their eyes off the prize, though. The goal shouldn't be to get more bruising on the back end. It should be to have a defense unit that can do what the Avs do. Moving Addison out of Minnesota would put themselves further away, not closer, to true contention.