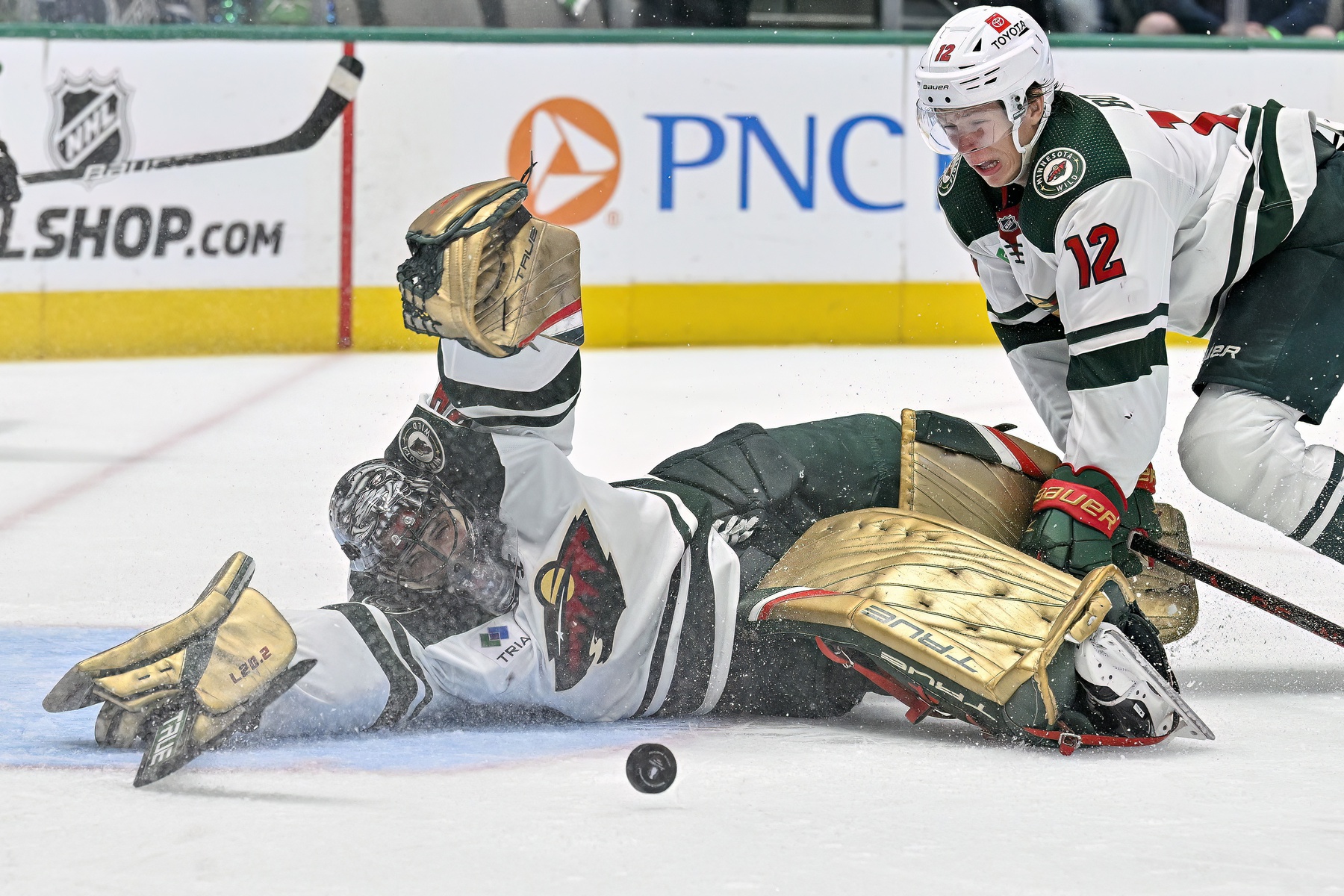 Image courtesy of © Jerome Miron-USA TODAY Sports
In 2016, Chuck Fletcher said that the Minnesota Wild were in "triage mode" after he fired Mike Yeo 55 games into the season. The Wild were 23-22-10. They had a .500 record a year after they had 100 points, and the Chicago Blackhawks had eliminated them from the playoffs for the second year in a row. John Torchetti took over as the interim coach and got them to the playoffs, but the Dallas Stars swiftly beat them in six games. 
That series marked the first of six straight they've lost in the first round. The Wild missed the playoffs in 2018-19, but they've been a mainstay in the postseason otherwise. But their appearances are short-lived. Jake Allen stood on his head and eliminated a 106-win Minnesota team in 2016-17. They had 101 points the following year but lost to the Winnipeg Jets in five games. The Vancouver Canucks beat them in the bubble; the Vegas Golden Knights eliminated them in seven coming out of it. Last year, the St. Louis Blues outcoached them and won in six.
The Wild have generally been an entertaining distraction in the bitter winter months, but they dry up once the snow is off the ground. In some ways, it seems fitting. It's weird to watch hockey when it's warm out. But it's disappointing for fans who believed the team was a contender when they signed Zach Parise and Ryan Suter on Independence Day 2012. Unfortunately, two second-round exits are all they had to show for the $98 million they spent on Parise and Suter. Craig Leipold fired Fletcher in April 2018. Paul Fenton wore out his welcome by July 2019. 
In came Bill Guerin, the 18-year NHL veteran who bought out Parise and Suter in 2021. In doing so, Guerin knew he'd have to operate with different rules than the 31 other general managers. Leipold is committed to winning, as evidenced by the money he spent to acquire and release Parise and Suter. But he's also proven unwilling to reset through tanking. Therefore, Guerin is trying to build a roster with $12,743,588 in dead cap this year and $14,743,588 the next two seasons. The Wild are operating in a different world than the rest of the league. Guerin has to build a winning roster with little room for payroll error.
Minnesota must beat Suter and the Stars to advance in the playoffs for the first time since 2015. It feels fitting in some ways. The former North Stars kicked off Minnesota's one-and-done playoff streak; buying out Suter has cost the Wild talented players like Kevin Fiala. The Wild appear to have created a set of strictures to get them through cap hell. The four I've identified are: 
Be as cost-effective as possible.

Establish a top-down culture.

Value experience over skill.

Never stray from the plan.
Guerin has already made some unconventional signings to create cost certainty. In January 2022, he signed Jon Merrill to a three-year, $3.6 million contract and inked Ryan Hartman to a three-year, $5.1 million extension. Last week, he signed Freddy Gaudreau to a five-year, $10.5 extension. Teams typically don't risk that kind of term on a third-pair defenseman, a glue guy, and a bottom-6 center. But the Wild can't afford to overspend on depth. It also means they're employing Merrill and Gaudreau past their prime. There's little flexibility to change that.
The Wild also played hardball with Kirill Kaprizov, their franchise player about to enter his prime, signing him to a five-year, $45 million extension in September 2021. Kaprizov expressed willingness to return to Moscow during the negotiations. He will also be a free agent at age 29, meaning the Wild didn't sign him through his prime. Under different circumstances, they probably would have signed him to a longer deal, but Kaprizov reasonably would have asked for a higher average annual value. Such is life for a franchise in cap hell.
Guerin has proven to be a master negotiator. He extended Matt Boldy on a seven-year, $49 million deal and got Joel Eriksson Ek for eight years, $42 million. Put another way, Guerin got his second-best scorer and best center for a cap hit that's nearly $3 million less than Fletcher paid for Parise and Suter. He's also been quick to move on from players who he feels ask for too much or disrupt the culture. Guerin got upset with Cam Talbot's contract demands and pulled off a heist, sending him to the Ottawa Senators for Filip Gustavsson. He traded Jack McBain, a 2018 third-rounder, when he didn't want to sign with Minnesota. And he traded Brennan Mennell, a walk-on from Woodbury, when he joined the KHL during the pandemic and wanted a two-way contract upon return.
Minnesota's strictures have paid off in some ways, but they may be hurting the playoff roster. Gustavsson saved 51 of 53 shots in Game 1, but Dean Evason still turned to Marc-Andre Fleury for Game 2. That was the Wild's plan going into the Dallas series. Still, Fleury hurt their chances of winning Game 2, and they should have adjusted based on Gustavsson's performance. Similarly, Evason has preferred steady veterans over skilled inexperienced players. Minnesota kept Marco Rossi in Iowa for most of the season, and now they could use another Top-6 center. Similarly, they ostensibly replaced Calen Addison with John Klingberg at the deadline, costing them a pick and two prospects. 
The Wild had to have a plan to remain competitive during the Parise and Suter buyouts. But there has to be some flexibility built in. They can't overspend, but they can't overcommit to depth veterans while bleeding inexpensive young talent. Evason needs to be able to trust his players, but there has to be some leeway to allow for player development. And when Gustavsson stands on his head for four-and-a-half periods of hockey, he has to be in net for Game 2. A plan is only good so long as it allows for adjustments. Fletcher had a plan, too. But he found himself in triage mode four years into the Parise-Suter contracts, and the Wild haven't advanced in the playoffs ever since.
1