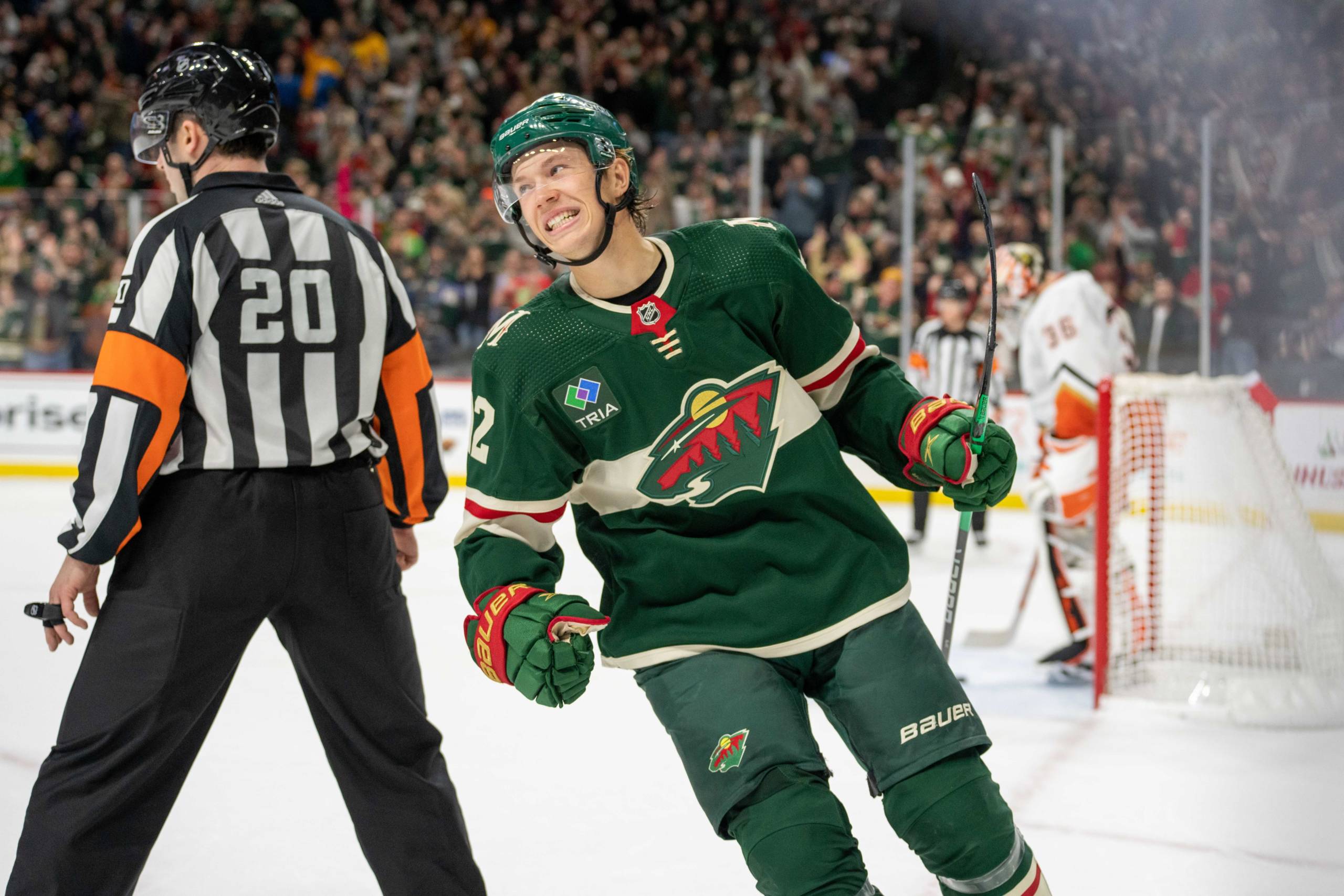 On Monday morning, you, the State of Hockey, and the hockey world reacted to big news for the Minnesota Wild. They announced that they inked Matt Boldy, their 21-year-old star, for seven years and $49 million ($7M AAV).
You probably do not need the expertise of 10K Rinks to tell you this deal is good. Let us still tell you, though, it's good.
Boldy burst onto the scene last year in his age-20 season and arrived fully-formed as a star. He scored 15 goals and 39 points in 47 games, and both his per-game scoring stats lined up with some of the best 20-year-old seasons we've ever seen in the Salary Cap Era.
You can probably say he's taken a step back this year, at least through the first half of the season. He has 12 goals and 29 points through 42 games, off from last year's pace. At 5-on-5 his scoring went from 2.99 points per hour, which was 15th in the NHL to 1.13, which is 10th-worst among forwards with 500-plus minutes.
Still, despite the step-back, the losing Kevin Fiala Hangover, or whatever you want to call it, Boldy's progression on the power play still is keeping his numbers up and in good company with the rest of the NHL. Over the past two years, he's scoring 2.78 points per hour in all situations. That's tied for 80th with Chris Kreider among all forwards with 500-plus minutes.
This production makes Boldy pretty indisputably a top-line player. In addition to Kreider, some of the names in his range are: Alex DeBrincat (2.75), Clayton Keller (2.72), and Mark Stone (2.70).
What do all those names have in common? They are paid, or will be very soon. Three years ago, Kreider signed a seven-year deal worth $6.5 million per year. The year before that, Keller got an eight-year extension with a $7.15 million AAV. Also in 2019, Mark Stone inked a mega-deal worth $9.5 million per year. DeBrincat also figures to break the bank this summer. Even after a down season, he figures to get a decent raise on his current $6.4 million AAV.
So the Wild are basically, paying Boldy market value for where he is right now. But again, he's 21, which means he's got plenty of growth to his game left. Since the Wild aren't paying a premium for that kind of growth, they figure to save a great chunk of change.
Let's look at where he's at for his age group. Since 2007-08, here are the closest comparables to Boldy in terms of points per hour in all situations scoring (minimum 1000 minutes) from ages 20-21:
Boldy: 2.77 (26th among all forwards)
Brock Boeser: 2.77
Jordan Eberle: 2.75
William Nylander: 2.75
Johnny Gaudreau: 2.72
Phil Kessel: 2.72
DeBrincat: 2.71
If the worst-case scenario for your career is Boeser or Eberle, two very-good-but-not-elite wingers, you're doing great. And that's just his scoring. Boldy brings defensive value to the table that most young forwards don't.
According to Evolving Hockey, Boldy's Even-Strength Defense has been worth about 4.4 Goals Above Replacement throughout his career. Translating that into more digestible terms, that's about 1.4 points in the standings, or nearly one full win.
He already ranks 20th among all age 20-21 forwards for impact on Even-Strength Defense since 2007-08. Keep in mind, too, he has an entire 40 games to keep climbing up that leaderboard. His skill set, scoring, and defense make him the NHL's best candidate to be the Next Mark Stone.
The Wild were always going to sign Boldy this summer. He would not have met the eligibility requirements for other teams to swoop in during Restricted Free Agency with a lucrative offer. But that doesn't make this contract any less of a coup for Minnesota.
Most people believed the Wild would only be able to do a short extension, (or a "bridge deal" in NHL lingo). A bridge deal might have offered a cap-strapped Wild team more flexibility in the short term, but there were significant downsides.
First, signing Boldy to a two-or-three-year deal gives him much more negotiating power on his next deal. The Wild could afford it then, in theory, with the Zach Parise and Ryan Suter buyouts coming off the books before then. But if Boldy was able to command $8-10 million by then, that makes other things much tighter.
Specifically, their ability to re-sign Kirill Kaprizov, their other star winger. Given the difficulty in signing, then extending Kaprizov, most people are anticipating a battle to keep him in St. Paul. And that's the most optimistic take.
For the Wild to keep their star, it's going to take one of the most lucrative contracts in the league. Boldy's extension means an extra $2-3 million at that time can go into the Kaprizov Extension War Chest.
Also, a short-term deal would open him up to RFA contracts, leaving other teams to tempt him with a large payday. This doesn't happen much, but deals with Sebastian Aho and Jesperi Kotkaniemi in recent summers might shift that tide over the next few years.
Teams always retrain the right to match RFA contracts, but even if they keep the player, those deals can hurt. In Aho's case, Montreal only bought out one year of Unrestricted Free Agency for a premium cost ($8.46M), meaning there was a downside on Carolina's end, even though they kept their player. The Wild don't have to fear. They've got two UFA years from Boldy, taking him to age 29, meaning all his prime years are at a fixed cost.
Even better, they have those prime years on the cheap. The NHL salary cap is going to start rising, as players are paying off the last bits of losses incurred during the pandemic. Boldy's deal is already making just 8.5% of the Wild's salary cap. That number will just keep shrinking as the cap, and salaries alongside them, skyrocket.
There's a chance, for example, that top contracts in the league, the Auston Matthews, Connor McDavids, Kaprizovs of the world, will be around $14-15 million AAVs when that happens. Boldy might give them elite production at half the price of the top salaries. That salary is locked in until Summer 2030, so really, who knows what the cap might be by then?
This also indicates that Minnesota isn't going to need to have any worries with Boldy bolting the State of Hockey. Fans might have to dread, then watch a game play out with Kaprizov, but Boldy's deal means much more than "He's locked in for seven years."
He could have easily bet on himself on a short-term deal, then played hardball for Kaprizov-type money down the road. Boldy might have been able to engineer a way to get to UFA status as quickly as possible with a crafty RFA contract in a couple of years. Heck, he probably could have tacked on another half-million or so per year by waiting until he got on a heater to sign an extension.
Instead, Boldy theoretically left a bunch of money on the table to lock himself into Minnesota for seven years. Yes, $49 million is a lot of security to a 21-year-old, but those are still not the actions of someone who's looking to squeeze the team anytime soon.
There's no moral judgment from this site for trying to maximize your worth — careers are short, owners squeeze players all the time, and star NHL players are extremely underpaid. But from the team's standpoint, it makes them rest much easier knowing a star in Boldy is here long-term.
There will be more time to look at the impact of Boldy's contract on the short term. The Wild have two more years of cap hell, and only $9 million in space to navigate it all. In the meantime, though, star players are Priority No. 1. The Wild are keeping their young star for the rest of the decade. That's all anyone needs to think about today.