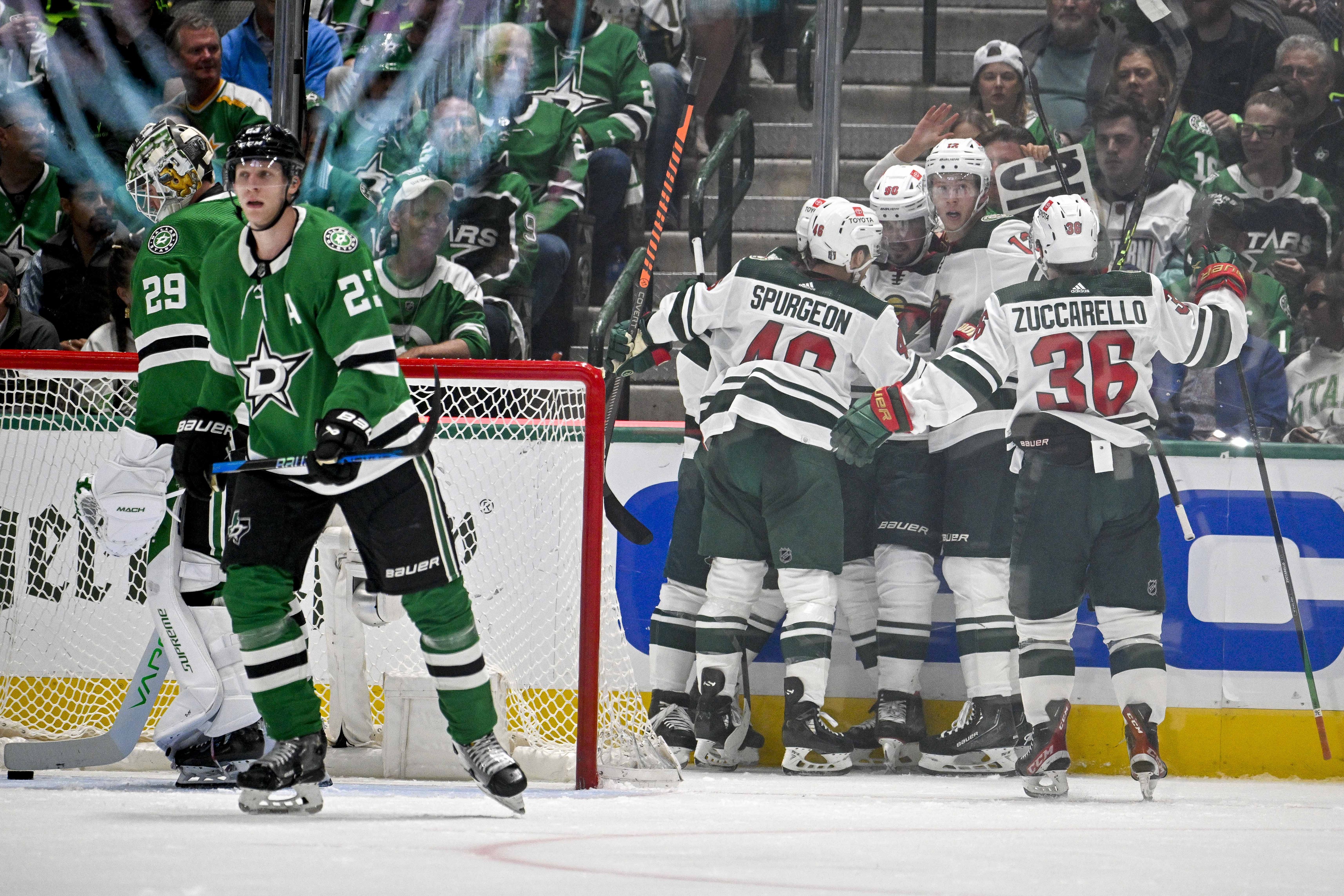 Image courtesy of Nick Wosika-USA TODAY Sports
It's hard to stay competitive in the NHL. It's hard to build a contending team. Doing both at the same time is almost impossible. That's why some were skeptical about Bill Guerin's strategy of building up the Minnesota Wild's prospect pool without trying to tank for the highest draft spots, or without recycling veterans into draft picks.
Against all odds, though, Guerin's Wild are coming off back-to-back 100-point seasons while amassing a deep prospect pool that's on the cusp of making an impact. Marco Rossi, Brock Faber, and Calen Addison are looking to seize full-time spots. Carson Lambos, Sammy Walker, Adam Beckman, and David Spacek are waiting in the wings. And more is on the way.
Until this week, this is how fans understood The Plan:
Step 1) Make it through the Zach Parise/Ryan Suter buyout pain by retaining bargain players as best as they can.
Step 2) Start reaping the rewards of the prospect pool just as they become able to...
Step 3) Use newfound cap space to upgrade where necessary.
That wasn't just the message the fans were interpreting from the front office's actions. The players themselves seemed to internalize this as being The Plan. In July, Jacob Middleton told an audience of Wild fans, "I would love to say [Minnesota can win a Stanley Cup] this year or the year after.... But when you look money that can be spent after the 2025 season, that's when pushes can be made to really go after a championship."
Everything converged so neatly around the end of the Wild's Dead Cap Era that it really looked like a retool-on-the-fly was going to work to perfection.
The only problem is that The Plan never existed. At least not the way most fans believed or hoped it would. Part of the negative reaction to this week's extensions for Mats Zuccarello and Marcus Foligno was the idea that they were a betrayal of the front office's long-term vision for the future. They weren't. Treating Zuccarello, Foligno, and soon, we're told, Ryan Hartman as core members of this team is what they had in mind.
Guerin telegraphed this in August, speaking to KFAN's Dan Barreiro in a FAN Free Forum. Barreiro posed the idea that the team should embrace a youth movement to avoid remaining in a mediocre purgatory, even at the expense of winning now. It was clear then that he had little time for the notion.
"Young players have played for us, and they'll continue playing for us," Guerin explained. "But no, we don't want to just sacrifice a year, and say 'Here's your spot. Go play.' I guess that's fine for a team that's in a full rebuild. You just throw them out, and they play, doesn't matter what the results are. We're not there."
Why not? "There's just too many good players to do it.... Why would we just get rid of [Jared] Spurgeon, and [Jonas] Brodin, and [Matt] Dumba, and Foligno, and all these guys that we've kept?" he asked. "You see other teams doing it, but that's a lot of pain, too. It's not two to three years, it's like seven to ten."
It was a thoughtful answer, and nothing Guerin said was wrong in a vacuum. A full rebuild, sure, that is a lot of pain. But whether you want to call it a rebuild, a retool, a rebuild-on-the-fly, a step back, or any other euphemism: It's been happening. And the hard part should be essentially over.
Minnesota has spent years accumulating a mass of assets. They have a borderline-generational goal-scorer in Kirill Kaprizov. They have a potential perennial All-Star in Matt Boldy. The Wild are set up well with the youngsters mentioned prior, plus a high-end goalie prospect in Jesper Wallstedt.
There is also a middle ground between a "full teardown" and "going for it," and the Wild were suited to play in that area. Their youngsters aren't years away: Of Hockey Wilderness' Top-10 Prospects list, six of them are in the 20-22 age range, with Danila Yurov and Liam Öhgren turning 20 by February. That means next season, the majority of their top prospects will be entering their age-21-through-23 seasons at the moment the Zuccarello/Foligno/Hartman (again, probably) contracts kick in -- plenty old enough to start contributing. This doesn't even mention seasoned AHLers like Adam Beckman and Sammy Walker.
So, what pain? Growing pains as these players adjust to the NHL? Unless they flop like a crappie in a puddle, fans are generally fairly patient to watch a young core develop and grow together. Fans in Minnesota should be especially primed to see a youth movement.
Because you see, Guerin's also discounting the reality that the pain Wild fans are currently enduring is as real as a long rebuild. From grabbing a plummeting Dany Heatley, to the Parise and Suter contracts, to signing Thomas Vanek, to Paul Fenton's half-baked rebuild attempt, to now, this week's extensions, Minnesota has frequently chased short-sighted shortcuts.
The team has had success, but only a limited definition of it. Fans will only take so many early playoff exits before pining for something else. The fact that many see these extensions as a betrayal of a long-term plan shows that Wild fans want something better.
Where's the disconnect?
Guerin almost bluntly says it in the FAN Free Forum: Keeping Kaprizov happy. "If you're in a full rebuild, does Kaprizov even sign here?" Guerin wondered aloud. "These are the things you have to think about."
Guerin has to think about Kaprizov. The Russian superstar's decision to stay or leave in three years will greatly impact Minnesota's competitive window. Having Zuccarello, Foligno, and (probably) Hartman over these next three years probably establishes a floor that's higher than a roll of the prospect dice, even if it limits their ceiling.
What's Kaprizov's appetite for that, though? He can read a CapFriendly page as easily as anyone else. The first two seasons of any new deal are going to coincide with the decline years of several veterans that the Wild are locked into. If the team as constructed can't find success in the next two years, what would give him confidence in them succeeding with an aging core that's only growing older?
It feels like a recipe similar to that of Artemiy Panarin and the Columbus Blue Jackets. Columbus wanted to take advantage of a limited window in a desperation play to keep their star Russian around. Now, that came in the form of splashy trades, and not extensions. But it was a similar shortcut mentality. Still, even after winning a playoff series, it wasn't enough for the "Bread Man" to stick with a Columbus team with little long-term prospects outside of himself.
With the caveat that Guerin knows Kaprizov better than those on the outside, it doesn't feel like keeping this core is going to be the magic formula to keeping Kaprizov happy. Wouldn't getting to play with fellow countrymen Danila Yurov and Marat Khusnutdinov next season be a better sell? Or the promise of a bright future over a core whose best days are behind them?
The Plan was perfectly set up for them. It's hard to imagine a better chance for a rebuild-on-the-fly actually working in today's NHL. In the end, it was wishful thinking. The Wild still have a bright future. But instead of having a seamless transition to it, there's a risk the remnants of a mediocre past will dim their upside.
4