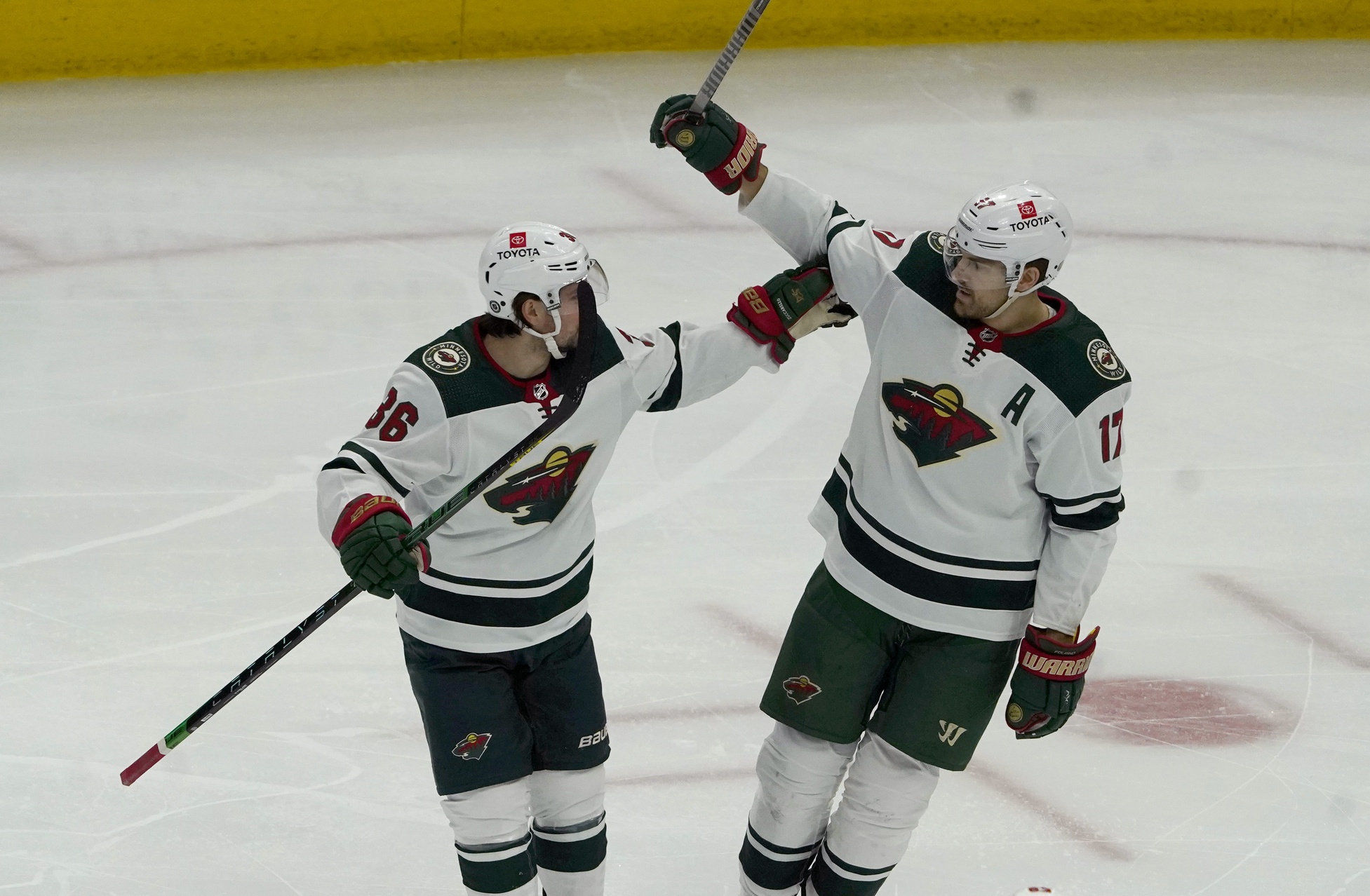 Image courtesy of © David Banks - USA TODAY Sports
Bill Guerin has been hard at work the past few days, re-signing a couple of the Minnesota Wild's core pieces to multi-year extensions, with plans of inking another soon.
Last Friday, the Wild gave forward Mats Zuccarello a two-year, $8.25 million, signing him through the 2025-26 season. Zuccarello is coming off his two best years as a pro, posting 67 points in 2022-23 and 79 points in 2021-22. 
Zuccarello has been a mainstay on Minnesota's top line since his best buddy Kirill Kaprizov's debut in the NHL. Their chemistry has been unparalleled, on and off the ice. They are an undeniably great duo under the bright lights, displaying an understanding of each other's moves and methods almost telekinetically. 
Later that day, the Wild announced they agreed to terms with Marcus Foligno, a physical, scoring forward. They gave Foligno a four-year, $16 million deal, securing him through the 2027-28 season.
The Wild acquired Foligno via trade with the Buffalo Sabres in the middle of the 2017 season, and the State of Hockey has fallen in love with him since his arrival. The Buffalo native has served as a tone-setting bottom-six forward. He's never shied away from playing a physical brand of hockey when he needs to.
Everyone feels Foligno's presence most felt when Minnesota needs a spark. Whether it is laying a sizeable check or dropping the gloves to get the home crowd into it and a fire lit under the bench, the Wild has called upon the "Moose" plenty of times to remind the opposition that if things need to get a little gritty, they are up for it. 
Additionally, although nobody has put pen to paper yet, Guerin and Ryan Hartman have expressed mutual interest in a multi-year extension. It feels inevitable that they'll reach an agreement, and it's a safe bet that the Wild can expect to be the subject of Hartman's services for the next handful of years. It's also safe to assume that the Wild will re-sign him as the top-line center between Kaprizov and Zuccarello as long as he can stay in Dean Evason's good graces.
The news of these extensions came at a fast and furious pace within hours of each other, leading Wild fans to question the team's direction. It's no secret that Minnesota is on the brink of a youth movement, sporting a prospect pool so deep that you need floaties. They find themselves in a pretty unique situation. They have an extensive line of legitimate prospects in the farm system while still having a roster that can compete while they develop in the minors.
The extensions also come off as insurance policies because every young up-and-coming roster needs veterans. You can't just have an entire roster full of unproven prospects plus a star or two and expect success.
Minnesota's string of extensions also brings up another topic of discussion: How much are these extensions about keeping Kirill Kaprizov happy? 
A second round of negotiations with the Russian phenom isn't imminent. But it isn't exactly far away either, especially because the Zach Parise-Ryan Suter buyouts will financially hamper the next two years. Kaprizov's contract will expire in the offseason after these buyouts come off the books in 2026. The last year of Kaprizov's contract also coincides with Zuccarello's contract expiration in the same offseason and will be the lowest-earning year of Kaprizov's extension at only $7.5 million. 
Kirill Kaprizov's camp was wise in their approach to the deal he signed in 2021. They secured a short-term deal with big money that would expire in the middle of his prime. Therefore, he can negotiate another massive contract at just 29 years old. 
However, Guerin stated after the extensions on Friday that while he took team chemistry into account when negotiating contracts, the transactions weren't performed just to "keep Kirill happy." 
The timing of the extensions may be a coincidence, of course. But it feels like it's not coincidental that the Wild are working to extend both of Kaprizov's linemates and the enforcer who sets the tone for the Wild as Minnesota has to look forward to the near future with another Kaprizov negotiation on the horizon. Zuccarello and Hartman have helped Kaprizov become a top 20 player in the NHL, and Foligno has always answered the call to defend the superstar. Of course, I don't mean to minimize Zuccarello, Hartman, and Foligno's impact as individual players. 
Guerin explained it best in the presser. He said that everything about what Zuccarello provides the Wild outside of his relationship with Kaprizov fits the culture perfectly, stating that "[Zuccarello is] a leader in our dressing room, and he's somebody that all the guys look up to and respect, and from my perspective he's a perfect fit for all those reasons. Zuccy, he's just a great guy." Hartman has been the best fit at center between Zuccarello and Kaprizov while the Wild wait for Marco Rossi to adjust to the NHL. Foligno prevents opponents from taking liberties with Kapriozov. 
Ultimately, the Minnesota Wild will go as Kirill Kaprizov goes. They must factor Kaprizov into every decision they make, no matter how minuscule the level of a domino effect it has on him. Bill Guerin can say that he made the moves without intending to appease Kaprizov, but in one way or another, they are.
And that is perfectly fine.