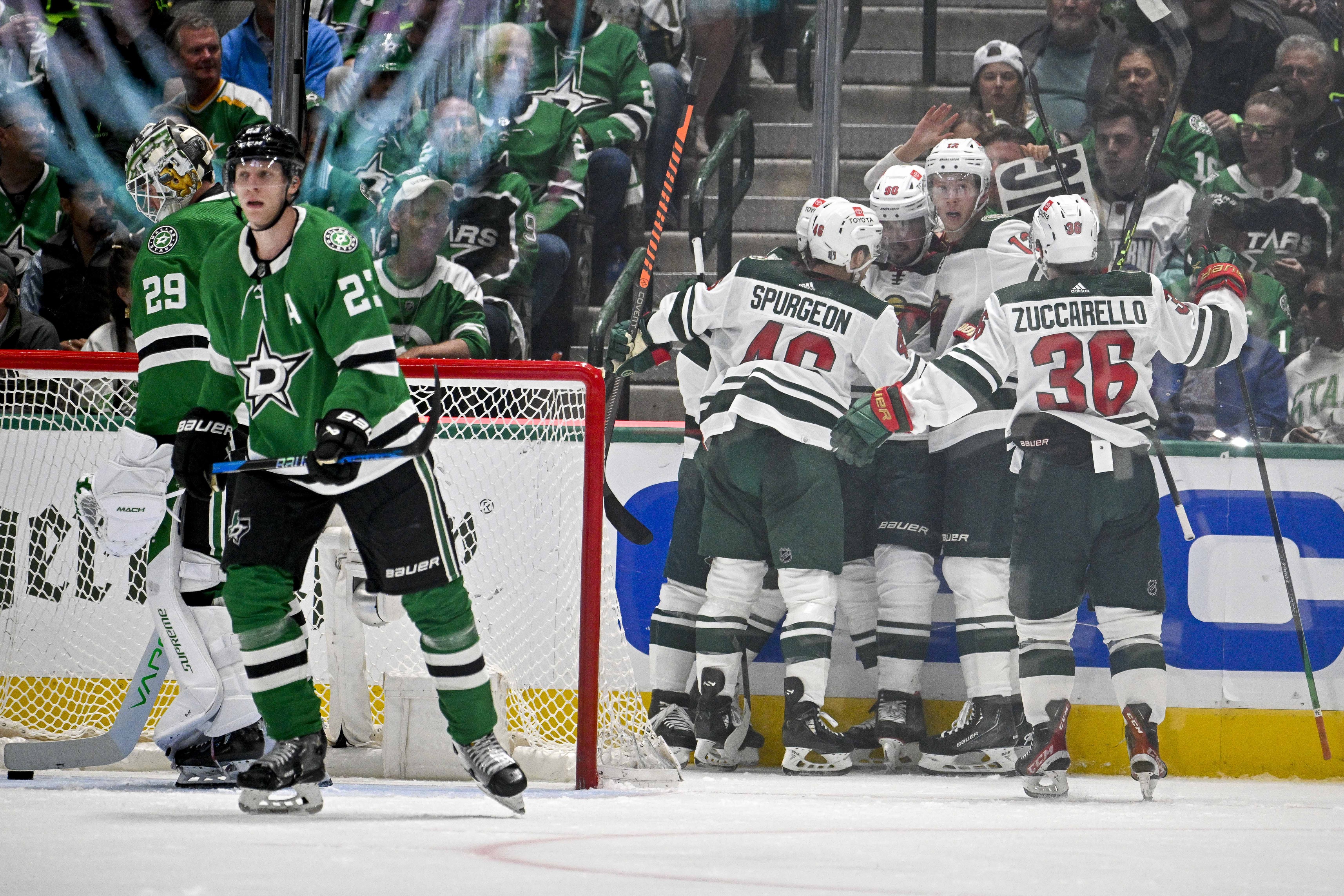 Image courtesy of Jerome Miron-USA Today Sports
When Bill Guerin took over the Minnesota Wild in 2019, he inherited a club that was long on experience and short on success. Led by long-time veterans like Mikko Koivu, Zach Parise, Ryan Suter, Eric Staal, and Devan Dubnyk, the Wild's roster had an average age of 29.4 years old. That was tied for second in the NHL. The group hadn't won a playoff series in five seasons. Critics around the State of Hockey called it a "country club" atmosphere.
It did not take long for Guerin to figure out how to handle the situation. He blew that roster up. Within a year, Staal, Koivu, and Dubnyk were out, with Guerin hustling to navigate the former's no-trade clause in dumping him. Sentiment be damned. In less than two years, out goes Parise and Suter in bold moves with ramifications that will still be felt over the next two seasons.
Was it audacious? Yes. It's hard to imagine Chuck Fletcher kicking so many guys to the curb. A world where Fletcher would let Koivu play games for the Columbus Blue Jackets instead of retiring as a Wild is unfathomable.
But was it all necessary? Yes. An aging club with a rapidly closing window and a limited ceiling to begin with is no recipe for winning in the NHL. And as Guerin memorably said, "It's about winning."
It's that kind of brash bravado that got fans on board with a new vision for the Wild. The Wild are done playing it safe? They're sick of the first-round losses and want to build a contender? A youth movement is on the way? Sign us up.
Two weeks before the start of Year 5 of the Bill Guerin Experience and nine months before the Wild could finally start having some cap room with $24 million in cap space, that bold new vision became much murkier. So murky, in fact, that this team is looking a lot like the one he blew up. And if it is, it's staying that way for a while.
The Wild are old. Sure, they have young faces in prominent places. Kirill Kaprizov and Joel Eriksson Ek are both 26. Matt Boldy is 22, with Calen Addison (23), Marco Rossi (22), and Brock Faber (21) hoping to take big roles. But there's no denying the Wild's age. 
Here are the top-ten oldest rosters entering the season:
1) Pittsburgh Penguins: 30.7
2) Washington Capitals: 29.5
3) Minnesota Wild 28.9
4) Dallas Stars: 28.8
T-5) Toronto Maple Leafs: 28.6
T-5) Seattle Kraken: 28.6
T-5) New York Islanders: 28.6
T-8) Colorado Avalanche: 28.5
T-8) Carolina Hurricanes: 28.5
10) New York Rangers: 28.4
Just like the team Guerin took over, his Wild enter the season as one of the three oldest teams in the league. The rest of that list falls into one of four bins. There's Pittsburgh and Washington, whose mission statement is Screw it, we're getting as many miles out of our aging star players as possible. There's the Kraken, which was all but forced to have an aging team due to their expansion draft rules. Then there are the Stars, Leafs, Avalanche, Hurricanes, and Rangers, all who fancy themselves Cup Contenders.
Then there's the "Just Plain Old" bucket, where the Wild and the Islanders sit.
It was hard to care about the team's average age before this past weekend, given their circumstances. Minnesota needed bargains to tide them over to a deep prospect pool and the Parise/Suter shackles to loosen. Being old was a necessary evil, or so we thought.
After signing Mats Zuccarello and Marcus Foligno to contracts that take them to their late 30s, the Guerin and the Wild front office have committed to being an old team. Their security blankets are likely to form a new type of shackle.
Minnesota has 14 players under contract next season, slated to have an average age of 29.1 – and that's after 35-year-old Patrick Maroon joins 38-year-olds Marc-Andre Fleury and Alex Goligoski in coming off the books. In 2025-26, the mythical year when $13 million of dead cap vanishes, the Wild are locked into nine contracts with an average age of 30.9 and as much job security as the old Old Core enjoyed.
Seriously, look at who will be under contract in  2025-26.
Mats Zuccarello: Age-38 season; pending UFA; $4.125M AAV; Full No-Move Clause
Jared Spurgeon: Age-36 season; one year to UFA; $7.575M* AAV; 10-team No-Trade Clause
Marcus Foligno: Age-34 season; two years to UFA; $4M* AAV; Full No-Move Clause
Jonas Brodin: Age-32 season; two years to UFA; $6M AAV; Zero trade protection
Freddy Gaudreau: Age-32 season; two years to UFA; $2.1 million; 15-team No-Trade Clause
And no, this doesn't account for the Ryan Hartman (32 in 2025-26) extension that appears destined to happen.
Obviously, prospects will start taking some spots, which might help bring that average age down a touch. But remember: Everyone else on this team is older than they've ever been. And now they're even older. By the time these deals start coming off the books, Kaprizov and Eriksson Ek will be 29, with Kaprizov currently slated for UFA status. Boldy will be in Year 4 of his contract. Many ELCs – from Rossi and Faber (and more) – will expire.
That's assuming, of course, that the Wild won't find themselves with a similar problem as they did in the Koivu/Parise/Suter days. The ones where young players didn't get prominent spots in the lineup because aging, entrenched veterans with a lot of job security are soaking up vital roles. 
The team is showing little urgency to turn their roster over to their deep prospect pool in hopes of icing a younger, faster team with more upside. Instead, Guerin seems satisfied with his group and close-knit locker room culture, despite this team being 0-for-4 in postseason series on his watch. "I get [the criticisms]," he told the media Friday when explaining why he committed to paying Foligno $19.1 million over the next five years. "But you know what? I like our team with Marcus Foligno way better than without him."
It can not be ignored that Guerin has watched Foligno for 23 playoff games, where he's only scored one goal and six points. Instead of being bold, Guerin's habitually settled for what he knows, perhaps for the fear of the unknown. "Teams would step up for somebody like Marcus," said Guerin. "We didn't want to see it get to that."
You do that for a half-dozen or more veterans on the brink of their 30s, and you get a roster that's going to be contending for the oldest in the league over the next several years. So close to the finish line of being able to turn over the team to a new look and feel, Guerin's front office is delivering a team that threatens to look similar to the aging team he blew up.
Now, one with a superstar in Kirill Kaprizov, and which seems to like each other? Sure. But the Wild are sticking to the status quo, hoping the same old team won't deliver the same old results.
*An earlier version misprinted the AAV of Jared Spurgeon and Marcus Foligno. We regret the error.