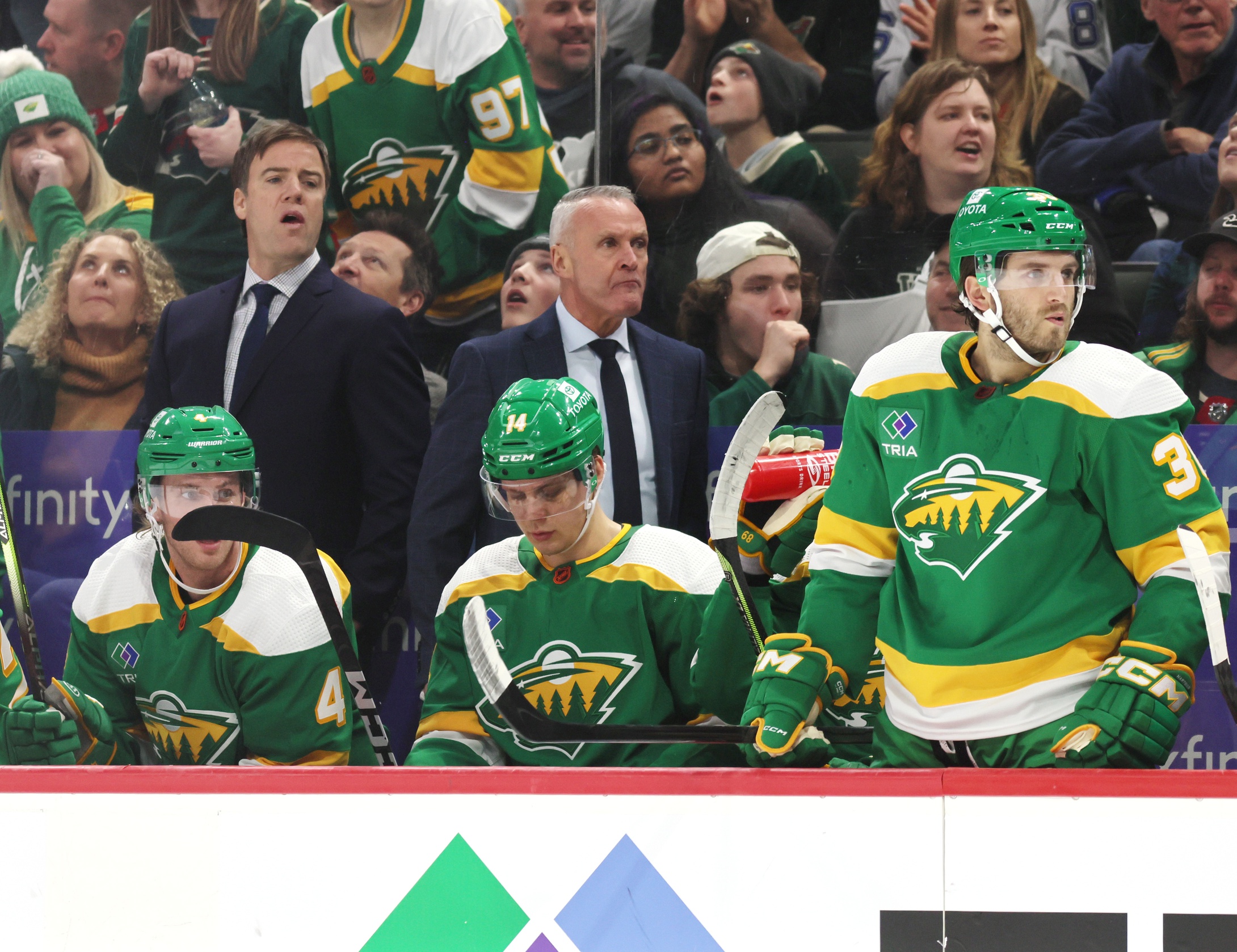 Image courtesy of Bruce Fedyck-USA Today Sports
Anytime something goes wrong, we search for the problem and try to find a solution.
In the post-mortem lows after the Dallas Stars eliminated them from the playoffs, the Minnesota Wild and their fans are searching for the problem. Some have blamed the stars for not showing up, and others have accused the front office of poor roster construction. The sound of criticizing head coach Dean Evason fills the hollow void of a deep Wild playoff run.
Many of the criticisms of Evason are valid at face value, particularly his decision-making. Playing Marc-Andre Fleury over Filip Gustavsson in Game 2 of their series against the Dallas Stars resulted in seven goals on 31 shots during a 7-3 loss. The power play was a well-known mess, as was the discipline of a team with 121 total penalty minutes, which is currently more this postseason than three teams still vying for a chance at the Stanley Cup. There's also the way Joel Eriksson Ek attempted — and ultimately failed — to play on a broken fibula, which led to leaving an already shorthanded roster with a short bench.
Many of these decisions are on the coaching staff; the special teams could be much better. We know how much the Wild organization prides itself on a collaborative atmosphere. Bill Guerin was acutely aware of these decisions and the problems they created. If you want a head to roll for yet another early post-season exit, does it make sense to axe Evason?
If you want to look at the disappointment of Evason's ventures in the postseason as the Wild head coach, it's essential to look at his success elsewhere. Of current NHL coaches, he has the fourth-highest points percentage, ahead of Rod Brind'Amour, Bruce Cassidy, our old friend Bruce Boudreau, and even Jon Cooper in Tampa Bay. 
His 142-67-23 record is a meaningful indicator of his success during the regular season. Based on points percentage alone, that places him 12th all-time, ahead of some legendary coaches. While it's not his regular season performance that has him drawing the ire of so many Wild faithful, it's essential to at least acknowledge the success he has had. To borrow a phrase from Guerin, he coached "with one hand tied behind his back" for most of his tenure.
If the Wild were to sacrifice a coach who just received an extension and has two more years on his contract, who would they replace him with? Surely, they could find some young up-and-coming bench boss. A savant that could achieve more in the postseason with Frederick Gaudreau as the best natural center on their roster than Evason ever could. 
We've seen Doug Weight's name bandied about. However, the New York Islanders summarily dismissed him, along with the GM who hired him, after he led the team to a 35-37-10 finish in 2017-18. He hasn't been honing his skills overseas or as an assistant coach with an NHL. Weight was neither successful nor long-lasting in his tenure as head coach at the NHL level. His only qualification seems to be that he is well-respected in NHL circles and was an accomplished NHL player, which makes him less qualified than Evason to manage a coaching staff. It just doesn't make sense.
As for yearning for a coach who is more accomplished in the post-season, Peter Laviolette and Gerard Gallant are out there. Laviolette is only the fourth coach in NHL history to lead three different teams to the Stanley Cup Finals. While getting the Wild to the finals would certainly cause some people to froth at the mouth, he seems to wear down his teams, and patience eventually grinds away to nothing. He hasn't accomplished much of consequence in the last five years.
Speaking of head coaches who quickly wear out their welcome, Gallant recently parted ways with the New York Rangers. Disappointed with the result after loading up at the deadline and being hung out to dry by poor performances — namely marquee rental Patrick Kane — Gallant has made some expedient exits from his clubs in the past. You would think that a coach with a 369-262-70 record would get more of a leash. However, the Florida Panthers, Vegas Golden Knights, and Rangers unceremoniously booted him before making it through three full seasons.
We should want more for this club. There are some fantastic and unique players on this roster. Wanting to dismiss the head coach can make sense under the right circumstances. It makes less sense when he isn't the main reason this team keeps coming in below our hopes and expectations. He also has a new contract extension, and a genuinely devastating injury did this team in. The Wild are also likely headed into another season with mostly the same roster because of the league-mandated cap restraints. Sacrificing Evason at the altar of ill-guided progress doesn't make any sense. 
But here we are, likely headed toward incremental improvements at best. All we can hope is that Evason and whatever remains of his coaching staff have learned from their mistakes and can improve.
If they can't, maybe Andrew Brunette would be open to taking Guerin's calls.
1