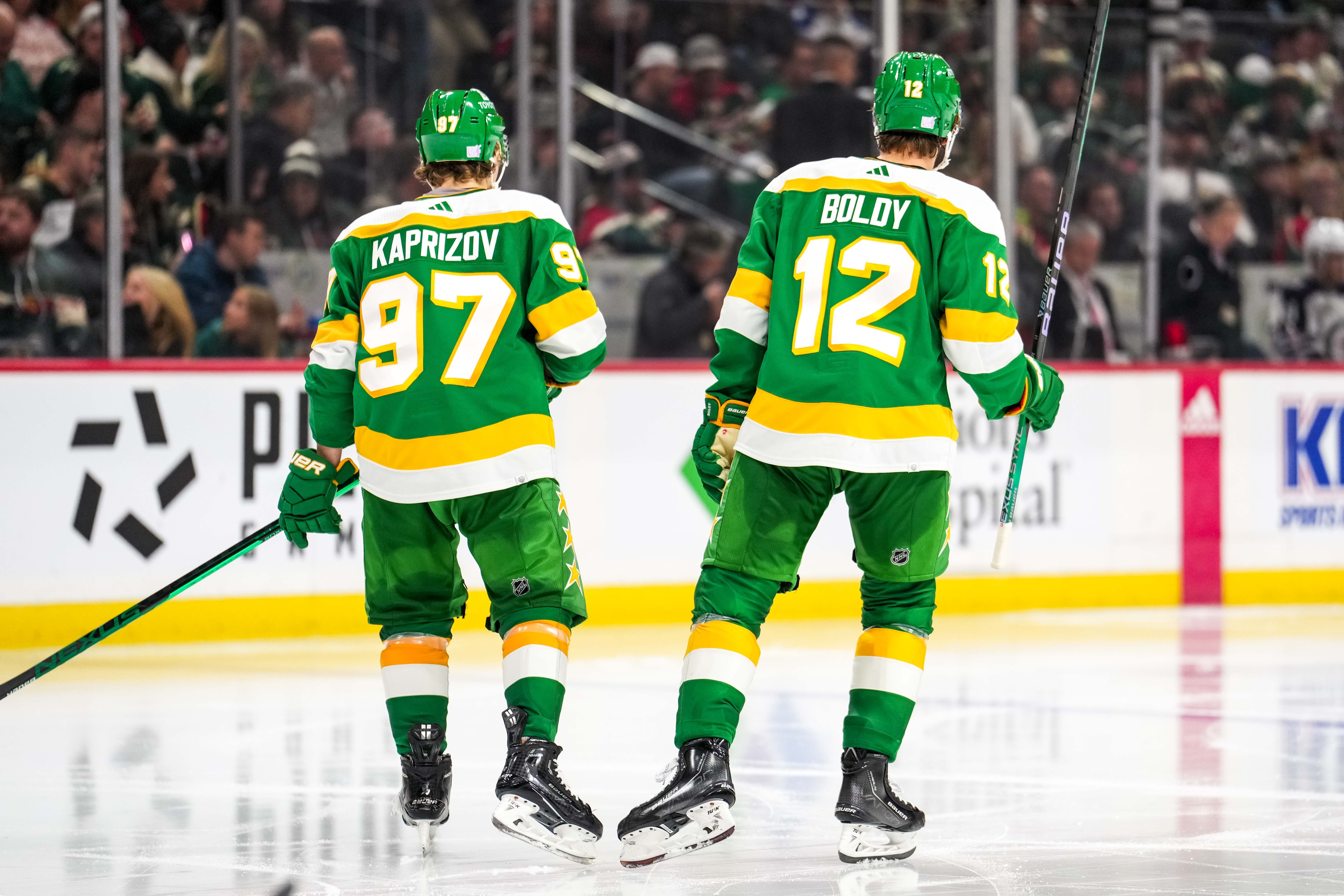 Image courtesy of Brace Hemmelgam-USA Today Sports
The Minnesota Wild fizzled out in the first round of the playoffs again. We hate to see it happen, but the 2022-23 Wild ended with the enthusiasm of a week-old balloon. Rather than triumphantly building on the franchise's second-straight season of 100-plus points and a successful regular season, the team seemed to be fighting uphill for the entirety of their first-round matchup against the Dallas Stars.
We will pick apart the corpse of another disappointing season, then have all summer to try and figure out what went wrong and why this team can't seem to muster any playoff success.
Some will blame the coaching staff for periphery decisions that would typically be inconsequential on a team good enough for a deep postseason run. And you wouldn't necessarily be wrong if you lay the blame on the overly-sensitive whistles operated by the referees. However, that might also loop back to coaching. Minnesota's excessively aggressive playstyle laid them at the mercy of the Stars' brutally efficient power play, which scored on more than a third of its opportunities.
However, the blame doesn't lie with the players who make this team extraordinary and provide it with such a high ceiling. It hasn't been hard to come across opinions from fans and experts proclaiming that Minnesota's best players didn't perform. But if you watched the games and aren't ignoring every stat beyond goals and assists, there is a pretty clear picture that at least a couple of the premier players showed up and were let down by the tools they've been given.
Kirill Kaprizov and Matt Boldy carry the burden of Minnesota's present and future. The offense was a problem against the Stars, but Kaprizov and Boldy weren't the issue. Yes, Kapriov had only one goal and no assists, while Boldy had three assists and no goals. That's the first time both players had been in a slump like that all season. But that doesn't tell the whole story.
According to NHL.com, Boldy and Kaprizov led all skaters — not just the Wild — in shot attempts at even strength with 32 and 29, respectively, during the first round. They created more high-danger scoring chances than anyone not named Marcus Foligno, with seven for Kaprizov and five for Boldy, according to NaturalStatTrick.com. If no one is there to pass you the puck or often finish otherworldly plays the two created, how can you rack up many points? Any coach worth his salt will applaud the process over the results. We should too.
We now know that Mats Zuccarello was playing with a groin injury, and it showed in his game. Joel Eriksson Ek was trying to play through a broken fibula and lasted only 19 seconds. Freddy Gaudreau often replaced Eriksson Ek as Boldy's center, and he had an abdominal issue that had been bothering him for months.
That doesn't dismiss or excuse why it became so otherworldly difficult for Minnesota's top wingers to get on the board. Putting the blame squarely on the players for that is a mistake, though. You see, it's a problem that fans have seen and known about for years, and have been pounding for management to address for about as long.
Of the top-10 scorers in the first round, four of them are centers. Two centers in the Stars lineup stand atop the rest for generating offense during the series — Roope Hintz and, surprisingly, Wyatt Johnson. The Stars' depth at center showed what a performing playoff team looks like. If you can stomach re-watching this latest first-round exit, look at what Roope Hintz did to the Wild:
The gap in talent between Dallas and Wild's respective center depth can only be described as a chasm. Of the top-15 skaters in generating individual expected goals for totals, the two Wild centermen — a term used very loosely here — on the list are Ryan Hartman and the oft-maligned Sam Steel. Without Eriksson Ek, their depth down the middle looked more like a team contending for Connor Bedard than a Stanley Cup.
Whatever the problem is, it seems to be keeping general manager Bill Guerin up at night. "The thing that bothered me is that there were reoccurring issues," Guerin said in his postmortem press conference on Tuesday. "Did we reach our ultimate goal? We did not," Guerin continued, "but this season is not a failure."
Another season without a playoff-round win is a disappointment, but most teams would be happy with the regular season performance. But the Wild faithful won't be satisfied with that come next year. If Guerin is losing sleep, let's hope he's using that time to devise a solution to what ails this team. He owes it to his players, particularly the ones he counts on to carry his squad.