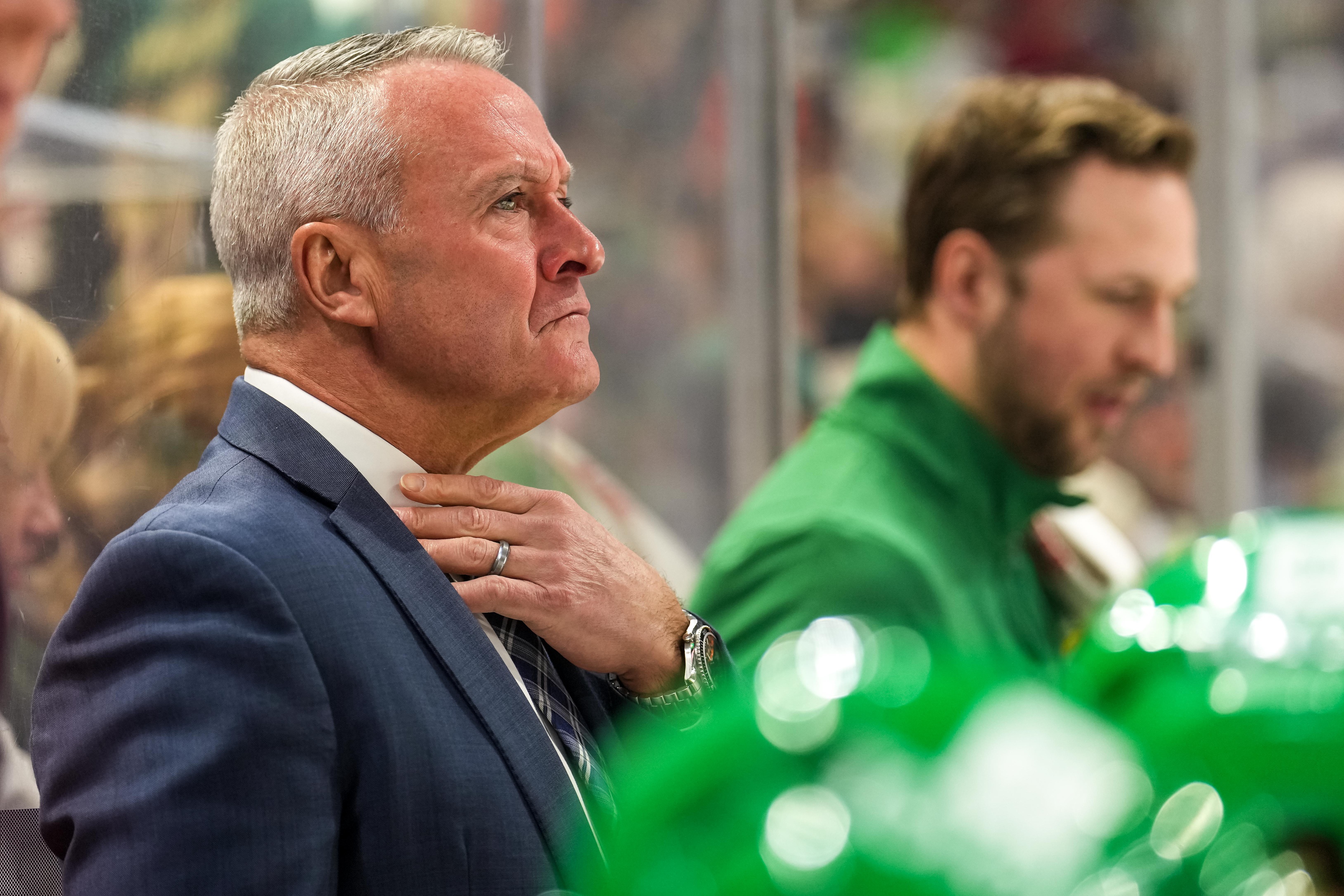 Image courtesy of Brace Hemmelgam-USA Today Sports
It's time to have an honest conversation about Minnesota Wild head coach Dean Evason. Now at the helm for three full seasons, Evason has a sufficient body of work by which to evaluate his ability, and he's established distinct patterns. Chief among these is a spotty special teams resume that's somewhere between bad and mediocre. 
Over the past three seasons, Minnesota has converted their power play opportunities into goals at the following rates: 
2020-21 - 17.6%

2021-22 - 20.5%

2022-23 - 21.4%
That ranks 24th, 18th, and 15th, respectively, per Hockey Reference.
While it's an upward trend, the rate of improvement is stalling out. It's also not good enough when the top unit has boasted at least three of the following elite scorers: Kirill Kaprizov, Kevin Fiala, Mats Zuccarello, and Matt Boldy. Most troubling of all? The power play consistently disappears in the postseason. 
In September of 2022, Evason gave an unusually candid interview with the Athletic. In this interview, Evason revealed not only that special teams were a major training camp priority, but he also laid out his plan through which he hoped to improve them.
"Yeah, the power play will be more personnel," he said. "The penalty kill, systematic. On the power play, there's literally three systems: Umbrella, there's a spread, there's the 1-3-1. That's literally what you can run. Systematically, you won't see a lot of different stuff. That'll be more personnel." 
The personnel changes were pretty straightforward -- the Wild traded Fiala to the Los Angeles Kings and replaced him on the power play with Boldy. They also removed Jared Spurgeon from power-play quarterbacking duties in favor of rookie defenseman Calen Addison. Given Boldy and Fiala's similar roles on the power play, one can assume that Evason was hinting at giving Addison the reins when he mentioned "personnel" changes. 
To Evason's credit, this worked. On tape, Addison's power play work from the point is something Minnesota hasn't seen in nearly a decade. Not only does he make crisp passes and savvy decisions (in his rookie year!), but he also uses his edges to walk the blue line or draw in defenders. He was also comfortable walking into the high slot and shooting when the play called for it. Addison was deserving of the term "quarterback." 
When Evason grew frustrated with Addison's defensive game, the team went in another direction. Evason determined that Addison's power play abilities didn't make up for his defensive shortcomings. Whether you agree with this assessment or not, Evason told us that by benching the team's only true power-play quarterback. While Addison has to own most of his development arc, there's no question that coaching plays a part.
Furthermore, expecting an offensive defense prospect to show out in his own zone as a rookie is simply unrealistic and impatient. Taken with the negative impacts on the power play (especially when this was the offseason plan to fix the power play), benching Addison was nothing short of a coaching failure. 
Sending Addison to the press box wasn't Minnesota's only option. Evason could have shaken up his defense pairings to help Addison at five-on-five rather than sticking him with Jon Merrill, an obvious clash in play styles. 
He could have deployed a roster of 11 forwards and seven defensemen to open room for a power play specialist, as the St. Louis Blues did against Minnesota in the 2021-22 playoffs. Evason could have gritted his teeth and worked through Addison's defensive warts, taking a long-term approach to a position, which former coach Bruce Boudreau said takes about 200 games to learn. Instead, Evason reneged against his only plan to improve the power play. In the playoffs, Minnesota scored four power play goals over seven games. 
In fairness to Evason, the penalty kill has fared better over his tenure. Minnesota's PK allowed a goal 80.8% of the time in 2020-21 (12th in the league), then 76.1% (25th), then 82.0% (10th). Given that a team's penalty kill success in a given season can be heavily skewed by goaltending, it can be helpful to use Expected Goals Against per 60 (xGA/60). xGA/60 is a statistic that provides a measure of scoring chances the other team earns weighted by scoring chance quality. Per MoneyPuck.com, over the past few seasons, Minnesota has ranked 14th, 31st, and 10th.
Evason promised a change to the team's shorthanded systems. In the same interview, he mentioned that he wanted to turn up the pressure in addition to limiting the other team's chances. "The obvious thing will be how aggressive we're going to be," he said. "That'll be the different factor. Both on our forecheck and (the opposing) neutral-zone entry, we're going to be way more aggressive, and we're also going to be way more aggressive in the zone to put some heat on the team."
You can see an example of this aggressive mentality in Joel Eriksson Ek's shorthanded tally against the Pittsburgh Penguins.
Note how as soon as they win the faceoff, all four players begin to press up the ice. That forced the power play unit to choose between covering Minnesota's forwards or pressuring the puck carrier. This makes a clearance easier on the puck carrier, or opens up a breakout pass. 
It also works well because most NHL power play units utilize four forwards, exposing themselves to counterattacks. In this case, forward Evgeni Malkin (71) is uncomfortable defending the rush two-on-two. Malkin turns his head and loses Eriksson Ek which opens a small-area two-on-one rush.
Minnesota literally steals the man advantage from Pittsburgh's power play. 
The "power kill" concept has gained popularity among the hockey analytics community over the past several years. Evason has embraced the concept. In 2022-23, the Wild ranked third in shorthanded goals despite only facing the 13th-most power plays in the league.
Evason emphasized shorthanded systems changes, but he also changed his personnel.  He replaced mainstays on the 2021-22 penalty kill like Marcus Foligno, Nicolas Deslauriers, and Merrill, with Gustav Nyquist, Connor Dewar, Mason Shaw, and Jake Middleton. It appears that there was a greater emphasis on skating ability among the forwards on this year's kill. 
That may explain why the Wild's penalty kill was so ineffective against the Dallas Stars this postseason. Not only was the Dallas power play truly dominant, but missing Eriksson Ek and Shaw to injury forced Minnesota to lean on personnel who did not fit the mold of this new-look penalty kill.
These two also played on separate shorthanded forward pairings, meaning that the whole system was out of balance.
However, it seems like Evason has a complicated relationship with creativity. On the one hand, his rigid expectations of what a defenseman should be hamstrung the power play when he benched Calen Addison. On the other, it appears he flexed that creative muscle in every part of his penalty kill to great effect. As boring as a good penalty kill may be, it gives a glimmer of hope that Evason may be the man for the job. For that to work out, he needs to find ways for that creative spirit to take root on the offensive side of his team. 
1