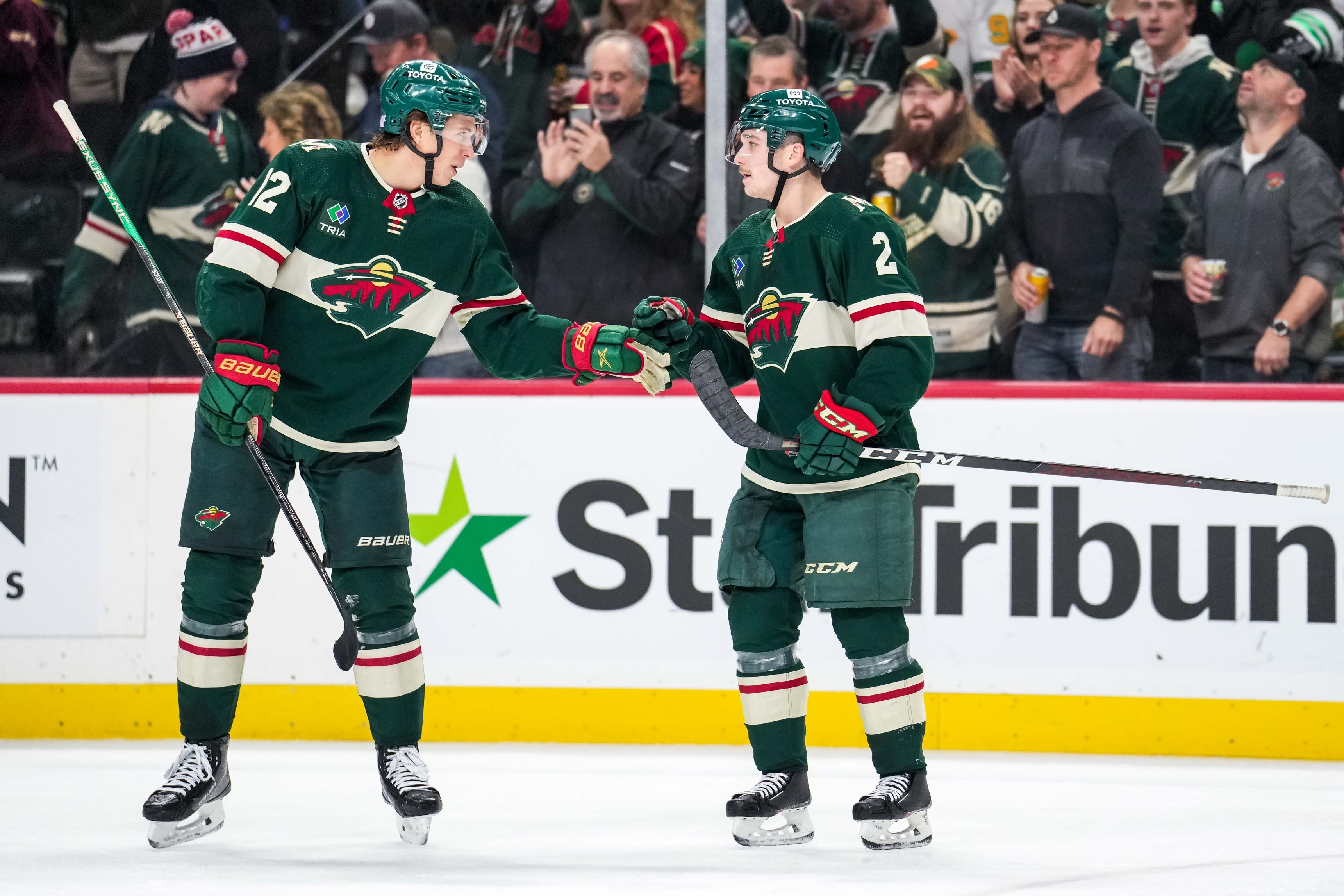 Image courtesy of Photo Credit: Brace Hemmelgarn-USA Today Sports
Is Dean Evason repeating some of his old bad habits with the newest crop of Wild prospects?
Let's kick this discussion off the way every great hockey talk should – with a little history lesson on Japanese manufacturing. Stick with us.
Many Western business students are surprised to learn that Japanese factory production out-paced the colossus of Henry Ford's assembly line shortly after WWII. How? Japan had to rebuild from the ground up, which created opportunities to install manufacturing processes that were wildly more efficient.
But their secret weapon was this: Their collectivist culture. Acting as a collective, management would take responsibility for the mistakes of workers, rather than assign failure on an individual level. Tracing defects to training or process deficiencies led to improvements for the whole team. That's now a major tenet of new-age management philosophies, and it is gaining traction in the sports world.
However, that philosophy doesn't seem to have a foothold with the Minnesota Wild. Currently, the Wild have built a culture centered around individual, not collective, accountability.
Managing a team with (effectively) the least cap space in the NHL, the Wild have to run their team like a business. In a league where rookie contracts cost next-to-nothing, it's crucial for the coaching staff to quickly insert young scorers into the lineup with success.
The Wild need Dean Evason to be the right man to bring these players into the fold in St. Paul. Failing that will risk the second half of Kirill Kaprizov's career, and the promise of their deep prospect pool. By extension, that risks their window to contend from 2025-26 into the future. Not just merely "contend" as a scrappy playoff team, but a real State of Hockey dynasty.
So how has Minnesota's culture of individual accountability worked for developing young players? Let's find out by looking back at some of Evason's greatest hits when it comes to bringing along prospects.
We'll start with Kevin Fiala. Evason and Fiala seemed linked as if by some supernatural force. The Nashville Predators took Fiala in the first round of the 2014 draft, and Evason coached Fiala when he played for the Milwaukee Admirals, their AHL affiliate. Fiala played in 121 AHL games for Evason over the next three seasons before reuniting when Evason took over as interim head coach for Minnesota in February 2020.
It started great, with Fiala's scorching performance helping Evason nab the permanent job. Evason ran his offense through Fiala, and his play gave the team life. But the COVID-shortened 2020-21 season marked a turning point of the Evason/Fiala story. Instead of playing with the best linemates the Wild had to offer, Fiala toiled with the likes of Marcus Johansson, Nick Bonino, and Victor Rask.
Without support, Fiala's offense became forced, disjointed, and ineffective, culminating in a disappearing act during the playoffs. This continued into his "last dance" season in 2021-22, with more unstable line groupings and unreliable linemates. That is, until he joined Matt Boldy and Frederick Gaudreau in the second half. Fiala posted a career year, but the tensions between player and coach were too strong, and his contract was too expensive for any hope of re-signing him.
Speaking of Boldy, in many ways he felt like the sequel to the Evason/Fiala saga. For the first half, it was awful and derivative of the first iteration. Boldy was the odd man out playing with checking forwards – Gaudreau, Marcus Foligno, and Sam Steel to name a few. Boldy's scoring dried up, his shooting percentage plummeted, and he looked slow.
But just like Fiala, once the Wild added real linemates to the mix, Boldy found his game again. After stapling him with a big, complimentary defensive center in Joel Eriksson Ek and snagging a healthy Johansson, Boldy's taking off again. Now, Boldy got the big contract Fiala didn't, but we see a pattern – when put in positions to succeed, prospects have success. Without it, they don't.
Minnesota's other superstar, Kirill Kaprizov, skipped over the checking-forward issue with one neat trick. He came to the United States and immediately put the team on notice. He wanted to play with best players, and that's exactly what he got to do. Minnesota super-glued him to playmaker Mats Zuccarello from Day 1. And look at that, he succeeded right away.
Kaprizov's stature meant he was owed a level of deference upon arrival. Still, we're seeing at least two prospects invested significant draft capital not going down the same production line Kaprizov went down, but the one that built (and lost) Fiala. The idea that flaws from a player are completely on that player is holding them back.
Evason's stance for prospects is, generally, that they must earn their way into a big role. But the expectations for top prospects doesn't seem to be the same as for future Bottom-6 types like Connor Dewar, Mason Shaw, and Brandon Duhaime. Those players were allowed to struggle. But someone like Marco Rossi? Not so much, to the point where the Wild have effectively banished him to Des Moines until the fall.
But let's not talk about Rossi. Instead, let's talk about Calen Addison. His situation is slightly different as a defenseman. Still, he's pretty similar to the top players we've mentioned so far. Like those prospects, Addison is best with the puck on his stick and most effective in the offensive zone. He's a crucial part of an offensive talent wave and youth movement in St. Paul.
Much like Fiala and Boldy before him, Addison's had little help, and less patience to work through his struggles. If putting players in position to succeed is the best way to create success, Evason's failing the test. Addison rarely plays alongside top defensemen like Jonas Brodin or Jake Middleton.
Instead, Addison plays most of his minutes on the third pairing with Jon Merrill, the prototypical defense-only third-pairing defenseman. Merrill tanks his team's offense while on the ice, but posts league-average possession metrics. That indicates that he gives up nothing in his own end but struggles to break out cleanly or support possession.
Those deficiencies hamstring Addison's offensive talents. When playing with Brodin (a better puck-mover), we see Addison giving up slightly more chances per-minute but more than makes up for it by generating additional offense. Albeit in a smaller sample size, this pairing looks eerily similar to Brodin-Dumba by MoneyPuck.com's expected goals metrics.
The Merrill-Addison pairing gets into trouble due to the extended zone time that they give up, even while getting sheltered minutes. When Merrill clears the puck up the glass, opponents regroup and come right back at them. They keep the puck outside of the high-danger areas, but the goaltender gets fatigued on long shifts, which leads to soft goals. Thus explaining some of the drastic differences between Addison's average advanced stats and his dismal plus-minus rating.
That plus-minus rating is why Addison is in the press box, but the problem with him is that his usage exposes his defensive warts. Someone like Brodin can support Addison on the breakout, and spring him into the rush. Without a teammate to help in transition, expect more of the same from Addison.
It's possible that Addison needs tough love and a dose of accountability, but he may simply need more time in the NHL or to be put in a better spot to succeed. Bruce Boudreau believed it takes 200 games before defensive development was complete. Conversely, his offensive game is amazing.
If Evason finds a creative way to keep Addison on the ice, he can make those defensive improvements. If Addison remains glued to Merrill, their flaws will cannibalize each other. Addison's defensive decision-making is a product of a lack of experience and support. Continuing to make it only about personal accountability will only exacerbate the problem. Once his organization figures it out, they will have a treasure on their hands. The only question is, will that team be the Wild?
This article was originally published on April 5, 2023.