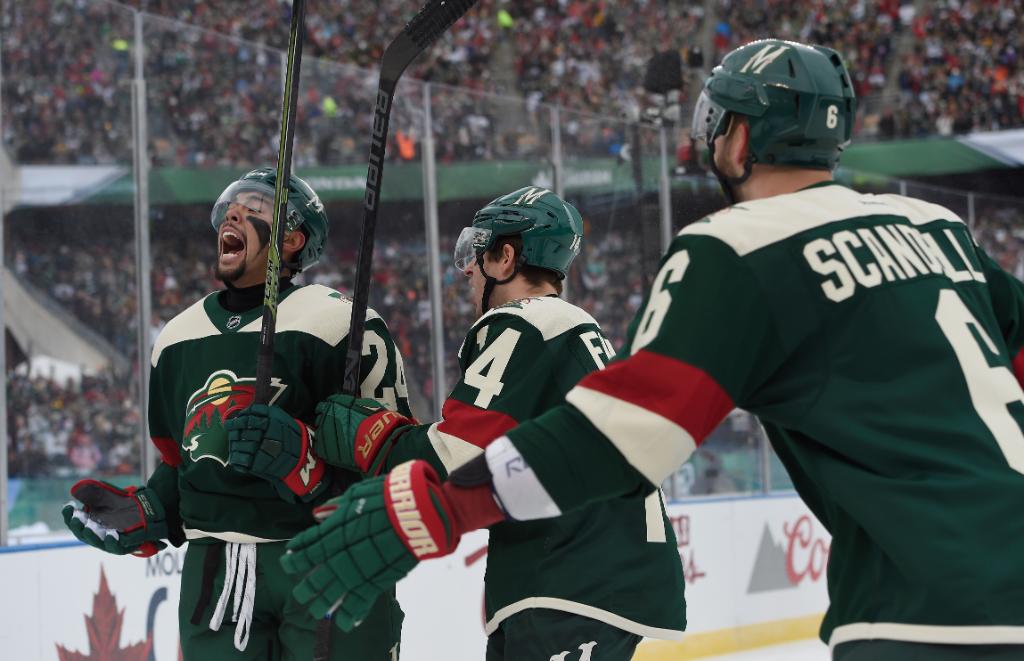 Image courtesy of Official NHL Twitter (@NHL)
I'm not sure if it's a product of getting older, or being in the online sports media industry, or (probably) a bit of both, but when you've been writing about sports for a decade, your fandom changes. It's inevitable, I suspect.
To do the job well, or at least with an attempt at objectivity, you have to watch the games with some detachment. Do I care who wins or loses? Yeah, as a Wild fan since my early teens, I think so. But I have to work to dust off the "Fan Mode" section of my brain to let the emotional rollercoaster of sports wash over it. 
You gain a lot with it. I've had opportunities and made friends I never would have otherwise because of it. You also lose stuff, too. One of those things, I've found, is the concept of a Favorite Player. Obviously, you have to marvel at Kirill Kaprizov's skill, enjoy watching Joel Eriksson Ek's growth, or even pull for a kid with a compelling story like Mason Shaw. And I do. 
But looking at the roster, pointing to someone, and going, "Yeah, that's my dude. I'm ride or die with him"? A player whose jersey I'd actually buy? Those days are over, for me. 
Forgive the navel-gazing, but the reason I say all this is because the (increasingly likely) end of an era for the Minnesota Wild is also the end of one for me. Matt Dumba is my last Favorite Player.
As long as I've been writing, Dumba's been there. I first fired up a long-since-disappeared blog in the summer of 2012, after I'd wrapped up school. The NHL Draft was happening, and I had one guy circled as the player I wanted most to fall to the Wild's No. 7 overall slot. I wanted the Wild to, as I coined it to the maybe 50 people who read me at the time, "Draft Smart, Draft Dumba."
Why? In my reading of scouting reports scattered on the internet, everything about Dumba's game looked so damn cool.
Remember where the Wild were defensively at that time. The Era of Nick Schultz's efficiently sleepy game just ended. Free-wheeling Brent Burns was gone, and his replacement was some Swedish Schultz-type named Jonas Brodin. Ryan Suter wasn't the hot free agent the State of Hockey had its eyes on -- that was Zach Parise. No one knew a shrimpy 22-year-old kid named Jared Spurgeon was about to be the most dominant two-way force in club history.
So Dumba, who looked like the second coming of Brent Burns, was exactly what the Wild needed. The kid had a shot so powerful, you'd have thought it was designed by a supervillain. He was fast, he could hit people, and he was just... dynamic. In one player, he represented everything the Wild weren't, and I desperately wanted to see that player in the State of Hockey.
When the Wild scooped him up at No. 7 overall, that was my dude. I was ride-or-die with Dumba. His development ended up running in parallel to mine. I joined the Hockey Wilderness staff in January 2013. Dumba made his debut with the slightly more prestigious NHL nine months later. As he became a full-time member of the Wild, I was establishing myself as a writer. His joining the team leadership as an alternate captain happened mirrors my taking on an expanded leadership role in my career. 
Dumba is at the center of many of my formative experiences and my best memories over that time. I credit the Dumba Posting Wars of the mid-2010s Wild Twitter as being instrumental in honing my argumentation skills. To this day, I like to tell my friends about how when Dumba changed his number from 55 to 24, I had to rush out to the mall in Duluth to obtain the coveted DUMBA55 shirsey before it disappeared forever.
That, by the way, is the last jersey/shirsey I've ever bought of a player. No one's compelled me to do that since.
And sure, was it partly for the fun and irony of having a shirt that said DUMBA55? You bet. But that was a big part of the appeal of Dumba, for me. This was a guy who would do something like that even if only for a brief time. To me, it looked like a player who was truly having a blast and taking a joy – visible, palpable, infectious joy – from a system of hockey that tends to stomp that out of players long before they make the NHL.
And when I say infectious joy, I mean it in a literal sense. An airborne contagion of euphoria that can extend dozens of feet upward and zip through glass. The first hockey game I covered as a media member was the 2016 Stadium Series game. Dumba followed up a Ryan Carter breakaway with a goal on the rebound and spun off into one of the coolest celebrations I've ever seen.
So damn cool.
Dumba, rocking an incredible amount of eye black in tribute to Ray Lewis, went out of control with excitement, pumping both his arms and jumping into the boards. "I think I blacked out for a second," Dumba said of his celebration. So did I. Up in the press box of the then-TCF Bank Stadium, my editor, who was sitting next to me, had to put both his hands on me to calm me down. I'd been so sucked into the joy of the moment that I forgot where I was. My brain went into "Fan Mode," which again, you can't really have in this gig. Not over time, not in the same way.
Seeing him step into a leadership role on the team, trying (and succeeding) to build a post-Parise/Suter Era locker room that is welcoming to the next wave of players, was admirable to watch. So, too, was the stand he took in the COVID Bubble following the George Floyd murders, as well as his advocacy in the Hockey Diversity Alliance, and his work in the community. 
Even after a pectoral injury that threatened to (and in some ways, did) derail his career, we've watched him adapt to the player that he is today: half of a trusted shutdown pair with Brodin. He took even one of the worst breaks we've ever seen for a young Wild player and turned it into a cool, good story.
How do you say goodbye to that? The Wild have staved off the end with Dumba for so long, through three general managers, two expansion drafts, and trade rumors that persisted through every day of his expiring five-year contract -- both at his peak and at his worst.
Now, Dumba could still prove us all fools for thinking he's heading out the door. He could stick around by taking a below-market deal. But that's going to have to be way below-market. The Wild have about $8 million of cap space after Marcus Johansson's contract, and still have multiple players to sign, including RFA Filip Gustavsson, and his impending pay raise.
What do we expect Dumba to get? Evolving Hockey's contract projections forecast a six-year deal that carries around a $6.25 cap hit. That feels like quite a bit, but proven NHL defensemen on the right side tend to be tough to find on the open market. Even his projection on a two-year deal is $4.4 million, meaning Dumba would have to take a 50% or greater discount to stay in St. Paul.
If anyone is going to do that, it's probably Dumba. "I love Minny," he told the media in his postseason availability on Monday. "My heart's in Minny." But after Johansson's signing the day after exit interviews, one would think that if it was going to happen, it'd have happened already. 
Things typically don't end well. That's why they end. And as much as it sucks to say about my last Favorite Player, maybe it is time for a clean break from both sides. 
Barring trade rumors being true, the Wild have Brock Faber and Calen Addison on the right side of their defense. Faber can step into the shutdown part of Dumba's game alongside Brodin. In some ways, Addison is a young Dumba. Less of a bazooka from the point and physical presence, but that same offensive-minded style that piles up points and polarizes people. 
Even the most diehard Dumba fans have to admit, too, that while his transition from high-risk, high-reward offensive defenseman to the reality of his post-pectoral tear days is admirable, it doesn't suit what the Wild need. He's been worth only 1.3 points in the standings over the past three years, according to Evolving Hockey's xSPAR model. At least in Minnesota, his days as an impactful two-way defenseman are over.

A lot of that is probably the pectoral injury that stole the extra zip off Dumba's shot, which sure seemed to influence his team's ability to score more goals than his "expected" rate. But some of it surely has to be the pressure of having to produce under the spotlight of constant trade-related scrutiny, no? Dumba's lived the last half-decade or more surrounded by unending rumors about his future. 
His heart is in Minny. But barring a full no-move clause, are those whispers ever going away? Or is it better to get a fresh start with a team he knows is going to have a need for him? It's his decision, and while you can't say the Dumba Era's over until it is official, it sure looks like it's headed that way.
I can look at this with a detached eye and say that it's probably for the best. Logically, I can believe that. But it's hard to do that all while smothering what remains of the "Fan Mode" part of my brain with a pillow. I get how this may be best for everyone involved, but it sucks. I still hate it. The guy is an absolute icon, I'm going to miss seeing him in a Wild sweater, and I don't mind taking the lid off my fan brain to say that. Matt Dumba forever.