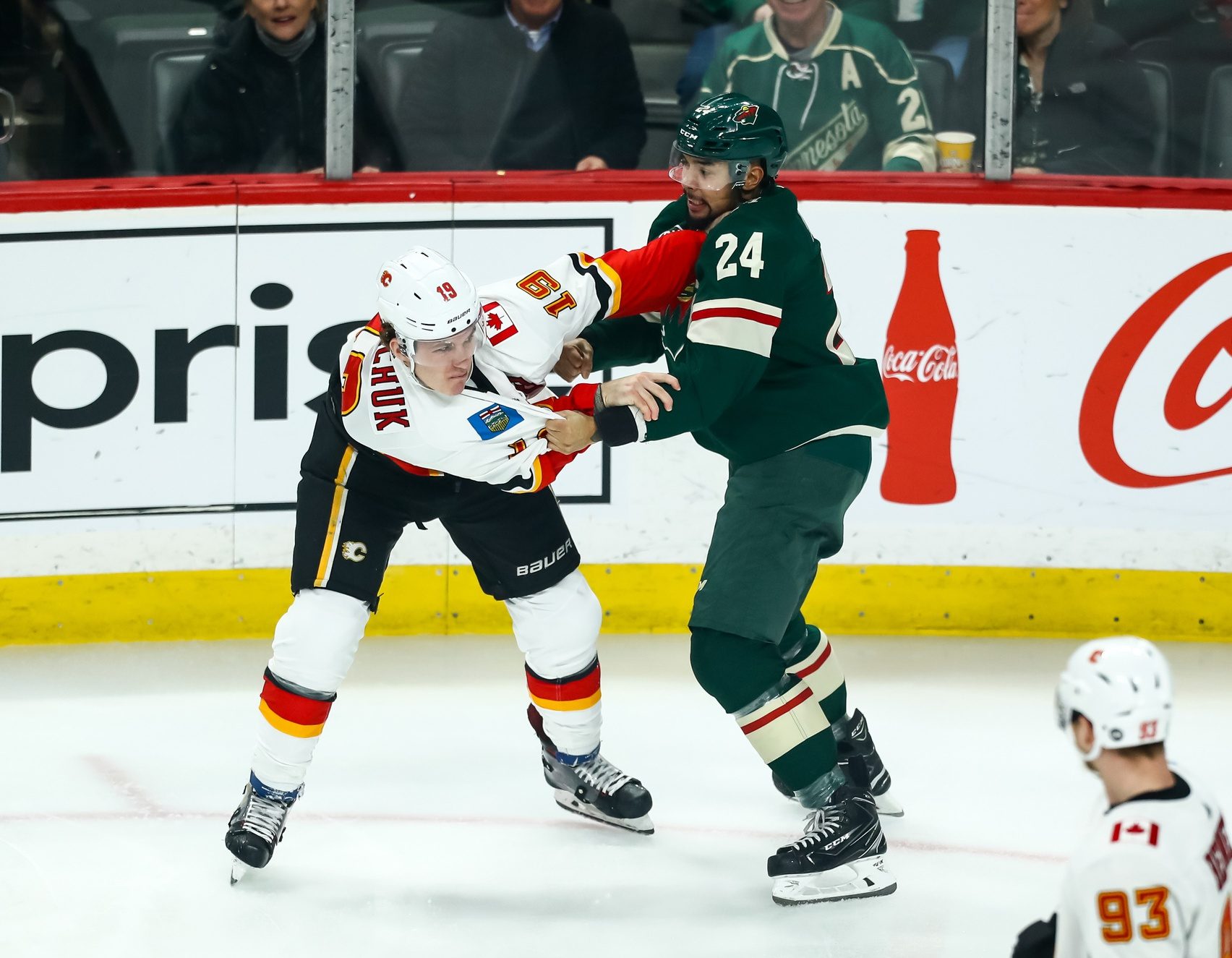 Four years ago, to this day, Minnesota Wild fans were witnessing one of the greatest breakout seasons in history. Matt Dumba already had 10 goals and 18 points under his belt at the start of December in just 26 games. The only question surrounding him was, how high would he fly?
Fast-forward four years later, and Dumba's ascension to stardom has since become a tragedy. In mid-December 2018, he fought Matthew Tkachuk and tore a pectoral muscle. The fight was to answer the bell for a hit on Sean Monahan a week prior, for which Ryan Lomberg had already squared off with Dumba in that game. This pointless show of machismo to comply with hockey's unwritten rules of engagement ended Dumba's season at 32 games, freezing his breakout at 12 goals and 22 points.
Worse, it's safe to say it's derailed Dumba's career. In the 198 games since his return from the pectoral injury, Dumba scored at a nine-goal, 32-point per 82-game pace. It's decent production, but not in line with his salary or the expectations set by his past. And now, the question is, how much longer does Dumba have left in Minnesota?
Folks prophesying about Dumba getting traded have a track record of being wrong as long and prolific as most apocalyptic street preachers. But eventually, the world ends, and so do players' tenure with teams. And it sure looks like these predictions will finally be right. Not only is Dumba rumored to be on the trade block, but he's also finally playing like someone in need of a change of scenery.
As the season wears on, you'll see more than your fair share of opinions on where he could land, trade rumors, and more speculation. But for now, let's take a step away from what is and ask ourselves: What would be different if Dumba never tore that muscle?
Immediately coming off a 14-goal, 50-point season, it looked like Dumba was set to shatter his career highs. He probably wasn't going to get the 31 goals he was on-pace for; no defenseman gets that kind of shooting luck for 82 games. So instead, let's say he slows down to the paces he was on the year before for his remaining 50 games, then sprinkle an extra 10% on that to account for improvement from age-23 to -24.
If he did that, he'd finish the season with 21 goals and 55 points. He would have been just the 11th player to post 20-plus goals and 55-plus points in a season during the salary cap era. Brent Burns, Erik Karlsson, Oliver Ekman-Larsson, Mark Giordano, Dustin Byfuglien, Shea Weber, Mike Green, Dan Boyle, Sheldon Souray, and Mathieu Schneider were the only ones to do it at that point.
The Burns comparison sticks out like a sore thumb here, of course. Minnesota traded Burns to San Jose Sharks in 2011, only to watch him become a superstar in the Bay Area. Minnesota had very, very good defensemen in the time afterward: Ryan Suter, Jared Spurgeon, and Jonas Brodin. But no one had that "it" factor, that elusive star power, that dynamic offense from the blue line.
Not only would this have been a tremendous season, but it would have been only the start. Even more impressively, he would have been tied for fourth in goals and 14th in points from an Under-25 defenseman in the salary cap era. Dumba would still yet to be in his peak scoring years.
We'd be watching them now. Looking at the great defensemen in the modern era, we can guess Dumba, 28, would be enjoying his peak right about now. Burns' scoring peak came later (about ages 29-33), but Karlsson (23-28), Weber (23-30), Byfuglien (25-31), and Victor Hedman (23-31) all hit their sweet spots in their mid-to-late 20s.
So now let's figure out: How might that peak have looked like? Thanks to Evolving Hockey's Skater Similarity, we can have a rough idea of the path he was on. Here are his top comparables from the 2016-17 to 2018-19 seasons:
[caption id=attachment_139362" align="alignnone" width="1119]

Courtesy of Evolving-Hockey.com[/caption]
It's a bit weird to think of Dumba as similar to Mike Matheson, Olli Maatta, and Cody Franson, but you have to remember that his breakout season was cut by around 60%. But I suppose, in fairness, things kind of ended up turning out that way.
What if it played in the other direction, though? Among players whose careers we know whose careers turned out, three of Dumba's six top comparables are Tyson Barrie, Roman Josi, and John Carlson.
Here's how ages 25-28 worked out for each of them:
Barrie: 298 GP, 48 goals, 203 points
Josi: 310 GP, 55 goals, 219 points
Carlson: 292 GP, 44 goals, 199 points
All told, it produces a composite per-82 game pace of 14 goals and 57 points. Assuming Dumba plays the same amount of games in each season, that plays out something like this:
2019-20: 69GP (of 69, COVID season), 12 goals, 48 points
2020-21: 51 GP (of 56, COVID season), 9 goals, 36 points
2021-22: 57 GP, 10 goals, 40 points
2022-23: 21 GP (of 21), 4 goals, 15 points
A world where Dumba never got hurt likely sees him with around 56 goals and 194 points (in 280 games) dating back to the start of his contract in 2018-19. That's even without another monster season to boost his numbers further. Where would that rank among defensemen over that time?
He'd be one behind Dougie Hamilton for third in the NHL, with Josi and Carlson being the only ones to surpass him. As for points, he'd be tied with Shea Theodore for ninth, behind Carlson, Josi, Hedman, Kris Letang, Burns, Morgan Rielly, Cale Makar, and Barrie.
Of course, we only live in the reality we occupy, and that's one where Dumba's career was derailed. We saw the worst-case scenario play out with what should have been a superstar-caliber defenseman, a top-10 scorer in the league.
As the breakup between the Wild and Dumba grows closer, it's hard not to look back and wonder how much better, how much more likely would it be that Dumba would stay in Minnesota. And how much closer to a Cup the Wild might have gotten had it not been for some freak accident on a random December night.
All stats from Hockey Reference's Stathead, unless otherwise noted.