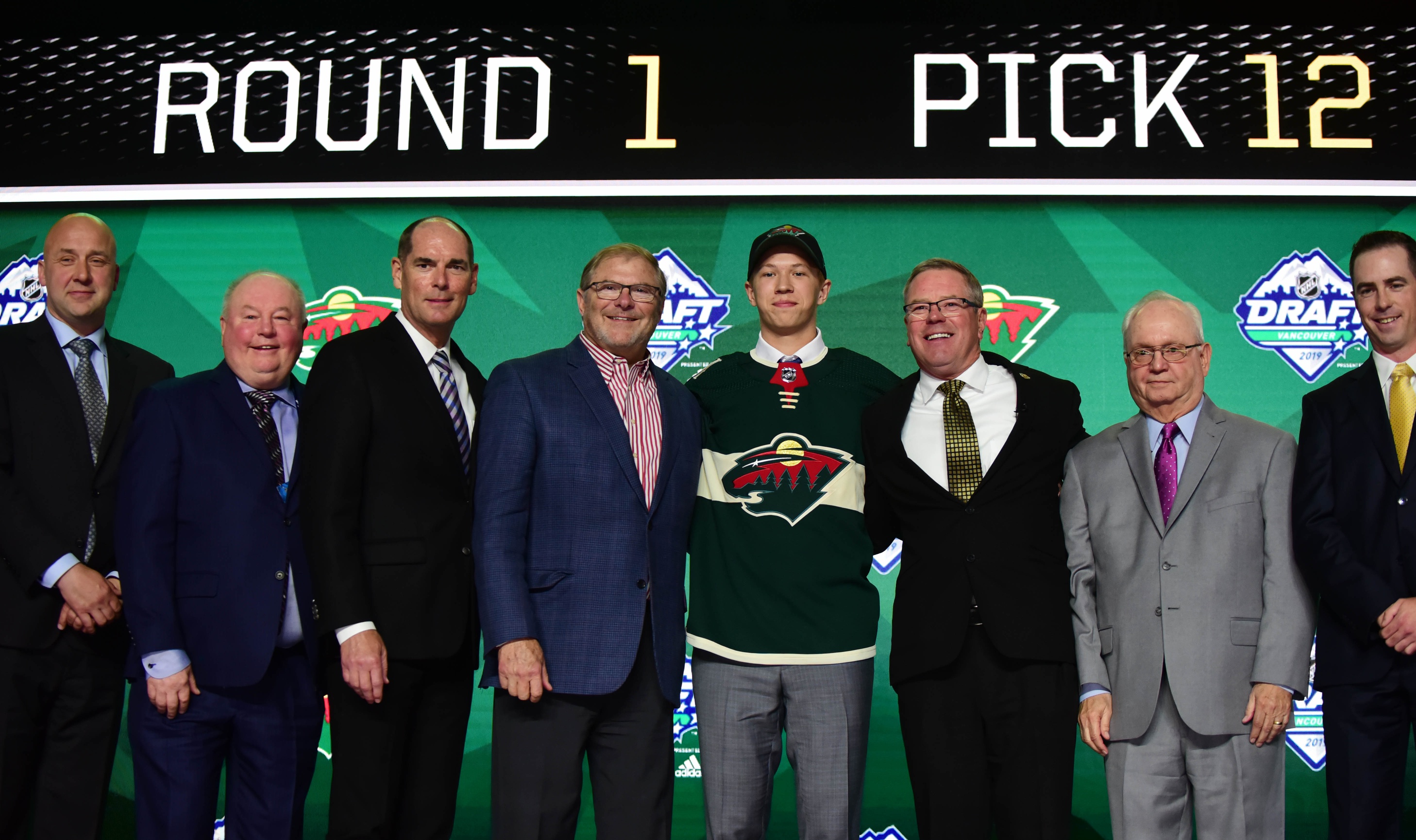 Image courtesy of Anne-Marie Sorvin-USA Today Sports
NHL draft season is in full swing, and the 2023 class is a doozy. It's loaded with more talent than the league has seen in decades – or perhaps ever. It's certainly the most robust first-round class since the legendary draft class of 2003, which has Wild fans salivating over the possibilities. Picking 21st overall, it's entirely reasonable to expect the team's selection to eventually become an impact player. 
Given that the fan base has been starved of a blue-chip first-line center for the team's entire existence, it's reasonable that fans are fixated on the letter next to each prospect's name on the depth chart. So, how dire is the need at center? 
Any conversation about the Minnesota Wild's draft strategy has to start and end with the current state of the farm system. Just a year ago, it was consensus that the Wild possessed a truly elite prospect pool. But two of their crown jewels, Rossi and Addison, fell out of favor with Dean Evason this year. While there's still time for both prospects to turn that around, Minnesota's 2022-23 prospect vintage turned to vinegar more than it improved with age. 
This underwhelming development may be part of why the Iowa Wild parted ways with head coach Tim Army. Hell, the best player this team has ever developed, Kirill Kaprizov, spent his prime developmental years in the KHL. Evason and Bill Guerin gave tactful indications that both Addison and Rossi's struggles were related to their attitude. Perhaps a culture change on the feeder team will improve developmental results. Either way, the coaching change clearly indicates that the front office took issue with its minor league system last year. 
The good news is that the team still has a solid base on which to build in this year's exciting draft. While neither Rossi nor Addison filled roles as a top-6 center or top-4 defenseman, they weren't abject failures. Both possess offensive flashes, enough to indicate they'll get a second contract. 
Furthermore, goaltender Jesper Wallstedt continues to win -- namely, first-team all-AHL honors in his first season in North America. Russians Marat Khusnutdinov and Danila Yurov round out Minnesota's true blue-chip prospects. Khusnutdinov is an undersized two-way center, and Yurov is a high-octane offensive winger. Both possess the elite skating to become first-line wingers. Or in Khusnutdinov's case, a second or third-line center. 
Guerin has publicly noted that each of these players is on track to join the Wild in the 2024-25 season. Swedish winger Liam Öhgren is also on that list. Injuries hampered his 2022-23 season, but he's poised for a bounce-back season. Defenseman Brock Faber should compete with Addison for a roster spot in 2023-24. 
The Wild have eight players signed through '23-24: Kaprizov, Matt Boldy, Joel Eriksson Ek, Freddy Gaudreau, Marcus Johansson, Jared Spurgeon, Jonas Brodin, Jake Middleton, and Jon Merrill. While contracts are muddying the 2023-24 team, the two-year window is surprisingly clear: 

If that seems really deep, keep in mind that some of these guys are going to encounter injuries or growing pains that will delay their development. But even this picture of the roster has some clear characteristics: It's deep at center, deep on defense, and very deep at wing. The goaltending is entirely dependent upon Wallstedt, but if you had to rest your future on a prospect that way, he's the one to pick. The glaring problem with this roster is that none of these positions, save left wing, has an outstanding player. 
Put yourself in Kaprizov's shoes. He had to carry the team in 2022-23, leading up to a grisly late-season injury. The way the team is shaping up for 2023-24, he may even need to do more. While an improved Boldy and these up-and-coming prospects will provide a supporting cast, he'll remain the focal point of Minnesota's opponents on a nightly basis. Kaprizov is slated to be in a contract year in 2025-26. If nobody takes some of the heat off of him, how can you ask him to stay? 
For this reason, Minnesota's focus at the 2023 Draft is not positional, and it's not even best-player-available. It's all about upside. Shoot for the stars on a toolsy guy like Oliver Moore, or trade up for a blistering-hot scorer regardless of position. If the team doesn't trade up, holding two picks in the second round opens a world of boom-or-bust possibilities. 
The NHL Draft is not a time for caution, and yet it happens every year. NHL GMs don't want to be fired, so they don't stick their neck out for a player with a low floor. They go for the 200-foot player with a shot described as good enough for the NHL level. Big defensemen are considered toolsy, dependable, and players who skate well for their size while speedy power-play quarterbacks slide down the board. Nashville Predators GM Barry Trotz has the right idea. You can fill out your roster through free agency, but it's expensive to get first-liners in July. 
Even if some picks crash and burn, it's nearly impossible to get superstars outside the draft. Trotz had solid teams in his stint coaching Nashville. He didn't win the Stanley Cup until he hooked up with Alex Ovechkin and company coaching the Washington Capitals. Minnesota's Cup window can open in 2025-26, but that team will need a truly elite player, no matter what letter is next to his name. The worst thing the team could do is reach on a center when a better winger or defenseman is on the board because no part of this prospect pool can be penned in for starting minutes. 
3

1