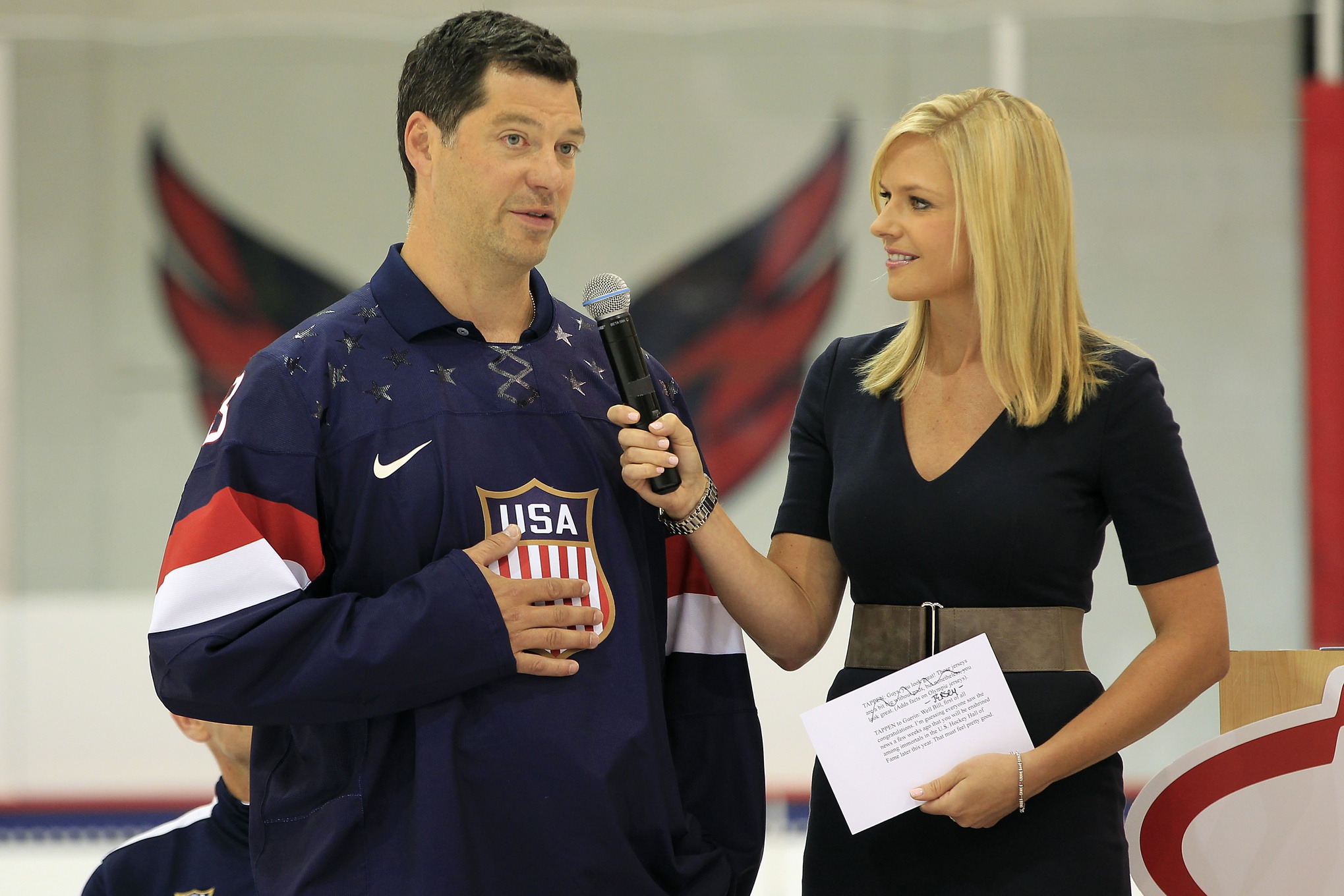 Image courtesy of © Geoff Burke-USA TODAY Sports
The State of Hockey's pride runs deep. Fans across Minnesota grew up dreaming of playing for the Gophers, the North Stars, and eventually the Wild. Since the NHL returned to Minnesota 23 years ago, babies have been born with dreams of donning forest green. For the past few years, fans have seen some of those dreams come true. 
It's undeniable that the State of Hockey loves One Of Us' Football fans in the state have clamored for Larry Fitzgerald to join the Vikings, even into the twilight of his career. Many Twins fans loved Joe Mauer. Zach Parise's tenure with Minnesota was the culmination of this trend, and fans embraced him as one of their own even though he may have been a North Stars nepo baby. His injuries hurt deeper, his big goals felt bigger, and those special moments he had seemed more meaningful than any other player. 
Bill Guerin may have the chance to bring that feeling back to Minnesota in the form of Oliver Moore. Born in Mounds View, Moore grew up playing for Mounds View/Irondale. He played at Totino Grace, where he scored a goal per game as a sophomore. If that weren't home-grown enough, he's already committed to the University of Minnesota for his freshman year of college. Moore is available in this year's NHL Draft, and he's one of the most exciting prospects on the board outside the top five prospects. His raw tools give him a chance to become the best Minnesota-born player in NHL history. 
It sounds extreme, but scouts agree that he skates like Apollo Ohno. Draft pundits have lauded him with more superlatives than Tom Brady. Elite Prospects lists him as the best straight-line skater in his class, with the fourth-best motor, the second-best transition forward, the second-best two-way forward, and the second-best "four-way mobility" (a combination of footwork and agility). McKeen's Hockey ranked him as the fastest and best overall skater in the draft. They also had him as their second-best two-way forward. 
As much as his skating jumps off the page, his defensive responsibility may be just as impressive. He weaponizes his speed in the defensive zone, racing to loose pucks. His defensive ability isn't as much a matter of technique as a combination of speed and pride. Already 5'11" and around 180 pounds, Moore's defensive game should translate in the NHL as he fills out over the next few years. The combination of defensive puck-winning and speed in transition set his floor as a checking center with better speed than Joel Eriksson Ek. Elite Prospects compared him to Dylan Larkin, and Moore confirmed it. "I like to model my game after Dylan Larkin," Moore told the EP draft guide. "[He] pushes the pace, uses his speed all over the ice…. [I]like to model my game after him."
So, how could Minnesota acquire this player? They have the 21st pick. Surely, there's no way that there are 20 players better than Moore? 
For starters, Moore may be totally out of reach for Minnesota. Experts have mocked him all over the mid-to-high first round, settling with a projection near 12th overall. Recently he's been mocked everywhere between 5th and 20th overall. 

Depending upon how the board falls and each team's internal rankings, Moore could easily be within striking distance for Minnesota, but they'll almost certainly need to trade up to acquire him. Based on previous comparable trades, Minnesota's current draft capital allows them to strike a deal to jump from 21st up to 13th overall, but that would cost them their two second-round picks. The Wild organization would have to really love Moore to make that move, but who's to say they don't? He's an excellent fit for an organization starving for a first-line center. 
There is much to love about Moore's game, but there are questions about his vision. Sometimes the ice is wide-open to him. Moore flashes playmaking vision and soft hands, setting up teammates in his best moments. In his worst moments, scouts note that he drops his head through the neutral zone and loses sight of his teammates. Some speculate that this is part of his role further down the depth chart in the US National Team Development Program (USNTDP) and that he'd look better with teammates who could keep his pace. 
I'm skeptical of this explanation, but he may develop better vision under Bob Motzko. This debate is central to explaining Moore's production questions from the past two years. While scouts love his tape, his analytics are an uncertainty, given the depth of this draft. 
Moore's NHL equivalency (NHLe) based on similar USNTDP prospects translates to him being at the level of a 31-point scorer this year based on Byron Bader's statistical model. While this is a solid number for a forward in an average draft, Bader's model counts nearly 50 players with a similar or higher equivalency from this seson. If Moore can unlock better vision at the end of his blistering rushes, this problem can go away. 

This doesn't directly include a player's 200-foot game because it's intended to translate the goals and assists of a given prospect to an equivalent amount over 82 NHL games. That explains some, but not all, of the reasons Moore is projected to be drafted higher than his analytical profile might suggest. 
Many scouting reports describe Moore as "toolsy." That backhanded compliment is among the most loaded phrases in the scouting community. It connotes an amazing ceiling, awe-inspiring athleticism, and the underlying threat of gut-wrenching failure.
On the other hand, Moore could become a top-line center out of this draft. It's the most coveted asset in the NHL. The cornerstone of Cup contenders and something that perhaps only 10 or 15 NHL clubs really possess at any given time. Every team picking at the top of the draft either needs one now or will trade theirs for draft capital to spark a rebuild. Sure, he has offensive warts, but that's how you sneak a top-line center out of the draft. 
The other problem with the toolsy label is that his defensive ability provides a floor for Moore's game. Even if the vision never develops, Moore has a defining trait in his speed that will give him a clear identity. That helps coaches put players in a position to succeed, and it helps players execute what their coaches want them to do. If Minnesota pulls the trigger to trade up and acquire Moore, the absolute floor on that move figures to be what they'd typically get out of the 21st overall pick, anyways. If the opportunity arises, the Wild shouldn't hesitate to strike.
3