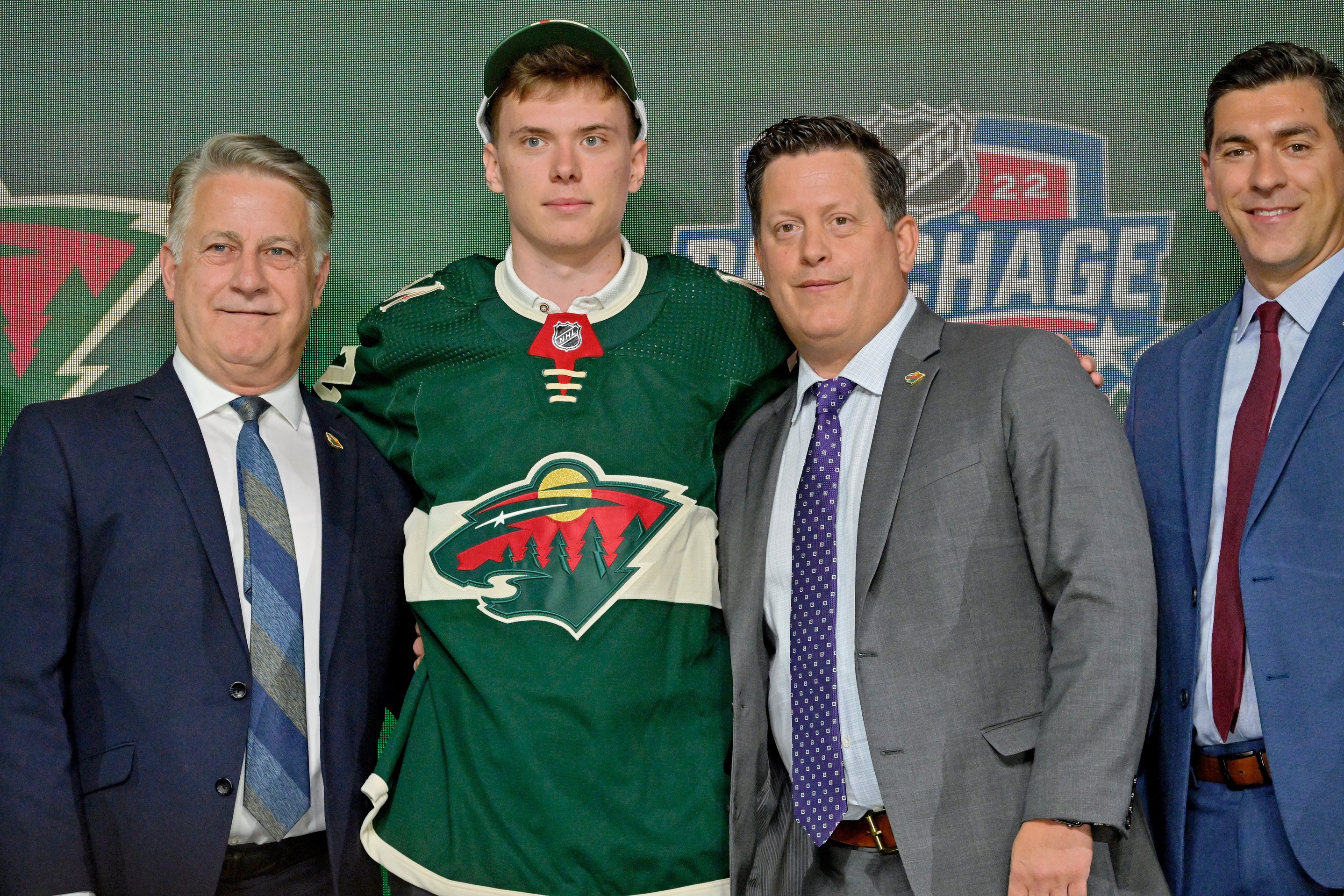 Image courtesy of Eric Bolte-USA Today Sports
The NHL Draft is a time for fans to make little schemes and plans about the future of the Minnesota Wild. It's a time of boundless possibilities. The team might trade up for your favorite prospect, trade back to build greater depth, and maybe even open some cap space. As dull as the summer hockey season can get, this month exists somewhere between what will happen and what might happen. So, let's imagine how the Wild might move around the draft board. 
Determining a fair trade is relatively easy in the information age. Decades of NHL trade records are publicly available, and several trade charts have sprung up from this data. These charts can accurately reflect the fair market value of a trade involving multiple draft picks or even multiple teams if necessary. 
Reviewing recent trades teams made using comparable draft picks can provide a richer understanding of what makes a fair trade. It's also a lens into the shifting winds of the NHL trade market. For example, it's become increasingly more common to have pick-only trades in the first round and within the top two rounds. That trend was evident even before the 2020 draft, with seven top-64 picks traded back from in 2019 and four such picks traded in 2018.
The COVID drafts (2020, 2021, and 2022) saw even more movement, possibly with teams feeling less confident in their analysis due to the pandemic and the subsequent junior hockey cancellations. In the years before 2018, there was a far greater prevalence of draft board moves that included one or more players. 
That may indicate that NHL GMs are getting more comfortable with analytical moves compared to the early 2010s when the primary concern was NHL talent and salary cap implications. On the other hand, if there is a reversal in this trend after the pandemic, Minnesota could include some roster players to relieve salary cap challenges and move around the board. 
These trends will be interesting to monitor in 2023 since this class is unaffected by the pandemic for the first in three years. It's also projected to be one of the most stacked classes in years or even decades. Will the top-end talent make it harder to trade up, or will the enormous depth make teams at the top of the draft seek to load up on later picks? 
All of these will be relevant considerations for Bill Guerin in the upcoming month. These deals are often worked out ahead of time based on how teams suspect the draft will shake out. So, what deals might Guerin make to maximize Minnesota's 2023 draft class? 
Trade up From 21
At this year's draft, the Wild's first selection comes 21st overall. The Wild also own Vegas's second-round pick (No. 63 or 64 depending upon the Stanley Cup Final outcome) and Minnesota's original picks 53, 149, 181, and 213. Moving into the top ten would be a drastic proposition. First, it's rare for teams at the top of the draft to move back so far. Last year, the San Jose Sharks moved back from pick 11 to pick 27, and it cost the Arizona Coyotes picks 34 and 45. The Wild can't match that price without dipping into draft capital in future years. 
To trade into a higher tier of talent, the Wild can look to previous trades from slots near pick 21. Packaging Minnesota's top three picks could land them somewhere in the 13th overall range, but that would be tough to swallow with the next selection coming at pick 149. 
Add Another First-Rounder?
Adding another first-round selection in this draft is tempting. Not only is this class packed with talent, but it may be the last class whose development timeline lines up with Guerin's championship window. But how have other teams done it in the past? 
For those hoping the team will acquire another first-round pick on top of the 21st overall selection, pump the brakes. Teams really only part with their first-round picks in exchange for high-end trade deadline acquisitions. The late-round picks in the Wild's pocket for 2023 don't equate to first-round value, and teams won't be interested in Minnesota's 2024 draft capital due to the perceived talent of this class. That leaves the Wild with the option to deal blue-chip prospects for a top-end selection this year, but it's tough to see how that makes sense with cap constraints in the next two years. 
As scintillating as this class is, it may be in the team's best interest to dangle pick 21 in exchange for 2024 draft picks. The return would have to be very large, but there's no reason some desperate GM wouldn't try it. An extra first-rounder also opens up possibilities to move up the board next year or make a major move at the trade deadline. 
Go For Seconds
Perhaps the Wild could trade up fashionably late? As deep as this draft class is, some experts have indicated that a high second-round pick this year could be equivalent to a mid-to-late first-rounder in a typical draft. This year has a whopping 47 prospects whose analytics are comparable to the top-22 in an average draft, according to Byron Bader of Hockey Prospecting.
We saw comparable moves into the range of No. 40 overall in the 2019, 2020, and 2021 drafts. In 2019 the Vegas Golden Knights acquired pick 41 from the San Jose Sharks for picks 48 and 82. A more recent example from 2021 saw the Ottawa Senators move back from pick 42 to pick 49, and all it cost the Kings was pick 136. Notably, both of these trades actually favored the team trading up based on public trade charts. 
Packaging picks 64 and 53 would net something around 40th overall based on trade charts. The Detroit Red Wings are sitting on picks 40, 41, and 42, and GM Steve Yzerman loves to trade back. To strike a trade in the NHL, you need a fair deal and two willing parties. Yzerman's penchant for trading back could be the deciding factor in this case. 
Notably, public trade charts have favored the team trading up during the first half of the second round, which breaks from conventional wisdom. On the other hand, Yzerman's block of picks will give him the keys to this section of the draft, increasing his leverage. Should Guerin try to sneak up the day-two draft board, he seems to have the right combination of second-rounders to land one of those picks. 
On the other hand, with Yzerman's track record of hitting on picks in Tampa Bay, does Minnesota really want to trade up to 42 and take his leftovers after he gets two kicks at the can? Yzerman will surely have worked the phones to the bone, and Minnesota will have to be his favorite offer to pry one of those selections away from him. But hey, Minnesota getting Pick 42 is still better than giving Yzerman three shots at grabbing an impact forward, then having to wait for 11 picks for their turn.
Trading Back
I know that this is probably the least fun option for fans. Fan draft prep includes scanning for names that might fall, which then leads to thoughts of trading up. Who dreams of trading down? 
In reality, there is a great deal of evidence that it's the best way to ensure consistent draft success. Across sports leagues, trading down typically means surplus value and the NHL is no different. As good as a given NHL executive may be, the draft is mostly made up of lottery tickets. The smart teams are the ones that try and get more chances. 
Trading back from 21st overall could help Minnesota fill out their void in the third and fourth rounds, all to move back just a few spots. Comparable trades in the past have moved back five spots or fewer and netted a high third-rounder in exchange for trading back. With so many dependable prospects extending into the second round, Minnesota theoretically could make this move multiple times and end up with a lot of Day 2 ammunition. 
1

2