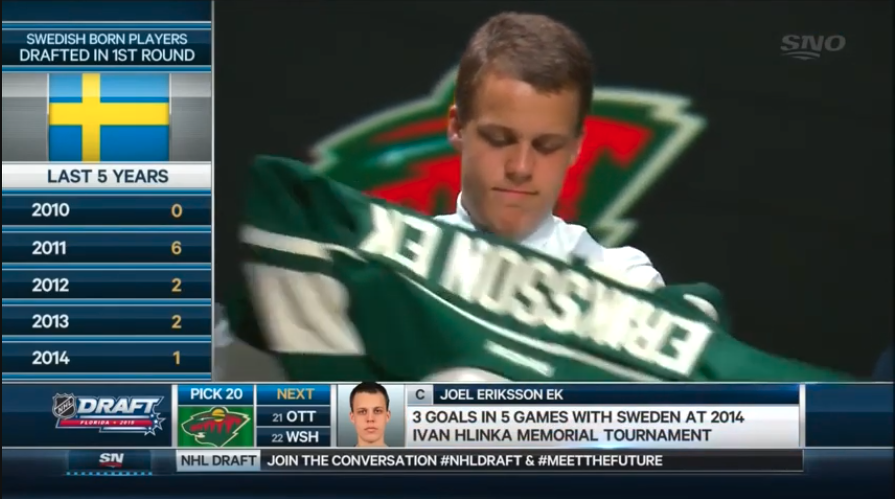 Image courtesy of Screenshot: YouTube Channel "Oz Karaduman"
With last night's win over the Seattle Kraken, the Dallas Stars cemented the Minnesota Wild's draft position at No. 21 overall. Surely this won't impact the plans of the front office. But for fans, it really opens the doors to think about what the team can get with its first-round pick this year. 
Despite his buyer's mentality at this year's trade deadline, general manager Bill Guerin was adamant that this year wasn't the year to sell a first-round pick to try and go on a playoff run. That begs the question: Why did they so adamantly want to keep a pick on the edge of the top 20? 
I combed through five drafts' worth of picks 19 through 23 to find out. To leave room for late bloomers, I selected draft classes between 2014 and 2018. Within these 25 draft selections lies a glimpse into Minnesota's future. 

First, let's talk about the bad. How often do the players taken in these spots turn into busts? By my judgment, five players didn't pan out in this spot – a 20% bust rate. These players struggled to make an NHL roster, and have since flamed out. Many of them are still playing in the AHL, KHL, or various European minor leagues.
On top of this, there were six players who I termed "replacement-level." These gentlemen had a stint in the NHL, but most of them never stepped beyond AHL/NHL tweener status. They get called up for about half of the season when needed, and spend the rest of the season in the AHL. They're certainly more valuable than a bust, but most of their value is that they can be a warm body their team can recall on a whim. Overall, this means that the Wild have a 56% chance of selecting a meaningful contributor. 
Just above this category are the "specialists." These players are basically replacement-level with seasoning. Some are great power play players or have elite shooting talent, but they all struggle to contribute at five-on-five.
Of these, I named two (Joshua Norris and Kasperi Kapanen) and considered including Tony DeAngelo. These three make up the middle class of this draft slot, which is interesting because it's indicative of the prospects left late in the first round. They typically have one or two skills that jump off the tape, but they also have something severely limiting in their game. 
Keep this in mind as draft profiles and mock drafts start projecting the names Minnesota might call at 21. As exciting as each prospect's superpower attribute may be, it might not be enough to make up for whatever holes exist in their game. 
This idea is especially poignant when considering the good players taken around pick 21, of which there are many. There are four top-six forwards (Robert Thomas, Joel Eriksson Ek, Nick Schmaltz, and Robby Fabbri), three middle-six forwards (Isac Lundestrom, Filip Chytil, and Brock Boeser), and one bottom-six forward (Kailer Yamamoto). On the defensive side of things, there are two second-pair defensemen (K'Andre Miller and DeAngelo). Ryan Merkley doesn't fall into any particular category yet, because he hasn't yet solidified himself in a lineup. However, he appears to be on an upward trajectory. There was even an exciting goalie pick in Ilya Samsonov, who's generating Vezina Trophy buzz. 
These are some exciting names. Wild fans are likely familiar with Eriksson Ek, as well as Schmaltz, Fabbri, and Thomas. These players have been established Central Division foes for several years, and count a true top-line center among their ranks in Schmaltz. On the other hand, there is a limited ceiling here. None of these players are franchise-altering by any means. That concern is certainly ammunition for those who detest Minnesota's reluctance to enter a rebuild. 
The timeline these players took from draft pick to NHLer is also very clear. For the most part, the success stories became established players in their third or fourth season after being drafted. Fabbri was the absolute fastest contributor. He became a meaningful contributor in his second season after the draft, but he was the only example. It's noteworthy that Liam Öhgren and Danila Yurov, who Minnesota drafted last year at Nos. 19 and 24 overall, respectively, are on this same timeline based on Guerin's comments over the past few months. 
The most likely success story would be seeing a draft pick arrive during the 2025-26 season, and probably no sooner. They'd likely arrive during the first season without the most onerous dead cap hits from Ryan Suter and Zach Parise's buyouts. Coincidentally, that's also the final season of Kirill Kaprizov's contract. The more you dig into the front office's moves, the more it's clear that this is the target for Minnesota's Stanley Cup window. It seems that this year's first-round pick should also be along for that ride if all goes well. And it would also help to add a good young piece with Kaprizov in a contract year. 
The final factor we should take into account is this should all be considered in the context of this year's draft class. Without getting too deep into individual prospects, this is widely considered one of the best draft classes in recent memory. Not only is this class loaded with top-end talent such as Connor Bedard, but it's incredibly deep. Byron Bader, who runs Hockey Prospecting, is predicting that this could be the best draft class in decades: 
Imagine dropping a 60-point scorer onto this franchise along with around $13 million of cap space in the same year. That's the reason Guerin was reluctant to part with his first-rounder, even with a boatload of deadline cap space and a buyer's mentality. Minnesota's roster may be in for a rough couple of years, but the State of Hockey should get excited about this draft. On June 28, this team is going to add another exciting prospect, and the team's future will be just a bit clearer than it is today. 
2