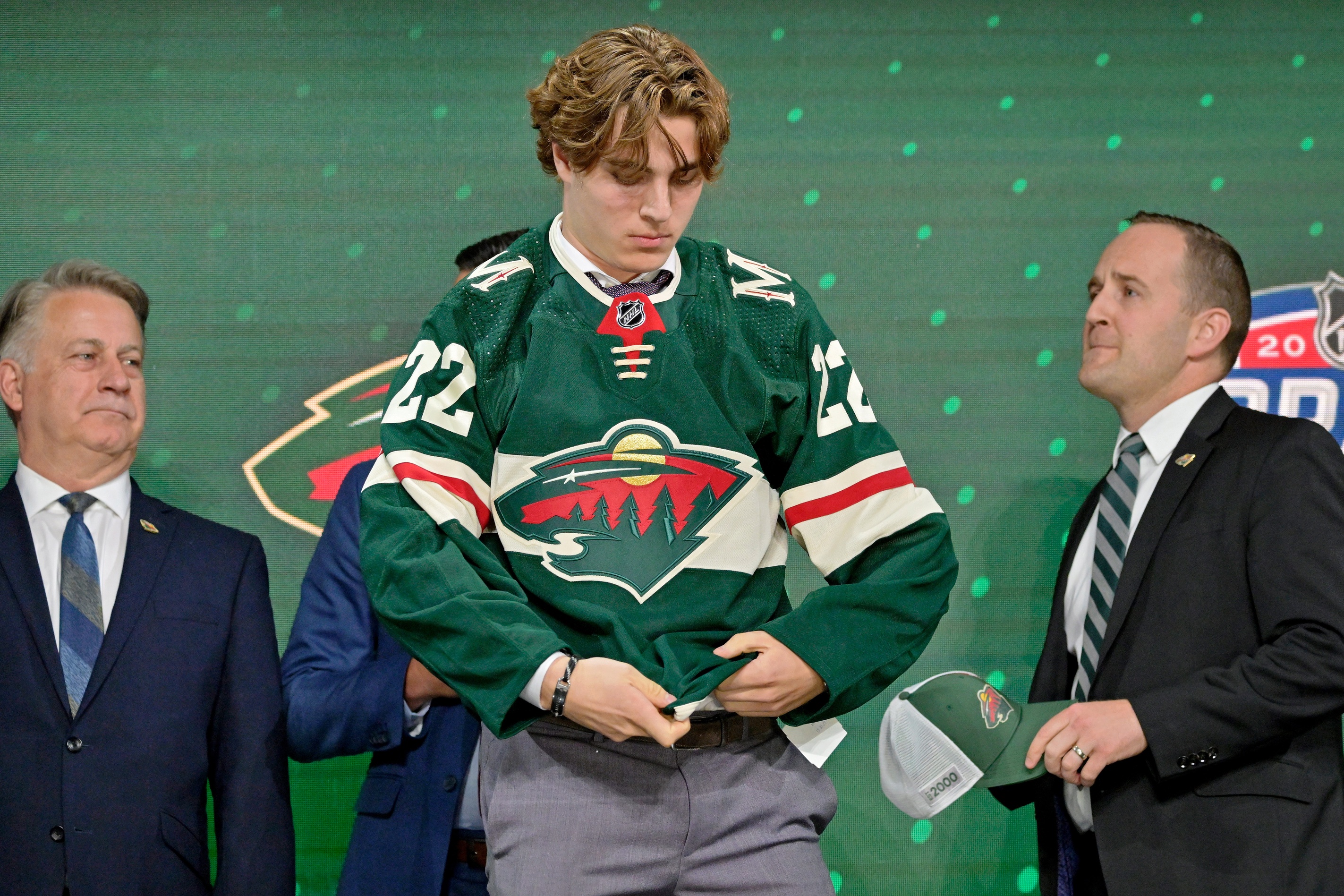 Image courtesy of © Eric Bolte-USA TODAY Sports
Minnesota's 2022 first-round draft choice Liam Öhgren is playing with his hair on fire. If you follow Wild prospects even casually, news of his playoff performance is inescapable. 
Over nine playoff games in Sweden's Allsvenskan league, where his Djurgårdens team is attempting to qualify for promotion to the Swedish Hockey League, the stocky winger potted six goals and 10 points. During the SHL qualification matches, he's tied for second in the league in goals and fourth in points. Both of those figures leads his team, so how does that compare to his 2022-23 regular season? 
Unfortunately, he struggled through much of it, creating a drastic decline in his offense. Öhgren posted only 11 goals and nine assists over 36 regular season games. The Swede's struggles leads to a tough question – is this playoff performance for real, or just a flash in the pan?
Öhgren displayed first-round production on top of a solid 200-foot game during his draft season. That year, he lit the J20 Nationell (Sweden's top junior hockey league) on fire. He dunked on his J20 opponents: burying them with 33 goals and 25 assists (58 points) in just 30 games. He did this on top of a 25-game SHL workload and seemed primed for a huge post-draft season. 
Except… this year happened. You can see the drop-off in the chart from Byron Bader's Hockey Prospecting below.

The bar graphs show a statistic called NHL Equivalency (NHLe), which attempts to translate minor league points into NHL points based on the difficulty of scoring in a given league. It's an imperfect, but quick-and-dirty reference for a prospect's offensive production intended to put different leagues on a level playing field. Getting a prospect like Ohgren at No. 19 overall after he put up 35 NHLe made him a potential draft steal. 
Star draft picks typically average around 30% year-over-year growth in NHLe, because each year of development sees a prospect get stronger, faster, and better at hockey. You can see above that Öhgren didn't make that kind of jump. On its face, Öhgren's Draft+1 Year production is troubling. This is where it becomes important to apply context. Any player down to the beer-league level can tell that goals and assists are a fickle thing. Year-to-year production in the NHL can be affected by changes as small as swapping linemates, and prospects have even more factors to consider. 
Danila Yurov (pictured next to Ohgren above) is a great example of how complex the life of an NHL prospect can be. Yurov has played well, but his KHL team cut his ice time, though no fault of his own except (probably) not signing long-term in Russia. You can't score if you don't play, so the contract negotiations have driven a decline in NHLe. In this case, Yurov is widely considered on-track to become an NHL performer, with a coin-flip chance at stardom, despite the dip in production. Similarly, Öhgren's dip in production is explained by several smaller mitigating factors.
First, note that Ohgren moved from junior hockey to the professional level, meaning that his high-school aged opponents were replaced with grown men.  All prospects have to make that jump sometime, but they handle this year very differently on a case-to-case basis. This makes it notoriously difficult to project a prospect's first year in the pros. 
On top of making the jump to pro, Ohgren's parent club Djurgårdens IF got relegated from the SHL to the Allsvenskan. European teams sometimes change levels due to the promotion and relegation systems, which makes for volatile situations. 
Djurgårdens' coaching and management had to adapt to a whole league and scout a new pool of opponents, all with talent that was poor enough to get relegated in the first place. Challenges at the club level likely strained Öhgren's support system, which compounded against the player-level challenge of jumping to the professional level.
While playing in a lower league would seem to make things easier on the average prospect, Öhgren did not respond to it with a bump in scoring. Because of this, Öhgren might be double-penalized by Bader's model with this unique situation.
Beyond those factors, Öhgren sustained a significant knee injury in January. You don't have to be a doctor to hear Djurgårdens ' Twitter account describing a "stretched ligament in the knee," and think, "That probably would affect his play." 
Given that Twitter doesn't provide a perfect translation, that "stretched ligament" is almost certainly a strain. A quick WebMD search shows even a Grade 1 strain is a sprain or partial tear. That means that Öhgren partially tore one of his four major knee ligaments: the MCL, LCL, PCL, or perhaps even a sprained ACL. 
These injuries are characterized by pain or discomfort, as well as the knee "locking up" even after a player is cleared to return to play. Players can gut through these symptoms after a short absence, but they always result in diminished effectiveness on the ice. Öhgren returned after just one month of rehab, and it's likely that he played through weeks of pain. 
This matters, because Öhgren's skating and lower body strength are his greatest assets on the ice. He's also known for a nose for the net and a play-style which thrives off contact. These symptoms would be a major detriment to his brand of hockey. While NHLe can adjust for missed games, it cannot adjust for a decrease in efficiency while playing through injury. That would artificially diminish his projections within any statistical model. 
All this turmoil only captures the human side of these changes, which has an unknown effect on his stats. Any adjustments to Allsvenskan that Öhgren made last fall were interrupted in January by this injury. It's a bit contrarian to call an injury reason for optimism, but in this case, it's appropriate. It gives us an explanation for why his progression stunted.
In spite of the injury (which is possibly still lingering), Öhgren is powering his hockey club through a deep playoff run. We can't just throw out his rough regular season, but this playoff performance is closer to the Öhgren the Wild believed they were drafting. If his playoff run were put into that model, we'd probably see him at last year's level, and maybe even growth.
Now, Öhgren will need to be ready to face higher competition next season. The SHL would be an excellent test to see how much he developed, and what he can do after an offseason of training to get stronger, faster, and more skilled. Best-case scenario, Öhgren will get to prove he's a dominant young scorer in one of the best professional hockey leagues in the world. He can use that as a springboard to play in the AHL as soon as 2024-25, and perhaps even push for the roster.
The winner of the Allsvenskan playoffs will be promoted to the SHL, so Wild fans should be rooting for Djurgårdens to achieve promotion. Öhgren's team is currently tied with IF Bjorkloven (second seed in the Allsvenskan) after four games of their seven-game series. Whoever wins two of their next three games will meet top-ranked Modo, who have at least five days of extra rest and preparation. It'll be tough, but if Öhgren keeps dominating like he has, he can deliver his team (and himself) a promotion.
1