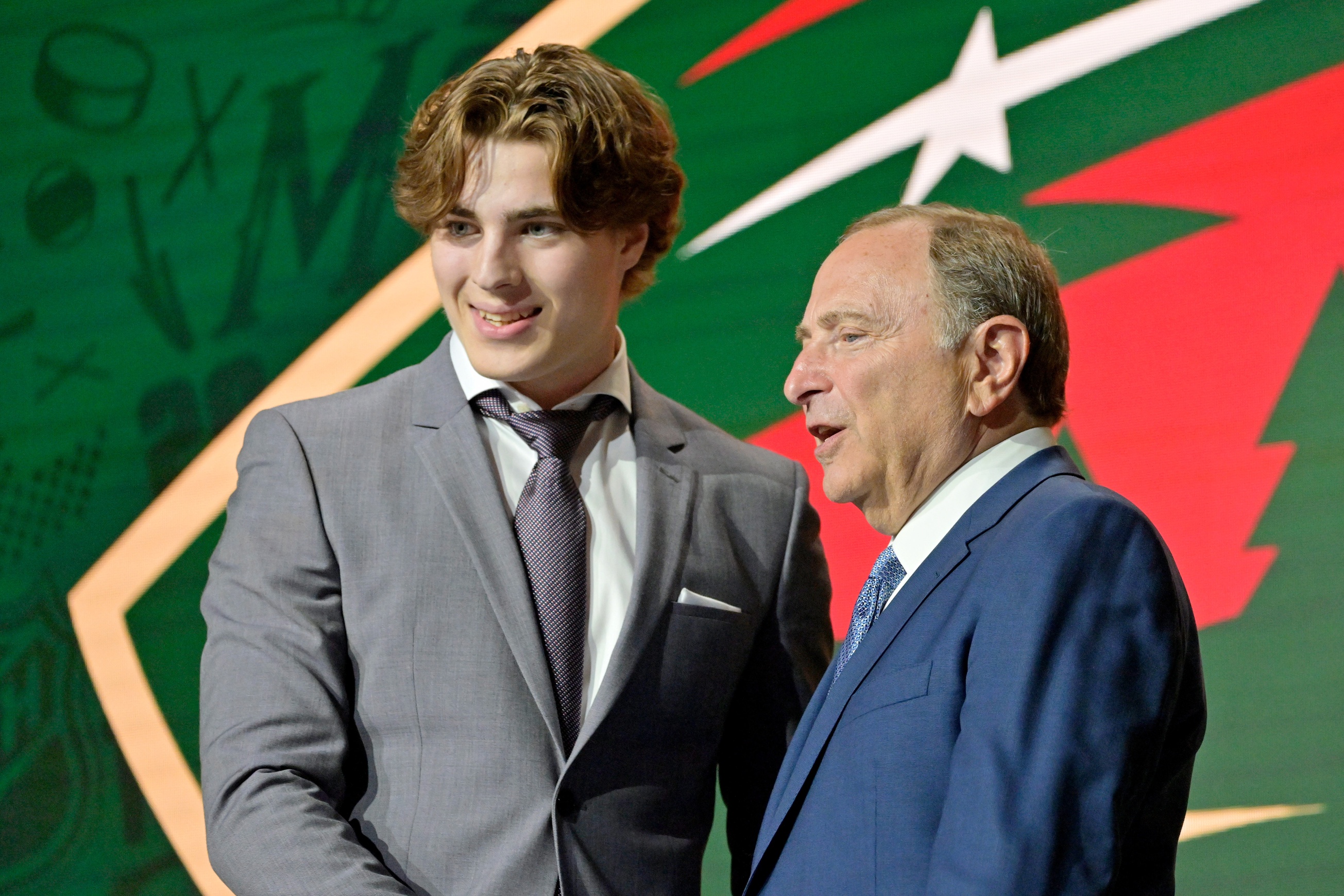 Image courtesy of Eric Bolte-USA Today Sports
The Minnesota Wild drafted Liam Öhgren just months after his team, Djurgardens IF, fell into relegation. Djurgardens dropped from Sweden's top league (the SHL) into their second league (Allsvenskan). Öhgren also experienced a drop with a dreadful start to the regular season. His point production ended up worse than the season before despite a year of growth. To make matters worse, he injured his knee in January, jeopardizing his health for the playoffs. 
Upon his return, Öhgren went on a blistering scoring streak and carried his team to a deep playoff run. To cap it off, Djurgardens took top-ranked Modo to seven games in the championship round, only to get stomped in a 4-0 shutout loss. He's seen so many radical highs and lows, you can't say he isn't meant to play for the Wild. 
Öhgren garnered a lot of attention from die-hard Wild fans over the past month because of his playoff tear. At the height of his scoring streak, Ohgren had six goals and four assists through 10 playoff games. He showed the scoring touch that propelled him to first-round status and looked ready for the SHL's tougher competition. After all, he lit up the scoreboard against the best teams in Allsvenskan underneath the bright lights of the playoffs. Coming off of an injury, it was safe to say that things looked too easy for the stocky Swede. 
However, Öhgren finished the playoffs with eight goals and five assists through 17 games. He certainly cooled off, but those last seven games came against Modo, the league's best regular-season team. Modo went 8-2 before the championship series, dog-walking every team besides Djurgardens. While Öhgren only potted two goals and an assist during the championship round, they were certainly the toughest seven games of the playoffs. 
But despite not earning the promotion to SHL, this playoff run was good news for Öhgren. It alleives some of the analytical concerns that arose during the regular season. While Öhgren's NHLe (an analytical measure of scoring that adjusts for quality of competition) dropped by 34% in the regular season, his playoff scoring pace was back on par with what he did in 2021-22.
While this playoff run took place over a smaller sample size, it was mostly driven by goals. Goal-scoring is usually "stickier" than assists because goals aren't as reliant on teammates, which means it can be more indicative of long-term success, even in a small sample. 
There are also several common-sense reasons to trust these playoff numbers. First off, Öhgren accomplished this scoring streak coming back from a serious ligament injury in his knee. The injury sidelined Öhgren for about a month, similar to the timeline which Kirill Kaprizov credited as a reason for his challenges in the playoffs. 
On top of this, prospects are easier to evaluate against tougher competition, so there's an argument to be made that playoff scoring is more meaningful than in the regular season. All this is to say that Öhgren's playoff superiority is at least enough to dissuade any concerns raised by his slow start to the year. At most, it's cause for celebration – and God knows the State of Hockey could use one right now. 
Unfortunately, he won't be playing against tougher competition next year*. Öhgren seemed primed and ready to step into the SHL in 2023-24, springboarding him to the AHL in 2024-25. But that option is no longer on the table with the loss to Modo. 
Prospects get better by progressing to play against better competition. Progressing too soon can crush a player's confidence, but progressing too slowly can create also bad habits. Therefore, Minnesota's front office has an interesting decision. 
Option 1: Öhgren can stay with Djurgardens in the Allsvenskan. The best outcome here is that Öhgren dunks on the Swedish minor league to hone his offensive game. Option 2: They could potentially rush him to the AHL in hopes that he makes the leap. So which is better?
Because of the way that the NHL CBA is set up, waiting on a prospect wastes precious years of cost-control for the team, which is nothing to take lightly given Minnesota's current salary cap situation. Considering Öhgren's reputation for a solid 200-foot game, physicality, and a touch of scoring talent, his play-style seems fit for the smaller North American ice surface. He'd learn from the best developmental coaches the Wild have to offer.
Furthermore, every scouting report on the 19-year-old sounds like a prototypical Wild forward. Getting him into a system which has repeatedly developed that kind of player seems like common sense. 
Alternatively, think of the most common gripe about Wild forwards – they peak in the middle six, never fully realizing their offensive potential. They're like hockey's system quarterbacks, making good decisions but never elevating their teammates or breaking open a play. The last two game-breakers on the Wild, Kaprizov and Fiala, were both developed outside the organization. Perhaps another year in the Allsvenskan, this time building off of the playoff run, would be better to Öhgren's benefit. 
Joel Eriksson Ek, a popular comparable for Öhgren, played only 18 games for the Iowa Wild. His path to the NHL came after two seasons in Sweden. When Eriksson Ek came to Minnesota, he actually had a reputation for scoring. Perhaps that's part of the reason he can hold his own on the power play and on a line with Matt Boldy. 
We all have a pretty good idea that this organization will most likely go with the safest, most conservative choice, though. Öhgren turned 19 in January, and moving to a new country at that age can be difficult. Even if the front office were inclined to get spicy, Iowa is in a state of flux after moving on from head coach Tim Army.
To place a premium asset into that environment after a shaky season might not be a sensible move. If Minnesota brings Öhgren to the AHL in September, it would not only be out of an abundance of confidence in the player, but in whoever replaces Army in Des Moines. 
Ultimately, what's best for Öhgren is still uncertain, but it will tell us a lot about what the Wild think about one of their most exciting prospects. Do they feel that this is an evolved version of the player they drafted last summer, or feel that he needs more time to develop?
On the one hand, you'd love for him to hit the AHL, implying that he's just one step away from the NHL. On the other hand, leaving Öhgren overseas for another year might mean the team sees more offense waiting to be unlocked in his game. It'll be fascinating to see how his unique path unfolds.
*EDITORS NOTE: Since this article was published, new details on Öhgren's contract situation came to light. From Michael Russo of The Athletic on May 3, 2023:

"Now that Ohgren's Djurgardens team lost Game 7 and won't be promoted into Sweden's top league next season, Ohgren becomes a free agent and would likely sign with an actual Swedish Hockey League team. After that, the Wild would officially loan Ohgren to that team later this summer."

He is not bound to play for Djurgardens or Allsvenskan should he stay in Sweden. Hockey Wilderness regrets the error.