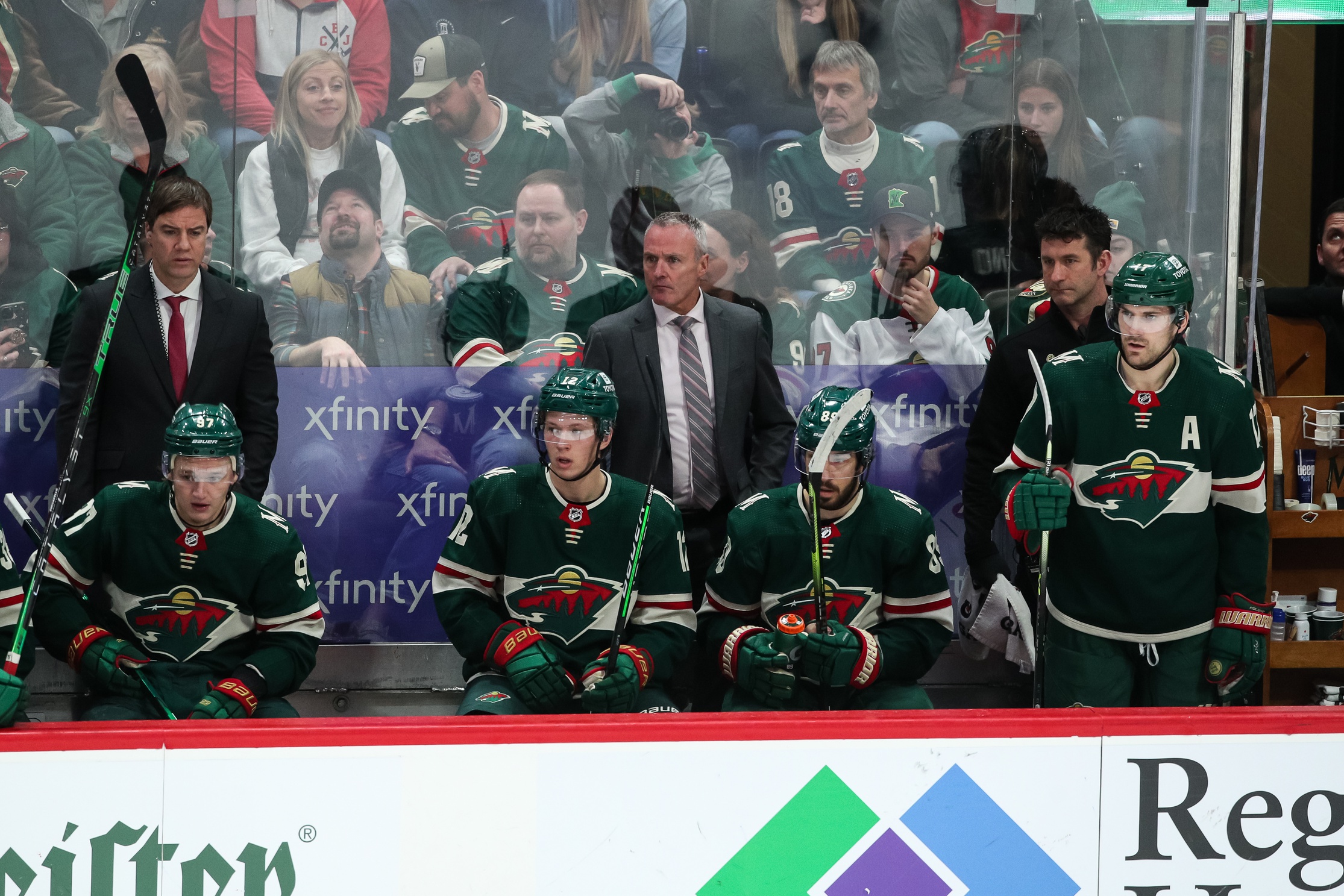 Image courtesy of David Berding-USA Today Sports
The Minnesota Wild have been pretty quiet since the end of the season, but this week they finally made a change. Instead of announcing a new or extended player contract, they announced a coaching change. They named Brett McLean as the new head coach for the Iowa Wild, removing him from the assistant position he's held behind the Minnesota bench for the past three years. On the surface, this change seems small. But once next season starts, we may see a bigger impact.
The Iowa-to-Minnesota pipeline for hockey talent is incredibly important. Young players need a place where they hone their hockey skills while also experiencing professional hockey and everything that comes with it. After three years coaching with the Minnesota Wild, McLean is fully entrenched in the systems and identity of the big club. 
The Minnesota Wild's identity is strong and well-known around the NHL. If a player can't play their way, they won't fit in with the rest of the team. By shaping the Iowa Wild to closely match the NHL team, McLean can smooth out any wrinkles that might exist between the two clubs.
Experts believe the Wild have one of the best and deepest prospect pools in the NHL. Getting those young players playing within the same system as Minnesota will lead to smoother transitions and a sense of familiarity with the NHL team for rookie players. In turn, this may also inspire them to have more confidence and match the intensity of an NHL game faster.
McLean already seems to have a good working relationship with the Wild coaches and GM Bill Guerin. That may help stave off any disagreements that an outside hire might have produced. 
Communication between the teams is crucial when it comes to working with young players the right way. Working together to develop a young player and provide support where it's needed is something that both teams need to agree on. The Wild seemed to have difficulty bringing some of their rookies to NHL-readiness, so having McLean to prepare them could have the next wave ready sooner than prospects like Calen Addison and Marco Rossi were. Working in tandem means no one will be blindsided by discrepancies in the plan for player development.
Before coaching for the Minnesota Wild, McLean spent three seasons as an assistant coach for the Iowa Wild. Having coached at both AHL and NHL levels before, McLean should be able to find his footing quickly. Being a head coach will be different, but McLean seems like he's up for the challenge.
McLean spent four full seasons playing at the AHL level with only two NHL games in that time. Unlike some players who seem like overnight successes, his more arduous journey in pro hockey is more typical of the players he'll be coaching. McLean knows what it's like to put in the time and the effort to get to the NHL. It's valuable insight that needs to be experienced to understand it.
Conversely, McLean was mostly charged with coaching the Minnesota Wild's power play. Unfortunately, the power play saw some struggles, despite some great patches. That isn't to say that McLean is the cause, but getting a fresh voice on special teams could lead to a better outcome. The Minnesota Wild desperately need to work on both the power play and penalty kill, so a new assistant coach with their own understanding of that aspect of the game should help. Better special teams are needed for the Minnesota Wild to make a deeper playoff run next year.
A new assistant coach will also come with a different perspective on the game as a whole. Obviously, the Minnesota Wild has a definite system in place, but there might be changes that can be made within the system. 
While the relationships between the Wild coaches aren't known publicly, it might be valuable to bring in a new assistant coach who is willing to question some of the decisions made. Anybody can get stuck in a rut and not even realize it until a fresh face points it out. Trying out new plays, new lines, or new practice drills could spark a positive change in the team.
Overall, McLean was a great choice to lead the Iowa Wild. A closer working relationship between Minnesota and Iowa is a crucial step in Guerin's quest to bring the Cup to Minnesota. This move benefits both teams and fans should expect to see the results of it next season.
3