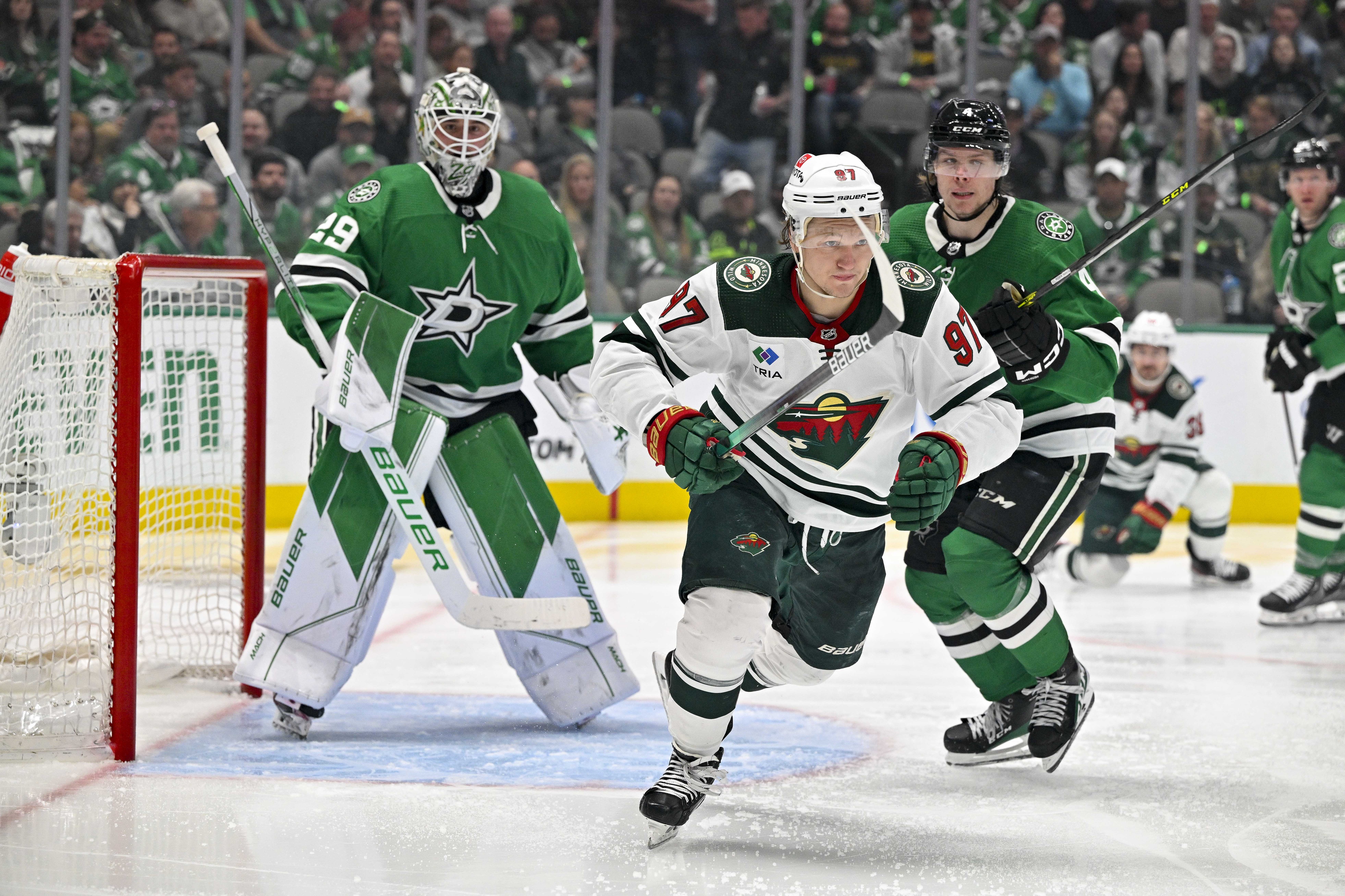 Image courtesy of © Jerome Miron-USA TODAY Sports
Your daily dose of Wild news, along with other interesting stories from around the NHL.
It's all come to this. Every goal scored, every goal allowed, all 82 games played and their results have come down to one single game to make this season another disappointment or stretch it to the nerve-racking Game 7.
The Minnesota Wild are back home in St. Paul to play Game 6 against the Dallas Stars, who hold a 3-2 series lead. We could see the final game of this not-so-historic-but-still-pretty-good season happen tonight, leaving us with just a weird feeling overall.
We'll get ahead of the bad feelings and say that in all three of the Wild's first-round playoff series with Kirill Kaprizov, they were still the underdog. The Vegas Golden Knights were riding high with one of the best rosters in the league, the St. Louis Blues still had loads of talent and played the Wild perfectly all season long, and now the Dallas Stars almost won the division and have (had) one of the best lines in hockey and elite talent in every position.
The Wild still have some working to do and are in the middle of progression. It just so happens that they make the playoffs consistently and don't bottom-out. There are still players that will join this roster down the line and patch those holes in the lineup, hopefully.
Anyways, let's hope that we don't have to think about what a loss means at all and the Wild win the next two games.
That's Wild
The Wild were heavily penalized all season long and now in the playoffs it is killing them. So, is Minnesota's "grit" just reckless play that hurts the team? [Hockey Wilderness]
With Minnesota on the verge of elimination, there are no easy answers or people to blame. Everyone contributed to this but everyone also contributed to winning. [Hockey Wilderness]
Kirill Kaprizov has been not himself in this first round. Barely producing any points in the first five games and not affecting the game like he usually does. It has sparked rumors that he is still dealing with an injury, which he has denied, so now it just leaves us wondering what could have been. He says that he knows he will break out in the next couple games. [Pioneer Press]
Off the trail...
On the verge of winning their first playoff series since 2004, the Toronto Maple Leafs fell to the Tampa Bay Lightning, who played a perfect and tight playoff road game to make the series interesting and dampen the Leafs' lead to 3-2 in the series. [Yahoo Sports]
The Winnipeg Jets lost to the Vegas Golden Knights and the golden southwesterners took the series 4-1 to be the first team to make the second round. Jets coach Rick Bowness had some choice words for his team and blamed them for their poor play. [Sportsnet]
How to fix officiating in the playoffs. [ESPN]