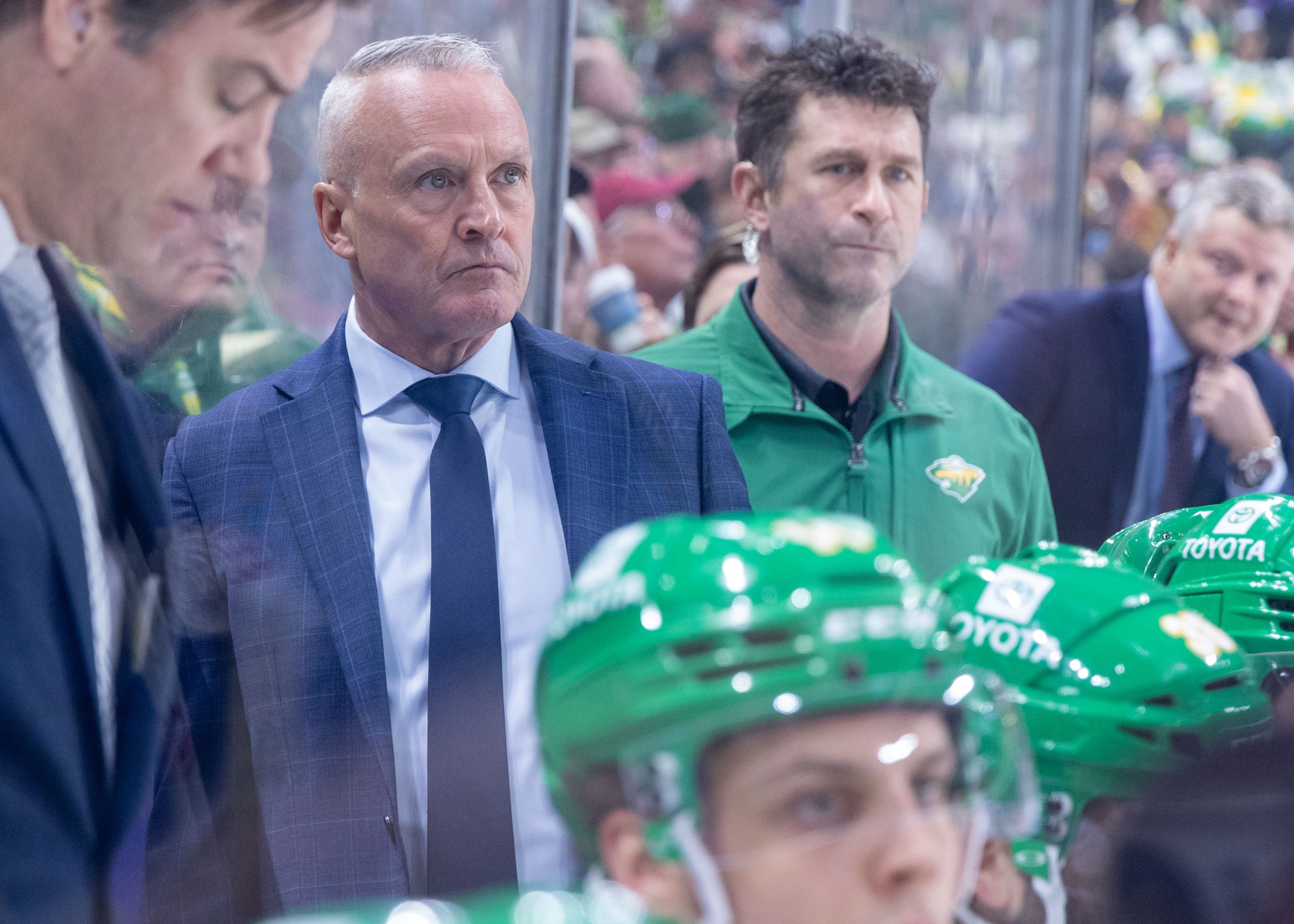 Image courtesy of Matt Blewett-USA Today Sports
The Minnesota Wild are having an underwhelming postseason. Sure, they won Game 1 against the Dallas Stars in a thrilling double overtime, then took Game 3 at home. But all the losses have been embarrassing, thanks in part to the horrendous special teams. It's also due to head coach Dean Evason's lack of adjustments. Plain and simple, Dallas's more experienced coach, Pete DeBoer, is out-coaching him.
That would be the third year in a row where Evason appears out-matched by the opposing bench boss. It's been a recurring theme for him at the playoffs at every level. Evason's record in the Stanley Cup Playoffs is 7-11 (8-14 if you count the Qualifying Round in 2019's playoff bubble). In the AHL, Evason went a staggering 1-12 in four playoff trips with the Milwaukee Admirals. He also went 10-24 in the playoffs while coaching in the Western Hockey League.
Evason's record is a mark against him and makes him an easy focal point of criticism. But is the criticism warranted if the Wild fall short again this year?
Remember, Evason was great in the regular season. He got career years out of almost everyone in the lineup over the past few seasons. Is it his fault that once it comes to the playoffs, Minnesota's scoring drops off precipitously? It's worth debating. Regular season wins don't mean anything if your team can't manage to translate in the playoffs. Evason's winning style of hockey in the regular season hasn't translated to the playoffs.
Still, it's difficult to pinpoint only one reason.
For example, special teams are a huge part of why the Wild are on the verge of elimination. It's Evason and his staff's system. However, his go-to player on the penalty kill and power play, Joel Eriksson Ek, is injured. Eriksson Ek doesn't appear to be making an appearance in the lineup anytime soon, either. It's hard to understate that loss.
But should it be quite this bad? Nearly all of the Stars' goals have come on the power play. You'd think the Wild would try to make adjustments and learn from their mistakes. However, that does not seem to be the case. Minnesota's coaches can't control who's injured, but they can control whether they will or won't keep putting out the same guys. They've kept the same group together through five games, even though it's not working. It's now Game 6, and it could cost the Wild the series.
The Wild have become incredibly predictable. They might beat you at 5-on-5, but just wait a bit, because it won't be 5-on-5 for long. DeBoer knows how to exploit the Wild's propensity for penalties. "Minnesota is one of the most penalized teams in the league," he said. "We knew we were going to get power plays. So the goal was to make them pay for it, and we're doing that and we've gotta keep doing that."
So if you're Evason, knowing that the opposing head coach knows how to beat your system, you should get the team to tighten up and play disciplined, right? He's gotta be saying that, but his players still go to the box and complain about the officials. They continue to play the same game that's not working. Again, is that on the coach? Or is it the responsibility of the players to be disciplined?
At the end of last year, they promised better special teams. And things looked like they had for most of the season. In the playoffs, though, it's the same as it was last year, which is incredibly frustrating.
Another problem is the lack of scoring from the Wild's top players. Kirill Kaprizov and Matt Boldy's scoring got them to the playoffs. But now that they're there, the scoring is nowhere to be found. Kaprizov is probably playing injured, most likely from Ryan Suter's relentless crosschecking in Game 1, but he should still be more productive. But Boldy seems healthy, and Dallas has held him to three assists in five games. 
Is that on them, or the coach? It could go either way. Injuries happen this time of year. Players also slump, and those are somewhat out of the coaches' control. But still, Evason's not been proactive about that.
Here's something he hasn't tried much yet: messing with the lines a bit. Maybe he should split up Kaprizov and Mats Zuccarello. Give Matt Boldy more to work with. Why not try putting a crafty winger in Gustav Nyquist opposite Kaprizov? Could a Boldy - Freddy Gaudreau - Zuccarello line help scoring by getting the two struggling wingers going? Something has to change for Game 6 or the Wild are going to be looking at an early exit again.
But instead of hitting those buttons, Evason hasn't really done anything as far as major lineup adjustments go. Even when nothing is working, he still doesn't want to change anything. It also doesn't help that the one non-injury related change he made, playing Marc-Andre Fleury over Gustavsson, confused everyone.
Sure, they don't have Eriksson Ek. Yes, the referees have been suspect. But teams should be able to make in-game adjustments to reduce the effect of those disadvantages on the outcome of the games.
Compare that to DeBoer. The Stars have found ways to win without Joe Pavelski, one of their most productive players. DeBoer has moved around his lineup to keep their system intact, and it's worked. So why haven't the Wild been able to win without one of their most impactful players? 
The Wild need to find answers, and soon. They have no margin for error, and if they drop one of the following two games, the State of Hockey is going to have the entire whole summer to contemplate why this team hasn't seen the second round for nine straight years. 
2