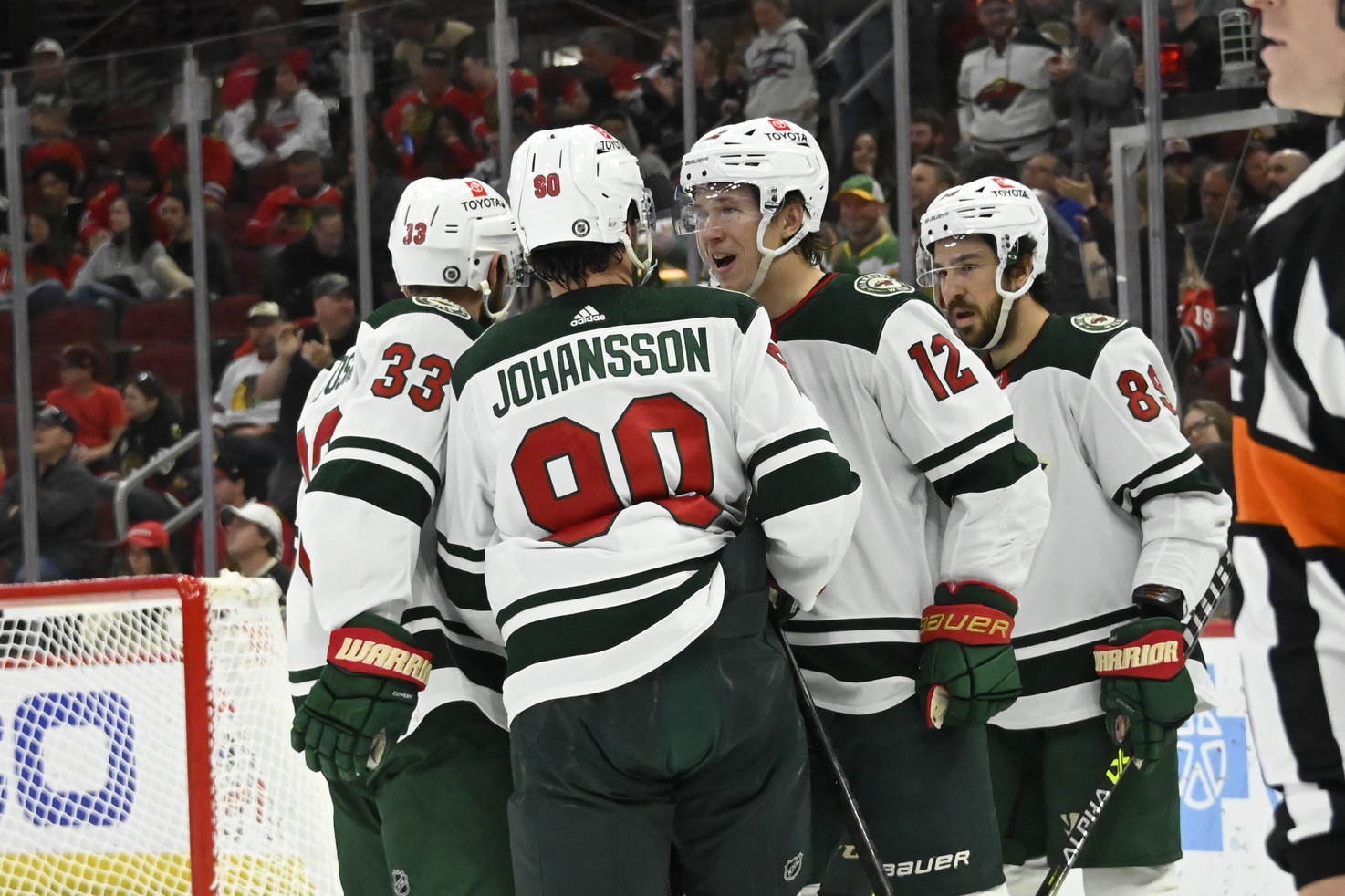 Image courtesy of © Matt Marton-USA TODAY Sports
Your daily dose of Wild news, along with other interesting stories from around the NHL.
The Minnesota Wild were not very good in Chicago on Monday night. Outshot 41-22, looked sloppy defensively, suffered two messy goals against -- but regardless, they were still able to squeak out a 4-2 win mainly because of one guy: Marcus Johansson.
Chicago held an (actually) earned 2-1 lead heading into the final six minutes of the game, but the tides turned as soon as Marcus Foligno had his beatdown on Andreas Englund to get the blood pumping. During the resulting penalty kill, Johansson scored an unassisted shorthanded goal off the rush to tie it up.
That was the 14th shorthanded goal of the Wild's season (a new record), and Johansson's 15th point since joining the Wild at the trade deadline.
But he wasn't done.
Under three minutes later, with the game tied, Johansson paired with Matt Boldy (who scored the only other non-empty net Wild goal on Monday) to earn the win over this lowly team.
And that was game. Filip Gustavsson saved 39 of the 41 shots he faced, and it was the Boldy-Johansson connection shining once again.
With these two points, the Wild keep themselves in the conversation for getting home ice in the first round. Unless the Colorado Avalanche and Dallas Stars really crumble in their last few games, it doesn't appear that Minnesota can realistically win the Central Division. So now we just wait to see if it will be the Stars or Avs waiting for them in the first round.
That's Wild
Calen Addison has been left on the shelf and reports have already come out that the Wild have involved him in trade talks. But the main problem is that he hasn't really played a whole lot for teams to be interested in the young blueliner. It's a weird no man's land. [Hockey Wilderness]
On the other side of the young right-handed defenseman coin, Brock Faber played a stellar game in Chicago on Monday. Before the game, he spoke about how much it meant for him to make his NHL debut playing for the team he grew up cheering for. [Hockey Wilderness]
Mason Shaw is an absolute fighter. He played an important role on this team after coming back from three knee surgeries. Unfortunately, he will need to have a fourth, but that display of heart earned him to be the Wild's Bill Masterton Memorial Trophy nominee. [StarTribune]
Off the trail...
The Philadelphia Flyers spent good draft picks on acquiring Tony DeAngelo last summer. Now, he's a candidate to be bought out in a few weeks after being a healthy scratch on the bad team. [Broad Street Hockey]
Erik Karlsson is the first defenseman since 1992 to reach 100 points. [Yahoo Sports]
How fans of the WHL's Seattle Thunderbirds made their own Pride Night. [ESPN]