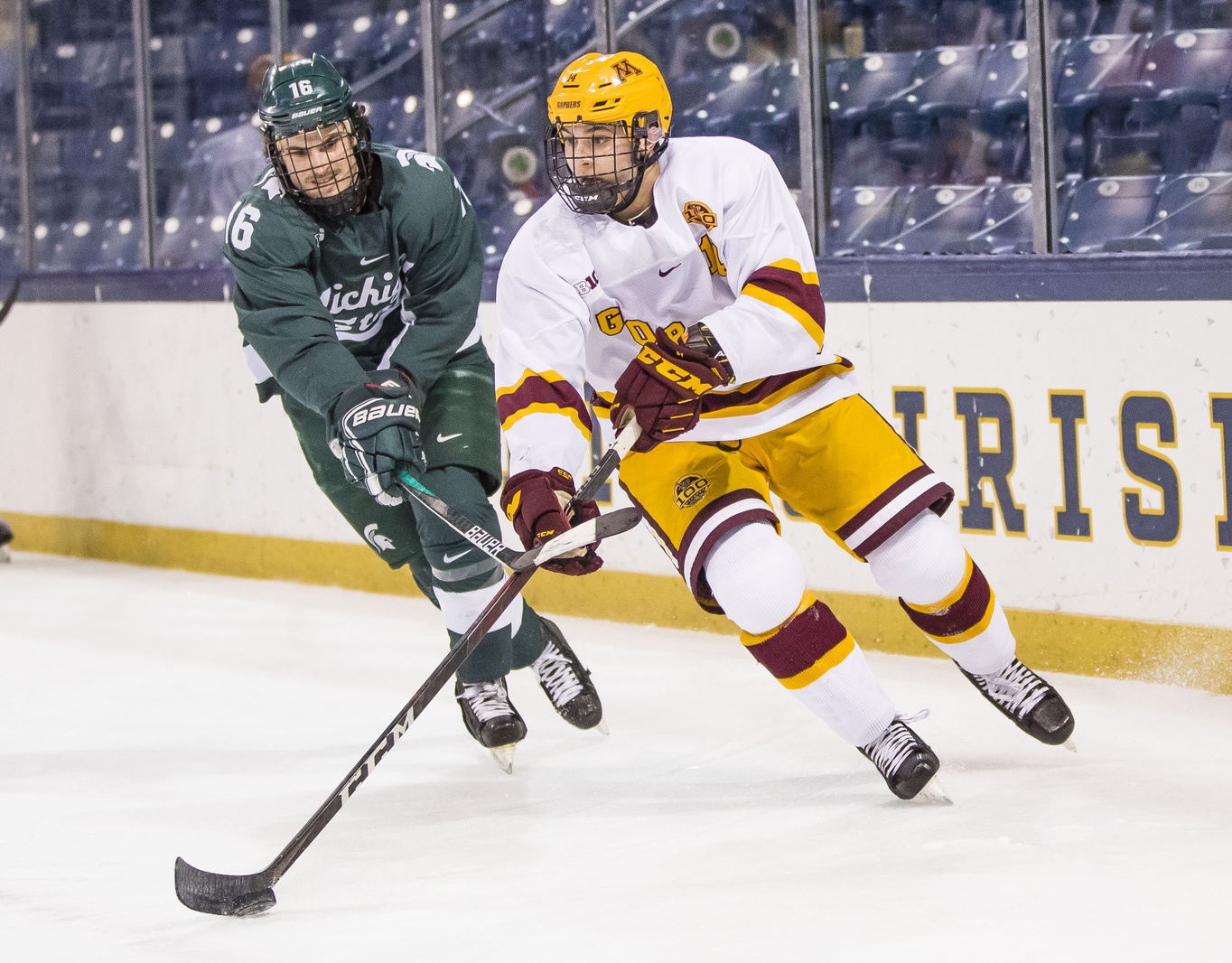 Image courtesy of © South Bend Tribune-USA TODAY NETWORK
The Maple Grove kid had a lot to say about making his debut on Monday for the Wild.
Brock Faber is living the storybook dream. On Monday, he is set to make his NHL debut while wearing the sweater of the team that he grew up cheering, the Minnesota Wild.
Although this isn't the first time it's happened, it doesn't take away from the fact that some magic still remains in the fact that a young player is able to get drafted, play for the University of Minnesota Golden Gophers, get traded to his favorite NHL team, and then make his big-league debut.
"Just to be here is a dream come true for me," Faber told the media after Monday's practice in Chicago. "Throwing on that Wild practice jersey was pretty darn cool. ... It probably won't sink in for a while, the fact that I play for the Minnesota Wild. It's special. It has been a whirlwind, but I was able to sleep last night, so I'm not too nervous, just a lot of excitement right now."
And it has been a crazy couple of days for the 20-year-old blueliner. Just 48 hours before he will step on NHL ice for the first time, he was in Tampa trying to secure a national championship as the Gophers' captain. Unfortunately, his team lost in heartbreaking fashion -- just a several seconds into the overtime period. Faber took it hard but is looking forward while recognizing the hurt of that result.
"One of the hardest things I've ever gone through, for sure," he said. "It's going to sting for a while, but I'm here. I'm going to do anything I can for this team, so it's a dream come true. ... Disappointing finish, but every guy here has been great, and I'm just so excited to be here. It gives me chills thinking about it."
His defensive partner for his special night can relate to the pressure of being a top defenseman for the Gophers. Alex Goligoski, 37, is going to be on the ice with the young Faber through his debut and that small detail might make the occasion just that more significant.
"Well, yeah, I obviously know of him," Faber laughed. "It's crazy. It's crazy to think I'm going to be playing with him tonight. Obviously, he was a Gopher, and he wore that jersey with pride. He's here now too, so I kind of look up to him in that sense."
All of this combines to make it a unique debut -- as if the entire league is scripted. The only way it could be better if he was skating on home ice.
Head coach Dean Evason has not expressed whether or not the young blueliner will continue to play with the team when the Wild return to St. Paul to face the Winnipeg Jets on Tuesday, but Faber is happy regardless.
"I hope to do anything I can to help this team win," he said. "Whether I'm in the lineup or not -- I'm happy to be here, and again, just to do anything I can to help the guys. Just be as good of a teammate I can. ... I'm just going to go out and play and do the best I can and keep learning from the guys that have been here."
He won't shock the world with his offense, but the two-time Big Ten Defensive Player of the Year will have some pressure on him to show Wild fans something that can make us excited for his continued presence on this team. It might not happen within the first game or two, but Faber seems to have the tools to be a contributor in some sense after the shine of the debut rubs off.
Hopefully, this story has an incredible second chapter.