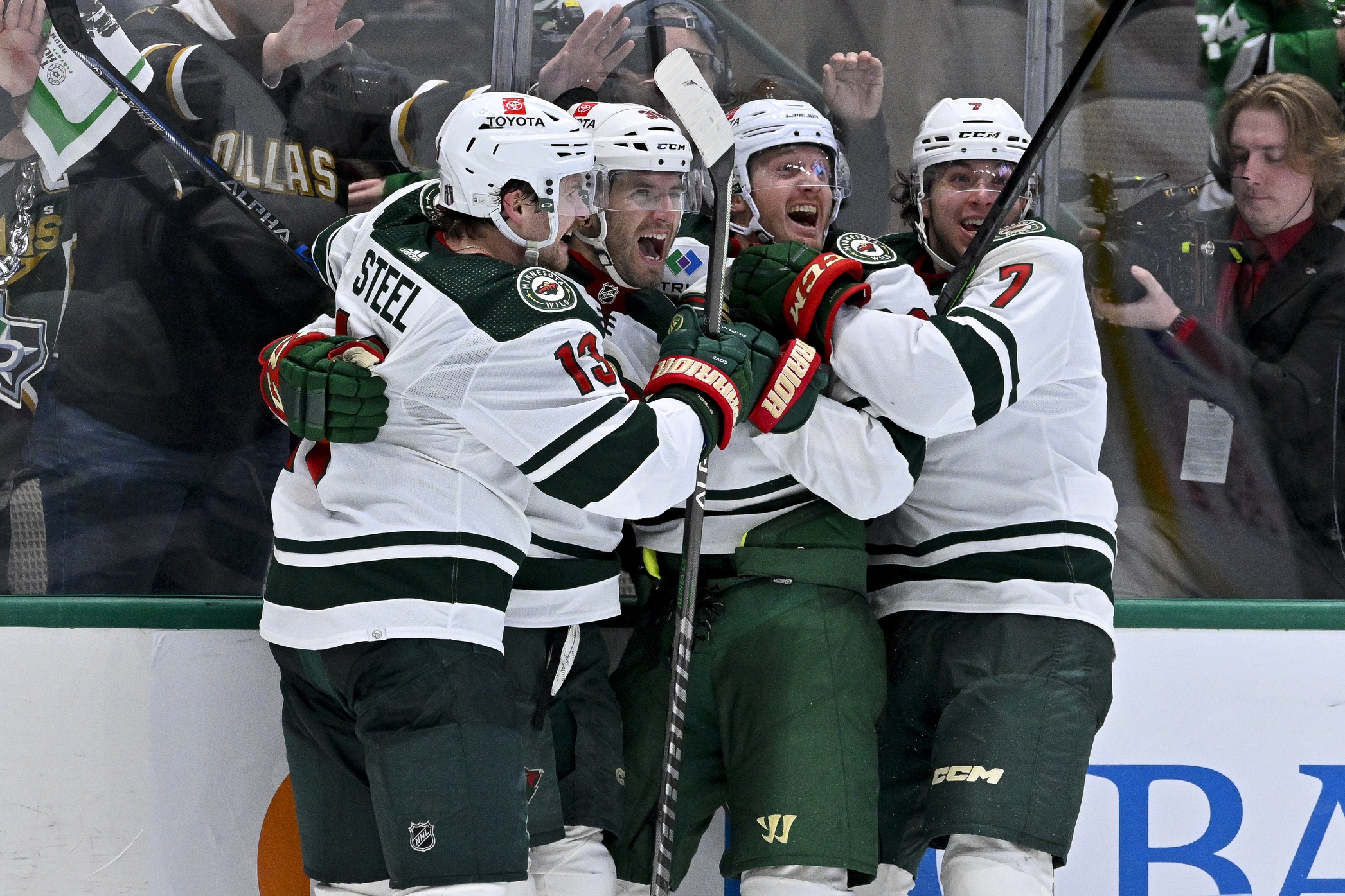 Image courtesy of © Jerome Miron-USA TODAY Sports
Your daily dose of Wild news, along with other interesting stories from around the NHL.
We would be the first to admit that we were nervous heading into Game 1 on Monday night. The stage was set for a big night against the Dallas Stars and the Minnesota Wild had not performed up to their best in the final regular season games.
But, they came out the gate to a roaring start, making Jake Oettinger keep his team in the game by putting piles and piles of pressure all over the Stars' zone. At one point, Dallas had almost half of the shots on goal compared to Minnesota and were certainly on their heels through a good portion of the game.
Sam Steel scored a breakaway goal to even up the score after Oettinger's play kept the Wild at bay and the Stars went up 2-1. Now 2-2, they headed to overtime.
The first 20 minutes went by quickly. The Stars were able to carry the advantage they had from the third period all throughout the first overtime period, and had a 26-14 shot attempt advantage at 5-on-5 and over 70% of the expected goals. But, the Wild carried on and it was Filip Gustavsson that then kept his team in the game.
Just over 12 minutes into the second overtime period (and the real clocks reading early Tuesday morning), Ryan Hartman freed us from our nerves.
An incredible play and goal that had Hartman pounce on a dribbling puck, catching Oettinger by surprise, whipping around the goaltender's crease and potting into the back of the net to earn the Wild the 1-0 series lead.
Now comes the big test to see if they can have the unbelievable advantage of winning the first two road games before heading back to St. Paul for Game 3 and 4. Even if the Stars take Game 2 on Wednesday, leaving Dallas with the series tied is a great position to be in.
That's Wild
No matter the result, the Wild are currently having a first: A star vs. star matchup thanks to Kirill Kaprizov and Jason Robertson. [Hockey Wilderness]
He didn't play in Game 1, but Joel Eriksson EK is rapidly making his return to action after reportedly breaking a bone in his leg. On Monday, he was seen participating in the optional morning skate and looking pretty good. Head coach Dean Evason wouldn't expand on his future availability, but he might be able to return before the end of the series after all.
Jared Spurgeon is the type of leader every team wants on their roster. The defensemen has led the Wild through a heck of a lot of storms and he's still playing so damn well. [Pioneer Press]
Off the trail...
The Edmonton Oilers were up 3-1 in their Game 1 but the Los Angeles Kings came storming back and eventually won 4-3 in overtime. Yikes. [TSN]
Some burning questions about the first round, like, can the Toronto Maple Leafs actually win a series? [CBS Sports]