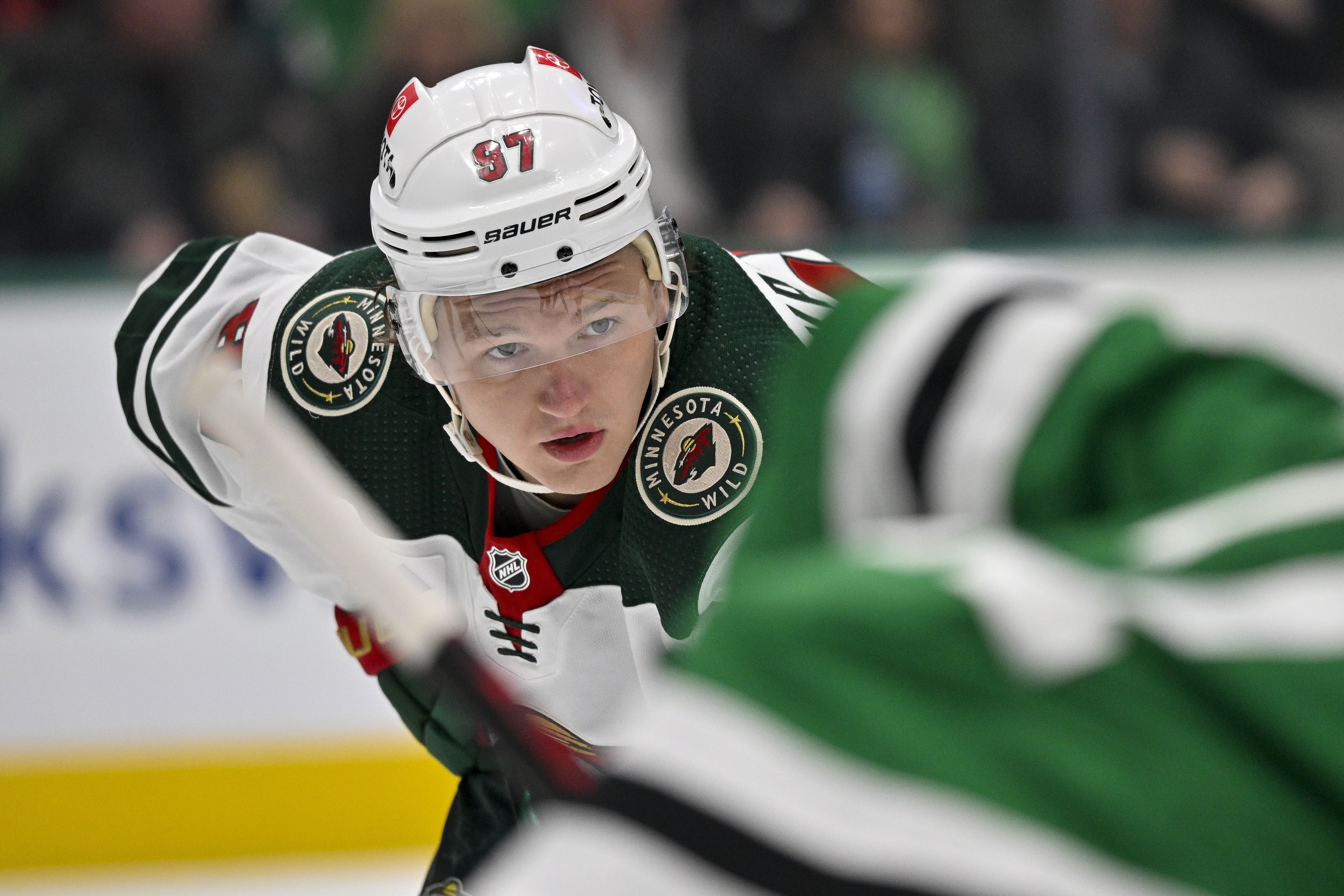 Image courtesy of © Jerome Miron-USA TODAY Sports
In the nearly quarter century of the Minnesota Wild's existence, they've never been part of a marquee playoff match-up.
The Jacques Lemaire Wild teams often brought a star to the playoffs in Marian Gaborik, but more often than not went up against juggernauts. Gaborik and plucky teams of misfit toys would go against the Joe Sakic-Peter Forsberg Colorado Avalanche, or the Chris Pronger-Scott Niedermayer Anaheim Ducks. 
Minnesota hoped it had the horses when Zach Parise and Ryan Suter signed in 2012. They were reliably very good, but proved to be nothing for the Chicago Blackhawks dynasty to worry about. Even once Kirill Kaprizov came along, his first playoff series against the Vegas Golden Knights recalled those Gaborik teams: A star carrying an otherwise out-classed team into a buzzsaw. The next year, they were the team rocking the star player, but another plucky St. Louis Blues team played spoiler.
This year, win or lose, the State of Hockey is going to see something entirely new. For the first time in team history, the Wild are going against an evenly-matched team with a top-10 player in the league on each side.
Wild fans are very aware of Jason Robertson, just as Dallas Stars fans are of Kaprizov. The two have been tied together in a rivalry since before they faced each other on the ice. Kaprizov exploded onto the scene as a rookie during the COVID-shortened 2020-21 season, scoring 27 goals and 51 points in 55 games. He was the runaway Calder Trophy winner as the rookie of the year, and it wasn't close.
Those last four words will make any Stars fan hopping mad. And, in fairness, rightfully so. Robertson started that season on Dallas' third line, but once "Robo" started heating up, he made a run for Kaprizov's money. He finished the year with 17 goals and 45 points in 51 games, but his scoring rate and underlying numbers surpassed Kaprizov's.
By mid-April, the Robertson-for-Calder steam picked up a lot of buzz, and it certainly seemed as if Kaprizov was aware that Robertson threatened his Calder coronation. It's impossible to not think that the chatter didn't at least in part fuel Kaprizov's late Calder push, where he scored 11 goals and 16 points in a 13-game stretch from April to May of that year.
Kaprizov won the Calder handily, but Robertson got some form of revenge by taking a sole first-place vote to deny Kaprizov unanimous status. That vote was a sore spot for Wild fans, just as Kaprizov's win made Dallas fans indignant.
Since then, the two have been duking it out, not for a trophy, but for making a case as the league's best winger. Kaprizov has the name recognition and notoriety from growing his legend overseas, the Calder win, and putting Minnesota on the map for casual fans.
Robertson's career is defined by how his dominance invariably flies under the radar. In 2016-17, he led his Kingston Frontenacs team in scoring. His 42 goals and 81 points in the heavily-scouted OHL was second among draft-eligible players. So of course he was a first-round pick, right?
Nope. He fell all the way to No. 39 overall in the 2017 draft. Today, only top-5 picks Elias Pettersson, Nico Hischier, and Cale Makar have more career points than Robertson. But no one has more points per game. Yet, Robertson still doesn't get the full recognition he deserves.
Before this season, ESPN ranked the NHL's top-100 players. Robertson finished 30th. He wasn't even the best player on his team! That distinction went to Miro Heiskanen, who took 28th. And of course, Kaprizov was 23 spots ahead at him at seventh. Even as recently as March, NHL.com polled PHWA members (that is, the writers who do the awards voting) to gauge the Hart Trophy race. No one's beating Connor McDavid for MVP this year, but it still doesn't excuse Robertson finishing sixth.
Just call him the NHL's Most Valuable Afterthought.
In reality, these two players are not only equals, but the very best wingers the league has to offer right now. Here are the ten most valuable skaters in the league over the past three years, according to Evolving Hockey's xStandings Points Above Replacement (xSPAR) model:
1. Connor McDavid, 35.5 xSPAR
2. Auston Matthews, 30.9 xSPAR
3. Leon Draisaitl, 24.7 xSPAR
4. Cale Makar, 23.1 xSPAR
5. Jason Robertson, 23.0 xSPAR
6. Kirill Kaprizov, 22.1 xSPAR
7. Matthew Tkachuk, 21.7 xSPAR
8. David Pastrnak, 20.4 xSPAR
9. Mikko Rantanen, 20.1 xSPAR
T-10: Mitch Marner, Jared McCann, 19.4 xSPAR
Not only are they No. 1 and 2 among wingers, but they're practically neck-and-neck for the honors. Even more interestingly, they come about their value in different ways. Robertson drives 5-on-5 offense like no one else, his impact in that part of the game measures third in hockey, behind McDavid and Matthews.
Meanwhile, Kaprizov is only 33rd in driving even-strength offense, but brings other things to the table to chip away at the gap between him and Robertson. Kaprizov rates as fourth in the NHL at drawing penalties, sixth at generating power play offense, and he even rates as a top-25 defensive forward at even-strength. 
We know what makes Kaprizov look so dangerous: His unique skating and elite shot are well-known to Wild fans. But what makes "Robo" so dangerous in this series?
One reason Robertson might be easy for writers and fans to overlook is that he's one part of a monster line. Joe Pavelski is a borderline Hall-of-Famer whose 158 points in his age-37 and 38 seasons beat out everyone in NHL history except Johnny Bucyk in the early 1970's. Roope Hintz is a 26-year-old center coming off his second-straight 37-goal, 70-plus point season. 
But Robertson stands clearly above both of them, and he doesn't do it by playing like Kaprizov. If there's a Wild comparable to Robertson's game, it's probably Matt Boldy.
Like Boldy, Robertson stands at 6-foot-3 and isn't known for being the best skater. They're not going to dominate on the rush like Kaprizov. But they offer is a unique combination of having impossibly good hands for players that big.
Robertson's got two years more development on Boldy and shows what that kind of player can be as a finished product. Mitch Brown of EP Rinkside glows about how Robertson uses his size and skill: "He's incredibly dexterous with the puck in-tight, but it's downright unique how easily he controls the puck across his body." 
That makes him impossible to knock off the puck and able to not only thrive in traffic, but make beautiful plays around the net. 
What's eye-opening when watching his goals is that while he can dazzle in traffic, he often doesn't even need to. He just finds these pockets of space around the net to get off a clean shot.
Again paralleling Boldy, he's not best suited to be the primary puck-carrier on his line. He leaves that to Hintz, but has a knack at getting open while crashing the net on the rush. It's one thing to pile up goals against Chicago or the Arizona Coyotes. Check him out scoring one of the 177 goals the Presidents' Trophy-winning Boston Bruins allowed while doing this.
Here we run into another parallel with Kaprizov: the ability to score off both the rush and a more grind-it-out forechecking and cycling offensive style. They also echo each other at how accurate they are despite generating tons of shots. 
Generally, the best goal-scorers in the NHL make their goals through a numbers game. Even someone like Alex Ovechkin "only" scores around 13% of the time, but if you do that while shooting almost five times per game for 1,350 games or so, and you're going to break Wayne Gretzky's record.
It's much harder to be a volume shooter and convert at a high level. But Robertson and Kaprizov have that skill, meaning they are able to get a lot of shots, do it from dangerous areas consistently, and are extraordinarily accurate.
Looking at everyone in the NHL with 200-plus games and 3.0 or more shots per game, here are the most accurate volume shooters this century:
1. Steven Stamkos (3.06 shots/game), 16.8%
2. Kirill Kaprizov (3.48 shots/game), 16.1%
T-3. Auston Matthews (3.96 shots/game), 15.7%
T-3. Jason Robertson (3.16 shots/game), 15.7%
5. Connor McDavid (3.42 shots/game) 15.6%
Those are the only five volume shooters this century who've shot over 15% for their careers. More incredibly, both are in the top-15 in NHL history, per Stathead. Is converting shots into goals at a higher rate than Brett Hull, Teemu Selanne, and Steve Yzerman good? Let us know in the comments.
That shooting alone would be terrifying from a player, but Robertson also happens to be one of the NHL's better playmakers. His 68 assists aren't built on players finishing off his rebounds. Like Boldy, his ability to keep the puck glued to his stick around the net allows him to make passes other players simply can't. It's a big reason why Robertson gets more shot assists than all but one Star, according to Corey Sznajder's All Three Zones tracking project:

Put that all together, and Stars goalie Jake Oettinger sums it up to The Athletic's Saad Yousuf perfectly: "I'm happy he's not doing that to me. He's special."
Even better, both players show up to play against each other in a big way. According to Hockey Reference, Kaprizov has absolutely gone off against the Stars in eight career games, scoring six goals and 12 points. What about Robertson? An identical six-goal, 12-point stat line in eight games against Minnesota.
These are two pretty evenly-matched teams rocking two evenly-matched superstars who are among the league's very best at their position. Both enter the series needing to prove that they're not just the best scorers in the league, but that they can carry their respective teams deeper into the playoffs than the first round. And this is just the first playoff meeting between these phenoms, and their ages suggest they'll meet plenty of more times while still in their primes.
What a fun, sexy matchup, easily the best we've ever seen in Wild playoff history. Let's freaking go.