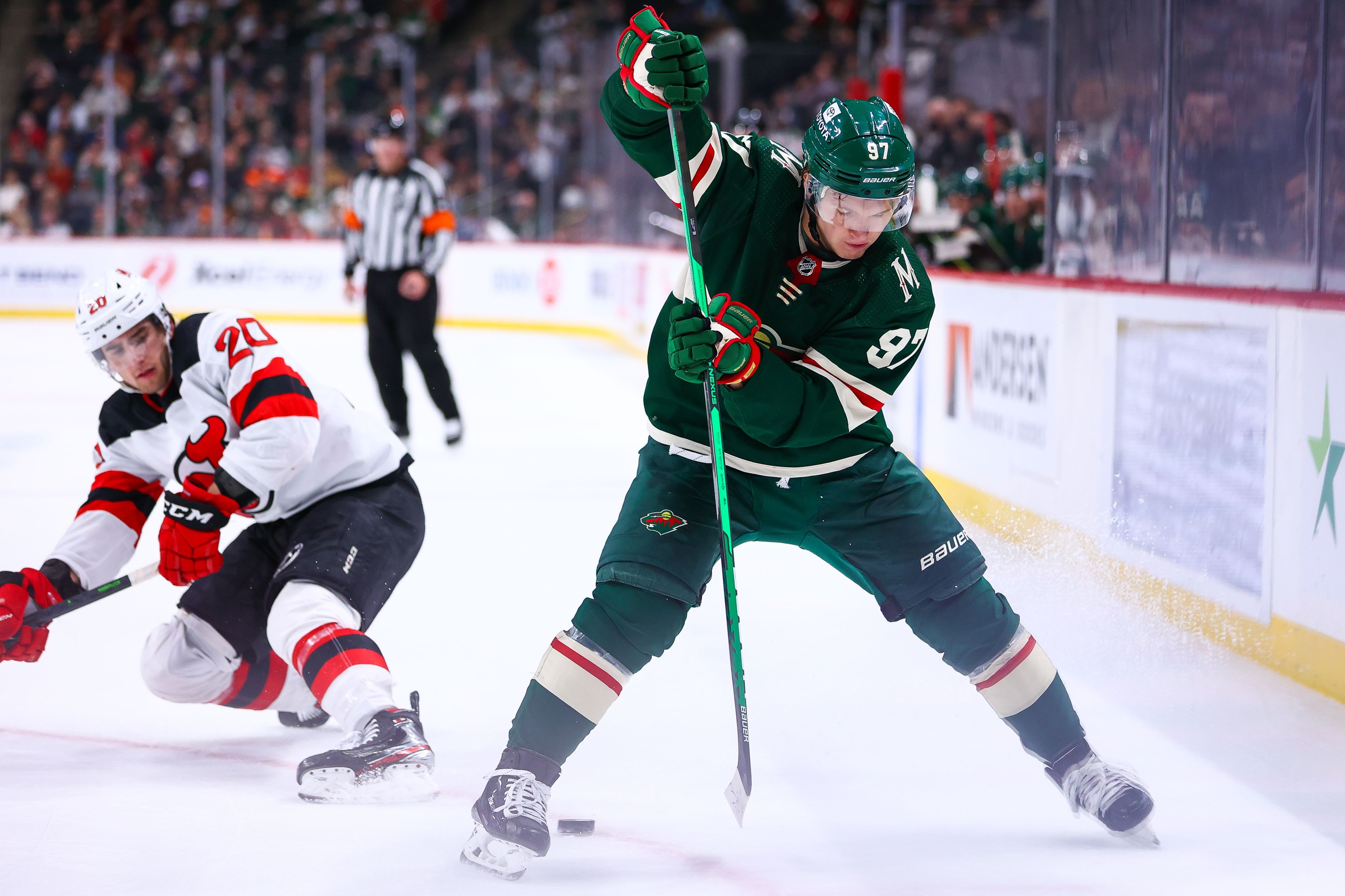 Before breaking the Minnesota Wild's single-season points record, before winning the Calder Trophy, and before putting the energy in the Xcel Energy Center, Kirill Kaprizov's journey to dominating North American hockey started with a single step onto the ice.
Andy Ness, Minnesota's skating and skills coach, was there to see it. Ness' focus in Minnesota kept him from seeing too many of the highlights of the two-time KHL goals leader. So when the short, stocky Kaprizov hit the ice, Ness didn't expect Kaprizov to blow him away. "Kirill doesn't look like he should be fast," says Ness.
You see, there's a certain body type associated with the NHL's top skaters. When you think of the elites like Connor McDavid, Dylan Larkin, and Jack Eichel, those players tend to be taller. Their long legs produce long strides that generate speed easily. At 5'9", Kaprizov doesn't have those physical attributes.
He still managed to blow Ness away on that first day. "He's so powerful in his legs. With every push, he's so powerful, and that makes him faster than people give him credit for. He surprised me when I started watching the pace at which he skates with. He moves laterally so well, and I noticed that right away."
Ness wasn't alone in his surprise. By the time the Wild finally brought Kaprizov, their 2015 fifth-round selection, stateside in 2020, his legend was already massive. Fans, media, and scouts already knew about his otherworldly shot. They knew about his vision and hockey sense.
However, if he had a knock on him, it was his skating. Few believed he skated in mud, but for a smaller player to star in the NHL, they typically require top-tier skating and elusiveness. In a 2020 scouting report on Kaprizov, Corey Pronman stated that his quickness was "probably average for the NHL," noting the potential for this flaw to derail him from being an elite NHLer.
Instead, his skating is a downright strength, both as a tool to create space and even a weapon of its own. To figure out how he does it, we called Ness to watch highlights of Kaprizov's skating to break down what makes him elite.
We started with the moment when the league first took notice that Kaprizov's skating was magical. In a February 2021 game against the Colorado Avalanche, Kaprizov skated circles around the Avs at 4-on-4 play before making a wraparound attempt.
This wasn't against a fourth-line, either. Cale Makar, Sam Girard, and Gabriel Landeskog were all out on the ice. They couldn't stop Kaprizov from zipping around and creating a high-danger chance.
The Colorado broadcast was dumbfounded by how Kaprizov seemed to gain speed without moving his feet. Ness knows the power of a good glide, though. "The big thing with skating is to be able to continue your speed when you stop moving. Gliding isn't coasting, or not moving. When you truly know how to glide, when you stop moving your feet, you continue to move with speed."
Kaprizov shows off a textbook example of how to do this. Even in slow motion, his skates are barely moving. But he's still the fastest thing on the ice.
As effortless as that looks, though, there's a lot going on under the hood. Skating on both inside edges (that, is, with both skates leaning inward) isn't easy, Ness says.
"It takes flexibility and it takes body positioning. His shoulders need to be over his hips and feet. There are pro players who can't do that, they're just inflexible. But the biggest key with Kaprizov is not only can he do it, but he can pick up speed while doing it."
Look closely not only at his feet, but his thighs and hips. Kaprizov's feet aren't in motion, but his hips are continuing to generate momentum. "When he's in that position, he does what's called a weight transfer," Ness explains. "It's like a shuffle, and that lets him pick up speed."
That only works because he's able to skate on both inside edges, a foot position which is often shorthanded to "10-2" (as in a clock) in hockey circles. That 10-2 position is foundational to his skating, and game in general.
"In 80% of his highlights, that's what you're going to see: Kaprizov opening his feet up like that," says Ness.
It doesn't just allow Kaprizov to skate circles around the perimeter, either. Kaprizov's ability to operate behind the net is a crucial weapon in his toolkit. His 10-2 skating is foundational to this skill. Let's take a closer look at him behind the net on that wraparound attempt.
Philipp Grubauer is only barely able to stop this shot, and he has to make a spectacular save because of how well Kaprizov skates on his inside edges.
"If he does a power turn there, where he'd keep his feet together to wrap it around, it'd take him twice as long," points out Ness. "But he opens his feet into the 10-2, and now he can wrap it so quick, and keep so tight to the net."
That's not all the 10-2 offers Kaprizov behind the net, though. Ness asked to focus on a still image of him.

"Look at how he keeps his shoulder square. He's behind the net, but he can see the whole play in front of him. He does this behind the net, on the inside of the blue line, on the half-wall. He can see both in front, behind, everywhere. But if his feet were closed off, if they were parallel, his back would be towards half the ice."
Later in that game, Kaprizov used his square shoulders and open feet to create a spectacular assist to a streaking Ryan Hartman.
Kaprizov is in the offensive zone, but being all alone and at the wall isn't a great position to create offense. He needs to buy time for Hartman to join the play. His shoulders and feet give him a wide base to protect the puck, and he does, with a little help from a nifty move lifted from figure skating: The Bird Step.
What is that, Andy? "His feet are open, but he throws a fake. He'll open his hips, pull the puck back, but notice his feet are in the 10-2 position. This is him muscling, staying strong on the puck."
It's a pretty modern technique — Ulf Dahlen did it in the 90s, but it gained popularity with Sidney Crosby — and most kids are now taught it today because of its usefulness in puck protection. But there's a difference between knowing how to do it and executing it at game speed, Ness says, and that's where Kaprizov shines.
Kaprizov's skating also is an asset in transition. He can burn teams skating around on the cycle, but he can also streak into the offensive zone, beat defenders, and get prime looks at goalies. This 2021 goal against St. Louis is a great example.
Mats Zuccarello finds Kaprizov on an outlet pass, and Kaprizov gets a one-on-one situation against Torey Krug on a breakaway.
"He didn't open his hips to score this time, but he went on his inside edge, then shifts his weight to go out," Ness explains. "This creates just enough space to get a shot on net and move the defenseman in. The real star of the play was his shot, it was unbelievable."
That shot doesn't get off without his maneuver to separate from Krug, though. "If he doesn't separate to put the puck in a protected area, he'd shoot it and it'd get blocked. You may not notice these little things, but that's what we look at with skating and skill work."
Ness takes an extra second to marvel, "There's no way he should even get a shot on net here. But he does, he creates plays for himself."
And that kind of shot and footwork can only get put on display if Kaprizov doesn't have the kind of high-end speed many thought he lacked.
"Imagine a fast receiver in football," instructs Ness. "He always puts so much pressure on a cornerback to not get beaten long, and that pressure leads to mistakes and creates more space. If he's not skating fast, none of these maneuvers work."
This high-end speed also took over on Kaprizov's Winter Classic goal. Colton Parayko is a 6'6" defenseman known for his skating ability. But he had little chance of stopping a scoring chance against Kaprizov.
"Again, if he's not pushing the pace, the defender would angle him out of the play," says Ness. "Parayko is even with him early in the play, but when it plays out, Kirill — with the puck, mind you — is a shoulder-width ahead of him."
To add insult to injury, Ness also notices how Kaprizov uses Parayko's physicality against him. "He's leaning into Parayko, too, initiating the contact. As he enters the zone, instead of avoiding it and skating into the corner, he bumps Parayko and creates space for himself."
That speed and technique allow Kaprizov's hockey sense to shine, says Ness. "Smart to know where the play was. It's not an accident when guys throw a puck off the goalie when they need to get it to the net. And he does it with one hand, against a guy much bigger than he is."
As Wild fans now know, Kaprizov's not afraid of physicality even despite his short stature. The reason? Ness points to his skating. Drew Doughty learned how hard Kaprizov was to take down on this goal.
Ness sees more parallels to football in this moment, but not to a skilled wide receiver this time. "The linemen start in a position where their butts are down below a 90-degree angle, and all the power comes from the legs. And that's where he's so strong in his lower half. They're different players, but he's very similar to Crosby that way."
He combines that with his 10-2 footwork to not only absorb contact but keep tight to the net while Doughty hangs off him. This time, the athletic Jonathan Quick can't stop him in time.
You can see Kaprizov's raw speed, edge work, gliding, puck protection, footwork, and strength all come together on this incredible goal against the New Jersey Devils earlier this season.
You see Kaprizov opening up his feet (though, skating on his outside, not inside edges), him getting into his base to muscle his way around Ryan Graves, and his faking the puck to protect it. Those all showed up in previous goals, but there's a little extra wrinkle in here that makes this move possible, according to Ness.
https://twitter.com/ZcFilm/status/1511400629188583438
"Watch how his left foot stays forward," he points out. "If he flipped both his feet, he'd expose the puck, but keeping that left foot forward shields the puck and keeps his speed to the net."
It takes a combination of his speed, strength, balance, and craftiness to make Kaprizov an elite skater. And while he perhaps won't beat a player like McDavid in a footrace, or win a Fastest Skater challenge at the All-Star game, he's as good as anyone at what he does.
"I want people to know that skaters come in all different shapes and sizes," says Ness. "Nico Sturm (who was with the Wild at the time of this interview) is a North-South guy, he's not a lateral movement guy. Mats Zuccarello slows the game down, he goes slow, then does little bursts where he takes off fast. Jonas Brodin's footwork drives his backwards skating, and he's so elusive.
"So everybody's different, which is the cool thing about skating," concludes Ness. "You just have to understand what you're good at and play to those strengths. The people who play to who they are, they're the people who find a spot in the league."
And Kaprizov is showing that if you can do the things he does at a high level, you can find your spot in some franchise's record books.