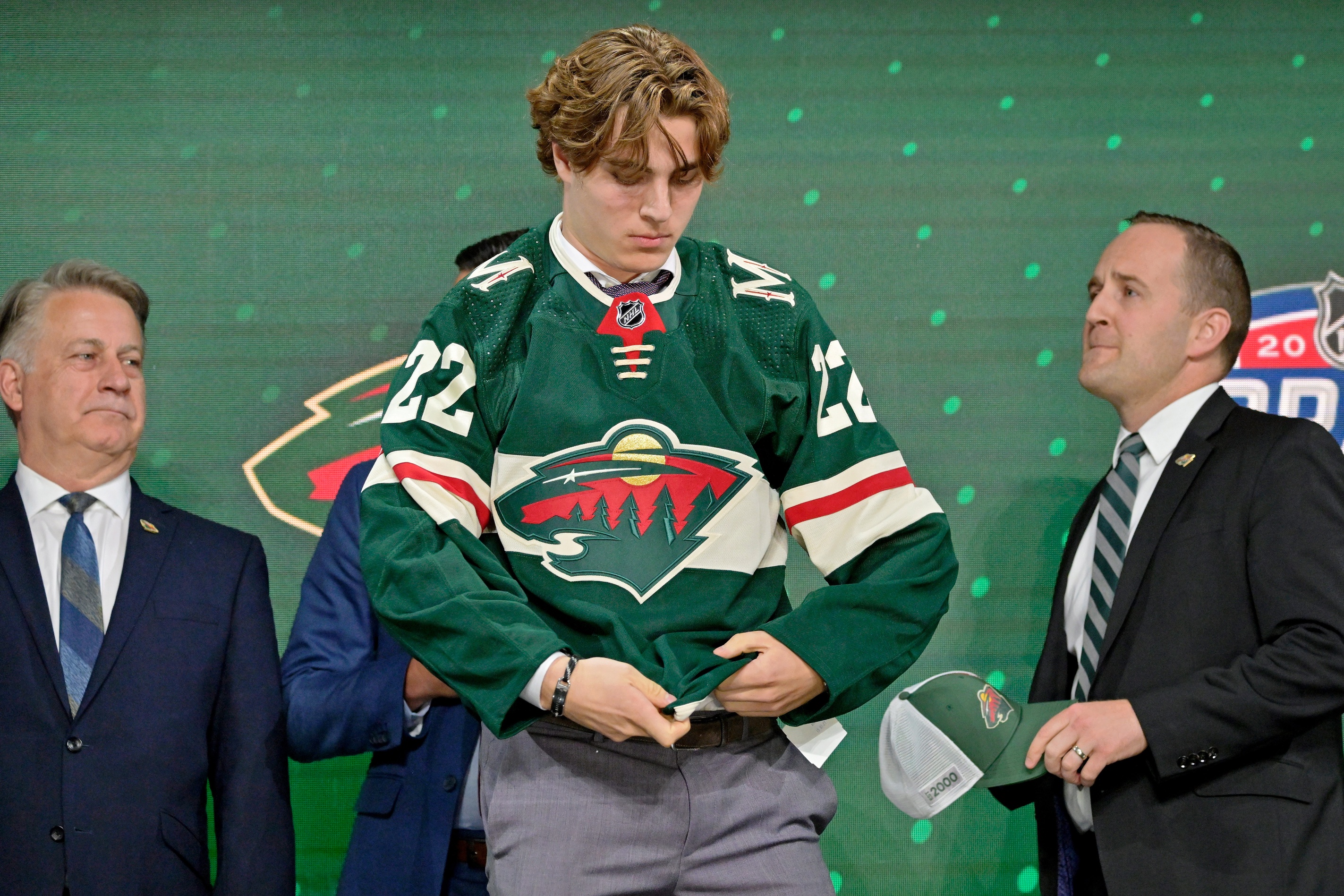 Image courtesy of Eric Bolte-USA TODAY Sports
When you have a pick in the 20s at the NHL Draft, it's tough to walk the line between dreaming a good player will fall to you, and fantasizing about something that can't happen. Can the Minnesota Wild get a good player at their draft position? Absolutely. Can they get an obvious superstar like Matvei Michkov or a surefire top-six center like Will Smith or Leo Carlsson?
Maybe slow down a bit.
But surely, there's got to be some kind of best-case scenario, right? Last week we tried to figure out some long-shot candidates to slide to No. 21. This week, let's pinpoint the dream outcome for the Wild. Not just for 21st overall, but for Picks 53 and 64, as well. What is the best possible scenario for Minnesota's three high picks?
To find out, we're turning to a draft simulator from Draft Prospects Hockey. This simulator lets us use Bob McKenzie's draft rankings to game out these picks. That's a good barometer, given that McKenzie compiles his rankings from NHL scouts around the league, which means they correlate well to how the draft actually goes.
We ran a simulation of the first two rounds 20 times, which covers Picks 21, 53, and 64 for the Wild. These sims took team needs into account, though not overly so, and the randomness factor was turned up to see who shakes loose in 20 run-throughs. By the end of 20 simulations of the drafts, a few stood out as possible best-case scenarios for the Wild.
What do those look like? Here they are:
Simulation No. 5
Pick 21: Oliver Moore, C, US U18 National Team
Pick 53: Etienne Morin, D, Moncton Wildcats (QMJHL)
Pick 64: Quinton Burns, D, Kingston Frontenacs (OHL)
Just once in these 20 simulations does Moore, a Hockey Wilderness favorite, fall to the Wild, and we take him here. He just offers too much of what Minnesota needs. He's a center who most agree will stick at the position as he moves to the NHL, and his blazing speed down the middle is something the Wild lack outside of Marat Khusnutdinov.
It's a good thing that Moore is such a certainty at center, too, because this simulation doesn't give us much in the way of high-end offense slipping to the 53rd pick. But with center taken care of, we can focus on defense, grabbing two left defensemen in Morin and Burns. Aside from Carson Lambos, Minnesota's most exciting young defensemen (Calen Addison, Brock Faber, and David Spacek) all play the right side.
Ranked 46th by McKenzie, Morin gives the Wild an offensive, puck-moving option with solid skating and a big shot in a 6'0" frame. Burns might be a bit more of a reach (68th on McKenzie's list, 80th on Elite Prospects' consolidated rankings). However, the 6'2" defenseman complements Morin's offense with strong shutdown ability. They'll both push and challenge Daemon Hunt and Ryan O'Rourke in the Wild's system.
Simulation No. 11
Pick 21: Brayden Yager, C, Moose Jaw (WHL)
Pick 53: Michael Hrabal, G, Omaha (USHL)
Pick 64: Hunter Brzustewicz, D, Tri-City (WHL)
We profiled Yager last week in our long-shots piece, so we're pretty delighted to have such a dangerous right-shot scorer in the organization. Between him, Khusnutdinov, and Marco Rossi, that's three candidates to eventually take the two top-nine center spots along with Joel Eriksson Ek. We can feel confident rolling with that.
So we're again diversifying our positional strength, as top centers failed to drop into the second-round. Michael Hrabel dropped, though, and he's arguably the top goalie in this class. Yes, the Wild have Jesper Wallstedt, but unless Filip Gustavsson is in for the long haul, the Wild don't have another top young goalie. Hrabel is a massive 6'7" lump of clay for the organization to mold. Brzustewicz gets the call for our last pick of the second-round, as a smart, smooth-skating puck-mover from the right side.
Simulation No. 16
Pick 21: Nate Danielson, C, Brandon (WHL)
Pick 53: Charlie Stramel, C, Wisconsin (NCAA)
Pick 64: Hunter Brzustewicz, D, Tri-City (WHL)
If you're looking for center security and size down the middle, this is probably the best-case scenario for you. Danielson might not have put up the biggest numbers this year, but he's as good of a bet as anyone to be a center five years from now. The Athletic's Corey Pronman puts him behind only Adam Fantilli in likelihood of sticking down the middle in this class.
Why? His size (6'1.5") and game should translate to what's required of an NHL center. McKeen's Hockey rates him as the fifth-fastest skater and third-best defensive forward in this draft. He's kind of like Joel Eriksson Ek: You know he's going to be able to be a valuable player, it's just a matter of how much upside he has.
The second round saw Stramel, who started the year as a 17-year-old NCAA freshman, fall to Minnesota at 53. The hope is that he can throw last year in the garbage, as he put up a paltry 12 points in 33 games for an atypically-weak Badgers program. Still, Stramel is a 6'3" center who was nearly a point-per-game player for the US U-18 National Team the year before. He even has four points in 8 games as a depth player on Team USA's U-20 World Junior teams. We'll roll the dice here. Again, Brzustewicz closes out the second round. Can't have too many puck-movers. 
Simulation No. 17
Pick 21: Quentin Musty, LW, Sudbury (OHL)
Pick 53: Gracyn Sawchyn, C, Seattle (WHL)
Pick 64: Oscar Fisker Molgaard, C, HV71 (SHL)
What if the Wild aren't able to get a center in the first round? Can they turn things around, or is it a disaster? This simulation paints an optimistic picture if the board doesn't fall Minnesota's way in the first round. 
If Matthew Tkachuk is the prototype for a power forward, Musty might be the closest there is to one of those in the draft. "He has the frame (6'2") and willingness to create chaos on the forecheck and along the wall," Elite Prospects' Cam Robinson says of him, "There's a bit of pest mixed in there as well." He combines that with an incredible amount of skill, as FC Hockey describes him as "a dual-threat offensive winger with the ability to create scoring chances every time he steps on the ice." Sounds good.
It sounds even better when the second round rolls around, as the Wild get two strong center prospects in Sawchyn and Fisker Molgaard. Sawchyn is the home run swing here, because his skills are tantalizing. In ranking him 13th (!!!) in the class, Elite Prospects raves about his play with the puck. "He feathers pucks... through defenders, slips them under sticks, and completes all sorts of crafty one- and two-touch plays to teammates moving in space." At 5'11", 157 pounds, he'll need to get stronger, but "there are at least trace amounts of dog in his DNA."
Then we're able to swing back at 64 and land Fisker Molgaard. If Sawchyn is the high-ceiling guy, we're thrilled to pair him with a high-floor center in Molgaard. The Danish center was a point-per-game player in Sweden's Under-20 junior league, but also played 41 games in the Swedish Hockey League, despite not turning 18 until February. He even went to the World Championships with Denmark this year. He doesn't blow people away, but his hockey IQ and two-way game is getting him opportunities beyond his years. He's a solid bet to be an NHL contributor, and if his skills keep developing, who knows?
To get one of those players in the second round would be a case of the board breaking in a way that serves Minnesota's needs. To get both of them is incredible, especially with a power forward in the first round. In fact, this might be the best scenario of the four. But what do you think? 
3