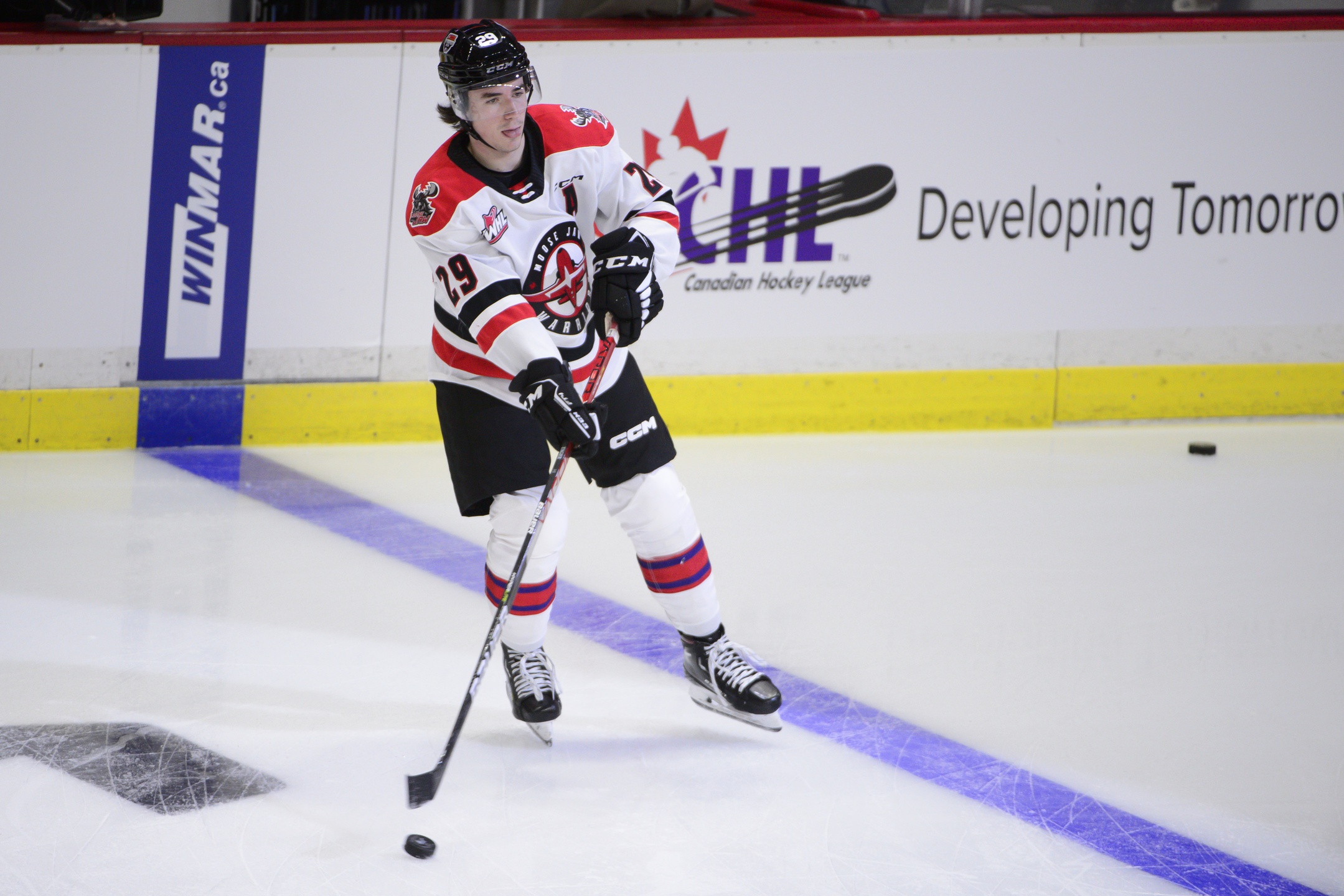 Image courtesy of Anne-Marie Sorvin-USA Today Sports
Weird stuff happens at the NHL Draft. Highly-touted players can fall deep into the first round, and it's hard to say who might tumble down the board. Why does Kyle Connor or Jakob Chychrun or Cole Caufield drop to the middle of the first round? And who's going to be the next one of those guys? Your guess is as good as mine.
But someone might tumble this year. Draft pundits are heralding the 2023 class as a historically deep draft. With the sheer amount of talent available, the shifting sands of team priorities and the variance of teams' draft boards could nudge a player who'd go top-10, or maybe even top-5, in a shallower pool into striking range for the Minnesota Wild.
That sounds like pie-in-the-sky thinking, but it happens. In 2021, most pundits thought there was no chance elite goalie prospect Jesper Wallstedt would fall to the Wild at Pick 22. They were technically correct; Minnesota had to trade up to No. 20 overall to land him. But who cares about that technicality? The Wild have one of the best goalie prospects in the world.
The question is, who is that player going to be? And who should you hope for it to be?
Great questions. The tool we're going to use to try figuring that out is Prashanth Iyer's Draft Pick Probabilities model. Iyer's been tracking the 2023 class' draft stock over the past year and released his projections guessing where players might land on draft day. 
While there are many interesting prospects who have a good chance or are even likely to be available at 21, we're looking for long shots. Players who are generally slated to go near the top-10, with an outside chance at sliding down to 21st overall. We're looking for players in the 10-25% range of doing that. So 75-90% of the time, none of these players won't be available.
But the point is: There is a chance. And if the Wild are going to use one of their second-round picks as ammunition to move up, these may well be the players they do it for. 
So who are they? Let's take a look.
Brayden Yager, Center
Chances of Being Available at 21: 24.7%
Most of these players are seeing their reputations on the upswing, but Yager is one of the few on this list who is taking a step back. A few days ago, his odds of falling to Pick 21 were just under 19%. Now, it's almost 25. We've seen the Moose Jaw center plummet from a consensus top-10 pick at the start of the year to someone who can drop to the 20s.

Yager's loss might be the Wild's gain. How many times does a team get to draft a center with a high-end shot at Pick 21? Not many. But if Yager lands with Minnesota, they'll have something they've never had before: a top-6 caliber, right-shot centerman who can fill the net.
That's the optimists' view on Yager. Others might see a 5'11" player who may have to shift to wing in the NHL and didn't make a ton of progress over the last season. He scored 34 goals in 63 games at age-16, but dropped to 28 in 67 games leading up to the draft. Yager's points-per-game overall improved, as did his playoff numbers (six goals, 16 points in 10 games). But a scout told Elite Prospects, "I don't think it was unfair to expect a bit more from him this season. Too many nights where he just blended in."
But again, if this brings a talented player to the Wild's pick, Minnesota might roll those dice. The Athletic's Corey Pronman ranks his shot as fifth in this loaded class, and notes that his track record suggests he can stick down the middle, even if his eyes don't quite go there. FC Hockey is fairly optimistic, noting a deceptive shot release and a commitment to two-way play. They believe he has "a high floor as a complete second-line center, with the potential to become even more." He's a name to watch next Wednesday.
Oliver Moore, Center
Chances of Being Available at 21: 14.4%
At Hockey Wilderness, we have written about Oliver Moore. We're fans of his speed down the middle, and if the Mounds View native drops down to 21, it's hard to argue against them jumping on the opportunity.
It's not all about the speed, but it's also a lot about the speed. Elite Prospects says of him, "We've never scouted a faster, more agile skater in our time covering the draft in an editorial capacity at Elite Prospects. Full stop."
That's high praise, and speaking of high, so was his production for the U.S. National Development Program. Moore put up 31 goals and 75 points in 61 games playing second-line minutes to sure-fire top-10 center Will Smith. And forget about being a two-way center, as Moore is a true three-way player. Mitchell Brown of Elite Prospects tracked 13 games from him and rates his offensive, defensive, and transition numbers as being in the 86th percentile or higher. His transition game? It's a straight-up 100.
Maybe enough teams are scared off by him being 5'11" to drop a bit, thinking he might have to move to the wing? It's maybe the Wild's only hope of grabbing him, but it does still exist.
Eduard Sale, Right Wing
Chances of Being Available at 21: 14.0%
Do you want to see the Wild get bigger and much more skilled at the same time? Eduard Sale might make that dream come true for Minnesota. A lot of bigger players have their skills or speed judged as good for their size. It's harder to find elite skills in a large frame, so if you are even very good, that can be elite among your weight class.
The 6'2" Czech winger is just elite, period. Sale doesn't just have tools, either, he deploys his brain to make the most of them. From McKeen's Hockey: "He has strong edges that he utilizes to change direction quickly and suddenly, making him hard to predict... showing off quick shoulder drops and head fakes to make him even harder to defend."
That kind of skating gets you places, but paired with top-tier skill? Now we're cooking. FC Hockey says his "impressive stickhandling abilities, quick hands, and strong shot, combined with his offensive IQ and defensive presence make him a versatile player in all situations." Elite Prospects says on "sheer talent alone, [he's] a no-brainer top-10 pick."
Sale's numbers don't quite line up with his skills, though. He only scored 14 points in 43 games in the Czech league after destroying the country's junior circuit the year before. 

Was this due to a big jump and having to make adjustments? Or are there concerns about his hockey sense or ability to rise to the occasion of top-level hockey? Where you stand on that question seems to dictate your opinion on Sale, which is why there's a chance he could drop to the Wild's range. 
Axel Sandin Pellikka, Defense
Chances of Being Available at 21: 12.9%
Axel Sandin Pellikka might be the longest shot to drop to the Wild's range. The top-20 picks of every draft since 2015 have contained at least four defensemen, with six being the average. The public-facing scouts don't just rate Sandin Pellikka as being one of the four best defensemen in the class. Elite Prosepcts' Consolidated Rankings (that is, the consensus opinion of public-facing scouts) has him as the best in the class, No. 10, with late-riser David Reinbacher just behind him at 11. 
There's little chance the Wild see Sandin Pellikka, but if they do, it'll be the S-word again. Not Swedish — we know Minnesota loves their Swedes. It's size. Pellikka is 5'11" and that one inch below 6 feet can make all the difference, as we know. Just ask Cale Makar.
What makes him such an exciting candidate if the Wild can find a way to land him? He combines Jonas Brodin's calm with Calen Addison's power play quarterbacking skills. McKeen's is impressed with how he controls the pace of the game, saying "the economy of his feet and hip movements often make it look too easy for him to get around the ice and there's simply grace in the means by which he picks up speed or slows things down."
That's great. Again, that sounds like Brodin, but the intriguing thing is how he combines it with offense. "Sandin Pellikka's decision-making on offense is consistently fast and accurate, and his passes are precise," notes FC Hockey. Like all of these players, they're a long shot to wind up in forest green. But if Sandin Pellikka, or any of these others fall into Minnesota's laps, the State of Hockey should do cartwheels.
3