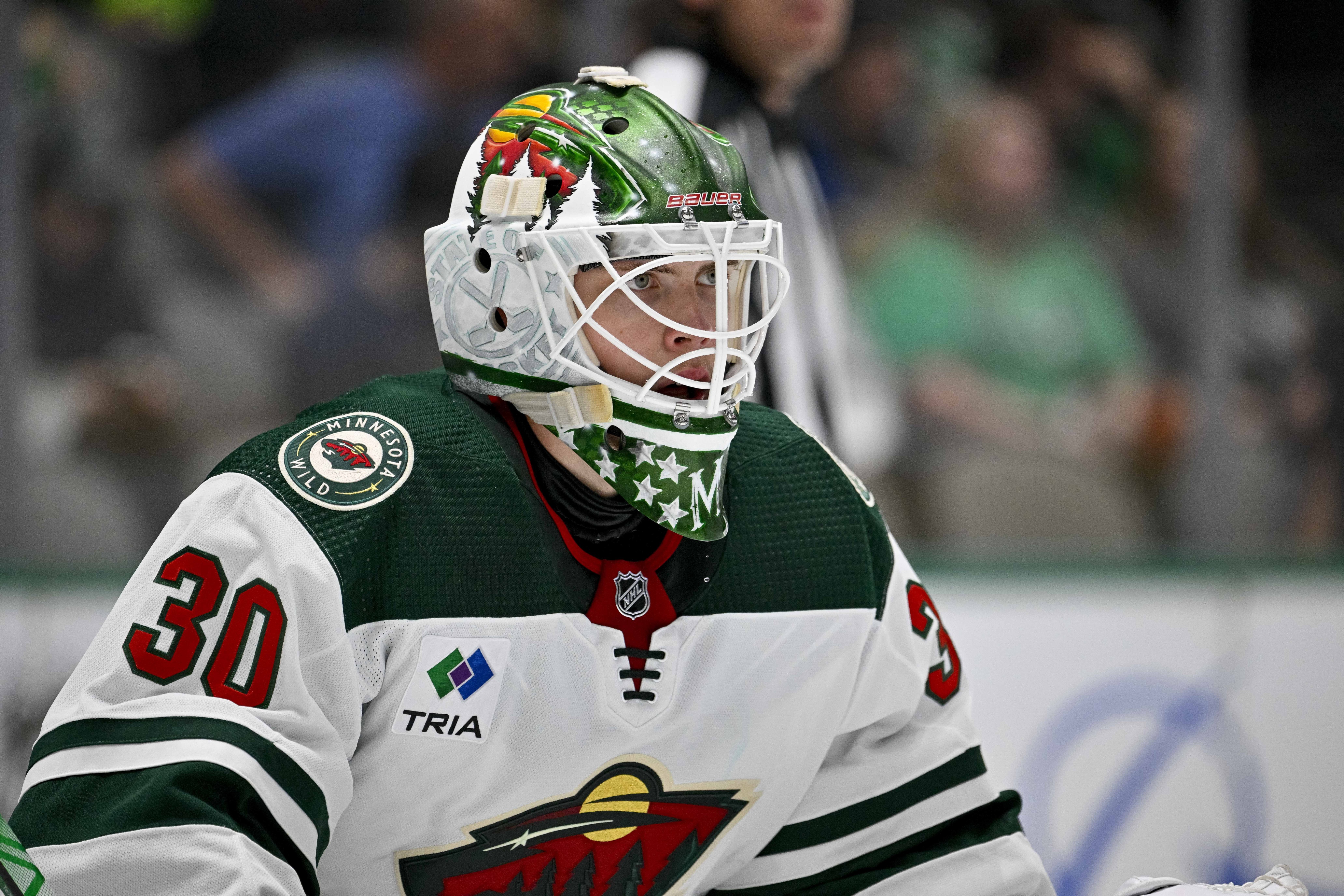 Image courtesy of Jerome Miron-USA TODAY Sports
In a world where the NFL seemingly has an event on the calendar every day in the sports landscape, the NHL finds itself mirroring its older brother. The Stanley Cup Final is over, the legendary parade has taken place, and plans for Lord Stanley's trip around the world have inevitably begun.
But there's no time to rest. In just a few short days, the 2023 NHL Draft will begin in Nashville, and storyline after storyline will keep infiltrating the NHL world each and every day. So with that, who will the Wild target over those two days in the Music City?
While specific players will certainly be on their radar, the Wild should be targeting some insurance for one of their best prospects. Selected 20th overall in the 2021 draft, Jesper Wallstedt is regarded as the best goalie prospect in the league. While still a year or two away in his development from arriving in Minnesota, there is a case to be made the Wild are gambling with all their eggs in one crease.
With plenty of depth among their prospect pool at forward and defense, Wallstedt finds himself as the lone bona fide goaltending prospect in the system. For that reason, it wouldn't be surprising to see them draft a goaltender at some point this week for two obvious and highly documented reasons.
Wallstedt has firmly cemented himself as a blue-chip prospect, but unless your last name is "McDavid" or "Bedard," a prospect is rarely a sure thing. The history of hockey is littered with highly-regarded goaltender prospects who have dazzled at every level along the way, only to find their career stall once they reach the NHL.
Rick DiPietro is probably the most famous example, but he's not alone. The Arizona Coyotes took Patrick DesRochers 11th overall in 1998, and he played in just 11 career games, posting a ridiculously low .872 career save percentage at the height of the dead puck era.
The New York Rangers took Al Montoya 6th overall in 2004. He was such a sure thing that many dubbed him the successor to a retiring Mike Richter as the next great American-born goalie. Montoya played just a few seasons in the Rangers system, then played out the rest of his career as a backup.
More recently, Jack Campbell was billed as the next can't-miss goaltender after he helped backstop the United States to an upset of Canada at the 2010 Under-18 World Junior Championships. Taken 11th overall later that year in the draft, "Soup" spent the majority of his ongoing career mired in mediocrity, bouncing back and forth between the NHL and AHL. And while a couple of encouraging seasons in Toronto earned him a shiny new contract in Edmonton last summer, the first season of that deal has placed it firmly in the conversation for the NHL's worst current contract.
Simply put, if the Wild choose to rest on their laurels and assume they have their goaltending position solved for the next decade, they'd be playing with fire.
But for those who are steadfast on the thought that Wallstedt is as can't-miss as they come, there's a second reason why it's so imperative the Wild draft a goaltender this week. Even if Wallstedt becomes a starting-caliber netminder, the league is too volatile to rely on a single goalie.
As we've become increasingly more educated in the career arcs of goaltenders, NHL GMs are starting to understand how rare it is for a team to rely on a bell cow goaltender. There will always be players like Andrei Vasilevskiy, Ilya Sorokin, and Connor Hellebuyck, but they reside in the extreme. Unless Wallstedt hits those heights, Minnesota will need more than one goalie. Even goaltenders who many would rank in the top half of the league these days need to share the net with a capable backup.
Sure, the Wild could wait for Wallstedt to develop and go dumpster-diving in free agency for quality backups throughout his career. But drafting and developing a potential 1B to their current potential 1A would be ideal. You often hear the notion in the NHL that you can't have too many centers, but it's arguably true for goaltenders. Just ask the Vegas Golden Knights, who won their first Stanley Cup with Adin Hill, who began the year third on their depth chart.
Considering all these points in the aggregate, it becomes quite obvious the Wild should be drafting a netminder this week. It might not make sense to do so with their first-round pick, but there's a strong argument that one of their two second-round picks should be a goaltender. Heck, with how difficult it is to evaluate goalies, even taking a late-round flier on someone seems smart.
At any rate, filling up their goaltending pipeline is perhaps their final step in completely rounding out an already-loaded prospect pool.
1

2